Two months ago I had chronic and continuous back pain (caused by dozens of recurring muscle knots) – I was seeing a Physical Therapist regularly, taking a muscle relaxer at night, 1-2 doses of ibuprofen a day, and having to take 1-2 heating pad breaks every day.  I also had sharp hip flexor pain when I tried to run, and an inability to get comfortable while sleeping. 45 days later, I now have zero back pain, I am running with zero pain AND at a pace that is 1 to 2 minutes a mile faster than I have been able to in over three years, and am falling asleep faster and sleeping comfortably.
I know. Sounds like an infomercial. But let's start by where I'm coming from.
I'm a skeptic. Especially regarding the newest, greatest, fix-everything solutions. They never seem to work on me because placebo effects don't work on me due to my extreme skepticism. Which sucks, really. I'd love to have some placebo effects.
However, I am an optimistic skeptic.
I'm an early adopter of new things, and get excited about those things, but then I take a deeply analytical and objective view of them, and therefore cannot convince myself  that they're working. I take good notes, I measure results without emotion, and I usually come up short. So I try all the things, and I keep doing hardly any of the things.
So the fact that I am objectively, absolutely, 100% convinced of the results I have seen in the past month and a half is mind-blowing – especially to me.
After three years of regular physical therapy visits for my back, legs, and other ailments, and a year of my physical therapist continuously telling me that he thought I could benefit from Red Light Therapy, I bought a book – "The Ultimate Guide to Red Light Therapy" – that put the thousands of scientific studies into plain English, read the book in one night, and ordered my first Platinum LED BIO-600 Red Light that same night. The book documented the many ways red light therapy had been proven to help the body, and the list of extensive FDA approved red light therapy uses won me over.
Within days, my back was significantly better and I was able to quit taking all medication. I never went back to my physical therapist – I had no need. Two weeks later, I bought the second Red Light.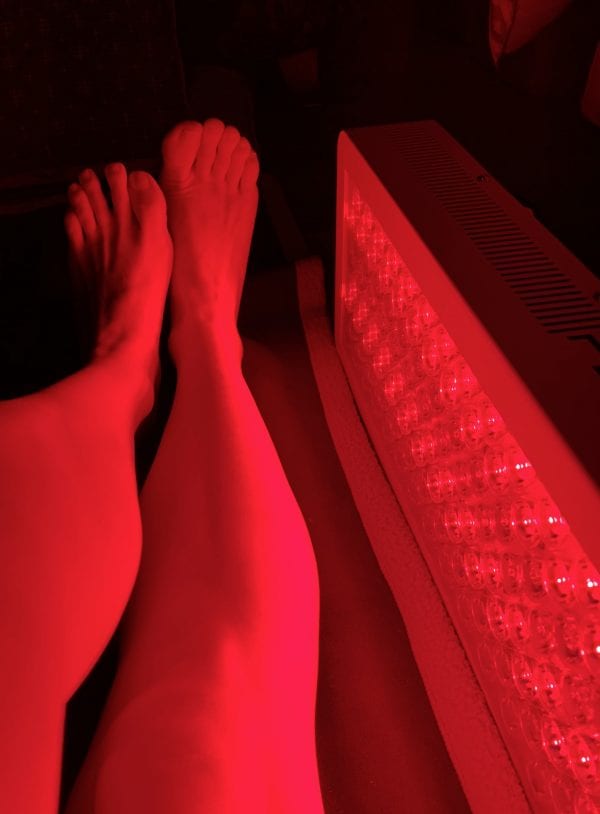 So what the heck is Red Light Therapy and why haven't you heard of it?
You haven't heard of it because it only recently became affordable for consumers to own. Each light that I bought was $799 (and you really only need one, but two makes the process quicker.) A couple of years ago, the cheapest Red Light Therapy device we knew of was $100,000. You can see why I waited until now to try it.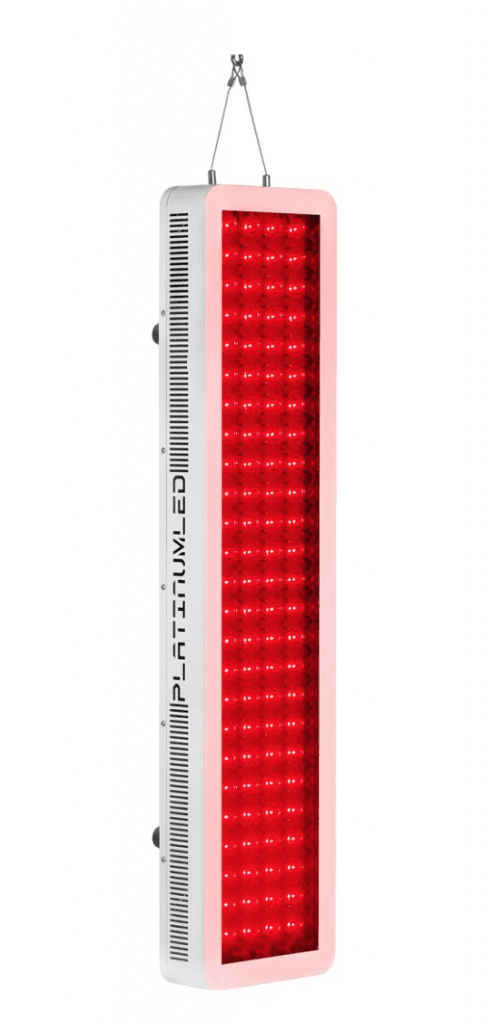 So. What it is. It sounds super hokey that a light could make you feel better in all the ways, but there is a lot of science behind it (thousands of well-run studies), it's already FDA approved for many uses (and is used by doctors, health spas, and physical therapists), and they actually know what the red light does – it activates, heals, and energizes mitochondria – i.e. The engine of our cells, so it makes total sense that it could help so many functions in your body.
The basic takeaway is this: we as humans need red and infrared light, and we don't get enough of it. Because of that, our cells are unnecessarily sluggish, effecting our energy, our moods, our muscle recovery and growth, our sleep, and pretty much our everything. By getting a daily or every other day dose of red light, we can have more energy, less pain, and better functioning muscles. Because I was having such extreme and chronic muscle pain, I can absolutely attest to its effectiveness.
I started using the light on December 1, which consists of laying in front of my light (about 6 inches away from it) and rotating angles every 3-6 minutes to let it light every surface of my skin. I have taken 13 pages of notes, documenting daily how I feel in every facet, what time I used the light, how I felt afterward, how I slept, how I ran, and everything else I could think to document. Here is a summary of the red light results I wrote down in my daily notes:
– On the third day of use, my back pain went away. Completely. I discontinued taking ibuprofen and muscle relaxers, and didn't need my heating pad anymore (though I held onto its use for a few more days because it had become an expected comfort in my life.) Before that, I had not had a back-pain-free day in months.
– Toward the end of the first week, I began to find myself wanting to run longer. I went from having intense hip flexor pain after running 3 miles to running 8 miles with no pain.
– I also noticed at the end of that first week that a pain I've had continuously since I started running – sharp knee pain upon walking downstairs the day of and the day after a run – was completely gone. I could walk downstairs with no pain and without leaning on the handrail.
– I found myself falling asleep immediately – something I do not do. I'm normally a 30-minutes-of-wind-down person, all while resenting my immediately-asleep husband. But I was now actually sleepy at bedtime and would feel myself immediately drifting off. It was shocking and magical the first few times it happened.
– Using the light gives me an immediate energy boost. I can wake up sluggish and with burning eyes, then feel energetic and have no eye burn after using the light.
– One of the FDA approved uses is to get rid of cellulite. Three weeks after using the light daily, I went into our bathroom with the most unflattering lighting and did a search for my always-plenteous thigh cellulite. It was gone.
– Starting in the third week, my legs all of a sudden felt bionic when I ran. They had no pain, no muscle burn or soreness, and felt significantly faster and more able. I could run up hills, without breaking pace, that I'd always walked up before. My legs felt like they were putting out no effort. It was spectacular. From there, my speed began ramping up to levels that I literally could not make my legs move before I started using the light. I remember last summer feeling like I was flying one day, and then being discouraged when my pace, still fast for me, was 10:30. I am now running sub-10 miles every time I run – up to 6 sub-10 miles in a row – and have nearly run a flat 9 minute mile (9:08. So close.) For me, this is huge. After my wreck in 2015, I became a much slower runner and have hung out in 11-12 minute miles since then. So to be running 9-9:30 is a huge gain for me – one that is clearly a result of the red light.
Here's my six mile run from this past weekend next to my fastest run in November, which was the month before I started using the light: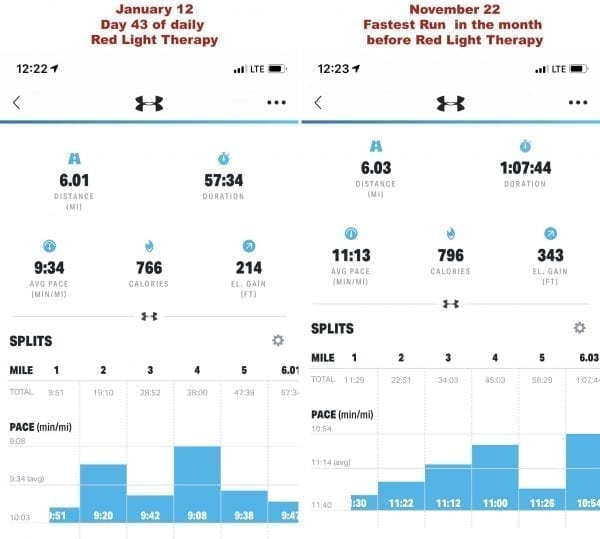 – I also used to get injured when I would run faster than 10 minute miles – I would have knee or ankle pain for several days after going "too fast." Last January I even resolved to run less in 2018 and hike more so that my knees could be more healthy. Despite the fact that I'm running faster than I have in over three years, I am experiencing no aches and pains from my running, during or after the runs.
– After three weeks, some of my back pain returned. It wasn't as bad as it was before, and was more localized. I was discouraged, because I couldn't figure out why it would show back up, but then I was able to pinpoint where it was coming from: our old and unsupportive mattress. The light had stripped away all of my other muscle pain to make it obvious that the one thing I couldn't red light away – my mattress – was still hurting me. We bought a new mattress and now I am back to zero back pain, all the time.
There are many, many other FDA approved and researched uses for the lights. Although my lack of pain has been miraculous, the thing that got me most excited about the light's potential are the documented cognitive improvements it can make over time. It's supposed to make your brain work better, which y'all know I need. If a light could make me able to write again, I would be ever so thankful. That's still out on trial, but hey – I am writing this, so it's a start.
So if you're interested in trying Red Light Therapy, here are my tips:
1. BUY CAREFULLY. Most Red Light products (there are a ton on Amazon) are not powerful enough to work, or they don't have the correct wavelengths to be therapeutic. The studies have been able to pinpoint what wavelengths and outputs are helpful, and it's a pretty specific science. The book explains all of this and has several brands they recommend. The two I got are Platinum LED Therapy Light's BIO-600, Combo Red light. (Edited to Add: Several months after this post was written, the manufacturers contacted me and offered me a discount code to share: FNAZP6205 gets you 5% off your entire order of any of their line of lights – it will automatically add this coupon code to your order if you click through to their site from any of the links in my post (you'll see it after you click "check out".) I receive a small percentage if you use this code, but that does not affect my opinions in this post, which were written before they offered me that code.) I bought Platinum LED Therapy's lights because it was cited in the book as the least expensive, most effective light, and I have been very happy with them. A local light technician tested and compared my light's output and wavelengths to a much more expensive brand, Joovv, and they measured the same.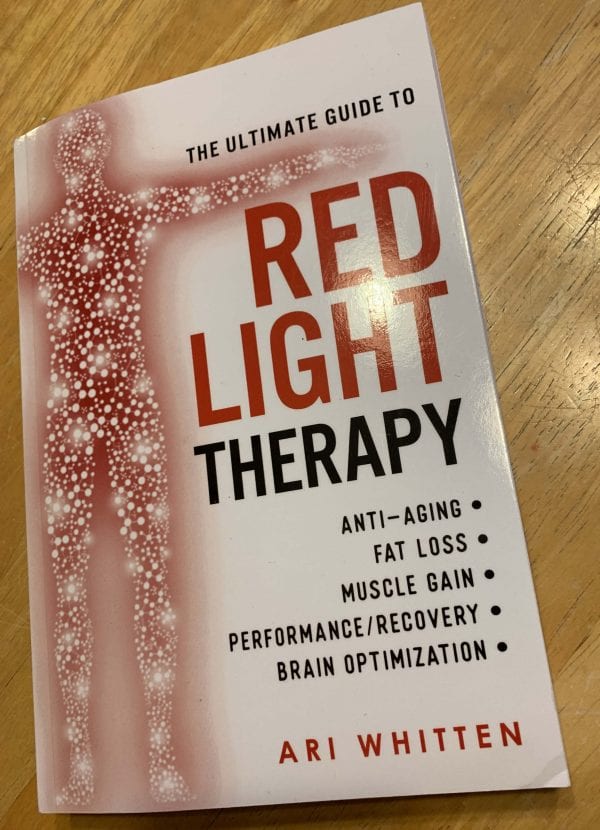 1. Read this book. It has so much valuable information in it, and is an easy read that is objective and informative. He explains the science behind the lights in plain English, and he tested dozens of lights and narrowed down the options tremendously
3. Make it a part of your daily routine. I think the dramatic effects I've experienced are because I have used it every single day – and sometimes twice a day.
4. Take notes. Find what time works best for you. I found that too close to bedtime kept me awake, but about 4 hours before bedtime put me to sleep. However, in general I tend to use it earlier in the day for the energy boost. And I can also tell a huge difference in runs after I've used the light for the day versus runs before lighting.
So clearly, I'm a believer. I will continue to take notes and use the light daily, and will update its results in the future. Feel free to ask me any questions in the comments, or email me at rachel@graspingforobjectivity.com.
2023 Update: After over four years, I still use my red lights nearly every day, and still notice the physical rejuvenation that they give my body (if I go out of town for a week, I can tell the difference.) I struggle much less with muscle knots, back pain, and recurrent injuries than I did before I started using red light therapy. I still highly recommend them!