My 92 year old grandmother, my Mother's mom, moved in with my parents in Mid-April, five months before my dad passed away. I remember the week she moved in – it was an extraordinarily chaotic week for our entire family. Mammaw had had a bad day at her house, which was the impetus for getting her to move in. My sister-in-law's stepdad passed away the same day. My Dad was in the middle of his first round of Clinical Trials at UAB, requiring him to stay in a hotel downtown three nights every three weeks. My Mom had her Master Gardener's annual plant sale coming up, for which she was responsible for many preparations. I had a Picture Birmingham pop-up shop at West Elm that weekend. We all pitched in, trying to do what we could…keeping my brother and sister-in-law's kids so my sister-in-law could be with her mom, helping with Mammaw so that mom could get ready for her plant sale and also accompany dad to the doctor.
Mammaw had moved in because she wasn't doing well. She couldn't see or hear very well, and she had an infection that was making her somewhat delirious. She needed a female caretaker at all times, so Mom, Mom's sister, and I were trading up staying with her. I was super nervous the first time I went to sit with her for five hours. My gifting, unlike my mother, is not care-taking and is definitely not long periods of visiting without doing anything. I am much more like my father – an administrator, someone who needs to be busy when with other people, and a writer instead of a talker. I don't know what to say in person (if you've ever tried to talk in person about something that is vulnerable to me, you are already well aware of this.) But God gave me the idea of reading aloud to Mammaw – I read aloud to my kids all the time, and I had lots of favorite books I could read to her. Plus, the thing that Mammaw missed most due to her declining vision was reading, so it was perfect. I read nearly an entire book to her in the first few weeks, before she broke it to me that she could barely hear me (despite my yelling the pages.) But it helped me get into the groove of sitting with her, and by then I had come to enjoy our time together and had learned to talk better.
But I didn't realize what a striking blessing Mammaw had specifically been to me until the week before dad passed away. I had been sitting with Mammaw one to three times a week for five months by then. One day I was sitting and talking to Dad after they got back from his last doctor's appointment. It all of a sudden hit me that I had never, in these last few months of his life, worried that I was not there enough, or that I was there too much. I'd never even wondered if I was bugging them or if I was too distant. I was at my parent's exactly as often as they wanted and needed me there, and they were thankful that I had been there. Sitting with Mammaw had enabled so many positive things in my life:
– It enabled me to serve my parents in a practical way, rather than feeling useless or wondering how I could help them.
– It enabled me to be present with them on a weekly basis, visiting before and after their appointments.
– Many times just Mom was gone somewhere and Dad was at the house, and Dad would use those days to purposefully invest in my kids while I sat with Mammaw. It was those days that dad taught Noah how to drive the tractor, let both kids drive his truck, and included my kids on making the backsplash tiles for Mom's kitchen that he was designing out of clay and pressed leaves from their property. Mammaw being there gave my kids more time with their Granddad.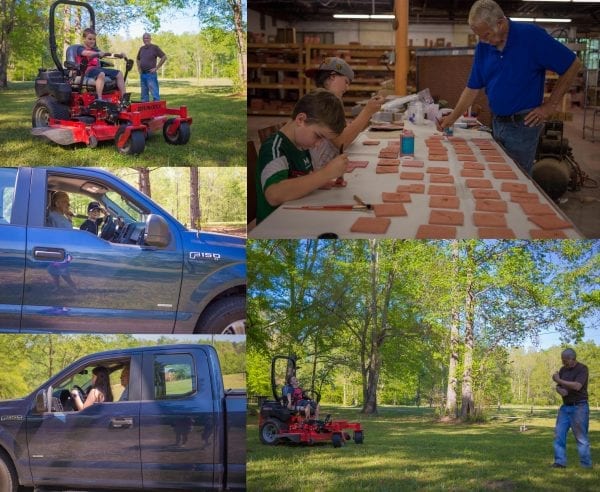 – Mammaw allowed me to never once worry about being there too much or too little or even thinking about those things – and I am prone to worrying, so that in itself is a miracle.
– Serving my parents in that way allowed me to demonstrate to my Dad that I am and will be here for my Mom. I think I have not always been demonstrably servant-hearted to my parents because they've always been so very self-sufficient that I didn't know what could I offer them. Plus, for the last 12 years, I've had their grandkids – so most of our interactions have been grandkid-centered. I'd lost the ability to converse / serve / be there for my parents, and I hope that Dad seeing me be there in his last five months assured him that I'd be there for mom after he was gone.
Furthermore, my mom is a caretaker. And Mammaw being there after my Dad's death is, I think, so very much a blessing to my Mom. She still has her mother, she has someone to care for, she has someone to confide in, and she's not alone. Mammaw may have wondered at times why she's still on this earth, why she's 92 and one of the only ones left of her generation, but I think it's for my Mom. And, in those last five months, it was also for me.
I was able to tell Mammaw all of this a few weeks after my Dad died, and thank her for what she'd done for me. She cried, I cried, and she said "Thank you, Rachel, for telling me all that. I loved your father so much – he was such a good son-in-law to me and took such good care of me. I've felt so bad that I couldn't do anything for your parents during all of this, and it makes me feel so good that I was able to help after all."
God's blessings sometimes come in backwards, unexpected ways. Never underestimate your value to others.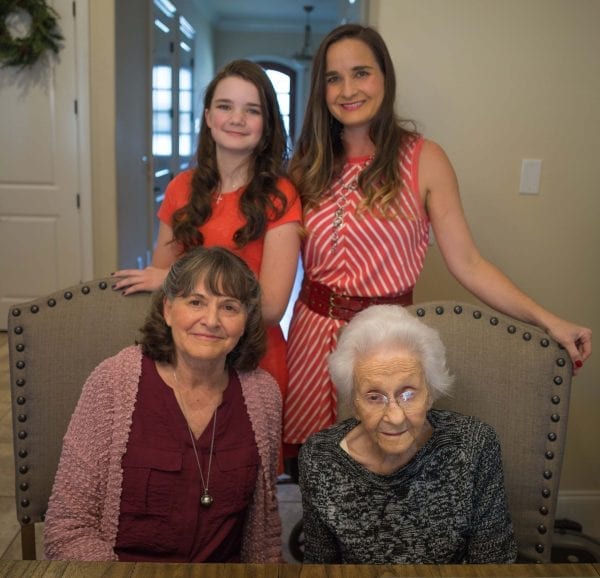 Mammaw, Mom, Ali and I at Ali's 12th birthday. Mammaw is doing wonderfully well now.