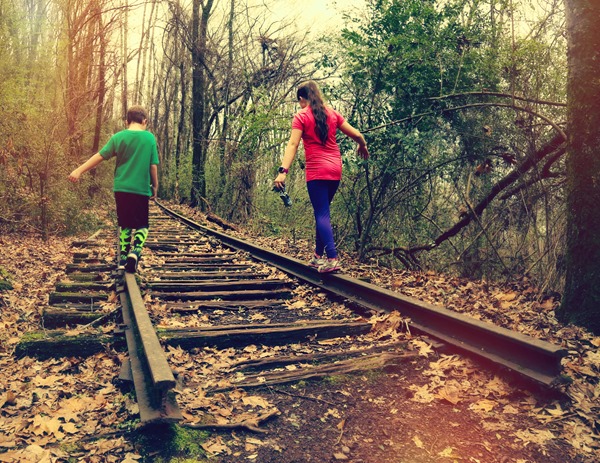 Every year about this time, I have a fresh crop of preschool moms who ask me about homeschooling. I've never considered myself an expert at homeschooling – I don't read all the books, attend all the conferences, or lobby for laws. But having homeschooled as a child for 12 years, and now having made it nearly through the fifth grade in homeschooling my own kids, I do think I have a unique perspective on it, both coming and going.
I'm not the person you want to talk to for a list of all the great homeschooling resources (I tend to be a renegade and do my own thing), nor am I a curriculum expert (I make quick decisions and don't research every curriculum out there.) But if you want to know what it looks like, how it works, how it's not nearly as overwhelming as it seems, and are looking for a few practical tips along the way, I'm your girl.
First, a couple ground rules:
1. Homeschooling is not the right answer for every family. It is not the more holy, more dedicated, or a more better Momming decision. It is just an option. An option that works great for some families and is a nightmare for others.
2. Don't let me stress you out. If my way doesn't work for you, do it your way. That's the loveliness of homeschooling: You get to tailor it to fit perfectly into your family's personalities, schedules, and learning styles. Don't ever feel like you have to do it someone else's way or you're wrong.
Okay?
Okay.
Here are my collection of tips and insights.
…Homeschooling seems overwhelming. It seems harder and more work. But I personally find it to be the most efficient, most laid back, least time-squandering form of education for my particular family. We finish our school around 12 or 1 every day, do not have homework, and spend our afternoons exploring, hiking, and being outdoors, which is also totally education. My kids have an appreciation for the woods, for nature, and for the universe that I believe they would not have as much time for if they were in a classroom setting.
…However, if you homeschool, that means you're pretty much committing yourself to being with your kids all. the. time. And that's okay. But remember that you're doing double duty – you're now mom and teacher. Which means you deserve – no require – twice the number of breaks away from your children. Never feel guilty for taking time and money to pursue your hobbies, your introvert coffee shop visits,  dates with your husband, your retreat weekends away. The better your mental state, the better teacher you'll be.
…On that note, don't feel guilty about paying babysitters. Think of it as using a little bit of the money you're saving on that private school tuition (if your second option would be private school.) It's just a part of the expense of homeschooling: teacher sanity breaks.
…While we're on the subject of spending money, also don't feel guilty about spending money to buy supplemental books or experiments, going on road trips with your kids, and multi-colored pens. Because you cannot homeschool without a proper set of multi-colored pens.
…If you like being outdoors, or if you have wanderlust, or both, you can totally implement these things into your curriculum. I don't remember much about the things I learned in either elementary school or college, but I remember the nature walks my mom took me on. I remember the flower pressings we did, and the leaf drawings. I hope my kids, also, remember the time we spend outdoors, and learn to love this planet and all her beauty. Our year-long Alabama History project is an example of how I snaked my love of Alabama, exploring outdoors, and photography into what turned out to be a pretty fantastic educational year.
…If you're starting out in Kindergarten, make it fun. Your job for the first year is to help them associate learning with enjoyment, not with toiling and dread. Don't get bogged down in health and spelling and a twenty-subject curriculum kit. The time will come for that. If they like workbooks, get some cheap workbooks (For Noah, he was interested in Star Wars. So I found Star Wars workbooks.) If they don't like workbooks, learn counting and letters in a non-workbook way. For examples of what I mean: use gummies to teach math, play store with your kids, and make them secret codes to encourage reading and writing.
…iPads are not your enemy, when set up as an educational device and with rules about when they may be used. iPad learning games can teach so much so quickly – because it's using fun games to do so, and they want to keep progressing in those games. I haven't updated these posts since Ali was little, but here and here are some of the games Ali and Noah used when they were in Kindergarten and First Grade.
…As soon as they can read, teach them as quickly as possible how to be independent learners with some of their subjects. The way to do this is to have a routine, so they know what is expected of them each day. At this point, Ali (fifth grade) is 90% independent: She knows what she needs to accomplish in Math, English, Reading, Bible, History, and Writing. As I type this, Noah (first grade) is eating breakfast and reading a book. After he finishes, he knows that he needs to write in his diary. After that, it's time for math, at which point he will come get me to join him.
…The reason to teach them independence in studies is two-fold: it enables you to focus on one child at a time, because the other children are involved in their own school. Secondly, it prepares them for college from a young age with good study skills and self-motivation. College was so much easier to grasp for me than my friends because I knew how to read the textbook, take notes, study, and take a test, without relying completely on someone walking me through the material.
…Routines are great for every day, but don't forget that you have all the freedom in the world to mix it up. Take a trip. Go outside. Learn something hands-on.
…Your children will one day praise your name if you make them keep a daily diary. Ali has kept one since she was 4 – they're all lined up on a shelf, and she loves reading them. Noah started one this school year (he writes two sentences a day), and it's already his prized possession. Ali always liked drawing a picture to illustrate her entries, so I tried to get Noah to do that too. However, he doesn't like drawing, so he asks me every day if I took any pictures the day before and asks me to print one out for him. This has made his diary a lovely daily scrapbook.
…Make your life as streamlined as possible with technology. My favorite school purchase was this printer. Because a) it has a separate tray for 4×6 photo paper, so it's always loaded and ready to go to print a picture for a kid's school report or diary. And b) it's Wi-Fi and simple to set up, so I can print easily from my phone with one click and without even having to walk in the same room as the printer. In the old days, I would have had to send the picture to my computer, load photo paper into the printer, make sure the printer was connected to my laptop, and then print. Nobody's got time for that.
…Create systems of motivation and reward for your children. They'll fade over time as you forget to do them and they don't need the motivation as much, but they make all the difference in times of I'm-losing-my-sanity-and-I-need-my-children-to-clean-up-their-freaking-messes-and-do-their-flipping-school. My most thorough/successful motivation tool is in this post, an earlier version can be found here, and yet another system can be found here.
…Find a digital or paper planner school recordkeeping system that works for you. I couldn't find a school recordkeeping system that worked for me, so I made my own – you can see and download it here. On this same note, keep up with your summer educational pursuits. That includes book reading (like summer reading programs), trips, hikes, sports, and anything educational you do. It's totally worth the paperwork to count some days during the summer and have less in May when you're SO DONE. The template I use for that is included in the above link.
…Get in the habit of tracking your school days from the beginning. You'll thank yourself later. I prefer to track as we complete subjects, rather than plan my week in advance. It's significantly less stressful, keeps us flexible, and saves on pre-planning.
…For the first three grades, I think it's awesome to center science around nature walks. Nature learning. Nature journaling. Observation and appreciation for the world around you. You can get a book about the flora and fauna in your area and use those as your guide. My favorite science book we've ever used is a great companion for nature schooling – you can find it here (be sure to get the notebooking journal or junior notebooking journal to go with it.)
…When homeschooling multiple children, buy each child a set of noise reducing earmuffs. That way, when one child is doing reading and you're explaining long division to the other child, they're not distracted. We started using these last year and they're a fantastic upgrade.
…Do not miss the benefit of the laid back homeschool life. Don't overbook yourself. Co-ops are great when the kids are older and you can't teach their subjects with proficiency anymore, but when they're young, enjoy doing what you want when you want to do it. (Or at least think seriously about the commitment level required by your co-op before taking it on. Don't let their schedule rule your life.)
…Read good literature to your kids. It doesn't have to be much – perhaps a chapter a day. But it's a very beautiful thing to bond over great books together. All the better if you've never read them and are just as excited about the kids to find out what happens next. Here's a list of great read-alouds I made a LONG time ago. Since then, we've discovered and loved The Wingfeather Saga and The Incorrigible Children of Ashton Place series.
…If a curriculum isn't working for you, don't angst about trashing it and starting with a new one. Your investment is for a non-miserable life for you and your student.
…Analyze yourself, your patterns, and what works for you. For instance: I do not go to homeschool conferences because I've learned that hearing all about the amazing ways other people are teaching their kids just blisters my perfectionist spirit and makes me feel like a failure. Some people can attend homeschool conferences and feel lifted up – I cannot. So I don't go. Another example: I know that to be most efficient, I need to create my own frameworks, such as my planner pages and field trips, so I do. If you are the type that is encouraged my homeschool conferences, go to homeschool conferences, If you are the type that loves to have someone else's framework as a guideline, use someone else's framework. Don't just assume that because someone else does something a certain way that you should too. (This applies to everything I've said in this post.)
…Don't go into homeschooling telling yourself that you're going to do it forever. You are not a failure if you homeschool for a year or two and then determine that another option is what your family needs. It just means it doesn't work for that particular child, or for that particular year, so that particular period in your life. Doing something different if being wise and flexible for your family's needs at that time. Also, committing to homeschooling for forever can feel extraordinarily daunting – tell yourself that you'll take it one year at a time – you'll be much less likely to experience emotional breakdown.
After I wrote my tips, I asked my vault of Facebook friends for their advice. I picked out a few of the tips to share below. You can find everyone else's advice on this thread.
To sum it all up, it's not nearly as overwhelming as it may feel like it is. Just take it one day at a time, one week at a time, one year at a time.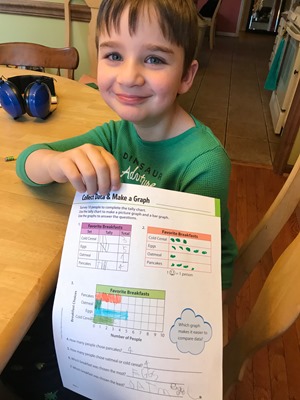 Feel free to ask any follow-up questions in the comments! I'm always open to answering questions about homeschooling – whether you're interested in pursuing it or just curious.