Last week was my ten year anniversary of writing on this blog.
As in, a decade of my life has been lived, and is recorded, on this website.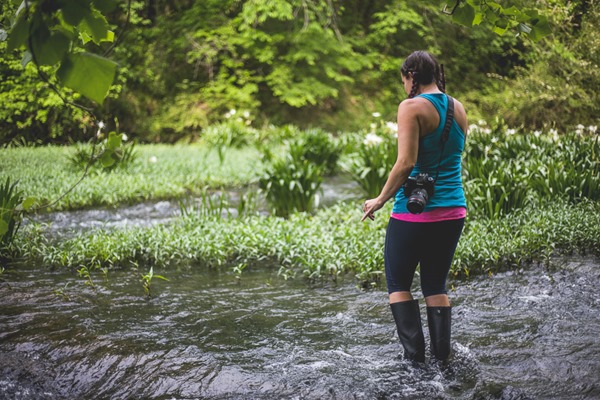 Photo by Jake Marvin
It's really quite mind-blowing – to me, and probably only to me. My first feeling about all that is that I am so much older than I was a decade ago.
I started on a complete whim. With way too little thought put into the commitment I was signing up for. It was as if I was purchasing a baby parrot and nobody happened to mention that parrots live 60 years and hey I might wanna take a minute to consider how my next 60 years look and if I have room in my schedule for a talking bird and all the poop it'll make.
But the friends I've made from blogging have outweighed the crap I've had to clean up due to blogging, so, totally worth it.
Because I do adore numbers as well as friends, let's talk numbers.
In ten years, I have written 2,353 posts. I started out writing more than seven times a week (It was before you could have a Facebook status, so I had a lot to say), and now write one, maybe two times a week. And I'm actually finally cool with that.
Of the 2,353 posts, I am most likely now embarrassed by 600 or so. I have only deleted 2. Oh – and I have 6 secret posts. You'll have to ask about those.
I have had over 11 million visitors, with the completely random day of January 10, 2014 being my most heavily visited day – with a total of 126,847 visitors. Currently, a normal amount of daily visitors is around 1,300. Because, as we all know, blogging is extinct. It's the Dodo Bird of the internet. The Pterodactyl of Social Media. But as I am the worst at quitting while I'm ahead, here I still am.
But back to the numbers.
My most popular post, at over 5 million views, featured photos of my butt a few dozen times. Its various prequels and sequels fill out my top 5 posts, because denim wisdom is, apparently, my most valuable contribution to society. Too bad it's all outdated and I have no motivation to spend my days photographing my hind quarters in a dressing room.
After the jeans posts, Ali's debut into Geography at 2 1/2 years old is next most popular. For the record I'd like to say that Noah is seven and doesn't know all his states. This was one of those weird first child freak accidents. But her voice is fantastically adorable so it makes up for my cluelessness about how education works.
Oddly, the most therapeutic posts for me were the ones about what would have been tragedies, except that I was able to share them with you, in all their ridiculous how-did-this-happen-to-me glory. Such as when I went to get Noah up from a nap and discovered a bat flying around his room. AND HE CLAIMED IT BIT HIM. And the time I picked up my kid's giant turd out of the bathtub and "accidentally" threw it at my husband. When I lived out the worst nightmare Chuck E Cheese can deliver a mom. And multiple sleepwalking injuries (some requiring ER visits), such as the time I jumped out of bed and ran into a wall – twice in one night. And also the time that my children were chased by an angry cottonmouth – and also we found a misplaced boob.
And of course medical posts. What is a blog without stories on colonoscopies, vasectomies, tonsillectomies, hysterectomies, stress tests, swallowing a camera on purpose, and illegal lactation medications.
In random news, breast pumps talk.
And I've had some fun with Essential Oils. Maybe a little too much fun. Is there an oil for that?
I got to interview a graffiti artist named Moist.
I met and befriended a family of bunnies.
I was able to track down and crack the case of Uncle Joe, owner of Uncle Joe's Tot Locker. I stalked down my mysterious celebrity twin. I stalked my hacker and found the street view of their house. (I might have a stalking problem.)
I found, and watched, the movie I was in as a kid – the one where the gangster dies of syphilis.
I was able to prove that children aren't, and perhaps shouldn't, be bathed as often as our Mommy Guilt tells us.
I struck up a relationship with a spammer.
And it took me nine years, but I finally dipped my toes into political commentary – but only with lots of .gifs and because Alabama is so cray.
Noah starred in memes and fashion videos and was, to be quite honest, the best blogger's toddler ever. And also the butt of all my jokes for years.
I made an entire blogging series out of my favorite neighbor ever (who has now left me and is therefore my ex-neighbor, much to my daily tragic loneliness), Not-Crazy-Renee.
My husband and I did, and blogged about, stupid insane things like making a meat bouquet. And, although we did this before our blogging days, there needed to be a record of the time we fibbed (stretched-the-truthed) ourselves out to the roof of an Atlanta skyscraper – then got locked out. Oh – and we took our wedding cake topper on our thirteenth anniversary trip?! Because blog.
These are just a few of the posts that I remember. I often click on a link to an old post and have absolutely zero recollection of ever writing it. Which is why, for my tenth anniversary of recording our family's history, I am rewarding myself with getting my entire blog printed out into an Encyclopedia-Brittanica-Sized set of hardback books. For me to read, for Ali to read (she loves reading the first 500 posts, which I printed out many years ago), For Noah to browse and read one day, and for there to be an actual, physical product to represent the thousands of semi-pointless hours that I've put into this endeavor.
But the absolute best product to come out of this blog have been friendships. I have met up in real life with more blog friends than I can count, and have had those meetings in at least six states. I have dozens of friends that I would have never met were it not for me sharing my endless meanderings here. I have learned with you, laughed with you, and lived life with you. And for that, I am eternally grateful.
How long have you been hanging around here?