Of my 1,171 Facebook friends, approximately 1,500 of them currently sell something that involves a product, a downline, and a requirement of a plethora of Facebook posts.
My Facebook feed covers them all. Multiple times over. I will never be without the ability to buy Matilda Jane or Advocare or Avon or Young Living or It Works or Premier Jewelry or Jamberry or Pampered Chef or Plexus or Rodan & Fields or Scentsy or Thirty One Gifts or Tupperware or Usborne or Younique or BeachBody or doTerra or Isagenix or Juice Plus or Mary Kay.
Ah, what a world we live in.
Of those 1,500 retail shops in the strip mall that is my Facebook feed, approximately 1,800 have, in the past year, posted a status asking people to let them know, via emoji, how they feel about their business. The options given to describe said business include some variation of the following: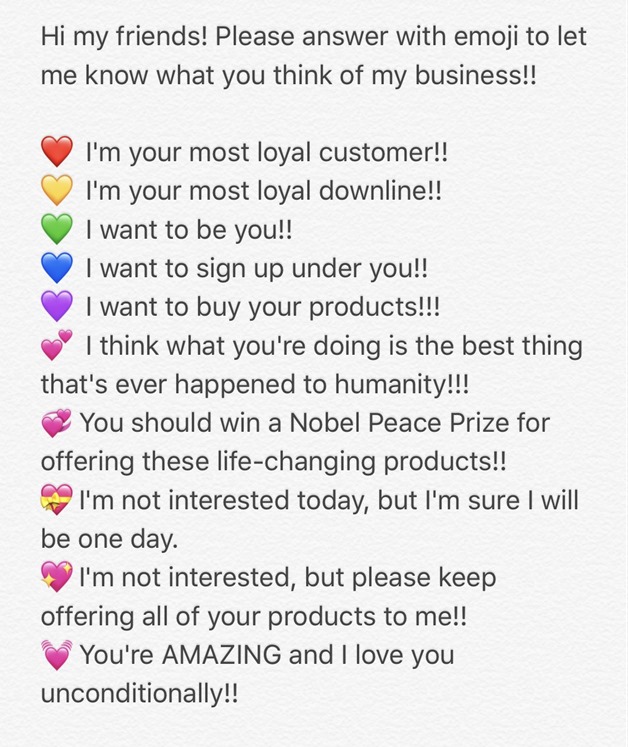 But, oddly, they never ever offer the heartbreak emoji. Or the new and fantastic black heart emoji. I'm sure it's just a simple oversight, but I feel like there needs to be an option out there for everyone and every opinion (because if 2017 isn't about EVERY OPINION, what IS it about??), so I decided to write my own.
I don't have my own business that involves a downline, sales levels named after precious stones (But if I did, I would be Double Purple Sapphire Diamond Titanium Level, y'all!!), or wildly fantastic motivational trips to Fiji, but I do occasionally mention my side project, Picture Birmingham, so that's what I shall write my status for.
So. Let's try this.
I CANNOT WAIT to see what emoji you choose in response!!