Leggings make me feel dead inside.
Yet I still have exactly 8 pairs.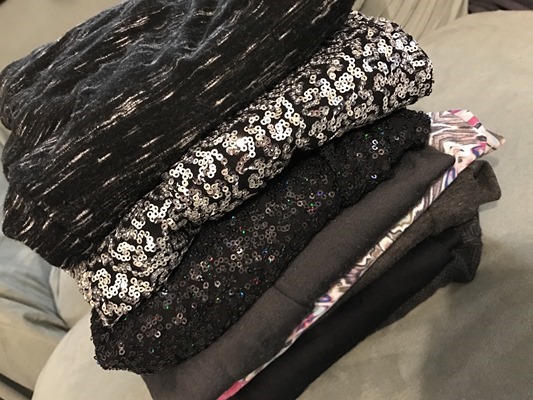 It's true – even the sequins don't make them better.
As I sit back and ruminate on where I went wrong in life, I must surmise that I fell into this slippery slope because of running. Running leggings are amazing. Compressing in all the right spots and freeing in the rest. They are so fantastic that they make all other waistbands feel downright oppressive, and I never feel less jiggly and as if I actually have a firm body than when I'm wearing running leggings. This, along with the fashion world changing to a leggings-based environment, created this heinous situation in my life. This vacuous space in my fashion story. This embarrassment to myself, and one day when they look back on pictures, this embarrassment to my children.
But leggings leggings are not running leggings. Maybe some are, but none of the brands I've tried out compare. They compress my lumps and bumps with the efficiency of a stretched out two-sizes-too-big pair of non-control-top pantyhose. And when I pull them up over my twice-c-sectioned belly, I immediately feel like all my everything is put on display, and I look like the identical twin sister to a bag of Idaho potatoes. When I turn around and see the sheer length of my backside – from waist to upper knee – I shudder with horror and feel like I've turned away from everything I believe in.
I quickly pull on an oversized, long, solid colored, shapeless top. And sigh.
How did I find myself here?
What happened to my bold prints and the snappiest of denim? What happened to structure and slimming lines and flattering stitching?
I peek in my closet where many of those things still exist, albeit with dust perched atop the hangers.
But oh, the effort. Compared to my up-and-done leggings and boring flowy tops, the waistbands and belts and camisoles and buttons feel. So. Exhausting.
Then I moan with horror.
Is this what it means to let go of myself?
To forget what it's like to care about fashion?
HAVE I GIVEN UP MY IDENTITY??
Then I look around and see women everywhere, young and old, having reproduced and not, doing the same thing.
And I let a relieved breath go.
It's not just me.
Maybe this year's fashion is the fault of the cesspool of bubbling pus that was 2016 for America. The national situation was such that it left us no energy for zippers and spanx.
It's not the first time this has happened, after all. There were the giant sweaters and stirrups* in the early 90s (I had a light brown baby poo colored sweater that could've comfortably fit my dad. I wore it everywhere, proudly.)

*confession: I miss stirrups. That band on the bottom of my foot felt downright pleasurable. But I shudder to think of their effect on my now belly.
So, fashion is obviously cyclical.
In a few years we'll all be back to structured shirts (that haven't had their shoulders mysteriously removed), bootcut jeans (shaped ever so slightly different and given some new clever name like 'gram jeans or something), and maybe even heels.
So I say we go ahead and usher in the next fashion cycle.
Rebel.
Throw away those leggings (stop! no! Not the running ones! Just the soul-sucking ones.), pull out our lonely denim, suck ourselves into those foreign and bizarrely restrictive waistbands, and
Bring.
Fashion.
Back.
In just a few minutes.
Because these leggings are so comfortable…..