I have strong personal convictions about Valentine's Day.
I think it is inanely stupid.
It's contrived, it's expected, and it's downright annoying.
It forces single people to feel sad, it obligates non-single people to feel pressured to write something disgustingly mushy on Facebook, AND it's the single worst night in the year to attempt to eat out, making one choose to either a) wait 4 hours to be packed in like sardines at a prix fixe meal out, or b) COOK AND WASH DISHES AT HOME.
WHY would we allow something so ugly into our culture*?
I mean sure, Chris and I celebrated it for a number of years at the beginning of our relationship – until that beautiful day that we got comfortable enough in our love to have that most romantic conversation.
"I think this is stupid."

"Really? I do too!!"
We would much rather celebrate romance on our anniversary. It's ours and we don't have to share it with every other couple on the globe.
Welcome to the romance of the cynical.
* Feel free to disagree with me. You may find Valentine's to be the most romantic, loveliest of holidays and that is 100% fine. Continue to enjoy the pinkest and reddest of days and by all means don't let me sour you toward it.
Anyway. My lack of disregard for this holiday is why, when my Dad texted me Tuesday morning and asked if he could stop by, I didn't even think for a second that it had to do with Valentine's. I wondered for the next 30 minutes to what exactly we owed his visit. Although it's not unusual for Dad to stop by, his text implied more than the usual "I'm dropping by."
He walked in with a big red envelope in hand.
"I brought you a Valentine."
Now. I derive 105% of my cynical genes from my Father.
This was clearly a confusing turn of events.
I opened my Valentine to find a handmade card, in my Mom's writing. So this was a joint card….still feeling a bit odd.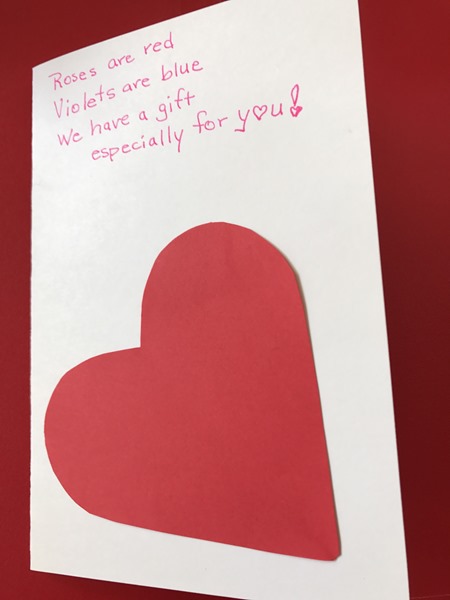 And then I opened it. And I remembered why my parents are THE best parents in the world.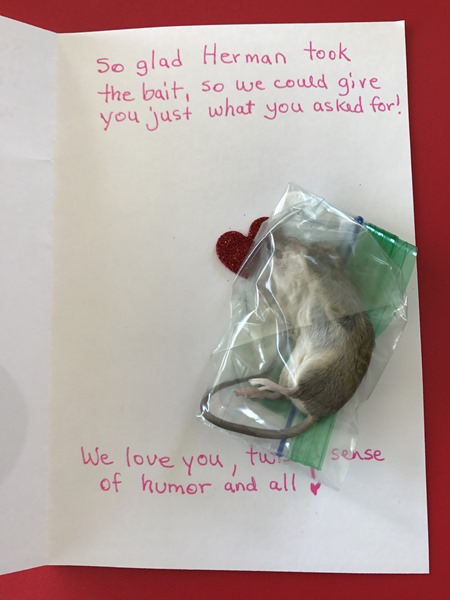 "Twisted" is the word that is obstructed by Herman's Grade A Packaging, just in case you couldn't figure that out via context.
Have you ever seen such a perfect way to celebrate this holiday?
No. You haven't. Because my parents just created it.
After I opened the card and gushed at my Dad's thoughtfulness, he pulled out another baggie.
"It's a two-for-one day!"
That's right. I was gifted not one, but TWO dead mice for Valentine's Day. No $200 bouquet could top such a thoughtful, personalized gift.
I squealed with happiness.
"I even had a Valentine's balloon in my roadkill kit that would have expired today if I hadn't found something!!"
Dad beamed, obviously proud of his perfect timing.
After he left, Noah and I headed out to the driveway in bare feet, and I put the rubber gloves in my kit to use for the first time – after all, Herman and Marge would have to be posed.
I got them how I wanted them, but the plastic stem of my balloon kept popping off the ground, sending Herman rolling over.
Carcass Models are such divas to work with.
I finally had to employ my toes to hold the stem down, then had to crop out the tippy top of my big toe to finally capture the essence of the moment.
Yes, I had gotten what I wanted. Now it was time to write A Valentine Tale worthy of the image.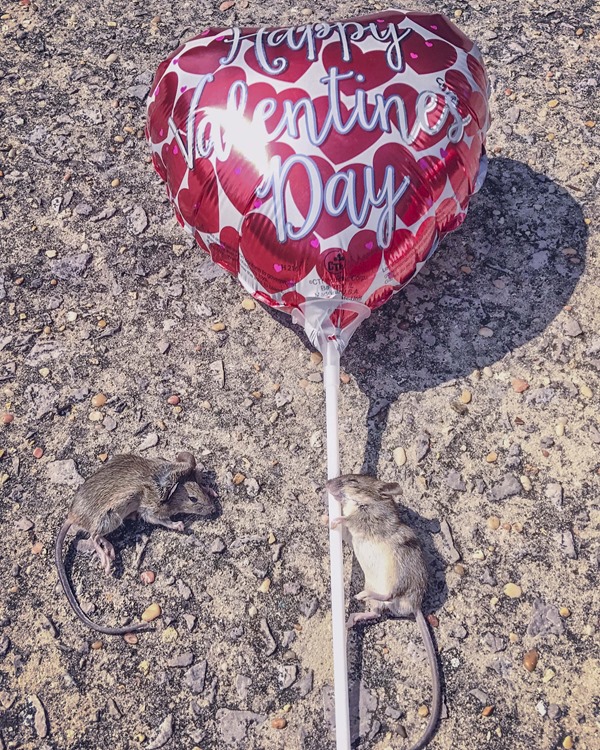 Marge tried to feign excitement about Herman's proud cheesy gift of an oversized balloon – she knew he loved her to death, after all – but all she really wanted was for him to have not been such an idiot when he decided to make their home near that tempting, deadly, beautiful, terrible Mouse Trap Subdivision.
And that's how I received the best Valentine's Day gift ever.