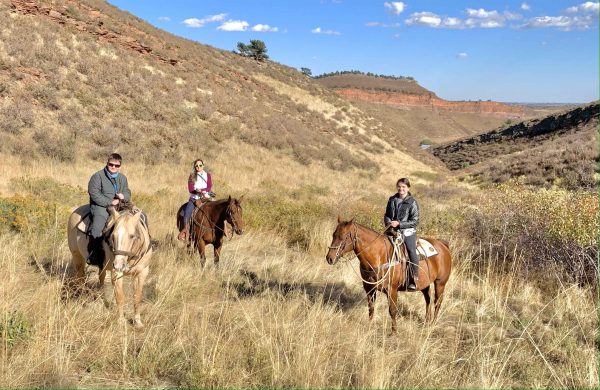 Our trip to Colorado was an experiment on two fronts.
I used all of my strategies in making it the least expensive trip possible.
It was just myself and the kids – no husband or friend to be the backup adult-in-charge or to give me an adult to talk to.
Regarding cost, the children and I flew to Denver (a nonstop, 2.5 hour flight), rented an SUV, and stayed in a hotel – in two adjoining rooms – for a grand total travel cost of $647.
Let me clarify that we still spent money on food and activities while we were there, and that is not included in the $647. That figure is for our three flights, our rental car, and our two hotel rooms for four nights.
Here's how I did it:
We went to Colorado because there was a great flight deal, and because Rocky Mountain National Park was on my list of field trips that we want to accomplish in the next four years. I knew about the great flight deal because I subscribe to Scott's Cheap Flights, which sends me email alerts about great deals from my airport. The Denver flights, at $150 each, were labeled an "epic deal" and the lowest price they'd been in 3 years.
When I booked my flight, straight through the airline's website, they offered me a $300 statement credit if I opened a credit card. An important feature of using an airline's credit card to book flights: not only did opening a credit card save me $300 on our flights (bringing our grand total for three flights down to $170), but it also gave us free checked bags for two people*, therefore saving us $120 ($30 each, each way.)* Our Colorado flights were through American Air; United Airline's credit card gets you free checked bags for more than two people – I don't know exactly how many, but I did this same credit card deal with United when we went to Montana, and got four people's checked bags for free, saving $240 on baggage fees.
Another note – these immediate cash off offers seem to only come up when you're in the process of booking a flight – not by searching for them beforehand.

For all of our normal purchases, both business and home, we use a credit card** that earns Marriott points. I discovered a decade ago that Marriott has the best perks for credit card points of any hotel line, and immediately dove into the deep end of maximizing them. Because of simply using credit cards well (i.e. I never allow a balance to carry forward and therefore never pay interest for the "privilege" of using the credit card), I am Titanium Elite status with Marriott, get guaranteed 4pm checkout, have more free nights than I can use, always get free breakfast, and many other perks each year. So our two adjoining hotel rooms for four nights were on points and completely free.
This year in total, I have redeemed 17 nights of free stays (many at seriously nice hotels and resorts), and have already booked 17 more nights so far for next year, and still have six free unused nights in my account plus a good number of points.
**The best Marriott point earning system is on the Amex Business Card (this referral link gets you the best welcome bonus I can find). We also use the Amex personal card (there's not a good intro bonus on the one with a low annual fee right now) and the Chase personal card. 
I don't have any great money-saving strategies for rental cars (or at least not yet – feel free to pass any on), so our car was our highest travel expense, coming in at $477.
I know that some people don't feel comfortable opening multiple credit cards and I totally get that. However, I have found that with careful organization and planning, it can be very beneficial for zero or minimal cost. If a credit card has an annual fee and I don't plan on using it again, I close it. If it doesn't have an annual fee, I usually leave it open, because somehow, it actually increases my credit score to have multiple open accounts. I have found that when I close a credit card account, my credit score goes down. (Along the same nonsensical line, when I paid off Chris' car loan early, his credit score went down by 30 points.) So don't use the credit card strategy if it isn't safe for you. But if you can do it without ever paying interest, the credit card points game is an incredible way to get free travel, perks, and other benefits.
As for the other experiment, traveling on a vacation with one adult and two kids, it was a winning (and for a minute, losing,) experiment.
When the kids were little, it would not have been fun for me, at all in any way, to travel alone with them without another adult to adult with. However, they're 10 and 14 now, and it's like traveling with two near-adults that I enjoy.
(It might not have been quite as relaxing if I hadn't had my own hotel room to introvert in at the end of the day, but it was great.)
(Except for the fact that within two hours of landing in Denver, I had my first ever anaphylactic reaction and ended up in the ER unable to swallow.)
(That's when I was like "Okay maybe another adult along would have been a good idea.")
(Ali felt the same.)
But it prompted a great conversation on "what to do if you find yourself in an emergency situation with an incapacitated grownup and how it will all be okay and you will never be an orphan forever in Colorado."
But other than that, it was great. Highly recommended. Just, you know. Have meds on hand.