We have arrived – at last – to my final post about Maine. So that means I may leave immediately to go back to Maine, right?
Saturday was our longest road trip day – there were a couple of high priority tourist destinations that I wanted to experience that were an hour and a half up the coast from where we stayed, so I saved them to do with Chris.
We started in Rockland at the Breakwater. The Breakwater is a mile-long walkway made of giant-sized stones of granite all put together like a puzzle. It is the windiest place on earth, and the most incredible and unique experience we had in Maine.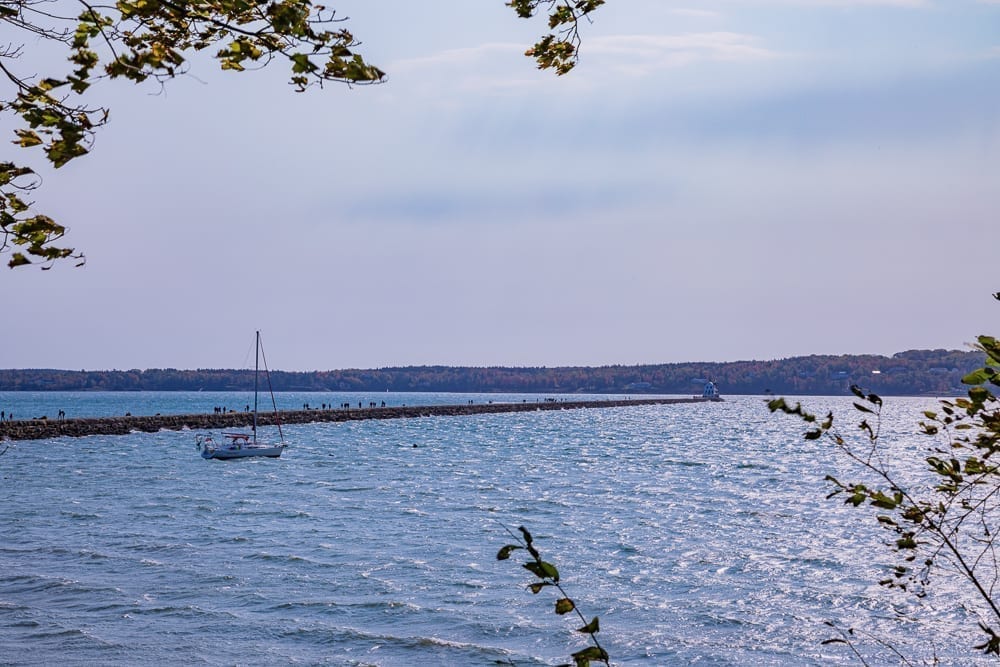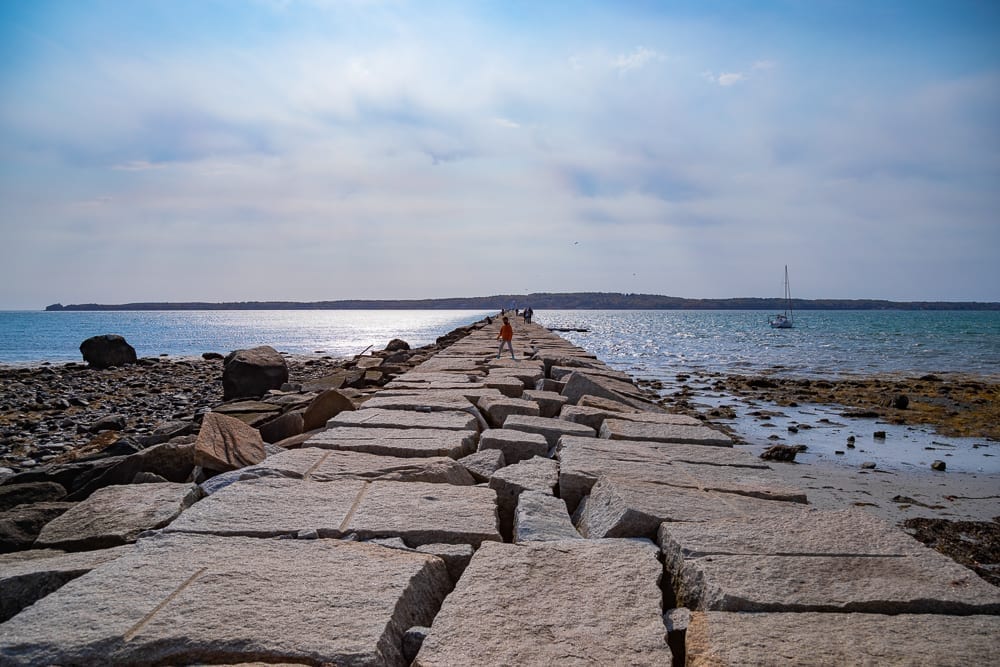 Facts about The Breakwater:
– 1 mile long
– 700,000 tons of granite, but only cost $750,000 to build
– Was built between 1881 and 1899
-The lighthouse at the end of it came years later (and was the least interesting part of the experience)
– The purpose was to protect the city from storm damage
We walked down it, with dozens of other tourists (so far this had been the most crowded thing we'd done) and the further we got, the stronger the wind got. I had never been so thankful that I'd braided my hair, and for a mask – we wore them for the express purpose of our lips not flying off.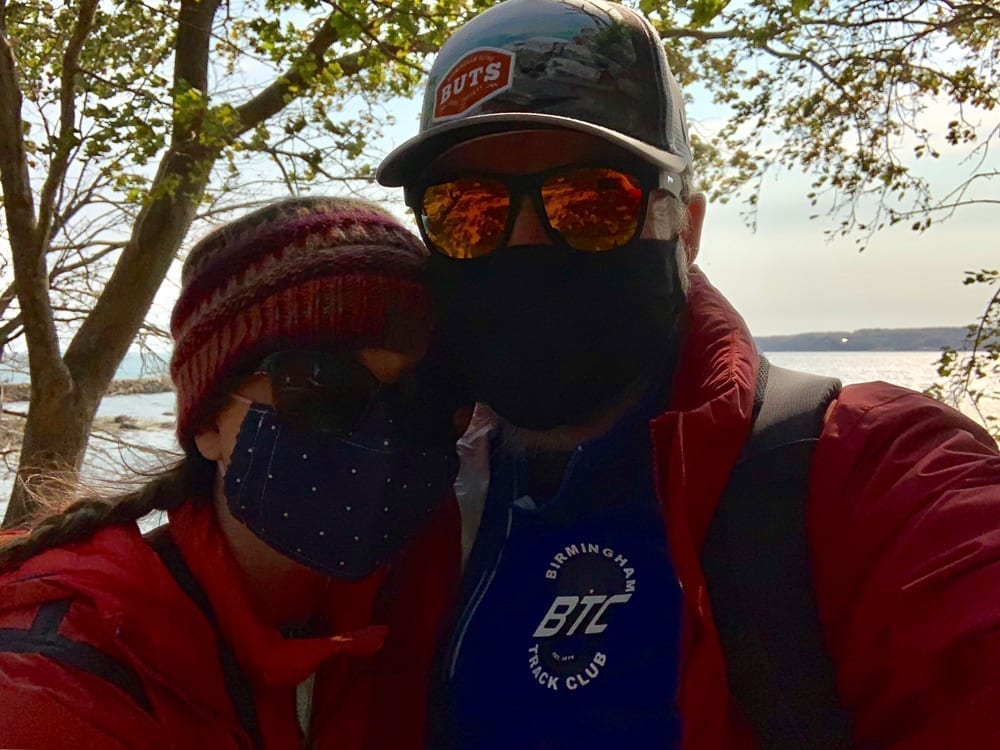 There were several gusts of wind that sent me a couple steps to the left or right – and there were little kids out there!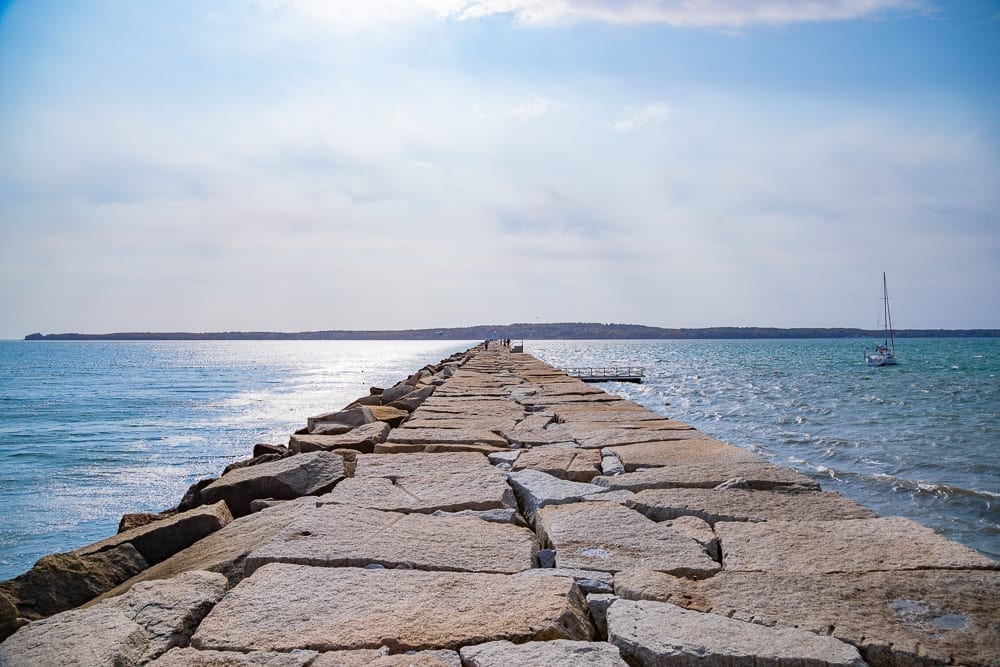 It was actually kind of scary to watch those tiny humans get pushed around by the wind. We got to the end, where the lighthouse was, and walked around to the side of the lighthouse where we were protected from the wind, and breathed a sigh of relief.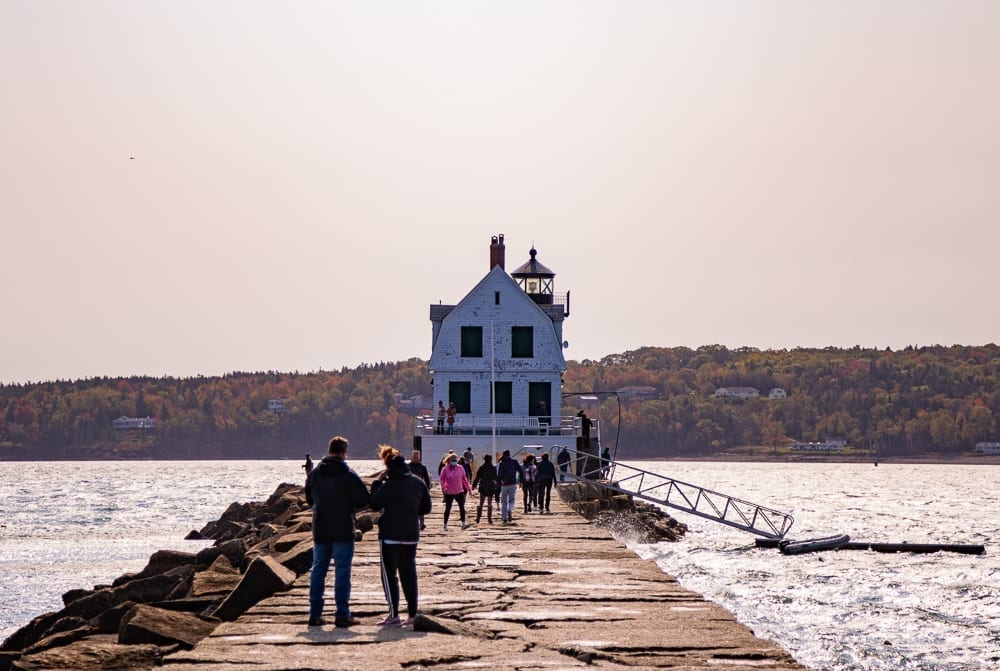 Then I immediately smelled pot.
I looked up to the balcony above us and saw the guy calmly smoking his weed a mile out into the ocean next to a lighthouse. I guess after that chill-removing-wind, he needed it.
This was also when I realized that marijuana must be legal in Maine. Maybe it helps with all the wind burn.
We walked up to the second deck (after Mr. WeedCloud left) and sat on the benches for a few minutes, watching all the people struggle to get down the boardwalk, and taking pictures.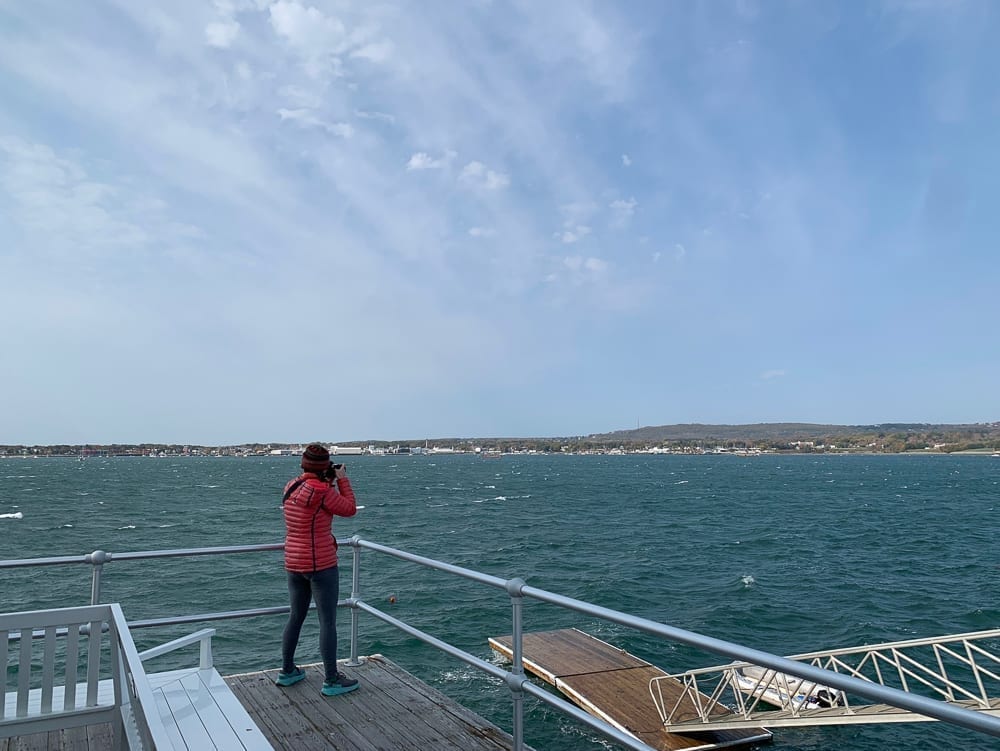 The experience had been completely incredible. It's the kind of thing that is not at all comfortable or "fun", but it is so insanely spectacular and different that it's invigorating and gives you a level of glee and accomplishment and like you've "experienced" something amazing. We disagreed on whether Noah would have complained and hated every step (Chris) or whether he'd be screaming at the top of his lungs "THIS IS SO FUN!!!" (me.)
(For the record, later when I described it to Noah, he said he would hate it. I'm still not convinced.)
The walk back was a little easier – the wind was pushing us back down the breakwater, away from its lair. We got to the car and again smelled pot. And then a pile of 6 giggling 20-somethings all piled out of the car next to us, along with long curls of thick white smoke. At this point I was surprised that it had taken me this long in a legal state to run into it, but this was our "tourist destination day" – all my other travels had been to fairly low-key, solitary places that I had only shared with seal/dog ghosts.
We left Rockland and drove 15 minutes further north to Camden. Camden is the Number Two coastal destination in Maine, second only to Bar Harbor. I had considered staying in a hotel there, but first had Google street-viewed the city and realized it was packed out with tourists, and looked like Gatlinburg by the sea. But it was still cute, and mainly I wanted to see it from Mount Battie, a mountain in Camden Hills State Park with a view of the huge Penobscot Bay. We had previously planned on hiking 2.5 miles up Mount Battie, but after our workout at The Breakwater, we easily agreed that we were up for the drive to the top.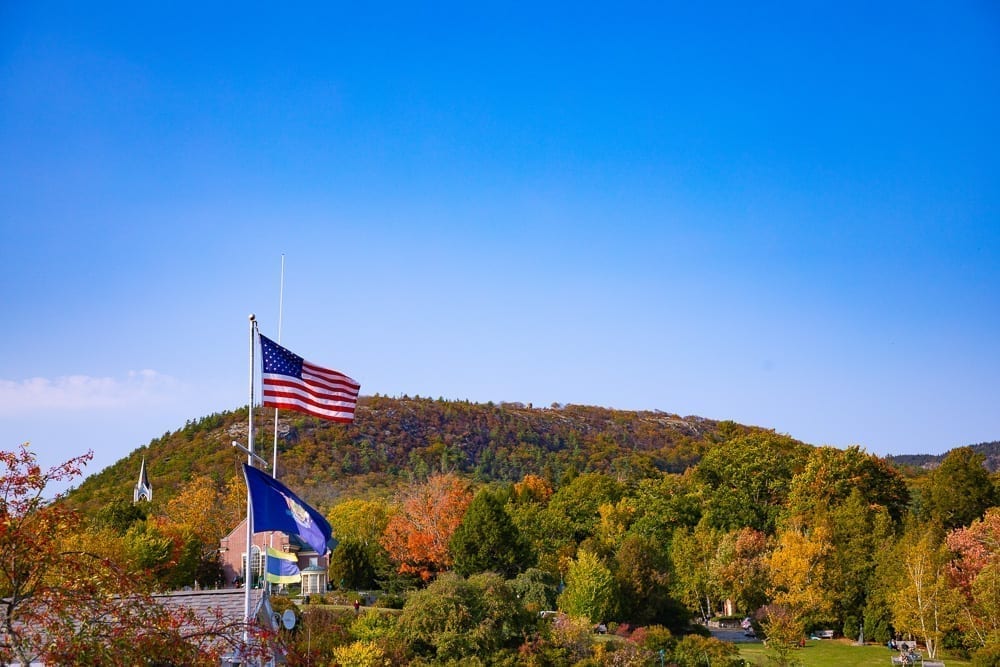 The line to get into the state park was intensely long, and we began doubting ourselves, but waited it out anyway. They were taking people's money in fishing nets, then handing them maps back in fishing nets. Netting money is slow.
We drove up the winding road and we were so glad we had – the view was amazing. As Chris said, it was almost too much to take in – too glorious to really grasp what you were looking at.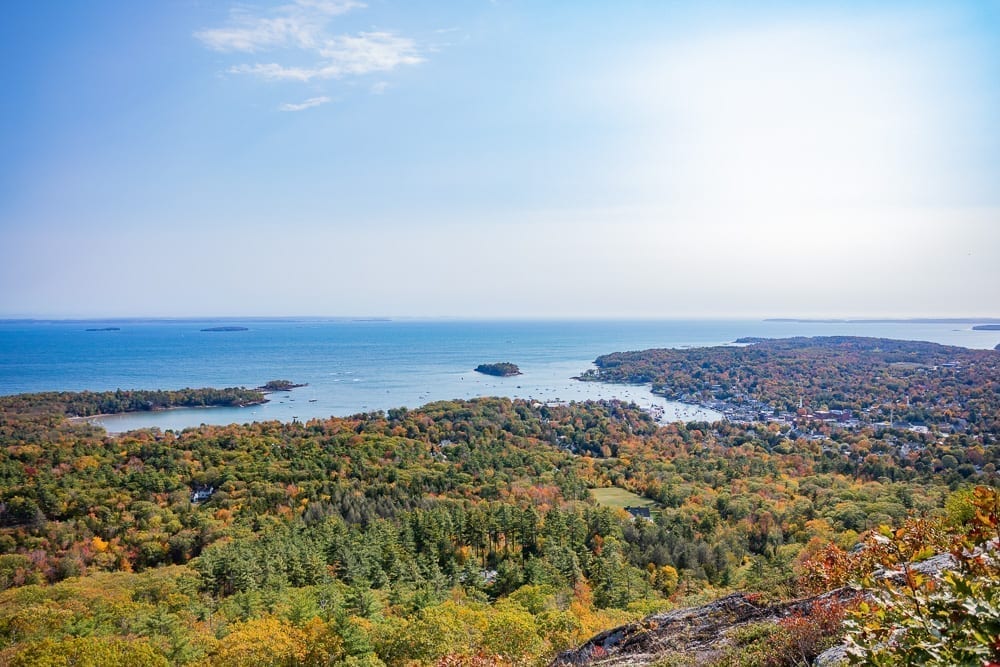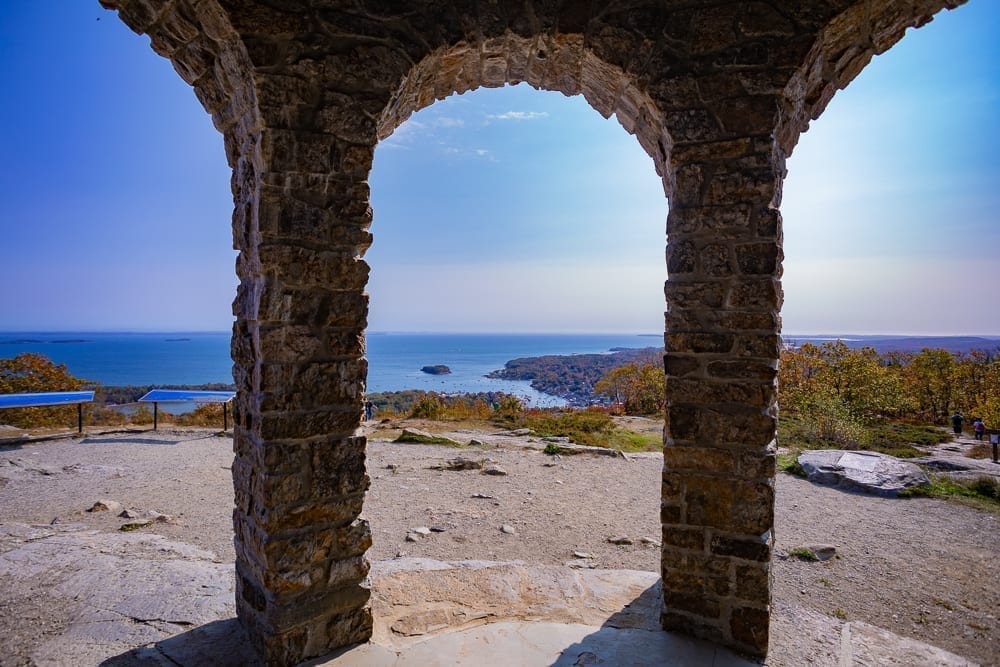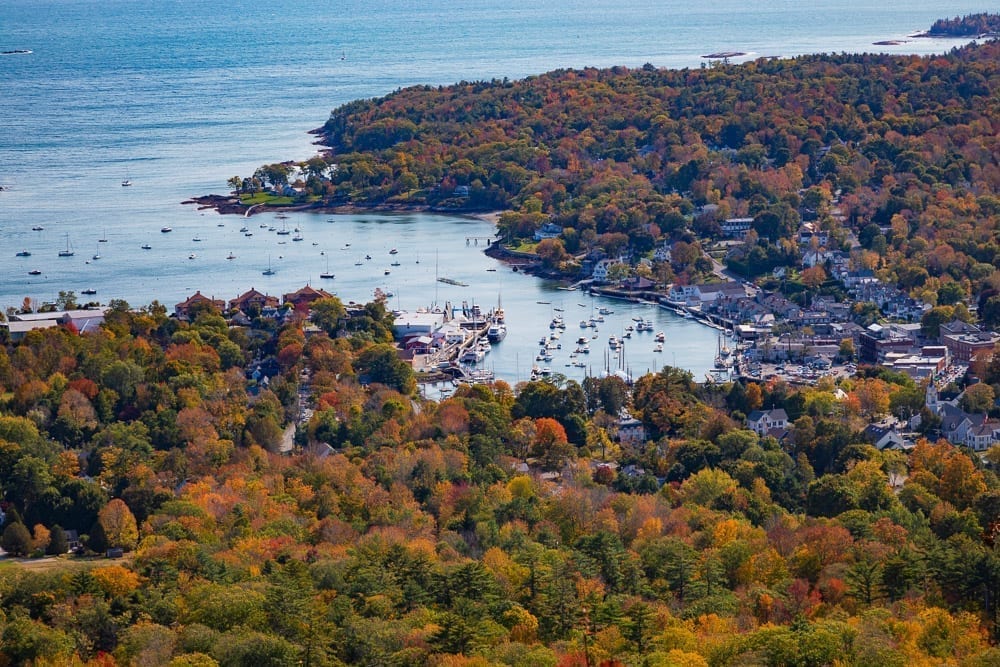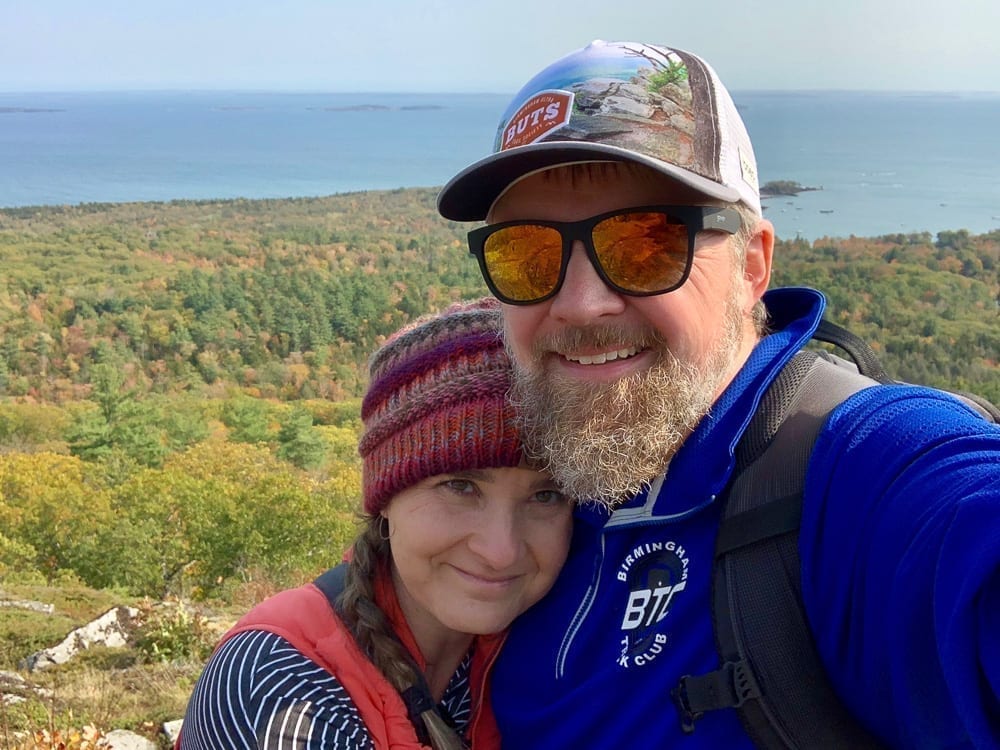 The blue seas, the fall colors, the adorable Camden Bay full of boats…it was just lovely. There were a lot of people up there, but it wasn't too hard to find a quiet, unobstructed view of the bay below.
One thing we found most fascinating is that even though they were 22 minutes away from each other by road, we could see Mount Battie from the Breakwater,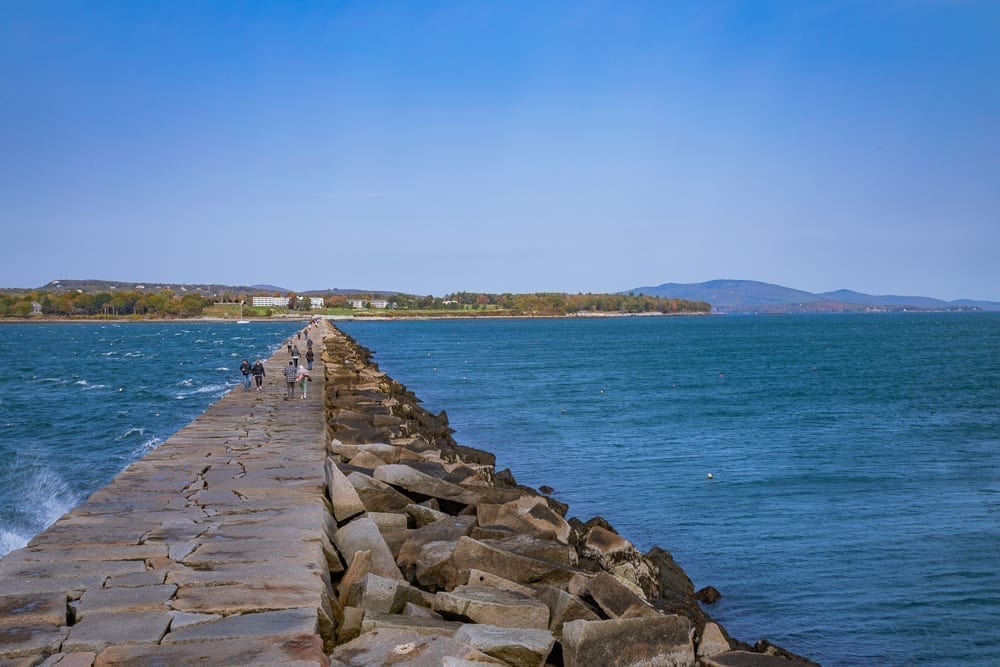 And the Breakwater from Mount Battie.
We drove back down into Camden with the purpose of shopping and eating, but the traffic was unreal. Chris found a side street to get into town and park. I was already SO GLAD I hadn't decided to actually stay in Camden. Oh My Gosh this was NOT the Maine I was looking for – give me my quiet little peninsula with not a store for 20 minutes every time.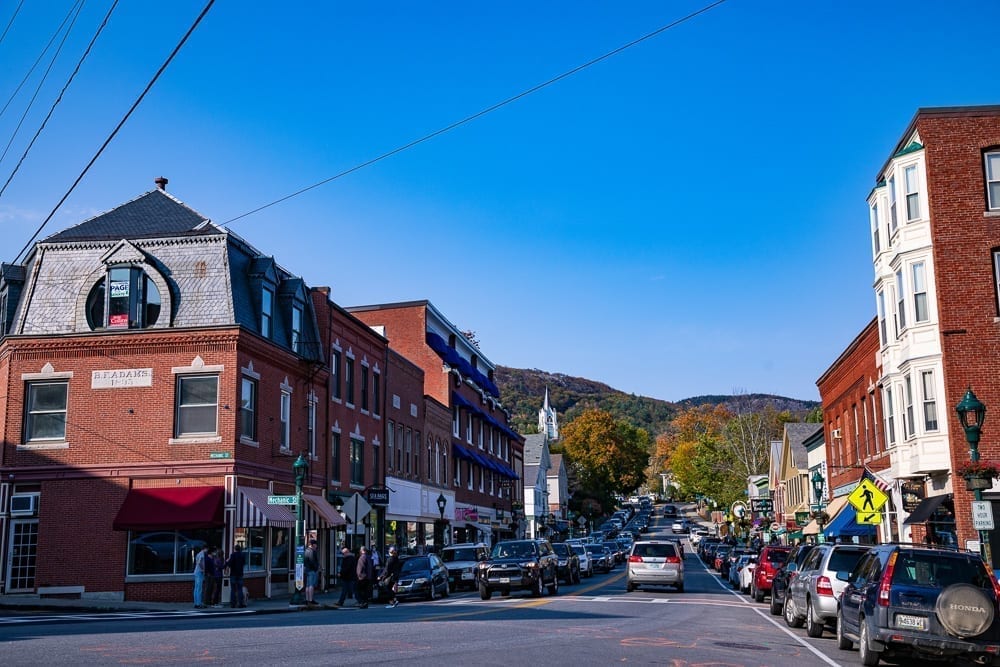 But it really was precious…when you pushed out of the crowd.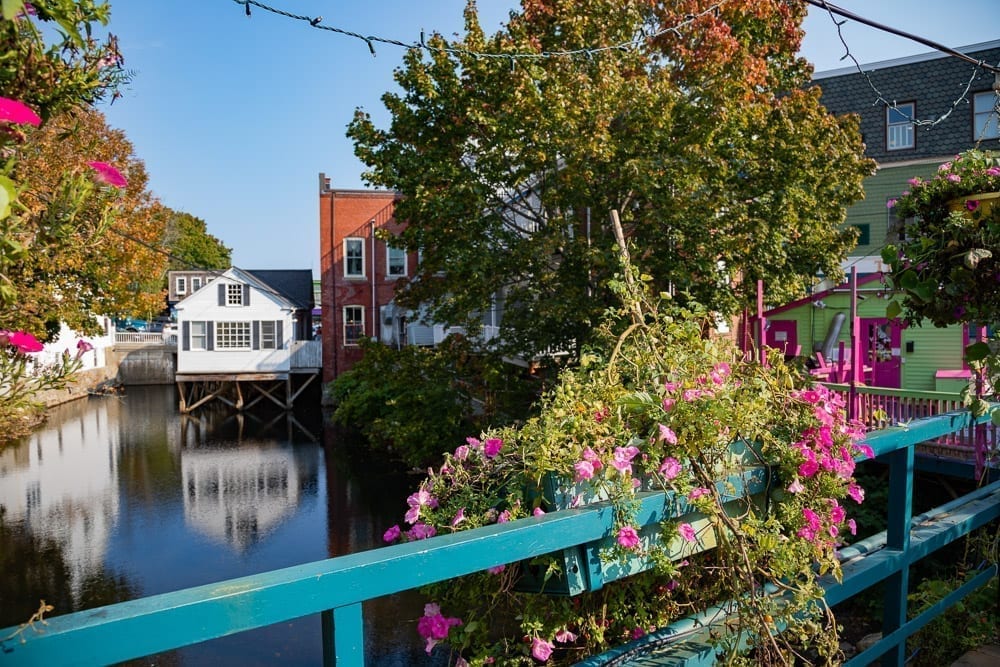 We went in some little shops and got souvenirs for the kids, then went to the wharf to eat. The restaurant I had pre-chosen in my itinerary had a 50 minute wait (even though it was 3pm), but they were calling people on their cell phones, so we put our names down. But I was feeling less and less enchanted by Camden by the moment and more and more annoyed by the hoards of tourists. So we walked a little further then decided we'd rather drive 15 minutes back to Rockland (which was a quieter, quainter tourist town) to eat rather than eating in this tourist nightmare.
Luckily, when I'd itinerized, I'd already chosen a Rockland restaurant too, so no stress. We drove two towns over, parked, were seated, and had ordered food before we got our call from Camden telling us our table was ready. And the restaurant we chose in Rockland was SO MUCH BETTER – the chef had won Bobby Flay's throwdown with her Triple Decker Lobster BLT, so of course Chris got that.
(Which was $30. A THIRTY DOLLAR SANDWICH. Chris said it's the first time he'd ever seen a $30 sandwich on a menu so obviously he had to try it.)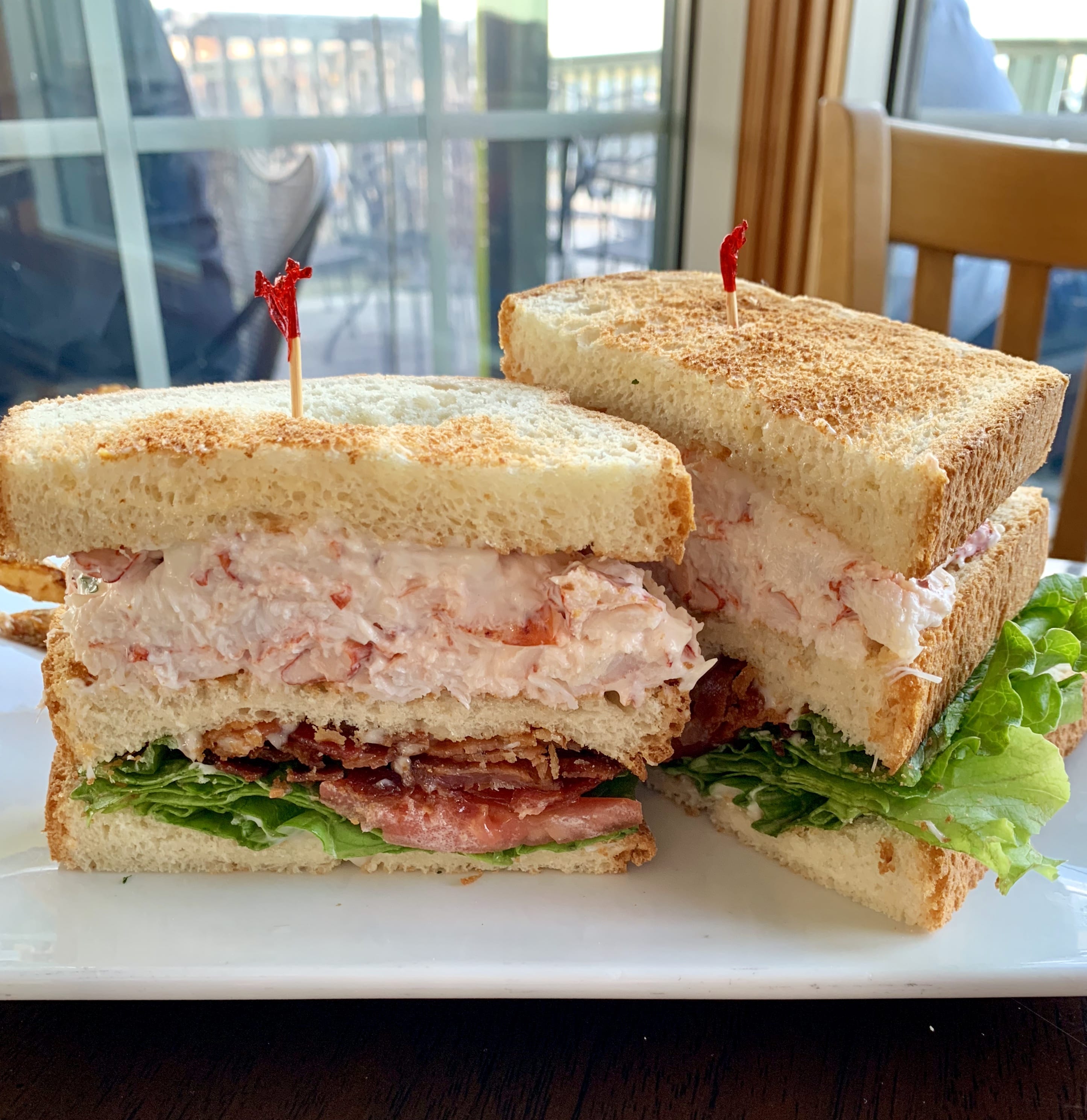 (As I write this, in justification, he said "It did come with a side of fries…and it had three slices of toasted sourdough bread!!")
But the lobster dip was the best seafood dip I'd ever had.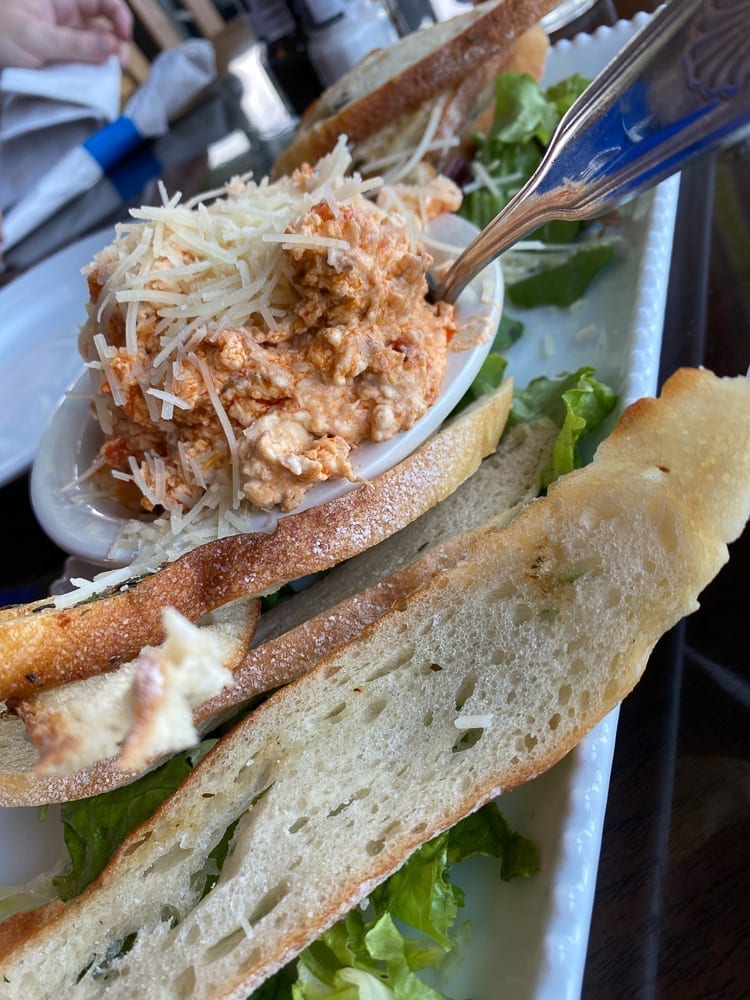 We were quite happy with our choice, and I really have no desire to ever go to Camden again. And if Camden was that bad, without cruise ships or as many tourists (thanks to COVID), I never ever ever ever want to go to Bar Harbor.
We happily headed back to our quiet little peninsula and caught the sunset over Bath on the way.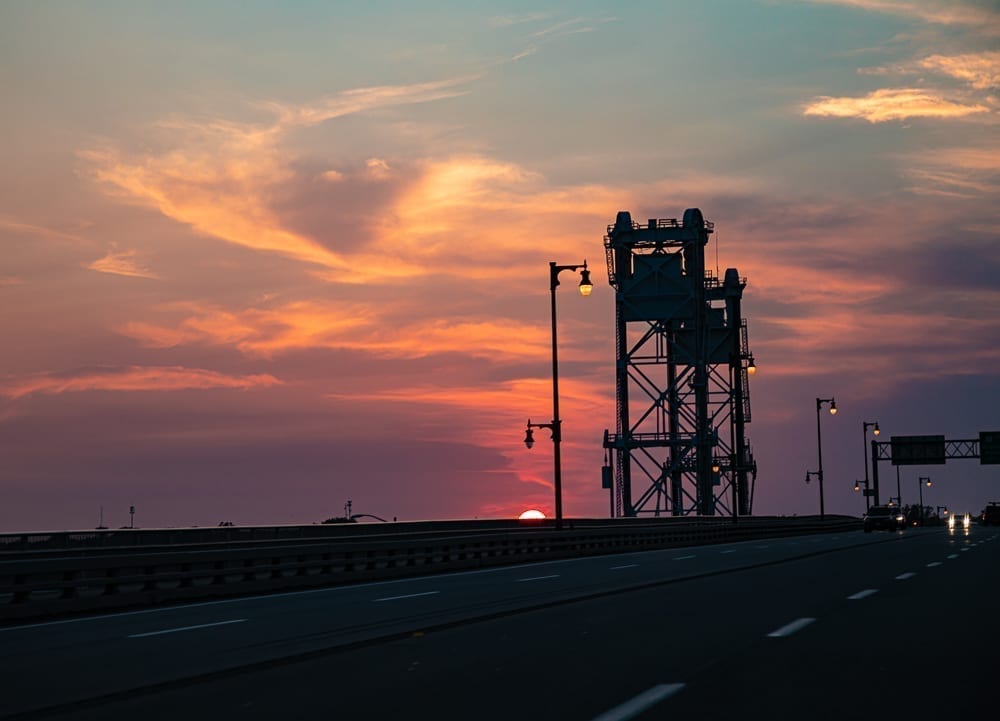 Sunday was our last day. It was time to go home, but not until late that afternoon.
We woke up and had coffee, then walked around the resort a bit,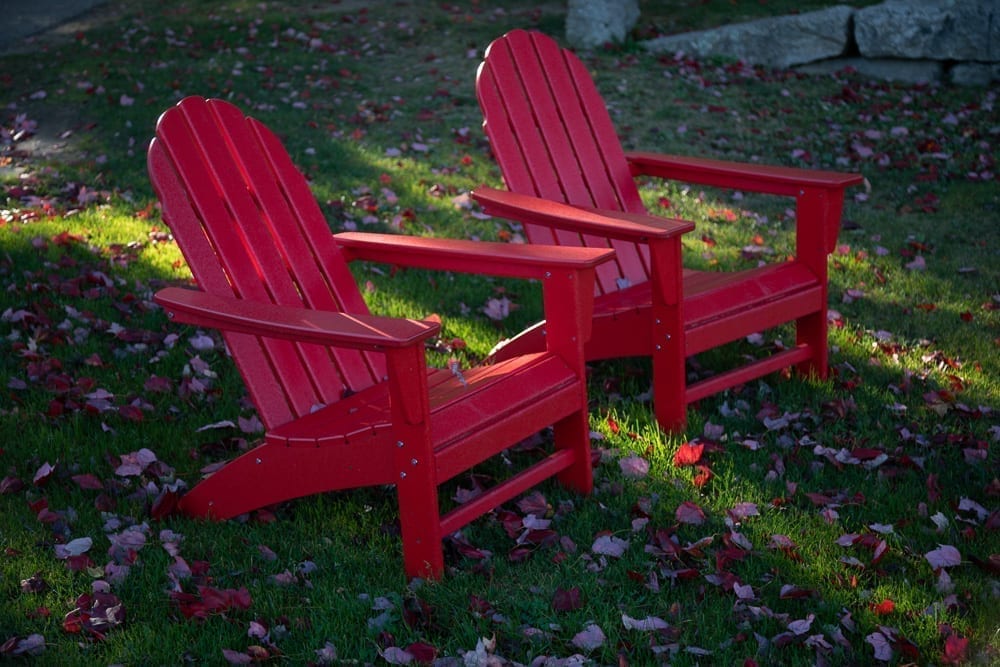 stopping by the front desk and asking for a late checkout. They said no problem, we could stay till noon. So we decided to get in one more hike on our peninsula. There are over 31 miles of trails and a dozen nature preserves just on our uninhabited peninsula, and we'd only been to a couple of them! There's so much to explore in Maine that I was already aching to stay for months.
So we got ready and went to Bates-Morse Conservation Area – a supposedly lovely 2 mile walk through forest and mountaintops and overlooking swamps and beach that takes you to an otherwise inaccessible beach. It was just a few minutes away, but when we arrived, Maine's sign love was in full force – there were four signs telling us…
The parking lot is full
Turn around. 
Do not drive up to the parking lot.
Turn around right here.
Do not hike in.
There is no other parking.
There is no other access.
Leave and go somewhere else.
Chris was all like "It's 9:15 on a Sunday morning!! It can't be full. They just left the signs out from yesterday. Maine just really likes signs. Drive up there and see."
I didn't want to, but I drove up the gravel road and we saw the parking lot to the left – and a bonafide guard shack (every state park we'd been to had been unmanned and had the honor system to pay, but this random conservation area on our uninhabited peninsula had a guy??) 
A guy steps out and starts walking toward us.
I said "I told you!!" 
Chris rolled down his window.
I said apologetically "I'm just turning around!"
Chris said "So is the parking lot full?"
The man looked sardonically at the backside of all his signs. "APPARENTLY." And gave us the most wilting you-are-such-imbeciles look of all time.
I got out of there as quickly as I could. Scary angry man in the middle of Maine forest isn't my go-to way to spend my vacation.
But I had a backup plan. I took Chris back to Popham Fort, where I'd gone on my first day for sunset. I had been wanting to go back there anyway, especially since the waitress had told me that's where the sea lions hung out and I had yet to see any sea lions (or moose or whales, but who's counting.)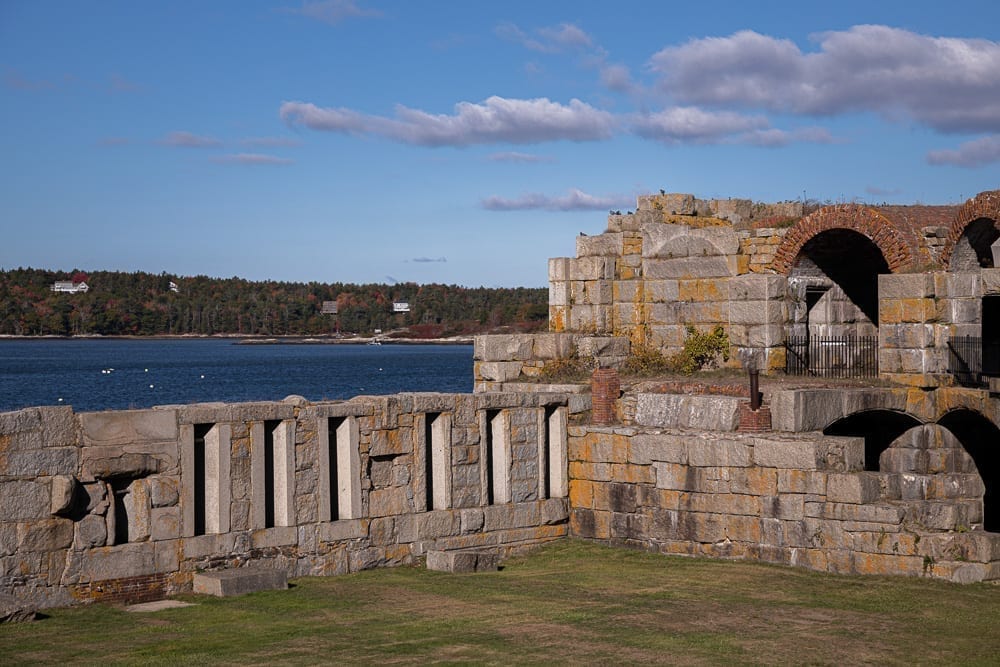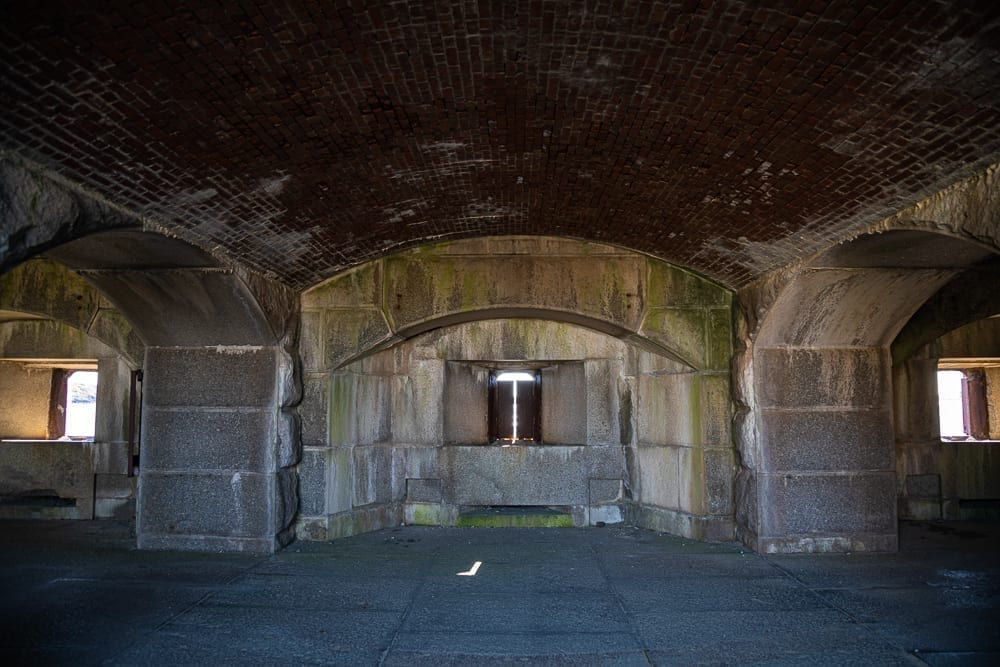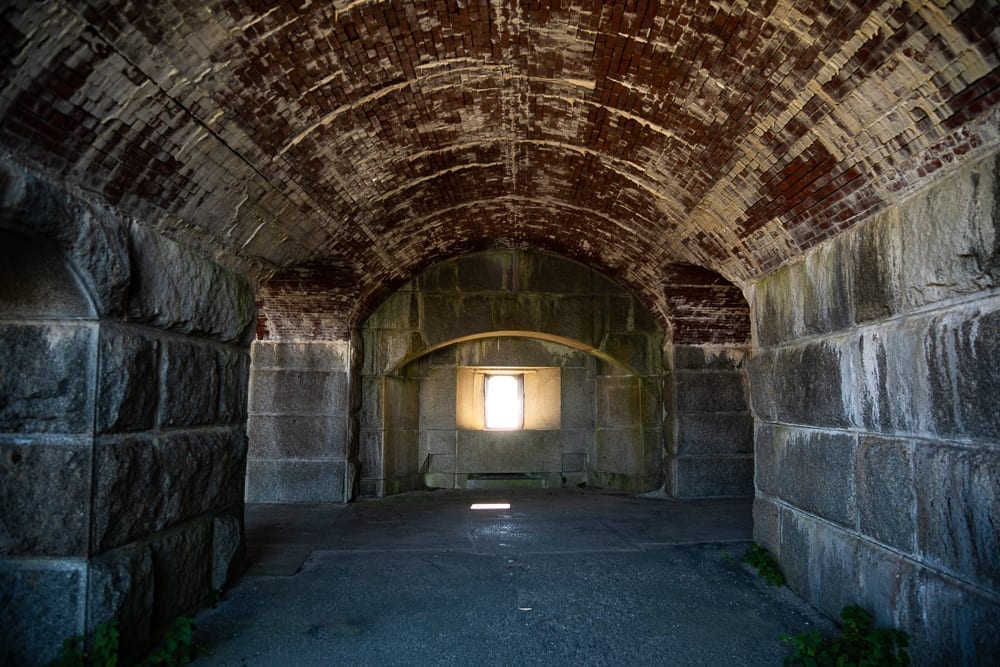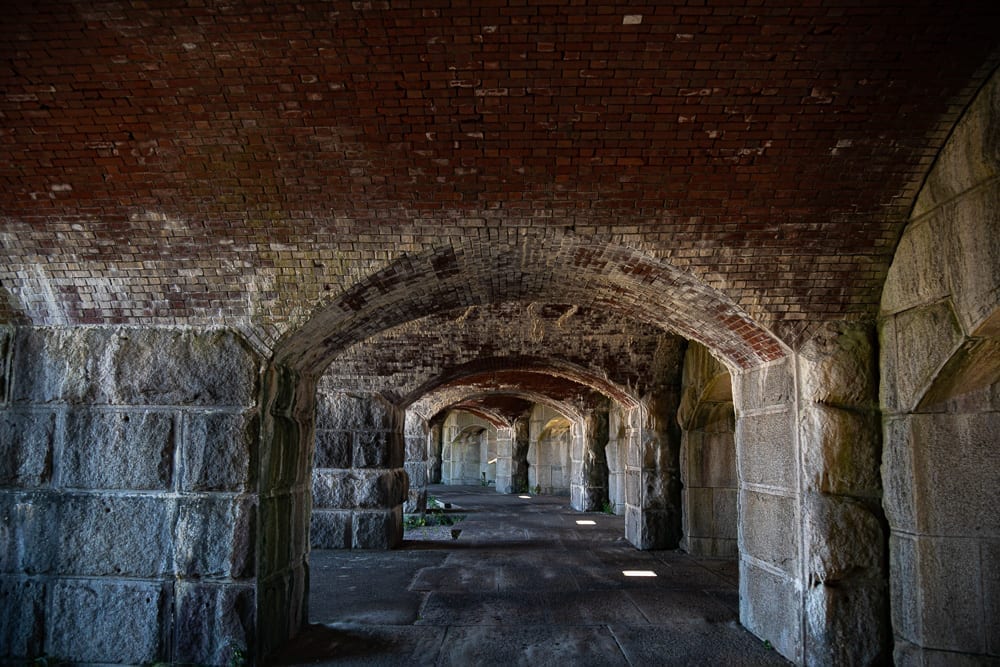 Chris loved the 360 beauty of the fort area – rocky beach, old fort, sandy beach, adorable little town with a church next to the waterfront, fall colors…it was perfect. We explored the fort and pondered how weird it was that we'd been to two forts from the civil war from opposite sides this year (Fort Morgan in Alabama was the other.) By the way – in Maine they call the Civil War "The Great Rebellion"… which is quite different than "The War of Northern Aggression" that some people call it down here.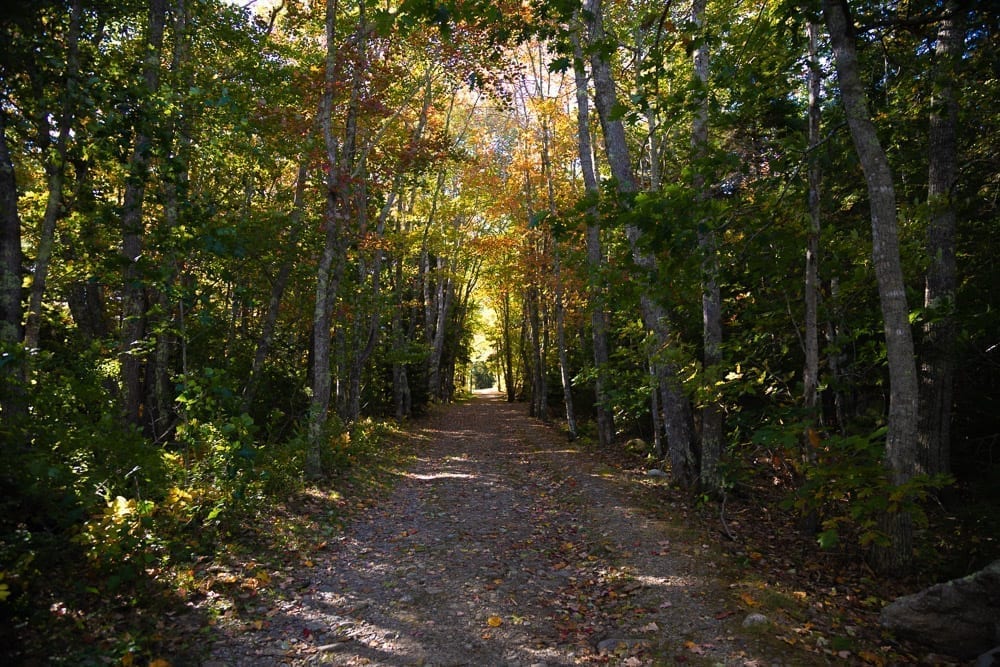 Just up the hill from Fort Popham is Fort Baldwin, an older fort that looks out over Popham. So we drove up there as well. The placard info was really interesting. The first settlement came in 1607, built a ship called The Virginia to go up and down the Kennebec river, then a year later decided to go back to England – and used the ship they'd built here to do so. Then another settlement came to the New World in their ship – to Jamestown – and settled. And used the ship built in Maine for many years from Jamestown. And that is where Maine's shipbuilding industry started. Everything is so much older in Maine than in Alabama – I bet Maine History takes a lot longer than Alabama History.
There was a trail off behind Fort Baldwin, so we walked it for a few minutes. It was lovely and quiet and unique, and our last hike in Maine.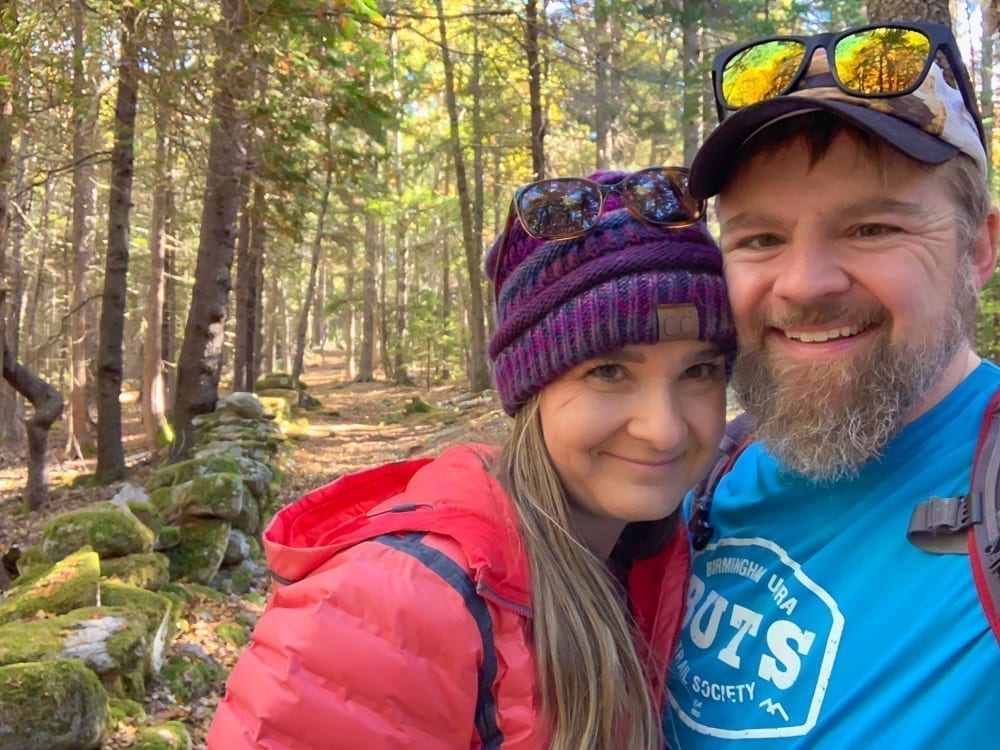 Then we headed back to the room, packed up, and checked out.
Our flight wasn't until 5, so we had time to walk around a city a little more – Chris picked Portland. Which ended up also being super crowded and zero bathrooms for anyone to use (including gas station, starbucks, anywhere.) We finally found a tiny brand new Mexican Restaurant – Jefe Juan's – to get a lunch snack and blessedly use the bathroom before heading to the airport. It was quite delicious (ceviche tacos) and a perfect last meal before heading off.
First class upgrades had been really inexpensive at check in, and Chris had urged me to get them the day before, which was a perfect way to not feel so anticlimactic about leaving. It was quite cozy and restful in our large, oversized, comfortable seats on the way home and it really helped medicate my "adventure's over" melancholy. 
It's been nearly two months since I was in Maine (I know – it took me forever to tell this story), and yet I still ache for it every day. I'm actually glad that tourist season ended a week after I left, because if there were a possibility of going back RIGHT NOW, I'd probably be scheming every way I could to make it happen.