Day four was to be my last day alone – that evening I would be picking Chris up from the airport to join me!
I loved every minute of my silence and solitude, but I was more excited to show Chris the wonderland that was Maine – I felt like I'd discovered a New World, and I couldn't wait to be tour guide to my husband (and quietly convince him that we needed to come here every fall.)
I stuck to the itinerary better on this day than any other – the plan was to move south, very slowly, and end up in Portland to pick Chris up that night. The first stop was one peninsula south, which was really a peninsula then two islands at the tip of the peninsula, to go to Giant's Stairs, which were massive rocks at the shore, with one section of large rock "stairs" to get down to the rest of the area. The stairs were big enough that I was a little scared to climb down them with no one there to know if I fell, so I texted Chris and told him where he could find my body.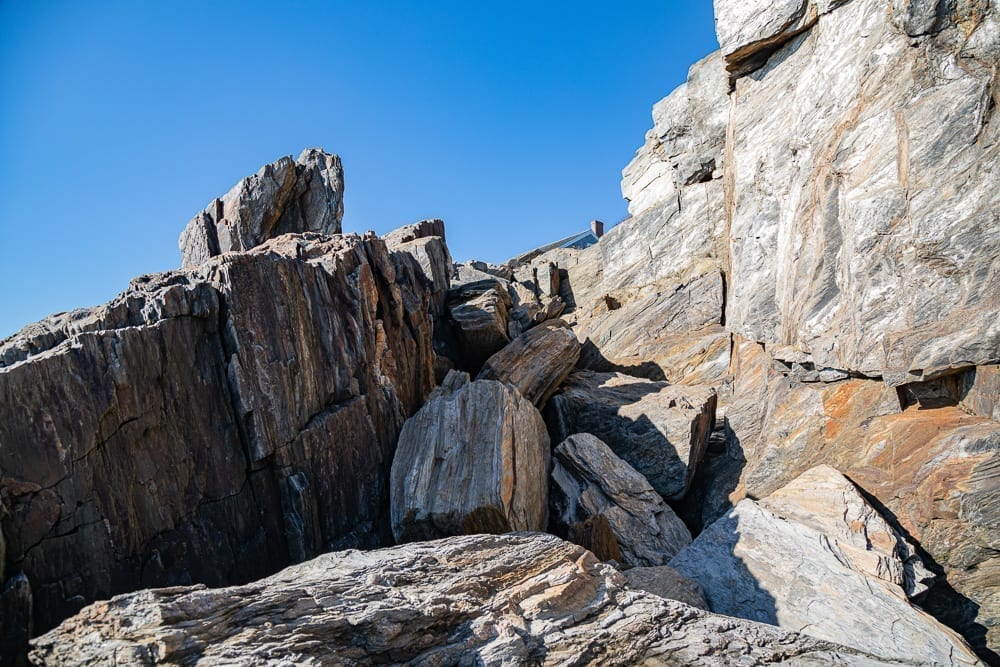 They were fine and really not as bad as they looked – I just had to sit down on each stair and hop down to the next one.
There was a little valley of rocks and barnacles and mussels – so many barnacles and mussels! The rocks were really shimmery and pretty as well, and had cool veins of clear rock throughout. Then there was another shadowy set of stairs, and then you could climb up onto a ledge and be above the ocean. It was all quite large in scale and spectacular.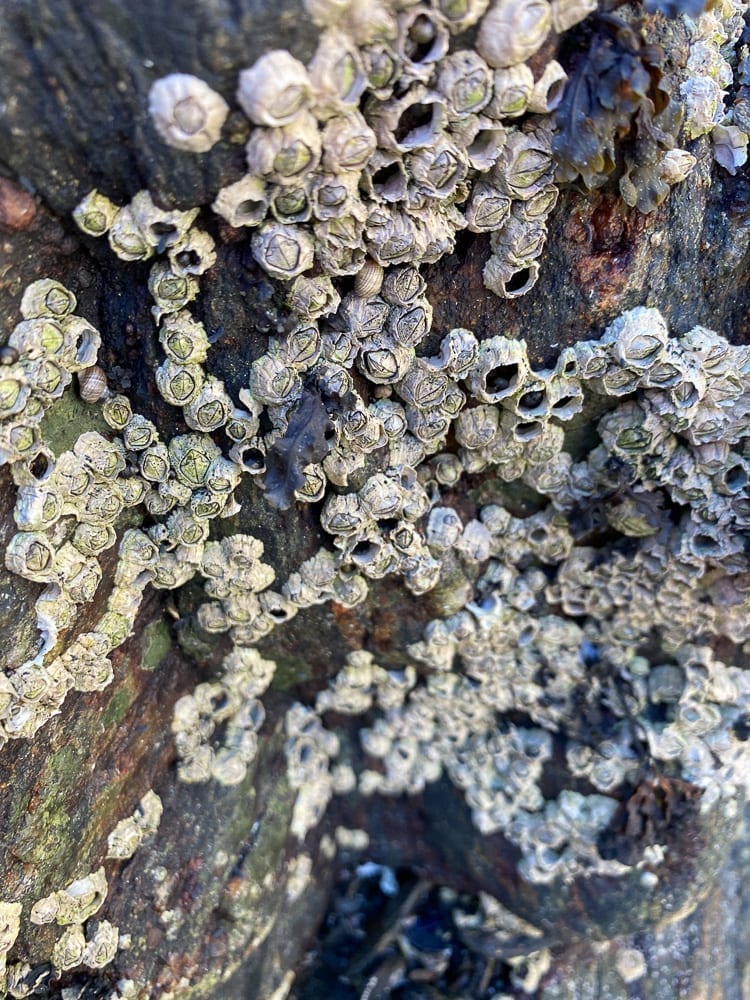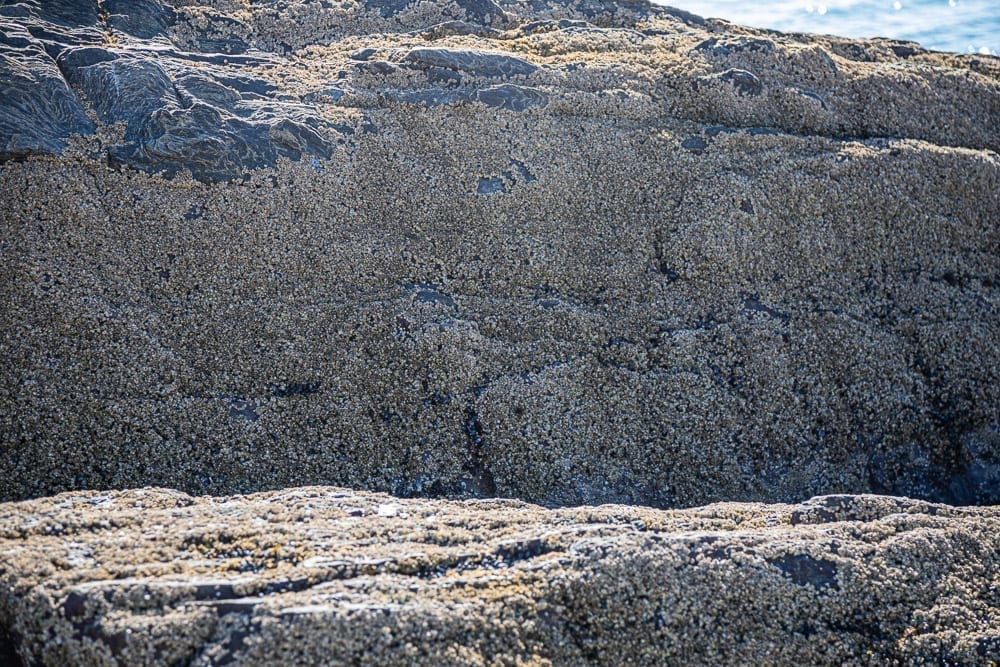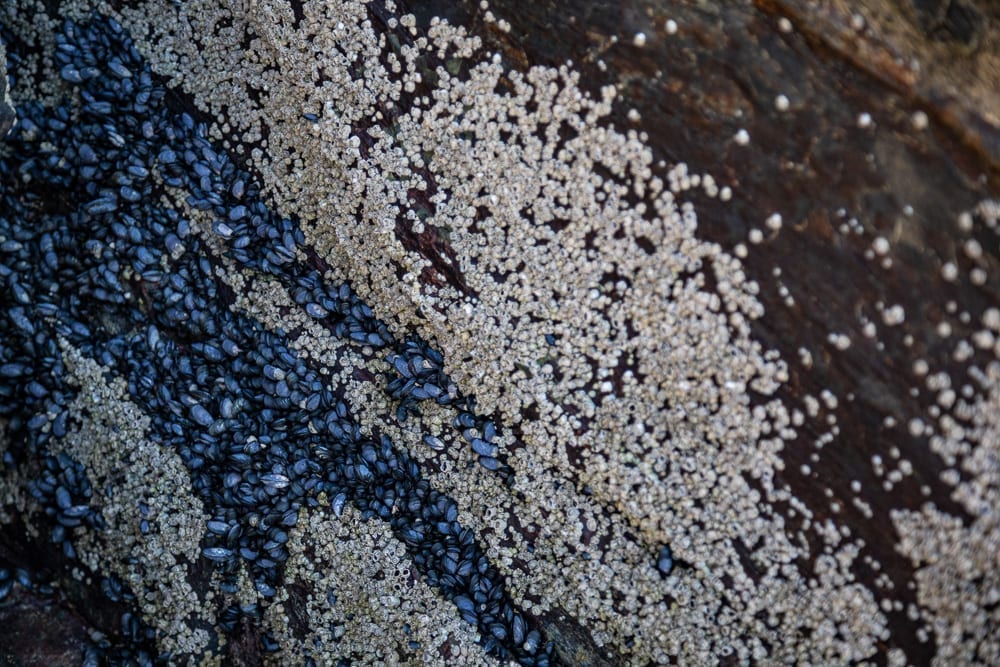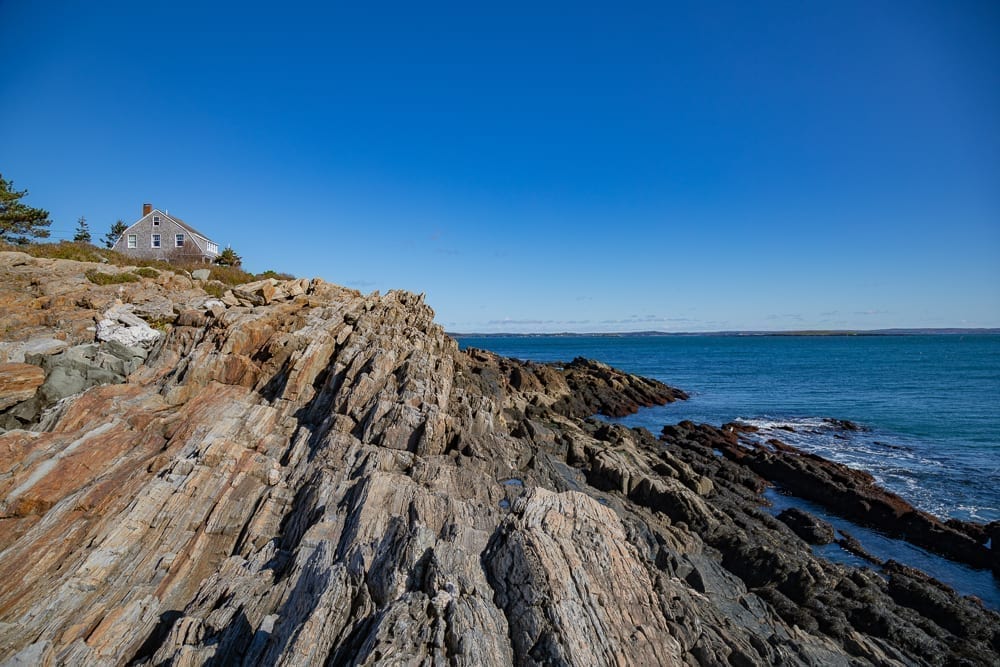 After that I started driving back up the peninsula, but stopped at several places to take pictures of the quaint fishing village.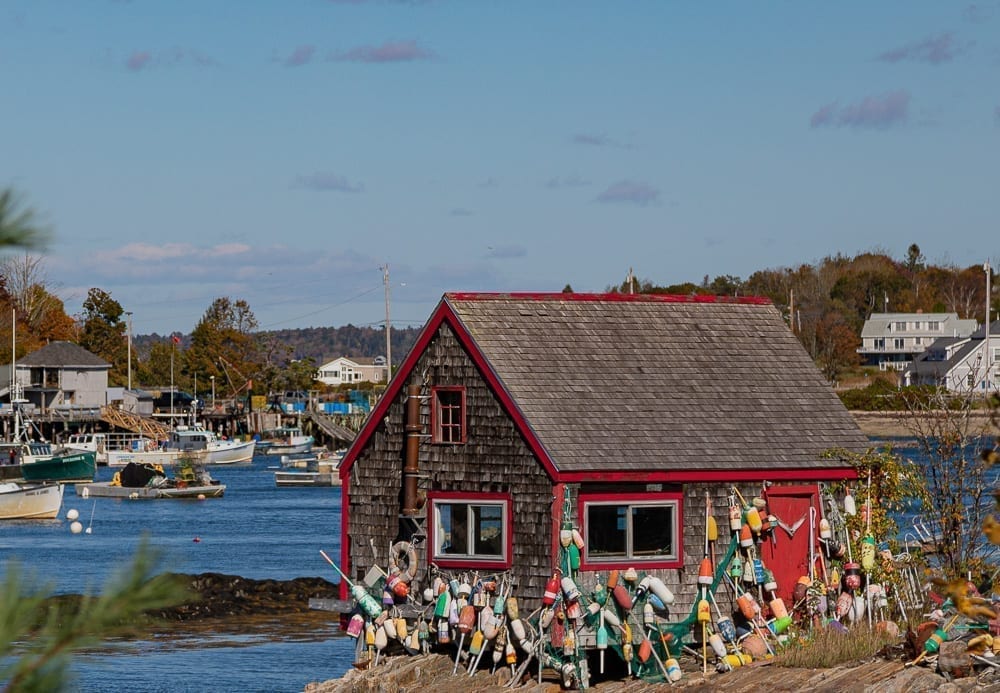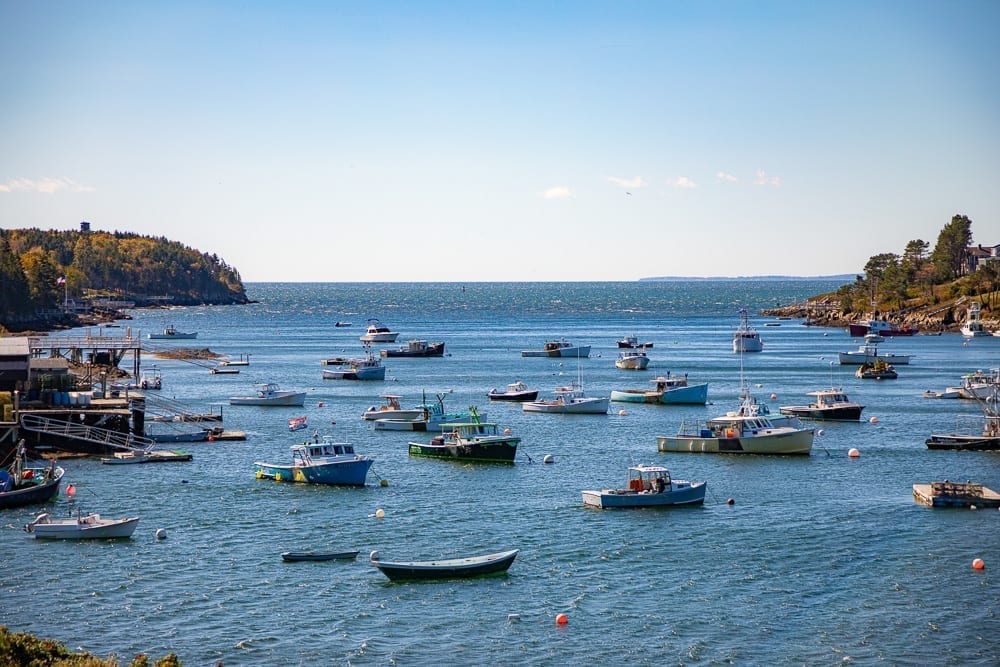 The winds were still high, but they were highest where I ate lunch – it was a peninsula on the peninsula and the wind was so hard the car was rocking after I parked, and I had to bend in half to walk to the restaurant like Jim Cantore in a hurricane.
To eat at any restaurant in Maine, they take your name and phone number for contact tracing. This restaurant let me fill it out for myself. I felt like I left my number all over the state, but I received no contact tracing calls from it (as much as I would have liked for them to tell me I wasn't allowed to leave…)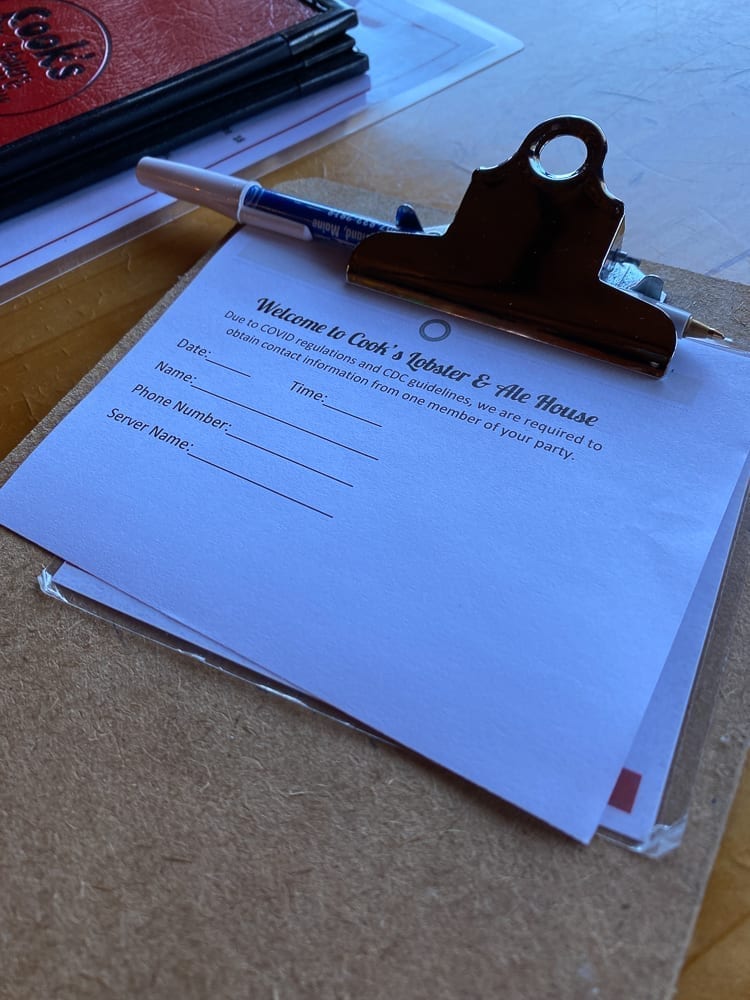 This was my last meal alone. I realized one of the reasons I don't prioritize food when I travel alone is that, besides the fact that it's weird eating in a restaurant alone, I really just don't care about or like food as much when eating by myself. So it was fine, but not amazing. But the view was good, and there was a pirate ship out my window, and lobster traps in a pile outside the restaurant, which lended credence to its freshness.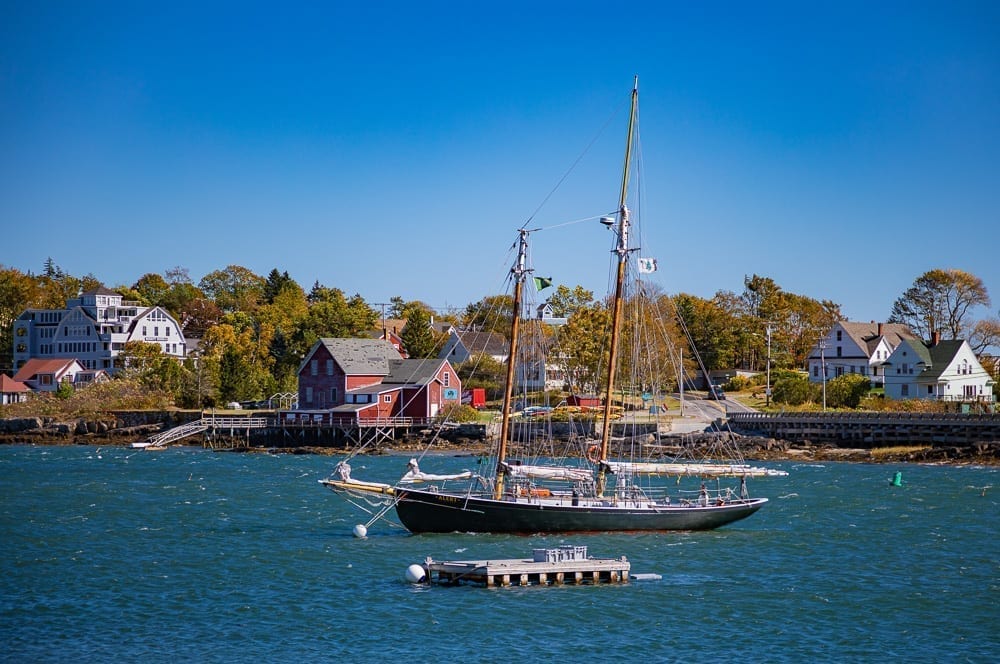 I left lunch and got off the islands, off the peninsula, back on the highway, and headed for Portland. My next stop was another island that was also a state park and also a school for the deaf.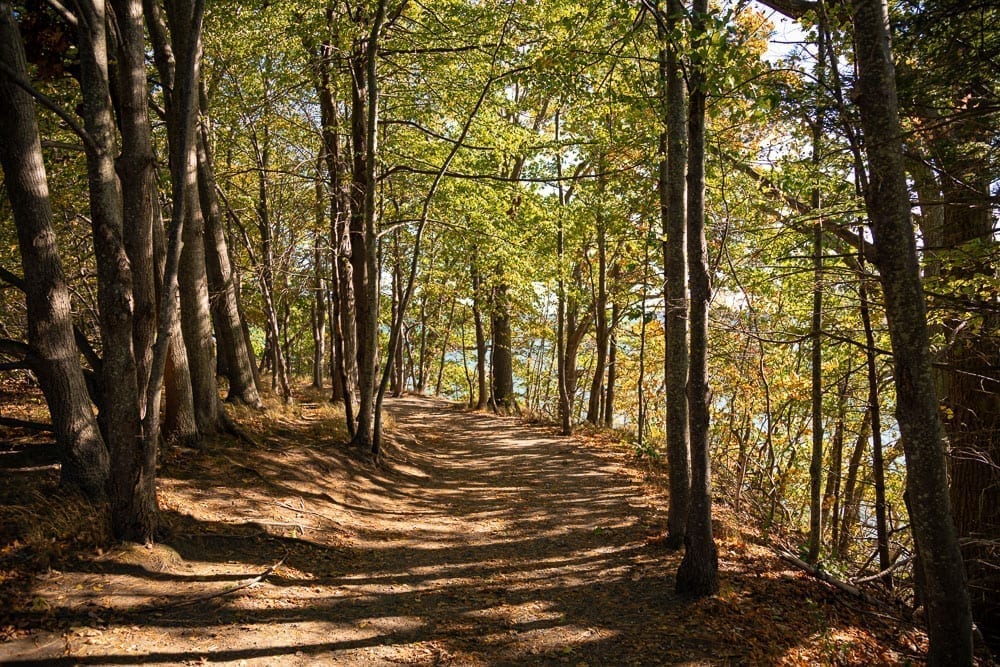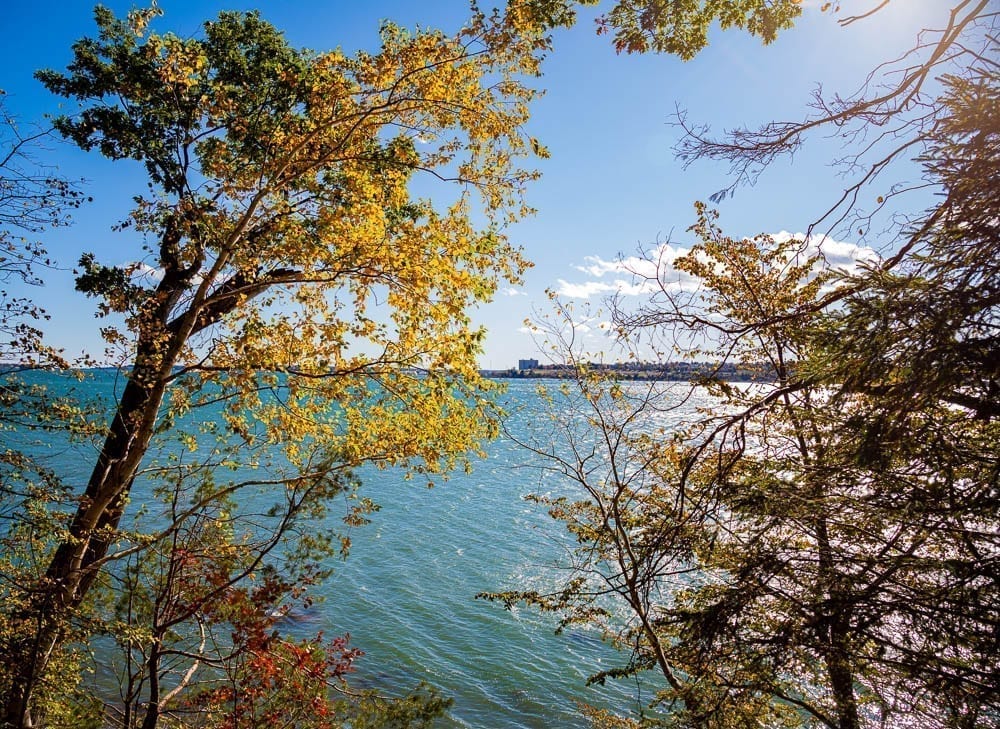 It was called Mackworth Island, but it was also called Fairy House Island because they have several areas in the woods where they encourage you to use found items to build fairy houses.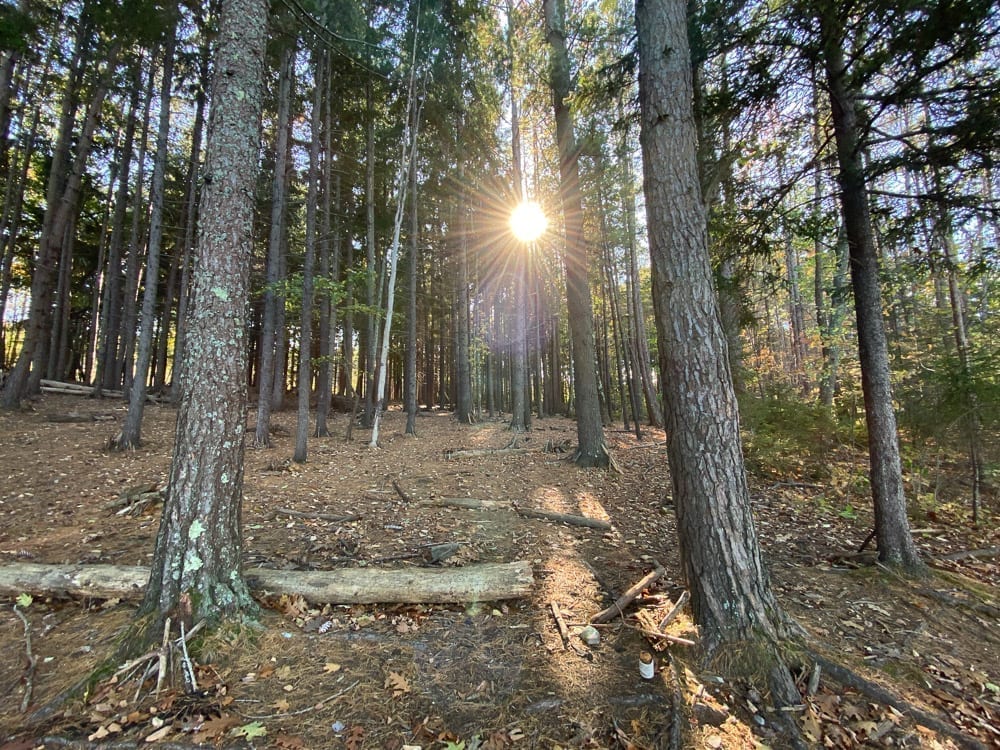 But there was also a pet cemetery on the island, where a former Governor really went through a lot of dogs.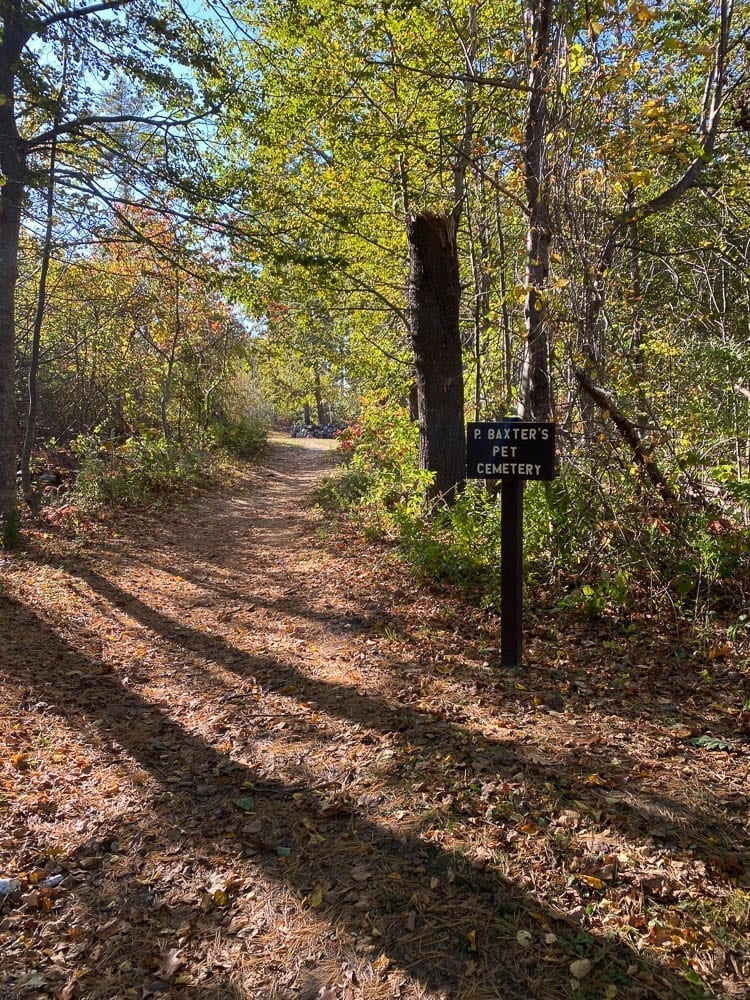 So perhaps it's not fairies that live on the islands, but ghosts of dogs pretending to be fairies so that people will build them doghouses for their little ghosty doggy souls. It is Maine, after all. and Maine is an Extraordinarily Creepy Place.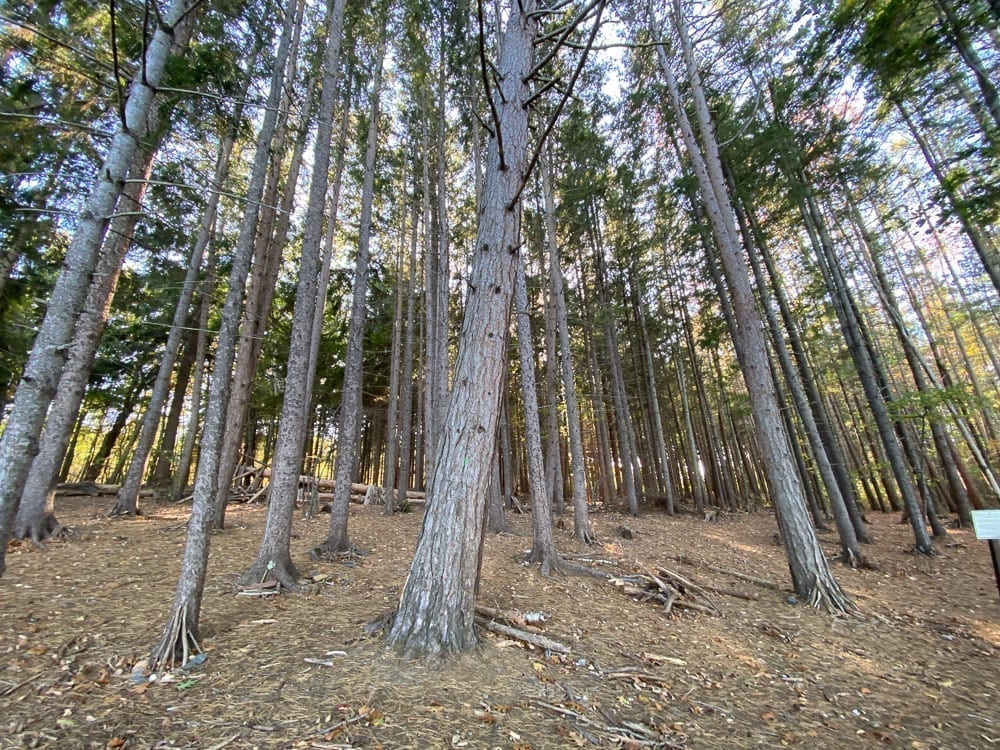 The island had a 1.25 mile loop trail around the outside of it, which was unbelievably windy on one side, and quite pleasant on the other. 
Then I continued my journey southward and headed to the Portland Head Lighthouse next. The lighthouse itself closes early in the day, but the grounds and trails around it were open, so I walked the Cliff Walk, again with all the wind, and got some cool pictures of the lighthouse.
I was kind of done with the whole wind thing for the day – my face ached and was so wrinkly from scrunching up against the wind and sun, so I headed to downtown Portland.
I went in a couple shops, then found what I thought was a coffee shop to take refuge from the wind in while I waited on Chris' plane to land. I ordered a Capuccino and cheezecake ("why the z?", I wondered) and sat in quietly, ignoring the fact that sunset was happening outside and I should care about photographing it, but basking in the stillness of the indoor air.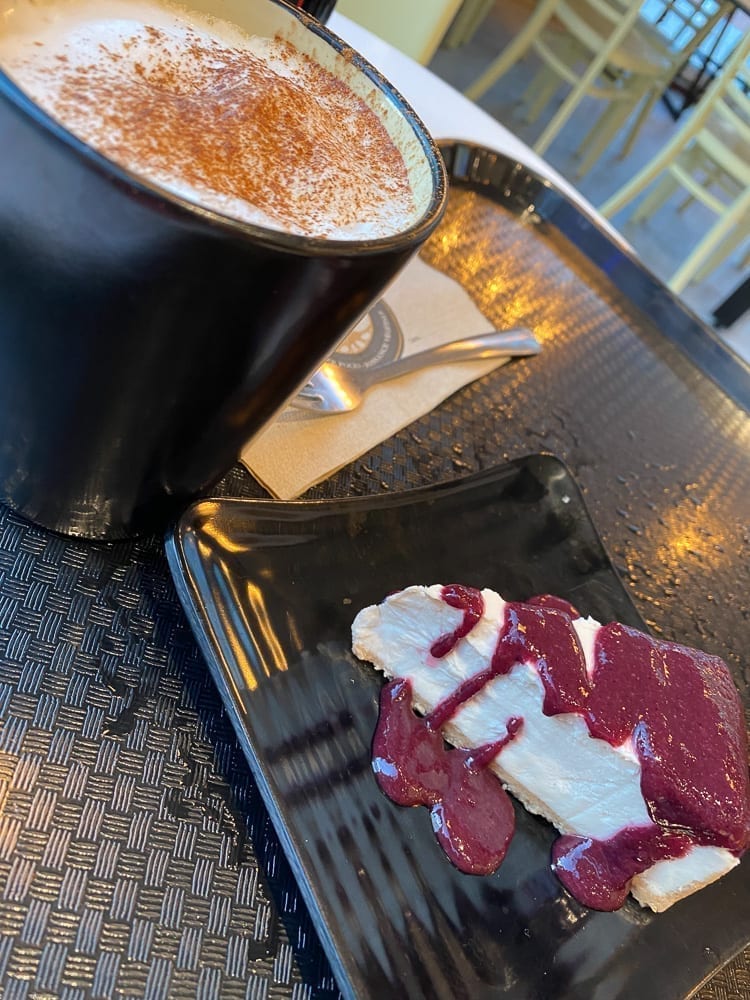 I took my first bite of cheezecake and realized that something was up – I mean it was not awful but it was NOT cheesecake. I googled my coffee shop, and as it turns out, I was in a plant-based, vegan, gluten-free, allergen-free, everything-free restaurant. I clicked on "cheezecake" – what had they made this stuff with? Everything-free nothing is what they made it with.
So cheezecake clearly counted as a vegetable instead of my official birthday dessert.
I picked Chris up from the airport, and we headed back downtown to eat. It was in the 40s and there were still gale-force winds, but there were people eating on the restaurant's deck. And when we walked in, they asked us if we'd prefer to eat inside or out.
These Maine people take every bit of outdoor "warmth" they can get before winter hits.
Inside they had these delightfully cozy couch dining areas, which we took full advantage of. We had a lovely meal of catching up.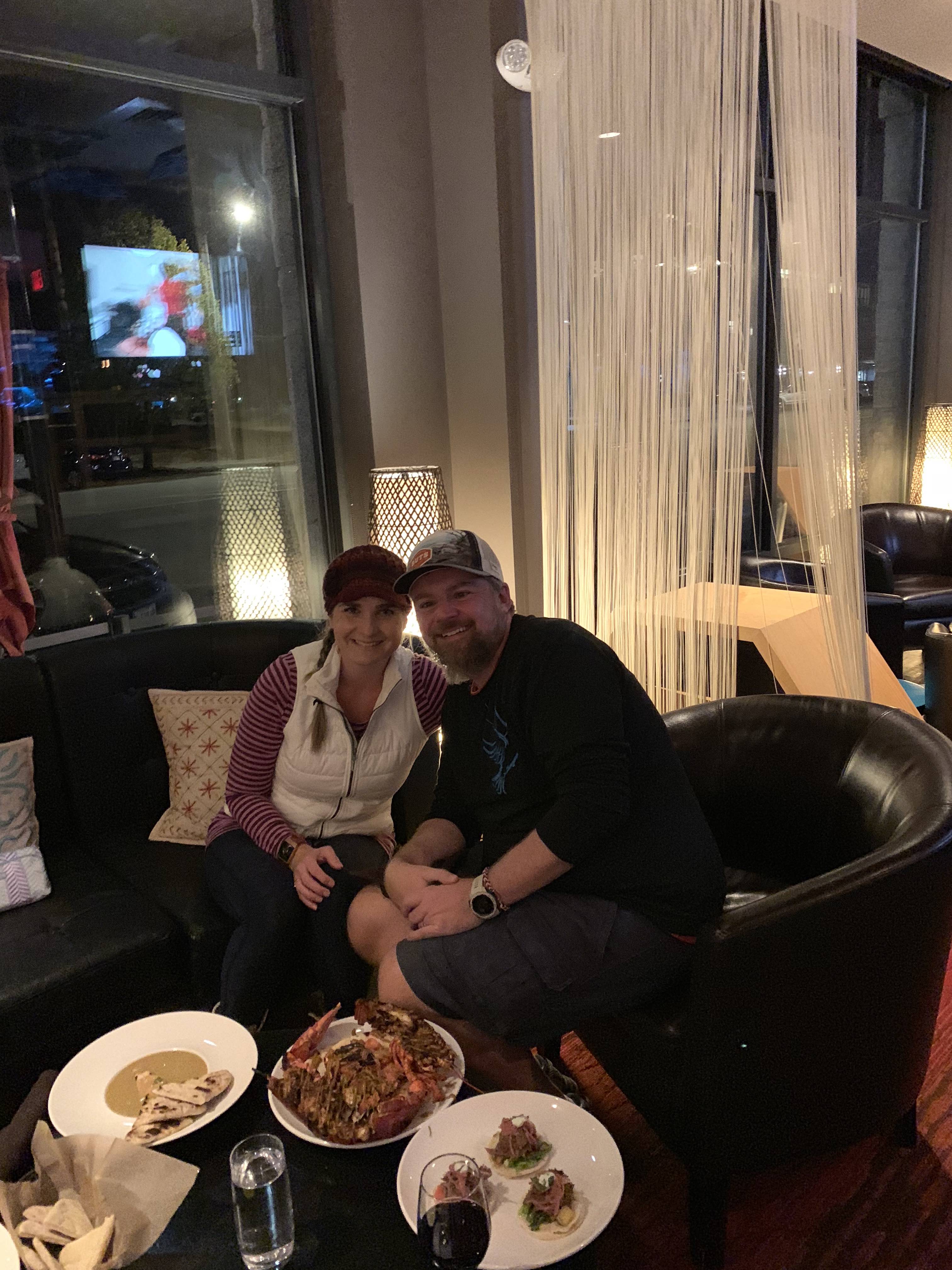 I was curious as to how it would feel to talk again – it was now Thursday night, and I hadn't talked to anyone, other than waiters and front desk staff, since Monday morning – not even a single phone call or Facetime with my family. I did feel as if Chris was talking really fast and saying a whole lot – I think it was just the shock of words formed into paragraphs again. And halfway through dinner I felt like my voice got a little hoarse. It was like "Oh so we're talking again are we?"
After dinner, I drove us back to the resort. I've gotten used to all the curvy Maine roads and my little Rental Rogue, so I didn't want Chris to have to drive and figure it out in the dark. We saw what we think was a baby bear, then a fox cross the road – Chris was already being good luck in the creature spotting category.
Friday – My Birthday.
I'd spent four days exploring new places and taking risks at things being great or not, so for my birthday, I wanted to take Chris back to the "best of" places I'd been and re-enjoy them with him. And I wanted to take our time and relax and not be in a hurry.
We sat on the balcony and drank coffee, and as we were sitting there, a bald eagle came and perched on the top of the tree one house over. I couldn't believe it. I quietly freaked out to point him out to Chris, then quietly went in to get my camera.
He let me get about six shots in before he flew away, and I was so excited. Clearly Chris was EXCELLENT luck in the creature category. Maybe now I'd find my moose.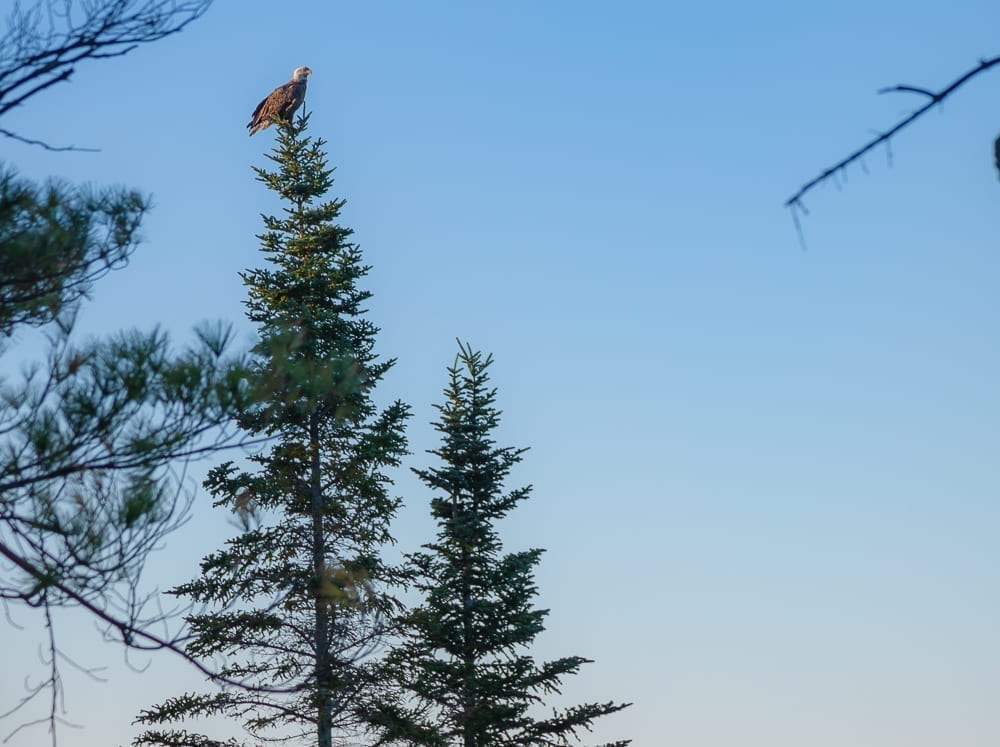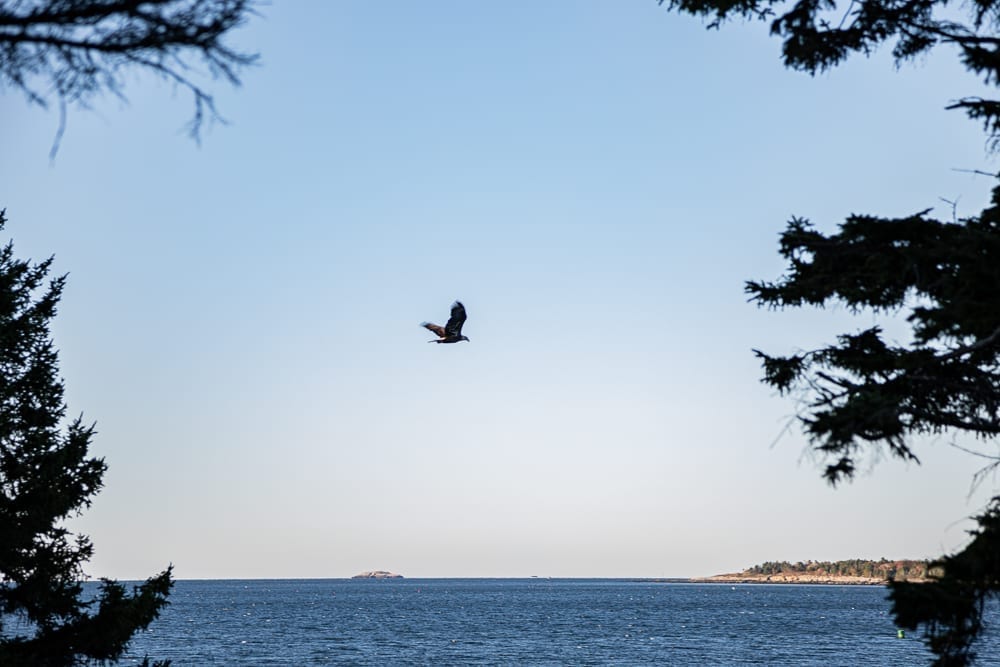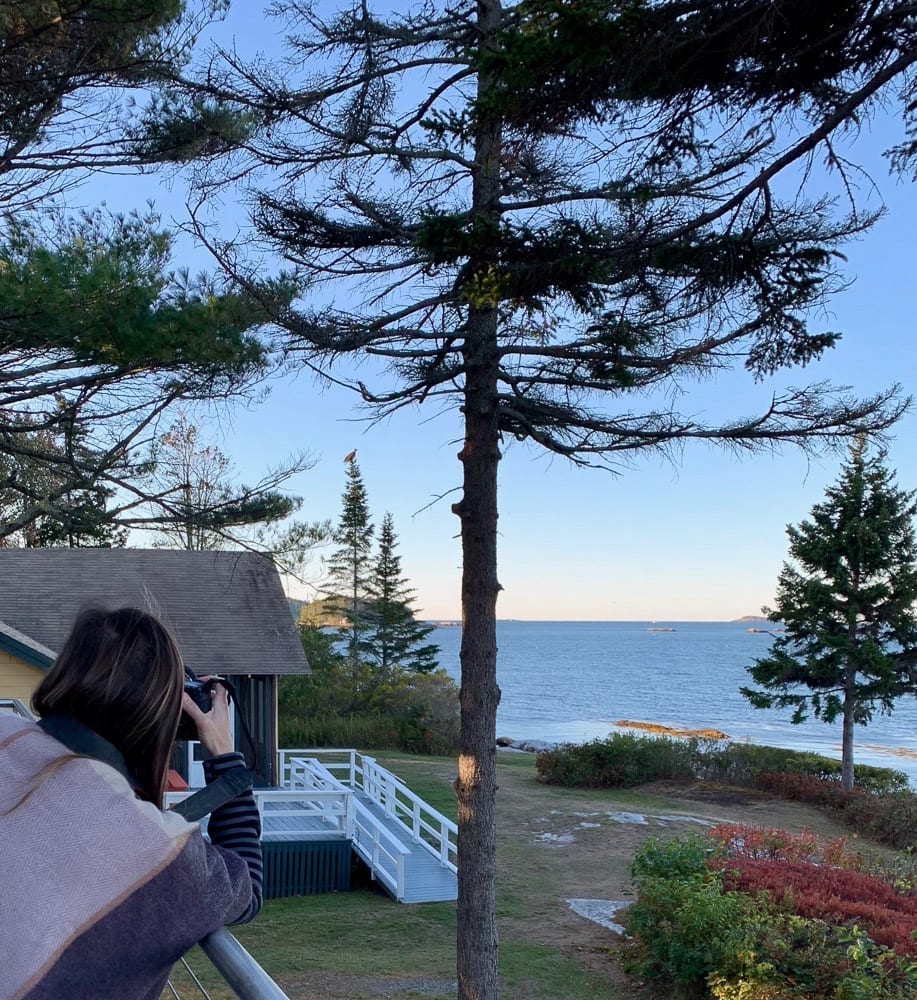 Chris cracked me up on the way to breakfast. He was more covered than he'd been in his entire life. My husband, who wears shorts and a t-shirt all year round, was wearing actual pants (lyme disease protection), a jacket (wind protection), a mask (COVID protection for breakfast requirements), a hat and sunglasses (sun protection), and he made sure to tell me he was wearing chapstick (lip protection.)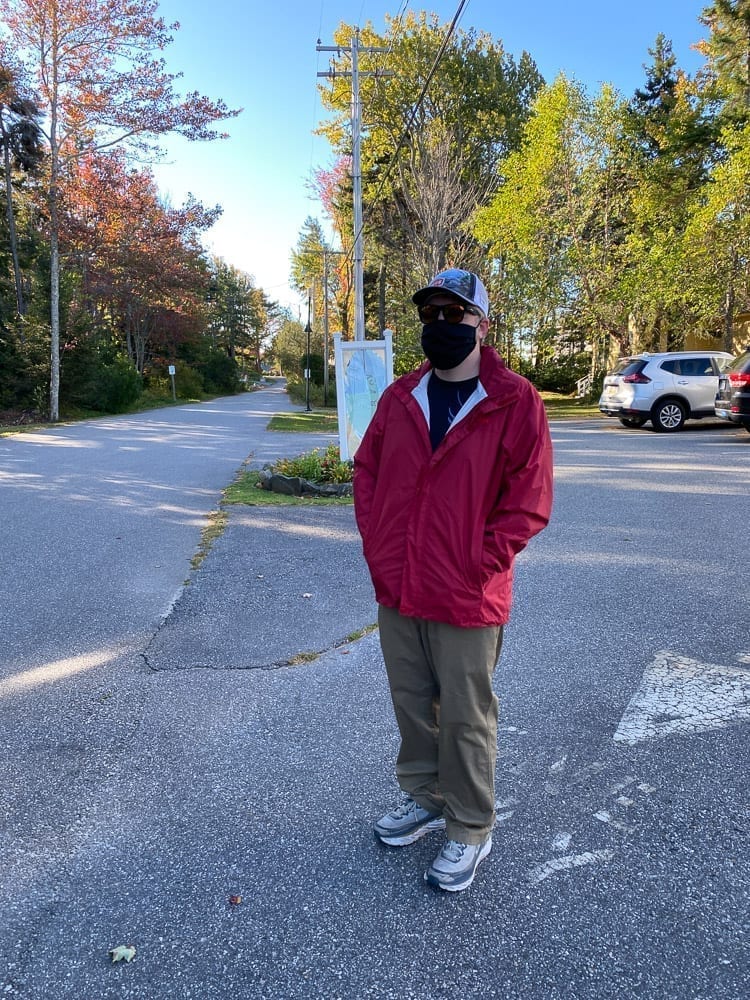 HE WAS INVINCIBLE. And I wasn't sure if he was my husband.
After breakfast we walked around the resort to familiarize Chris with it, and I showed him all of my favorite adorable touches.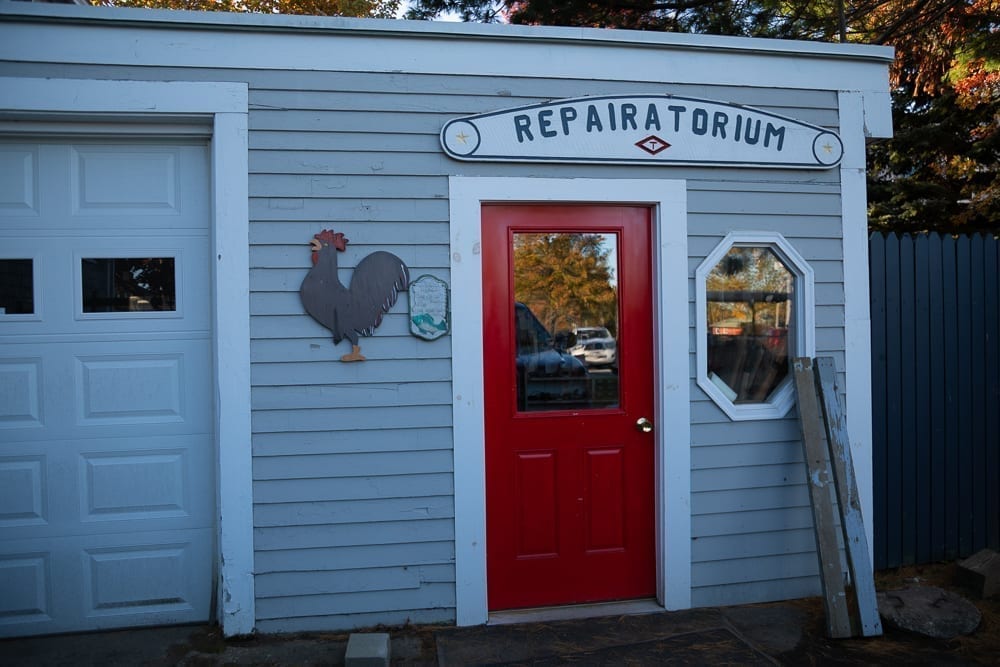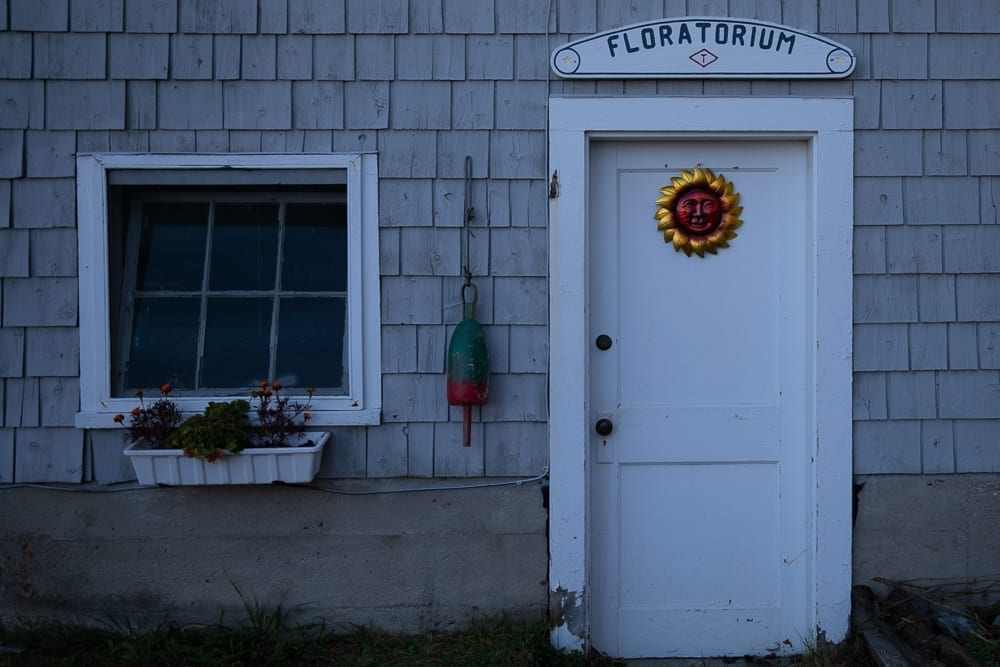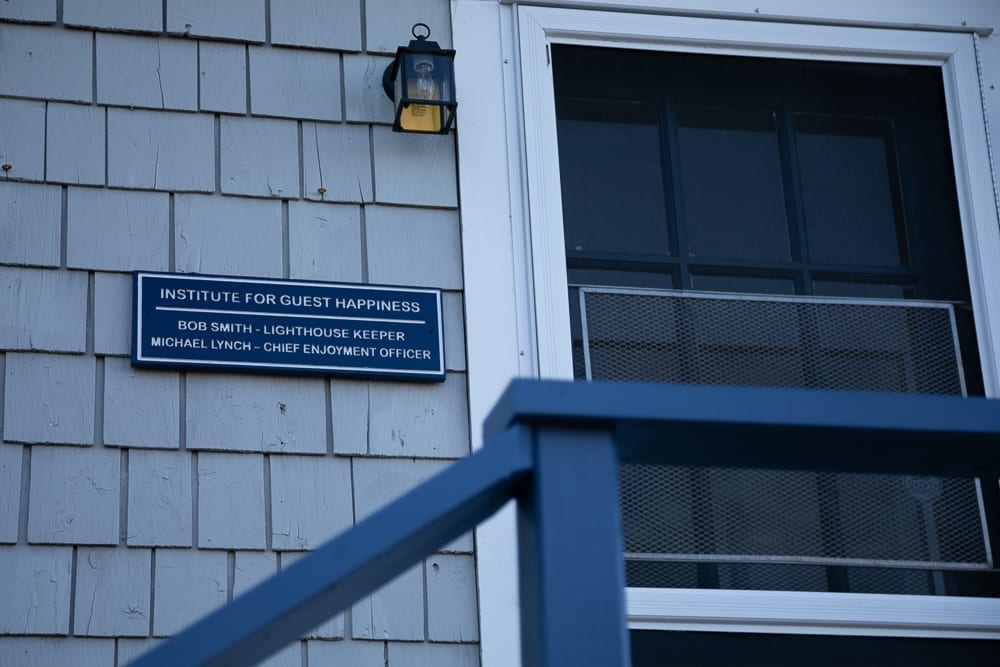 We walked back to the lake and there were two more eagles on it! They looked larger, but they were too far away to take pictures. They were sitting on rocks on opposite sides of the lake staring at each other. It was fantastic.
We got ready for the day's adventures and I drove us again (I wanted him to look around and see the sights) through Bath (down a few of the roads with the gorgeous houses and churches) and on to Reid State Park – the park with the lagoon, the reversing inlet, the moose prints, and the beaches with the rocks and the fall trees.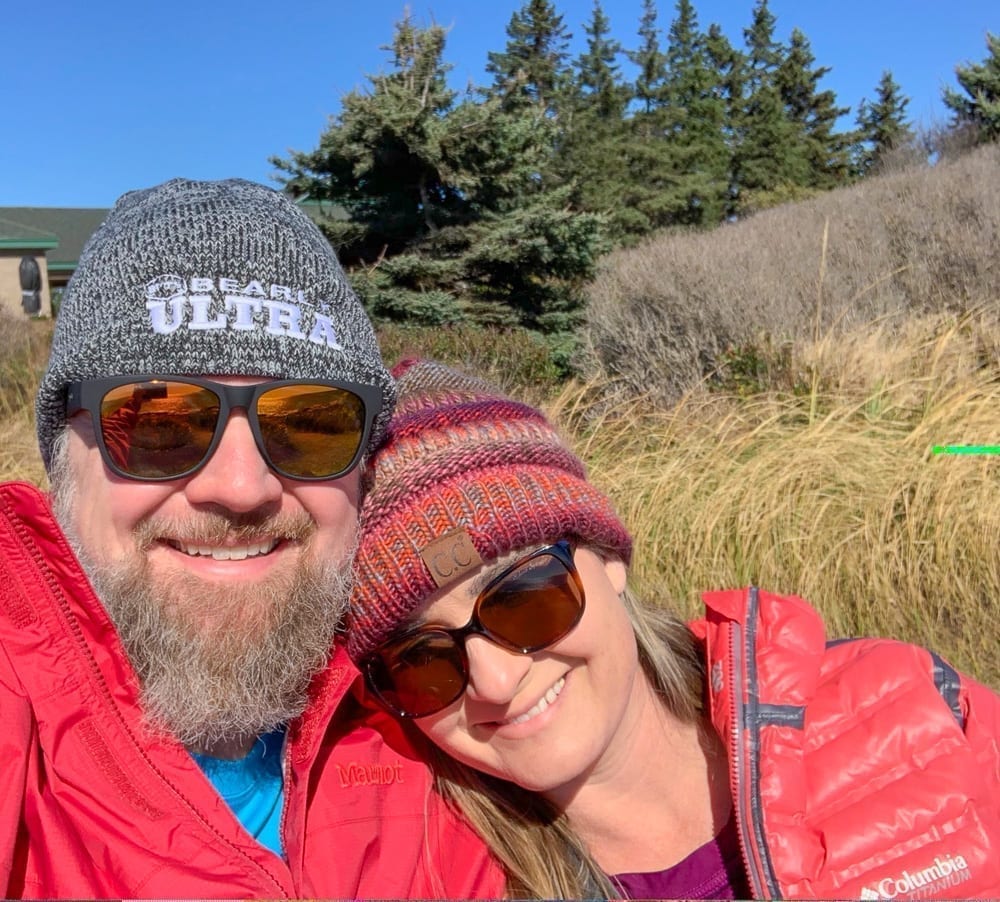 We walked down and tracked the MANY moose and deer prints (there seemed to be more this time), then walked up to the rock peaks. The ocean was completely calm this time, as opposed to the violently crashing waves of two days beforehand. The wind was still there, but much less so. 
We decided to reverse the walk I did to get the wind at our backs on the beach, and also add in the 2.2 mile "ski loop trail" to our walk. The trail was lined with Christmas Trees. Some tiny, some huge, some short needled, some long needled. They were adorable.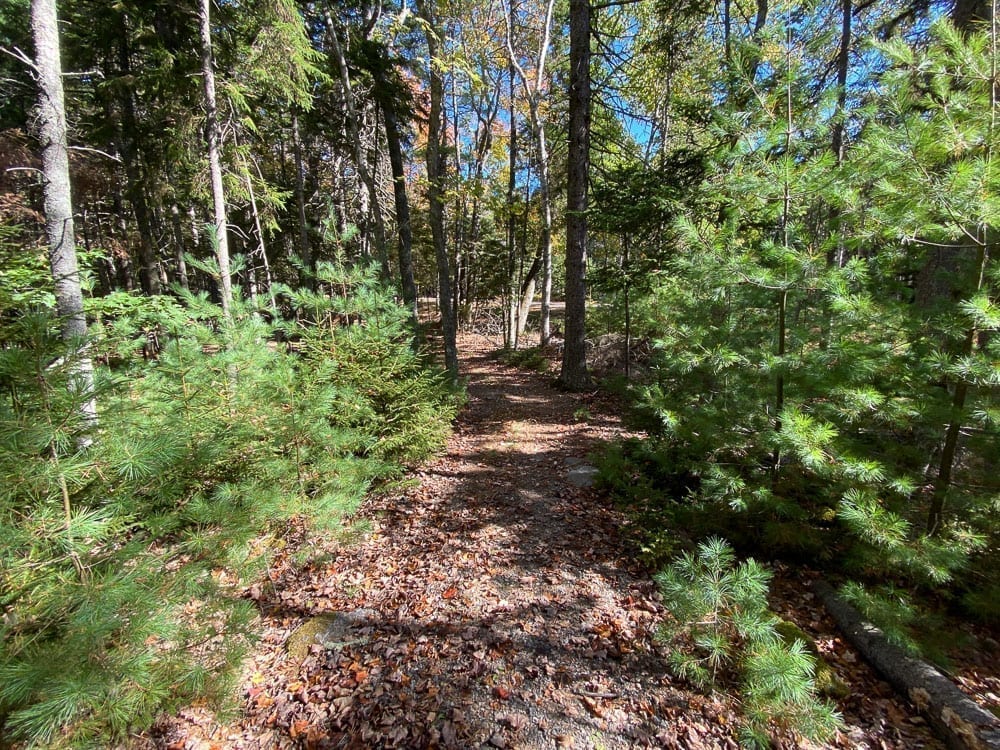 The fall trees were also lovely and I kept getting dizzy from looking up.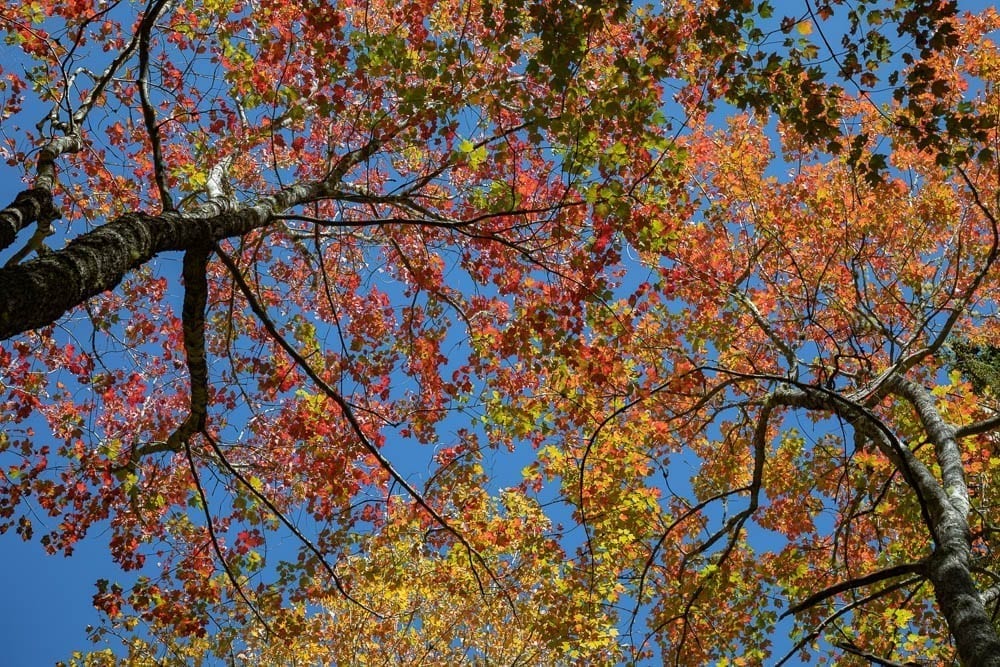 The loop seemed more than 2.2 miles, but we eventually made it to the beach. We stopped  to eat a snack and enjoy the view, and I found a bigfoot footprint in the rocks.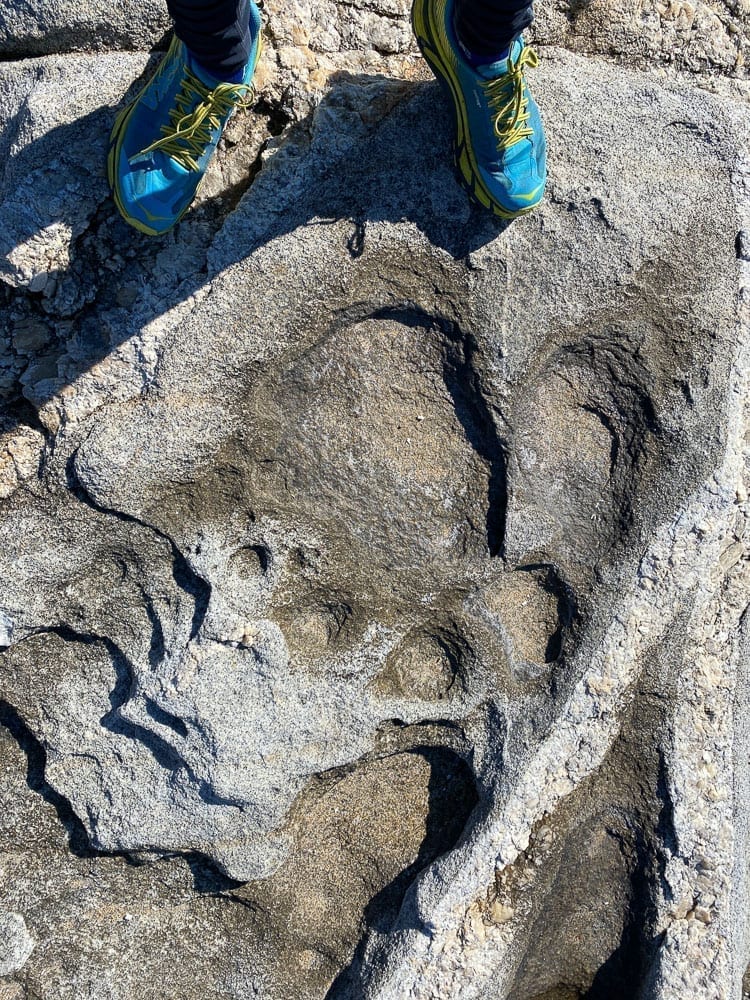 When we got back to the parking lot, I told Chris that I wanted him to Google and pick a restaurant in Bath while I drove – it was my birthday and I didn't want to do any more picking. But I did tell him I'd seen what looked like a traditional Maine seafood, so he looked up the one I remembered seeing and after a bit decided on it – Taste of Maine.
It was the quirkiest, weirdest, hugest restaurant. It was like a Cracker Barrel but creepier and less standardized.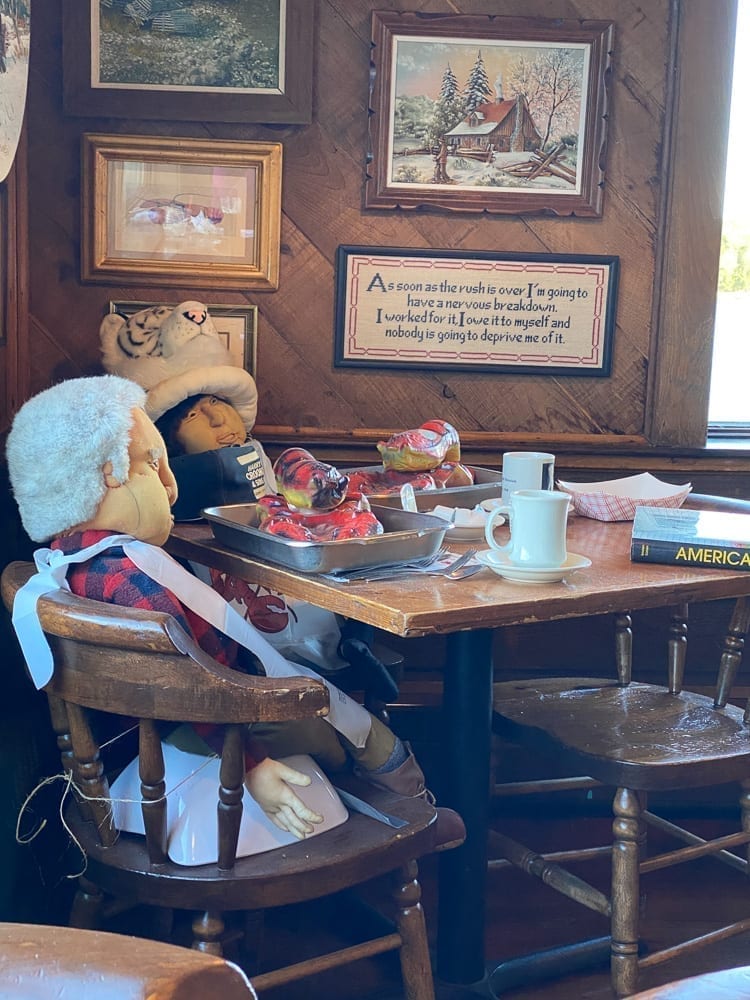 There was stuff everywhere – clowns, a full-sized Dobby, lanterns, lobsters, crafts made out of lobster shells, and especially weird stuffed doll/puppets made by a local artist, and also used creatively to socially distance the tables.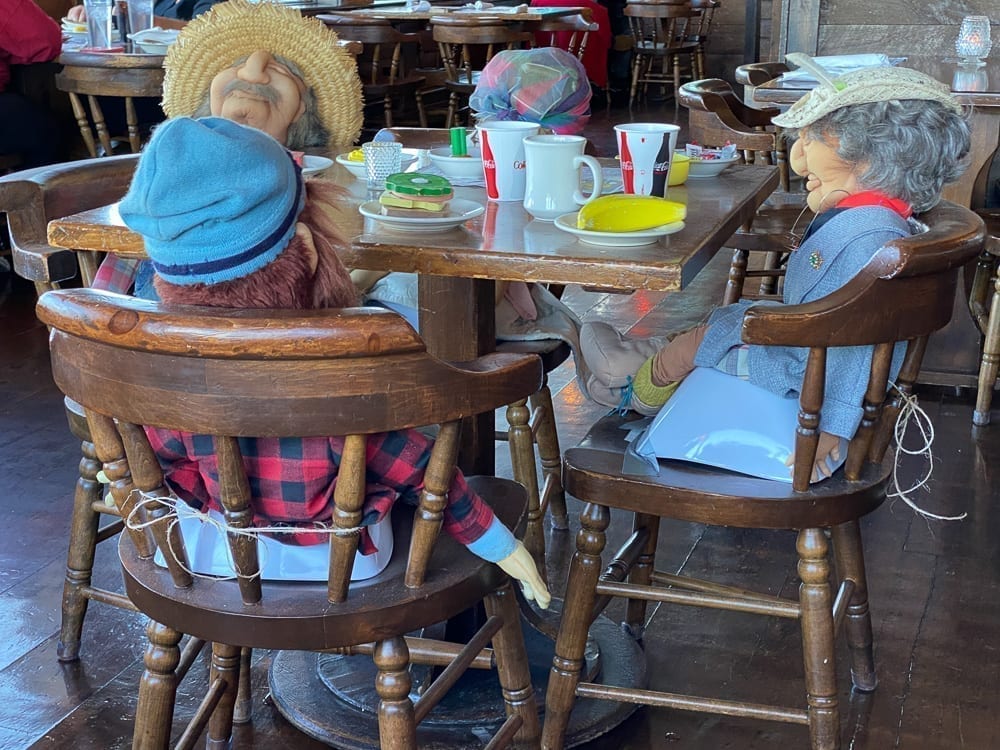 But the food was delicious (definitely better because I wasn't eating alone) and we tried a new sauce called Newburg sauce that was amazing to dip our lobster in.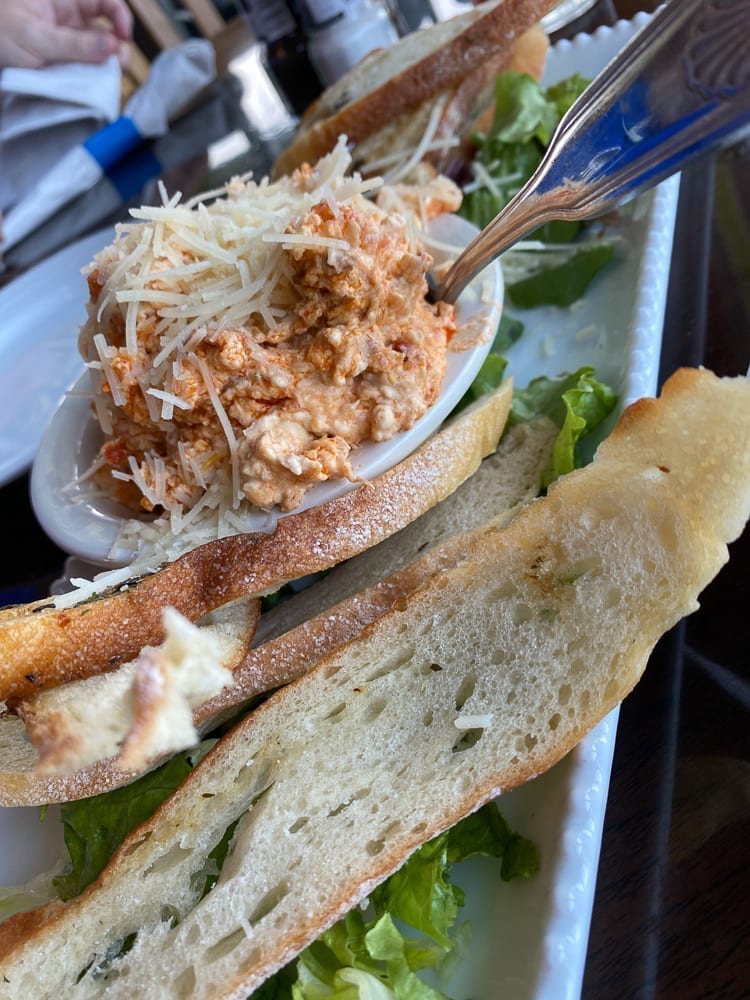 I also got my REAL birthday dessert there – a very rich peanut butter pie that ended up being three servings worth of dessert.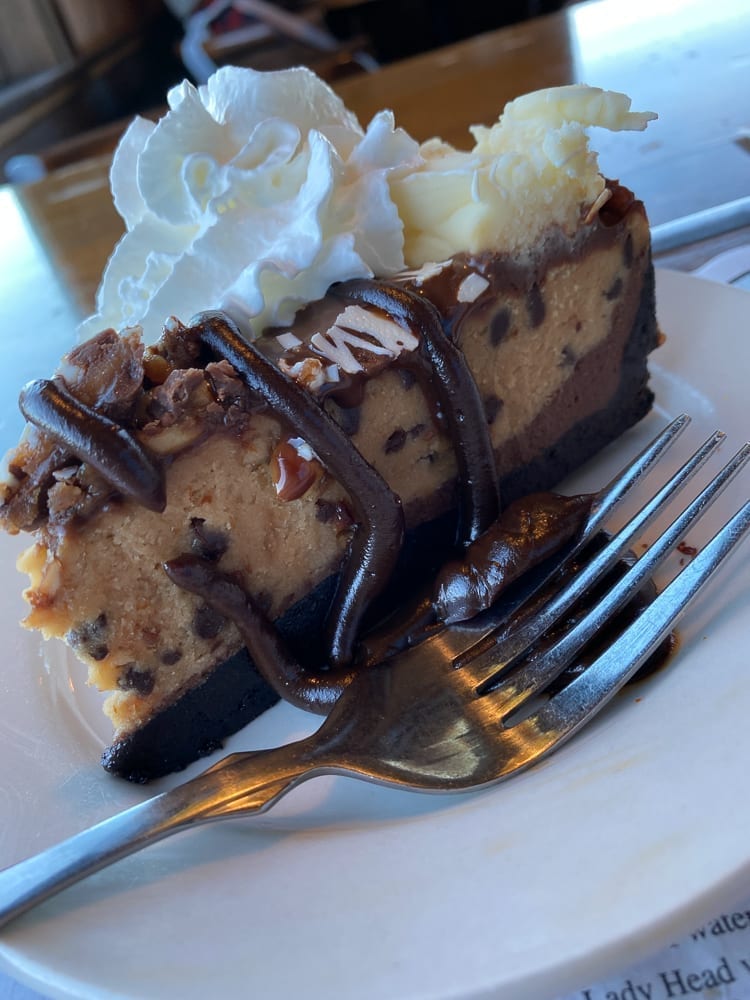 It was now about 5pm, so I was ready to head back to the resort. We sat on the balcony and drank coffee, watching the gorgeous sunset and the resort's tour boat going through it.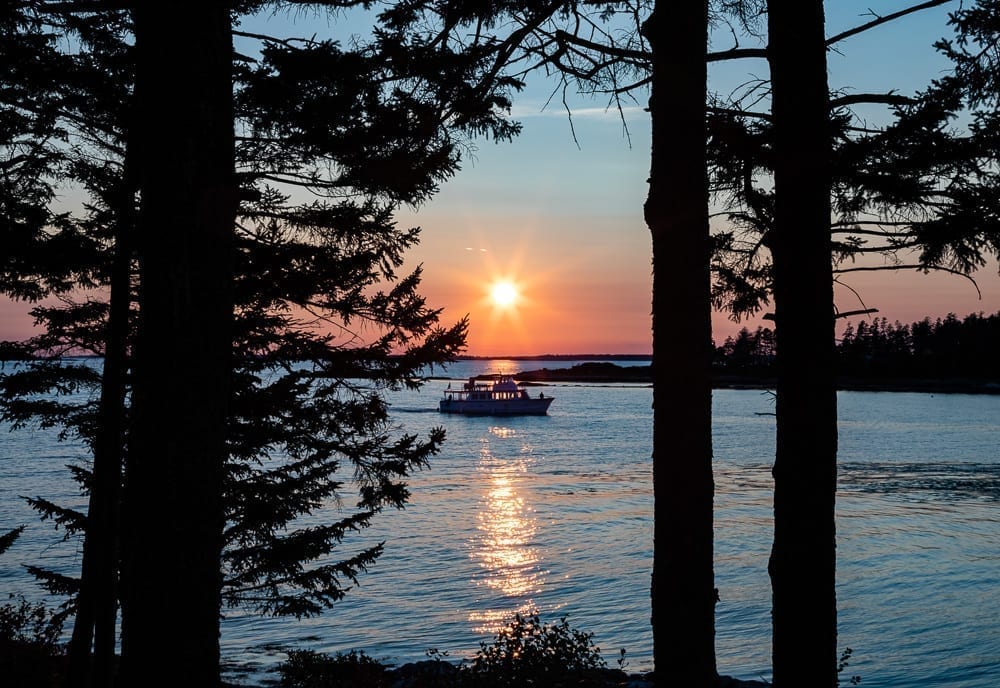 I got a burst of energy right at sunset, so we hiked up the mountain in the dusk to see the resort from the top – which ended up being really cool because once the sun went down, you could see all the lighthouses on all the peninsulas and islands flashing. We could pick out the lighthouse in Portland, over an hour away, and we could see mountain ranges in Vermont or Massachusetts or both (we couldn't decide.)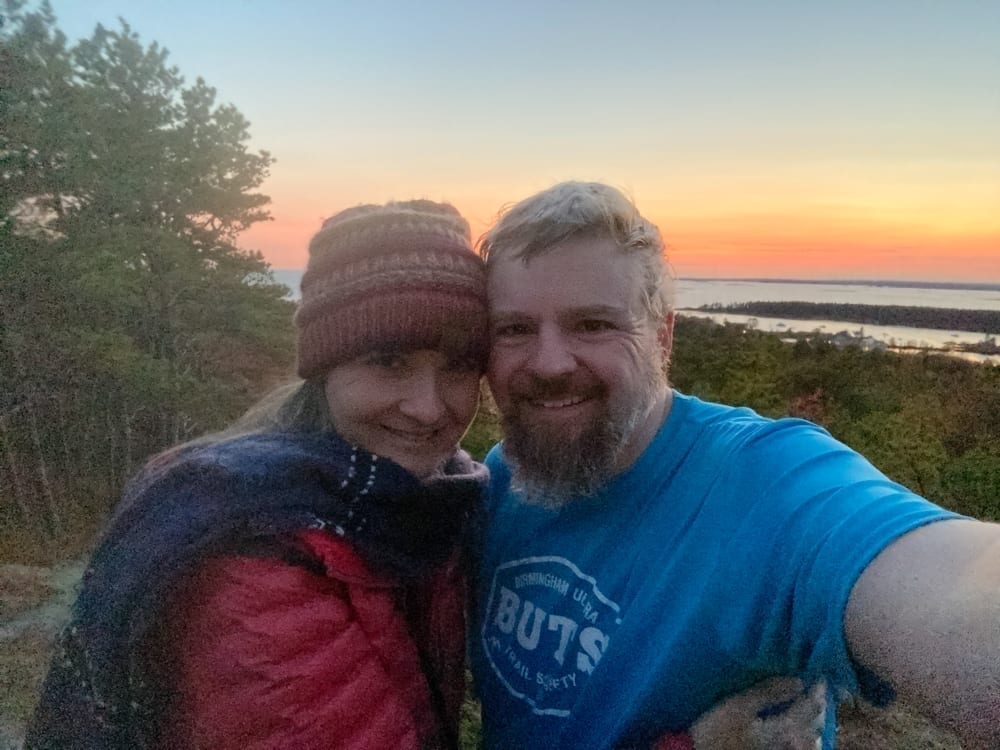 THEN we were ready to get cleaned up and really relax for the night. It was most likely the best birthday I have ever experienced.