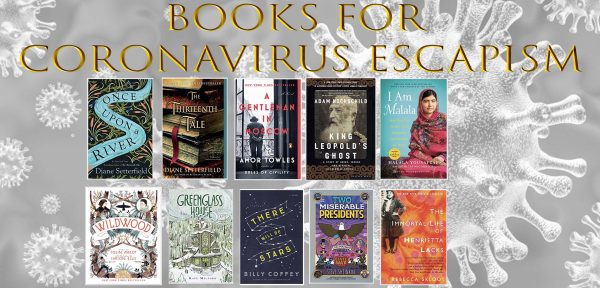 I mean, they're not books about personal distancing, because what we all need right now is the feeling of community, even while we're preparing to avoid community. But I've read a bunch of books since my last book report, and for such a time as this, thankyouverymuchcoronavirus, we all need a healthy stack of books (or five) for our time of forced snuggle-up-in-bed-and-wait-it-outness.
Also, I don't know about you, but I need some serious escapism between my bouts of corona-research.
(As a side note, I've been pointedly ignoring the Coronavirus until Wednesday, at which point I started researching heartily to try and sift the hype from the reality, and for 36 hours I couldn't decide which was closer to the truth, that truth that was surely somewhere in the vast murky middle. But yesterday, I finally decided that despite my generalizer persistent optimism, I'm starting to believe the Clear and Present Danger, and regardless, the best thing we could all do is follow the social distancing protocol as best as we can (I'm not stopping my whole life but being wise and cutting out what I can) and hope that we all laugh heartily about this in a year when it comes back up on our Timehop. I'd much rather remember fondly all of our silliness than the alternative. And, plus, the introvert side of me is super cool with the idea of a forced couple weeks of cuddling up in bed, on the couch, and in the armchair and reading. But that's just my opinion and I do not claim to be an expert. Read my further thoughts here.)
So let's read, shall we?
Fiction:
Once Upon a River – I read this book before The Thirteenth Tale, not realizing that raving fans of The Thirteenth Tale were disappointed by Once Upon a River. I'm glad I read this book first, because I found it to be intriguing and delightful, weaving a unique story that very much feels like it is carrying you down a magical river of words. It's a great mystery to escape into.
The Thirteenth Tale – So THEN I got her first book, which was so impressive as a first book that it created a bidding war between quite a number of publishers.
It. Was. Spectacular.
It was so good that I wanted to immediately go back and reread it to figure out "How tha heck did she just do that??"
In fact, it may warrant a Corona-induced second read.
Wildwood – My positive review of this book is apparently quite questionable. I loved this book, but Ali has not loved it, and I had another friend who also didn't love it. Also, I didn't like the two sequels nearly as much. BUT the first book was magical and lovely and meaningful and fun and deep. It had traces of Narnia, but with a few beautiful deep thoughts and lessons in it. The book is also magically illustrated. I felt like the tone of the book was happy and magical, but Ali felt it was dreary and depressing (though she hasn't finished it and I'm hoping she changes her mind.) If you've read this book, I need to know if you're #TeamAli or #TeamRachel.
A Gentleman in Moscow – This might be the perfect Coronavirus book, because it's long and slow and a drawn out tale of an entire life. The first section, though fine, did not draw me in. But by the end, I was fully committed, and since finishing it, I have sorely missed The Count and his life under house arrest (except it was actually "really fancy hotel arrest") in communist Russia. It's upbeat and optimistic in a dark time. It tells tales of a time and place that I really know very little about, starting with the Bolshevik revolution in the 1920s and going through the 1950s. But it's a very vague retelling of events, as if you, too, were under house arrest and removed from the action.
Kate Milford's Books – I went on a serious Kate Milford bender in the fall and winter. I had read Greenglass House a couple years ago and enjoyed it, but didn't read the rest of her books right away. Then I got one, then two, and before I knew it I had hungrily read every book she'd ever written (except for the one that only had 50 copies and is impossible to find.)
(Except that there's one copy on Thriftbooks for over $100 and I'm all like "uh, no. ThriftBooks. I love you but no.)
(By the way do you know about ThriftBooks? It's the most amazing thing for my bookbuying addiction. Or worst thing. Depending on how you look at it. It's like having access to the world's thrift store books without having to sift through dusty copies of outdated cookbooks to find what you want. And you earn points for buying books and get a free book every now and then. Which is super sweet of them.)
But back to Kate. Her books are unique – they happen over many different time periods and settings, yet they all weave together in a beautiful, complex, thought-provoking way. Some are more magical than others, and there is a LOT going on in all of them. She's the opposite sort of writer from JK Rowling, who is a preparer – you know if JK describes some new setting or piece of magic at the beginning of the book, it's going to play into the end of the book. Meanwhile, Kate just jumps into her worlds with zero explanation, all the while turning and waving at you and yelling "Keep up! You'll get it in a minute I promise." If you like a complex world with many strings, you will love her books.
It's a bit confusing to figure out what order to read them in, since they happen across many time periods, but here's my input:
Read Greenglass House first. Important context: Nagspeake is a fictional sovereign city on the eastern coast of the United States, of whom all industry (and government) is controlled by the evil Deacon and Morvengarde, who have a monopoly on all the things. So naturally, smuggling is a must.
Don't read The Left-Handed Fate before Bluecrowne, and maybe read both of these before The Thief Knot, though not required.
Don't read The Thief Knot before Ghosts of Greenglass House.
Expect The Broken Lands and The Boneshaker to be very different, yet connected, to the rest of the books. These have some violence in them – I wouldn't recommend Broken Lands for sensitive children.
Don't miss the fact that some of the other books are just part of the role-playing-game (i.e. a legend) by the time history arrives to the present, which is when Greenglass House occurs.
There Will Be Stars – This was a random find at Ollie's (by the way – Ollie's has amazing book deals and a shockingly good selection of even new releases), and I knew nothing about the author or the book. It was quirky, a little rough around the edges, but created an eerie, interesting world and scenario that definitely pulled me in and made me think. I've only read one Stephen King book ever (11/22/63 – the one about JFK), but this book reminded me of it in some ethereal way.
Nonfiction:

The Immortal Life of Henrietta Lacks – This is one of the most engrossing and fascinating nonfiction books I've ever read. It tells the story of the first ever human tissue ever grown in a lab and the story of the woman the cells came from, the effect on her family, and the fact that 70 years later, her cells are still being grown and used in laboratories all over the world. Although she never knew nor gave permission for her cells to be taken or grown, they were in the atom bomb, went to the moon, helped cure polio, make vaccines, and have been reproduced and grown so much that Henrietta Lacks' cells on this earth right now is estimated to weigh 50 million metric tons. There's a LOT more to the story, and the easy to understand scientific explanations and implications are woven beautifully in with Henrietta's story, then with her children's stories as they had to grapple with the fact that their mother was "saved and grown" without her permission or knowledge, and without their knowledge for over 20 years.
I Am Malala – I read the young adult version of this book first (a lot of my reading is to fill my kid's literature choice shelves – they each have a shelf full of "quality literature" – both fiction and nonfiction – to pick from for their school reading), and upon finishing it, immediately ordered the adult version, which I haven't read yet. Malala is a Pakistani young lady who, in 2012, when she was fifteen years old and on the school bus, was shot in the face by The Taliban. They targeted her because of her stand for girl's rights to education in opposition to The Taliban. Her story is gripping and eye-opening to how the Taliban can come in and control entire regions out of fear and terror. But ultimately her story is one of optimism and change and the impact of one person on an entire nation. Malala was the youngest recipient of the Nobel Peace Prize and continues to work for peace and freedom.

Two Miserable Presidents – Another read for the kid's bookshelves, this book is full of fun, weird, bizarre facts about the Civil War. In the introduction, the author Steve Sheinkin admits to being a frustrated textbook writer, because all of his interesting facts always get cut. So he's been saving them and has now released a series sharing real history, but also all of the fantastic stories that give history its depth and interest. The book does a good job of explaining both side's perspectives on the war, how the war came about, and describes all of the complicated issues that often get glossed over. Noah has also read the book and really enjoyed it.
King Leopold's Ghost – This book is engrossing, insane, unsettling, and eye-opening on so many levels. It tells about the atrocities of King Leopold II of Belgium, who lived between 1825-1909, and his calculated, cold, and extraordinarily propaganda-coated takeover of a giant swath of Africa. While he was charming America and all of Europe, who gave him accolades for his charity and goodness, he terrorizes and tortures millions of Africans, steals all of their resources, forces them into slavery, and ultimately kills an estimated 10 million Africans. Unsettlingly, the premise for going into the continent was that these Africans, who supposedly practiced cannibalism and such, needed to be "civilized" so that they could advance as a people. What happened instead was that the Belgians "in charge" went on a power trip of hatefulness and cruelty and became the savages against the people they went to "help." The book is not as horrific as it sounds (though in fact the events are indeed horrific), and it's a good reminder that unchecked power breeds the worst of evil and savagery.
What I didn't enjoy – the books in my Bottom Shelf. It has hereby been titled The Bottom Shelf because if we run out of toilet paper…well, these will be the books that get used first.


When Life Gives You Lululemons – This book was annoying. It tried to be gossipy and catty, but it just achieved whiny and awkward.
A Series of Unfortunate Events – I read the first two books of these (more kid shelf research) and found them to be way too train-wrecky and anxiety-inducing for me. I suppose the title should have been a clue, but somehow assumed the hype around them would make me like them. Nope.
Alex and Eliza – This is a dumb fictionalization of the story of Alexander Hamilton. It veers too far away from the actual story, is ripe with coincidences, and was disappointing.
I Capture the Castle – I found this book on a list of "happy reads" – and oh my goodness – WHO were those people and how were they so sad that this book made them happy. The first half was fine and fun, but then it spiraled into a horrific simpering pity party and depression and ended horribly. I was angry when I finished it.
The Curious Charms of Arthur Pepper – This book had promise (I usually love endearing old men books), but it was too "easy", too coincidental, didn't dig into characters enough, and just had too little depth.
That's it – for now. Thankfully, though I haven't stockpiled toilet paper, I have accidentally stockpiled large amounts of unread books. So you know where to find me for the next month – reading and inventorying toilet paper squares, wondering when I have to break out The Bottom Shelf.
What do you plan on reading?