The thing about living in the south is that we're kind of…afraid of snow. We don't handle it well, as I've told you many times, and so it's hard for us to imagine it as a risk-free endeavor. I mean, we LOVE snow, but if we have snow, it's a "sit at home and enjoy it" event – not a "travel around and do normal stuff" and certainly not a "travel on roads that are already precarious except now they're covered with snow and ice." We equate that kind of behavior with such actions as running up to a bear and sticking your head in its mouth just to check out what a bear uvula looks like.
As I returned to North Macedonia in December – my second visit to the country in 2019, I was slightly terrified of snow and ice, but also laughing at myself for being so fully self-aware of the limitations to my southern imagination.
I tried to downplay it to Chris, who wasn't traveling with me. "I think it's just snowy in the villages in the mountains, not the cities. I'm sure it will be FINE. We might not even go into the villages. Who knows."
But when I found out that we would indeed be visiting a village in the mountains on the day we arrived, immediately after a 24 hour flight, and I saw the video of what the village roads currently looked like, I began imagining how very terrifying a bear's uvula actually was.
I traveled with my friend Christen, and we were headed to visit our friend Kelly, who was in-country for three months. Our flights were exhausting and had very little breathing room. We were not blessed with an extra seat or even half an inch of legroom on our transatlantic flight. We did not sleep a wink, and here we were, in Europe, 24 hours sans sleep, and now it's morning – it's gonna be a while until we get to bed. We were exhausted, but we were in EUROPE. One finds a way to trudge on.
We drove from the airport to our friend's house, had fifteen minutes to turn it around and change out of our day-old Alabama-weather flying clothes and into the bizarrely innumerable garments that would be suitable for a European mountain village jaunt – more clothes than I wear in Alabama all winter long combined.
(One thing I did learn in 2019, from visiting Chicago in January and Macedonia in December, is how to dress when it's *actually* cold outside. I now know that you can actually dress to stand to be outside if you know about the pieces of clothing we haven't yet discovered in the south. (When it does get cold down here, we just assume there's no way to be outdoors unless you're running and therefore creating your own heat source. Who knew?! There are WAYS to endure the cold.) So I learned the definition of "Parka" this year and found out that you can get scarves warm enough that they serve a purpose other than annoying your neck and complimenting your outfit.)
So we put on our warmest clothes over the top of our long underwear, then came our parkas, our scarves, our hats, our boots, and then we did a few stretches so that we had the strength to lift our feet while wearing 150 pounds of clothing. A few minutes after arriving, we set out for the mountaintop in the large, safe van with our driver who was a resident of the country, thereby making us completely, totally safe.
The roads in Macedonia seem to have been engineered to be approximately 30% too narrow for single car to pass through, yet somehow they Knight Bus their cars skinny and can fit three cars side by side on the road – one going one way, one going the other way, and one stopped in the middle of the road while the driver runs into the hardware store for a minute.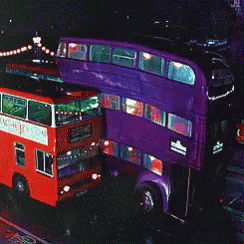 (One takeaway I've had from my two visits to the country is to quit worrying so much about how close I am to other cars in America – based on their ability to get within a booger's width of each other, I've got MILES between me and the rest of the cars.)
So the roads are narrow. They're also winding, and, when going to a village in the mountains that rise up immediately from the city, are precisely cliff-side – with no barriers other than the skinny cows and horses that free-roam the mountainside.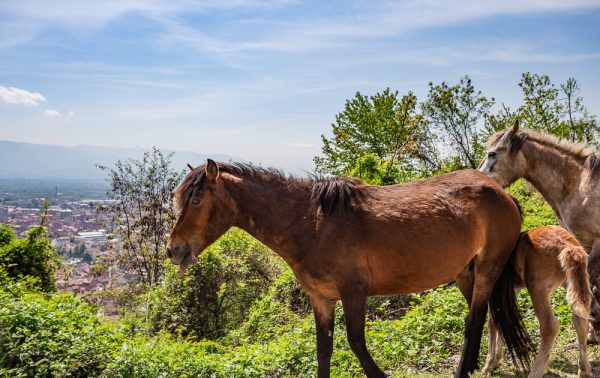 Here were some horses we passed on one of those narrow, winding, cliffside roads in April – back when there was no snow to complicate things. 
Our driver laughed at our fear as we climbed steeply up the mountain and first hit ice, then snow, then deeper snow. He assured us that the roads were perfectly safe and it could be much worse – when the roads get too bad, the village residents just park their cars in the road and walk into the village. Did we see any abandoned vehicles? No. The weather was fine.
We made it to the village safely,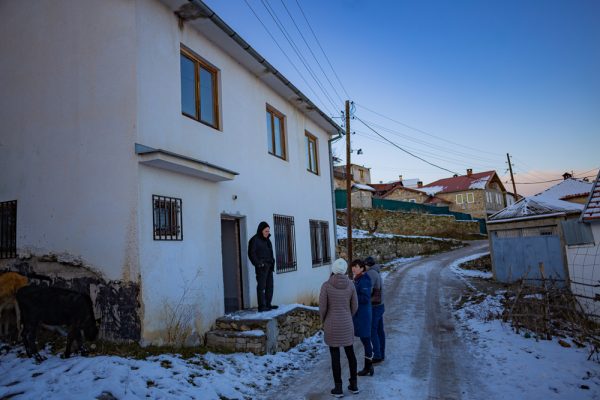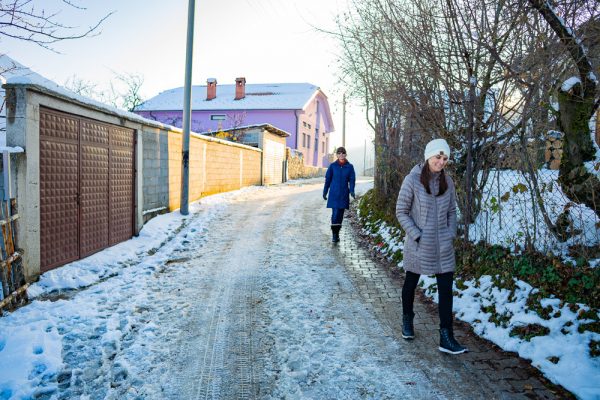 enjoyed the spectacular views through our sleep-deprived, grainy eyes,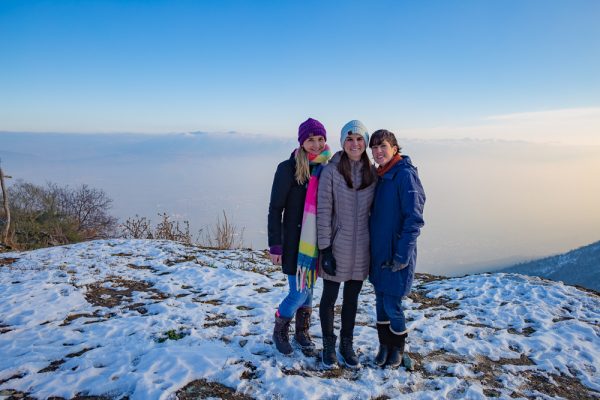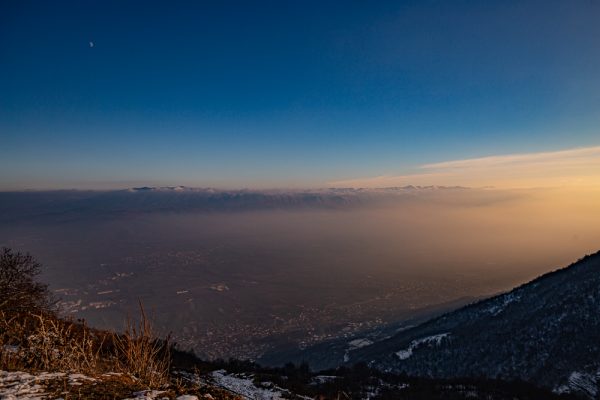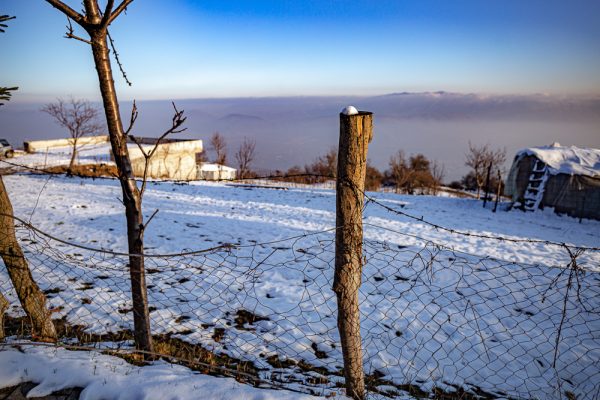 We visited the village school and brought American treats and handmade gifts from our kids to give to the precious kids.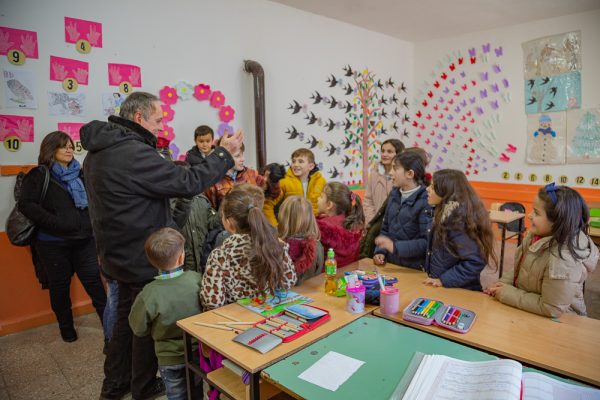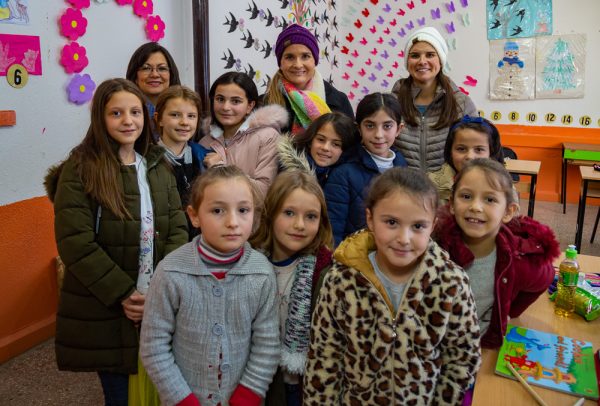 And then it was time to go.
We were STARVING.
We were zombies.
It was time for dinner.
And at some point we'd really like to attempt that thing called sleep again, would-you-please.
So we pulled out of the village, heading out again on the snowy roads. I looked out the windows and ached to call a "hold on a minute" so that I could jump out and get pictures of the sunset/dusky winter wonderland. But I was hungry and I knew everyone else was too and we were cliffside – I didn't want to slip-slide away off the edge.
THEN we passed a small herd of cows, headed home for the night. (Our driver slowed down, letting the cows rub us with their udders as they scooted past us on the impossibly narrow road, and laughed as he commented "See? The cows DO come home.")
But as the cows made their way around us and our driver attempted to bring the van back up to speed, the tires slid.
Then we started sliding to the right – of course we would slide toward the cliffside.
THIS WAS ONLY OUR FIRST DAY IN COUNTRY! It's not time to die yet. We haven't even gotten to eat a single meal!
The tires slid again.
We fishtailed sideways again.
Our driver was mumbling from the front seat, saying something about how this never happens.
Then he said "Time to get out and push!"
And he meant it.
The passengers all disembarked, carefully stepping between the car and the mountainside. He tried again now that he was free of all our weight – no luck.
So we literally got behind that big old van and we pushed. And we pushed and we pushed.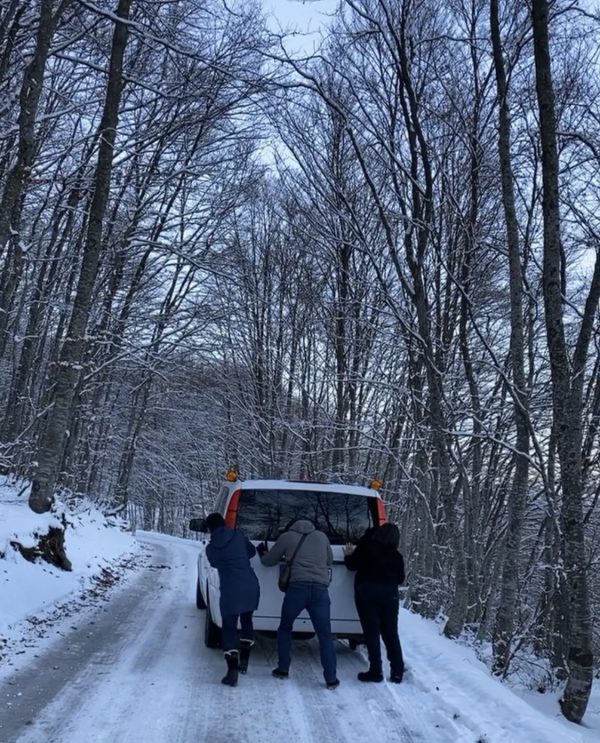 I swear the edge was edgier than it looked. Or at least it certainly felt like the uvula of a bear to my southern sensibilities.
And the van did nothing but slide closer to the edge.
The driver got out and said "We will need the chains!"
I got my camera out and decided it was time to at least get those snowy winter wonderland pictures I wanted. It's not like I know anything about helping with snow chains.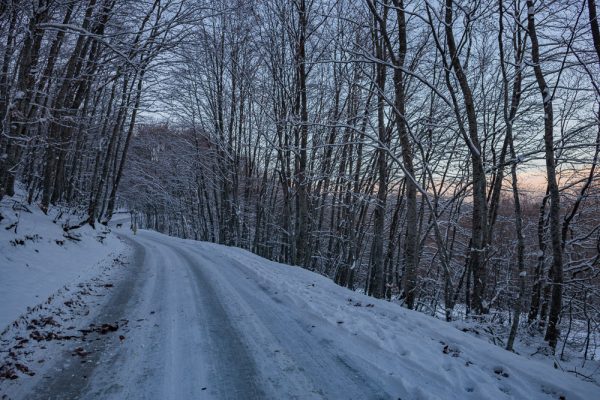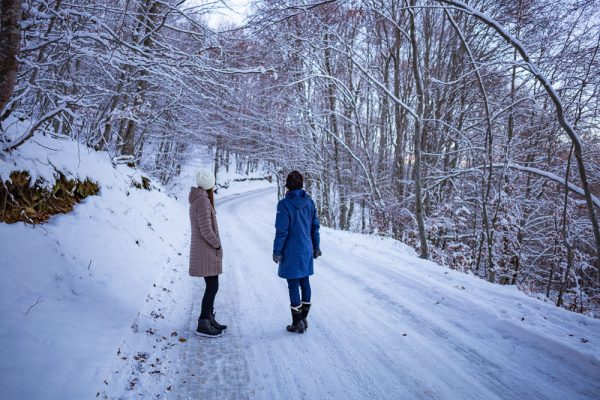 Just then, another herd of cows came by. It was as if they wanted me to take their picture.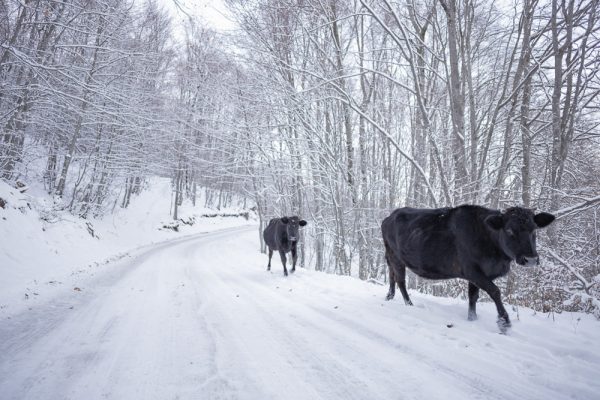 They were drama cows if there ever were drama cows.
The men had tire-shaped chains laid out on the snow by now, and were looking at them quizzically with their arms folded. Clearly there was nothing us womenfolk could or would add to the situation, so we began to walk.
Then we did some quick calculations, converting meters to miles, and realized that, if we didn't mind trudging uphill in the snow, we could actually walk to the delicious dinner that was so loudly calling out our name.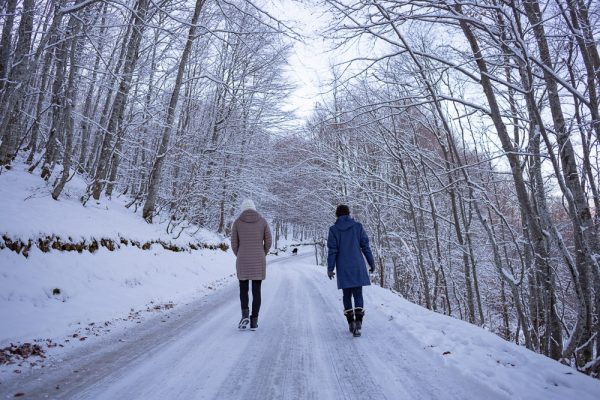 And maybe, just maybe, our walking to dinner would really light a fire under the men to hurry up and get that van up the mountain – before we ate all the good cheese.
And so we began to walk. On one of those narrow, curving roads where we were now brushing our udders against the oncoming traffic. Somehow, inexplicably, the higher we got, the less snow there was. And the faster the cars careened toward us.
But we were on our way to dinner. And who doesn't need a brisk hike after being on a plane for 24 hours?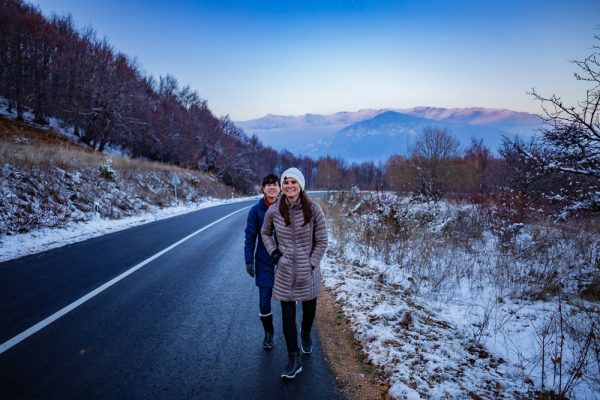 Just as we walked into the parking lot of the dreamy restaurant, the men pulled up behind us in the van. They had done it – with a little help from their (village) friends.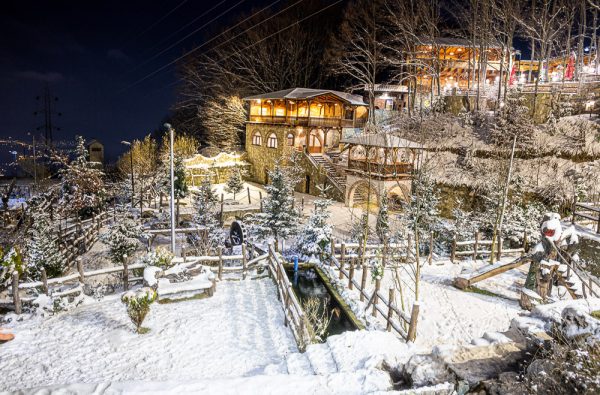 And we lived happily ever after, eating all of the amazing cheese. And no southerners fell off the mountain that night due to snow. Even if we did stare into the uvula of a mountain moose.