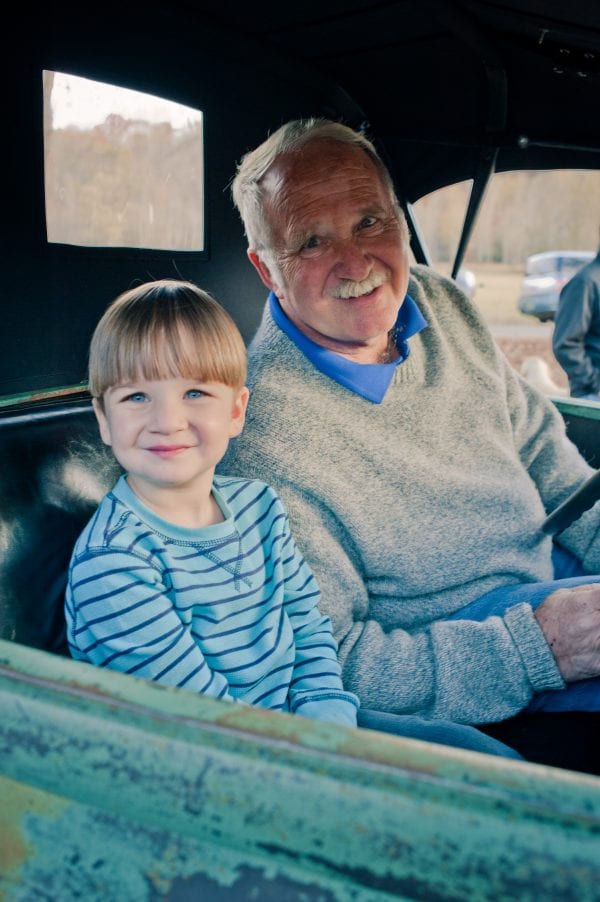 My precious dad passed away early Monday morning. He adored his wife, kids, and grandkids more than anything else in his fascinating and adventurous life. He always prioritized making memories, imparting wisdom, and causing smiles and giggles.
He had a spectacularly infinite range of talents. He was an expert on antique automobiles and their engines (and wrote two books on how to rebuild them), built antique race cars and crewed or navigated some of the most epic races (including ones across Mexico and a 45 day road rally from Beijing to Paris), drew gorgeous pen and ink drawings that were published in magazines and other forms, wrote short stories, raised bees, built coops for my mom's chickens, built his own house (including gorgeous woodworking and light fixtures), organized grand events and organizations, and so, so much more.
There are so very many things about who I am that came from my Dad. He taught me to never doubt myself, and to take on any big project that I felt led to do. He imparted to me his renegade spirit – if you have a vision for the way something should work or the kind of group you'd like to be a part of, create it. I have so many more things to say about all that my Dad taught me, and I will share it at a later time.
Dad was given time after his diagnosis, which he used to purposefully make memories with his grandkids – it was so important to him to do special things with them and give them handmade gifts. He was first diagnosed with Ocular Melanoma six years ago, and found out that it had spread two years ago. In these six years, I have watched him take time with each of his five grandchildren, teaching them skills like driving and creating and building, sharing with them wisdom and character traits, and loving them so very well. He found out three weeks ago that he had a very short time left, and that there was nothing else that could be done for his failing liver. The first thing he did when he came home with that news was to ask Ali if she'd play a game of chess with him. As they played, I heard him telling her things that applied to the game, but also to life, like "No, I'm not going easy on you. I always play to win. No matter what you do, you should always play to win." Dad did beat Ali in that chess game, but he complimented her on her good game.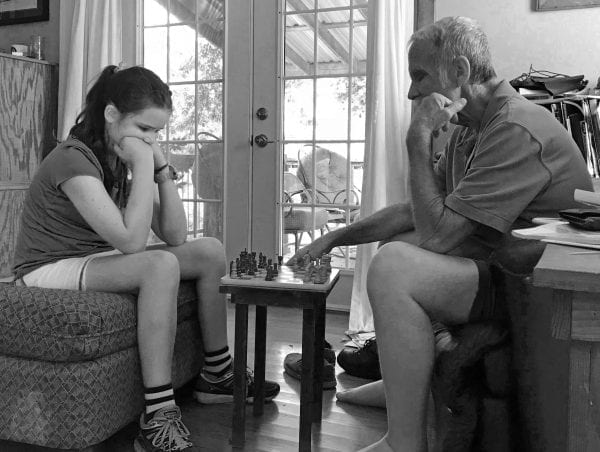 On Saturday, Dad knew he had extremely little time left. He asked my mom to call us all to come see him. We all spent Saturday with him, giving him time with each of his grandchildren. From Saturday on, my brothers and I rotated staying with he and my Mom through the agonizing process of dying. My Dad is the strongest, most resilient person I've ever known, and it was anguishing to watch him suffer so greatly. But I was glad to be able to be there for him in some small way, because of the 36+ years he's been there for me in all of the ways. He became very calm in the early a.m. hours of Monday, and I am thankful that when he passed away, he met Jesus peacefully and restfully. My dad has been confident from the beginning of this journey that as much as he wanted to stay with us, meeting Jesus would be beautiful, and I know it was.
God has been so gracious to our family in the past few weeks and has made his love and care known in so many beautiful and individual ways. He has sent obvious and loving messages to us that have been such a comfort – even as we walk through this painful time, He is clearly with us, caring for us, and hurting with us.
We have also had so many friends who have loved us well, helping with our kids and errands and food and every tiny detail of life. I thank you all so much for your help, your love, and your prayers.
There will be an interment at 12:30 on Monday, September 24 at Alabama National Cemetery in Montevallo. A celebration of life service will be held at 2:30 on Monday, September 24 in the worship center at Shades Mountain Community Church, with refreshments and visitation to follow in the fellowship hall.