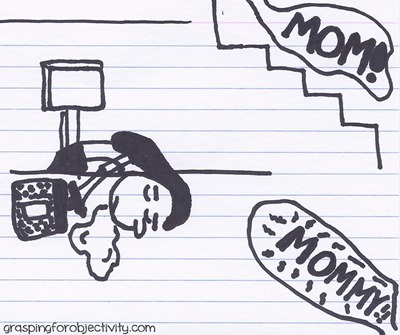 Every time I need Triple Antibiotic cream, I can only find Hydrocortisone – and not just one tube, multiple tubes. Every time I need Hydrocortisone, I can only find Triple Antibiotic cream  – and not just one tube, multiple tubes.
I no longer believe that these two creams are separate entities. They cannot exist at the same time because THEY ARE THE SAME TUBES. They cackle with evil glee at their ability to change their name when they see me coming. They are the David Blaine of First Aid.
---
I vehemently believe that my phone is listening to me and selling my conversations to Facebook.
Multiple times over the last few months I've had a conversation about something random, and then a few hours later have an ad served to me in my Facebook feed regarding that topic.
For instance, Chris and I discussed Ole Miss (as in the university and the football team.) Their coach left in scandal and I asked Chris to tell me the long and colorful story while we were on a hike.
We never talk about Ole Miss.
The very next time I opened Facebook, I had an ad for Ole Miss gameday apparel.
I mean, that's just stupid. My phone should know what kind of gameday looks I'm into.
After a few more of these uncanny and quite suspicious instances, I decided to turn off my "Hey Siri" feature. I considered that maybe that's how it was justifying its listening habits – it was always keeping an ear out for me to say "Hey Siri," and anything it heard in the meantime it just happened to mention in passing to Mark Zuckerberg.
But then, weeks after divorcing Hey Siri, I had lunch with a friend and discussed all the misguided ways that people attempt to comfort the grieving. Four hours later, I received this ad: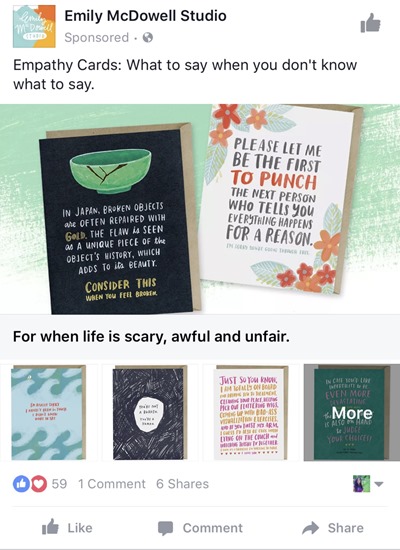 So not only is it still listening, it's contextually analyzing my conversations and making frighteningly intelligent decisions based on what it hears.
Y'all – I'm pretty sure the computers have already taken over. In fact, I'm not even sure if I'm real anymore. I may just be a figment of my computer's imagination.
---
You know you're at a homeschool event when a kid pops off a boob to say they need to go potty. With perfect sentence structure.
Am I saying that homeschoolers breastfeed longer than most people?
Or that they potty-train early?
Or that they reinforce fantastic sentence structure at very young ages?
That's for you to decide.
---
Summer in Alabama has been painful. We had such a mild fall, winter, and spring that I nearly forgot what an extreme season felt like for a second.
But it's hot.
It's humid.
It will sap you of all ability to breathe the moment you step foot out the door.
Which means that I am once again daydreaming about my Pipe Dream.
I had a dream one blessed night a couple of summers ago that was so blissful that I've not forgotten it. In my dream, there was a raised, enclosed, air-conditioned runway (not walkway, although I will allow walkers into my dream as well but definitely not bikes – sorry bikers) that went from my neighborhood all the way to downtown.
It was glass on three sides, in the shape of an arch, and significantly raised above the roads so that you could see everything around you and were looking down at the treetops.
It was basically the Jetson's Utopia for a runner. And I loved it. And craved it. And fantasized about it.
I mean, I know this project would only cost ten billion or so dollars, especially depending on how many neighborhoods we'd connect in this super fabulous modern monstrosity. Oh – and also you'd definitely need a few open-air observation decks here and there for sunset watching and the like.
But it would be EXTRAORDINARY.
Think of the tourists it'd bring. Runners would come to run this above-city course during the hottest days of summer and the coldest days of winter. You could even run during a tornado. Okay maybe not a tornado but close.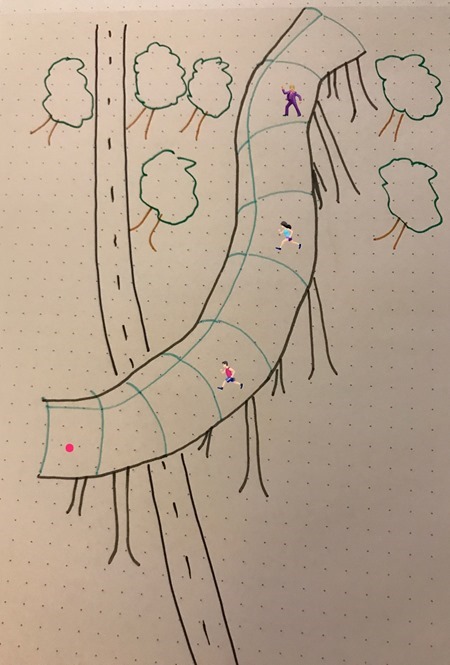 Yes, even Disco dancers would come to dance in my dreamy tunnel.
There would be regular water stops and vending machines where you could buy Gu and Body Glide and deliciously cold Protein Icees.
Every so often this magical tunnel would dip down to ground level, weaving through the nature preserves around town – Red Mountain Park, Ruffner Mountain, Oak Mountain State Park, giving you the opportunity to run through the woods during those months that normally leave you heaving, dehydrated, and mosquito food.
Then it would shoot back up into the air, offering just the right amount of hill workouts, and continue its majestic treetop view of the city.
I would pay a decent monthly membership to this tunnel. At least in the summer.
(And I'll even let the bikers use it in the spring and fall.)
And hey – if we have to sell it as a Light Rails option too, you know, since Birmingham is kinda in last place in the whole public transportation arena, that's totally fine. There can be a train running alongside my Most Amazing Air-Conditioned Runway.
I keep trying to sell Chris on this fantastic magnanimous idea and he reminds me that it is a LITERAL Pipe Dream and I must accept the reality that it's completely impractical.
Sure it is.
But it would be incredible.