Nine Days.
I have literally not been away from home that long since I was 16 years old. Well over half my life ago.
I accomplished this feat by Magical Vacation Stretching (MVS.)
How does MVS work? I shall teach you. Are you ready? This is some extra VIP information.
1. Prove to your husband and traveling friends that a week-long rental is a) easier to find and b) nearly the exact same price as your usual four night rental (this is true with regards to larger beach houses because they almost all rent by the week, so the competition and pricing is better than trying to get a sub-standard rental time period.)
2. Husband agrees to week-long rental with the caveat that he has to go back to work for three days in the middle of said vacation. The drive time is four hours, so this doesn't seem unreasonable (especially since you're not the one that has to drive an extra eight hours.) Plus, there will be two other parents and a traveling babysitter to help while he's gone. What could go wrong?
3. Because all rentals are Saturday to Saturday and why not get a head start, snag a Friday night hotel room with credit card points halfway to the beach.
4. Because two cars are necessary for husband's future commuting, why not go ahead and leave for said halfway point at lunch on Friday? Husband can come after work.
5. Halfway through beach trip, during the Tropical Storm that came while the husband was away, suggest to husband that since a) we had to spend a couple days indoors and b) checkout is at 9AM on Saturday and c) since he didn't get as many nights away due to his commuting, that we should definitely get a hotel room for Saturday night and use our rewards late checkout privileges to stay until Sunday at 4pm, therefore basically adding two extra days to our vacation.
MVS has many steps, as you see. And each one is mightily worth it.
So let's take a walk through this meandering trip.
Day One: Friday, Enterprise, Alabama.
I chose Enterprise for one reason: It was the only city on the way to our beach destination that had a Marriott-brand hotel, meaning that I could use points and stay for free. (I'm a credit card point researcher/winner. And lest you didn't know, Marriott has THE BEST credit card rewards points system in existence. I've already gotten multiple free nights this year, plus we get guaranteed 4pm checkout. If you stay in hotels and aren't using their system, you're missing out. If you'd like an invite to get the best of these credit cards, let me know.)
But back to Enterprise.
I knew nothing about it except that I have two blog readers who live there and it's the home to an Air Force base. Oh – and they have a statue of a Boll Weevil, which is pretty famous in Alabama Lore.
Turns out, Enterprise is one of the most adorable, bustling, fun small towns in Alabama that I've ever been to – and I've been to a lot.
They have a freakishly gigantic park with a fantastic playground, a lake, and a walking track that is well over a mile.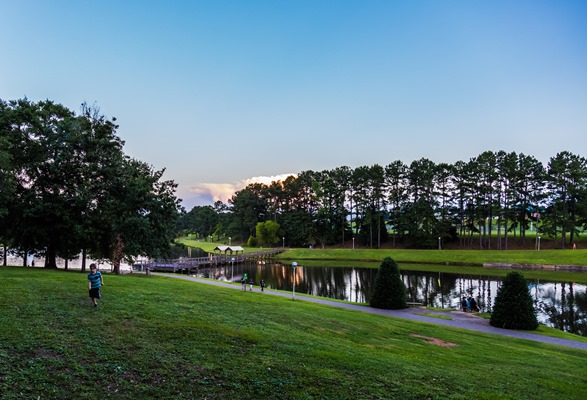 Also? The fountain in the lake glows like fire after dark.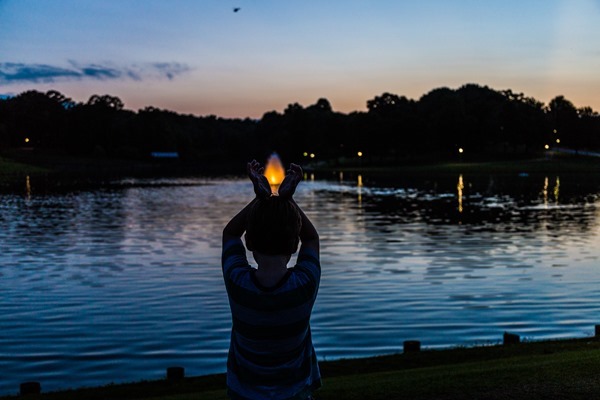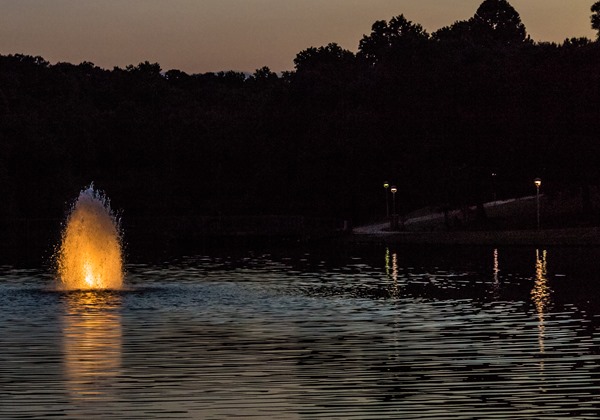 We had a delightful dinner with one blog reader (I always try to meet blog readers when I travel – if I know where you live, I look you up and force you to eat with me – don't say I didn't warn you), then went downtown after dark to visit the Boll Weevil Statue.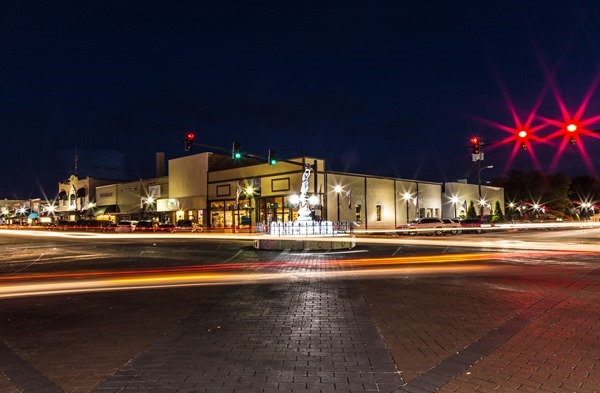 In case you wondered what is so great about the Boll Weevil, a nasty beetle-like bug that eats crops, here's the story:
In the early 1900's, Enterprise was surrounded by cotton farmers, as were most Alabama towns. But the evil boll weevil arrived from Mexico and decimated their crops. One smart farmer decided that perhaps another crop would be a better idea, and began to plant peanuts. Through this, the farmers learned about crop diversification and made a significantly higher amount of profit from the peanuts. And Enterprise became the richest little town in Alabama. So they mightily thank their boll weevil – "In profound appreciation for what it has done as the Herald of Prosperity."
Everything in Enterprise is named after the precious Boll Weevil – streets and businesses and bars and festivals and radio stations.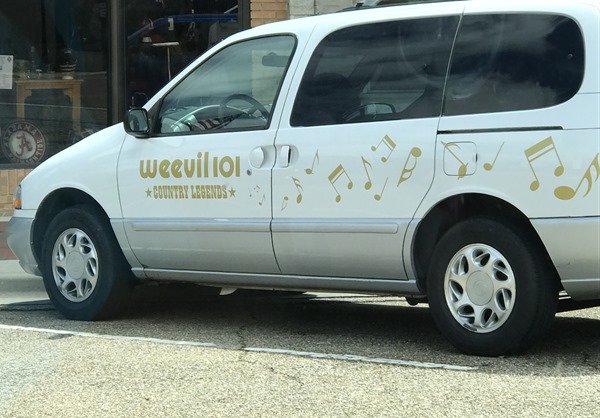 (If only all of us were appreciative of the craptastic parts of life that ended up bringing us to better places.)
After a proper period of Boll Weevil Appreciation, we got ice cream at the most adorable – Milky Moo's. Which was so tasty and so cheap that we ended up going back a second time the next day.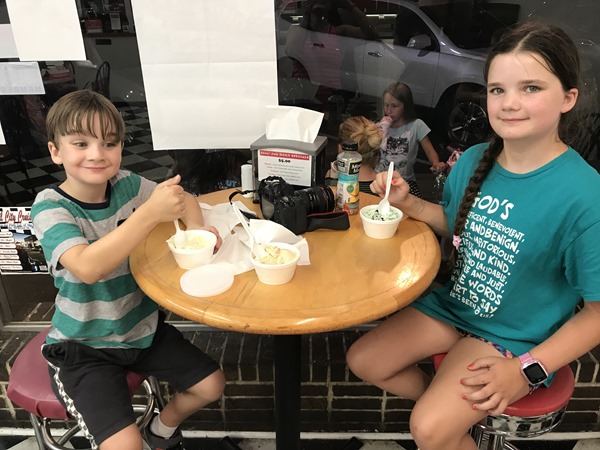 Day Two: Saturday, Enterprise to Florida.
Somehow our first day in Enterprise was already utterly exhausting to our children – tears and whining and not even wanting ice cream the night before because they were so sleepy (smiles were forced in that picture.) It made me fear for their future of long days at the beach, so we gave them some relaxing hotel time Saturday morning.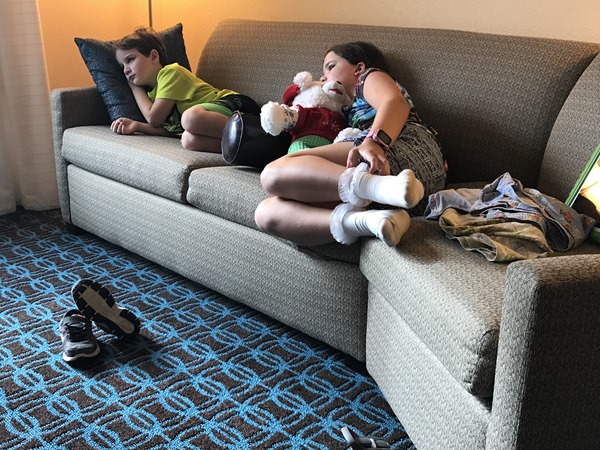 After meeting our other blog friends at the awesome Enterprise playground and following it up with more ice cream, we continued on our way to vacation. We got there in time to enjoy the beach for a minute – an absolute must on the day of arrival.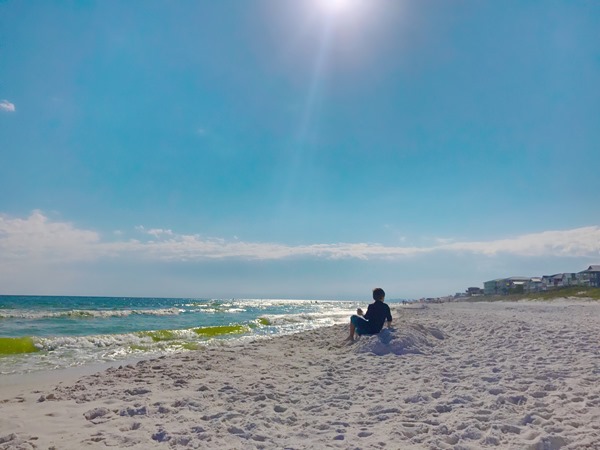 Day Three: Sunday, Santa Rosa Beach.
This was our perfect beach day. Chris was still with us (he left to go home Sunday night), there was only a yellow flag (normal waters), and the kids fully engaged with the beach.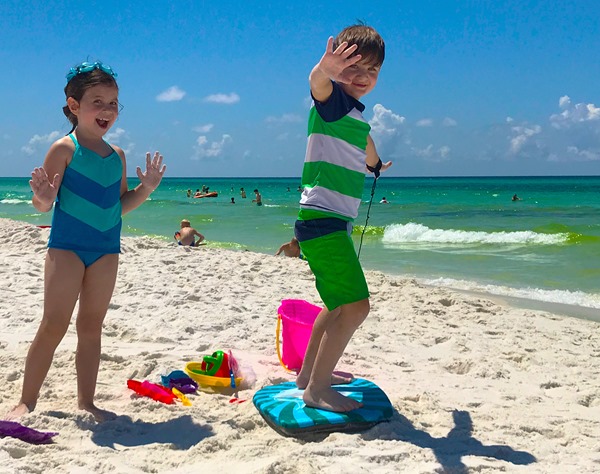 Although Ali and AJ have outgrown their complete twin-ness of trips past, they still have their moments of wanting to match.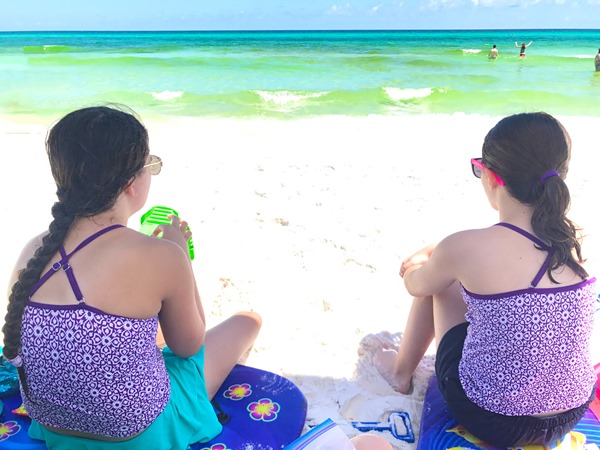 We brought our precious babysitter Sarah to vacation however she wanted by day and keep the comatose kids at home by night, and the four parents went out to eat each night, enjoying food, silence, a lack of questions, and of course, sunset.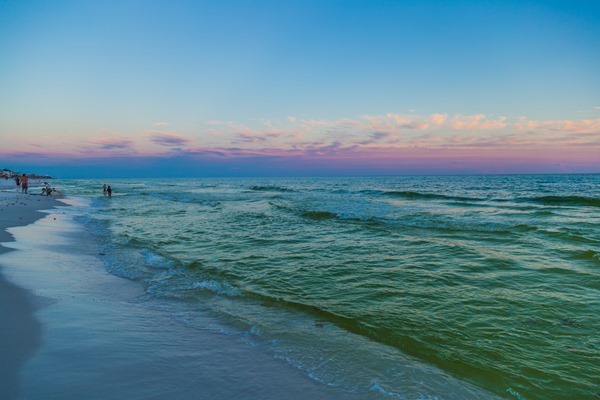 Day Four: Monday.
We had known the week beforehand that a Tropical Storm (that didn't even exist yet) was supposed to be headed our way, but the fact that it was projected so far out just made me and my mindset of invincibility assume that we wouldn't get a single drop of storm. However, the waters started churning on the second day, and the clouds started forming.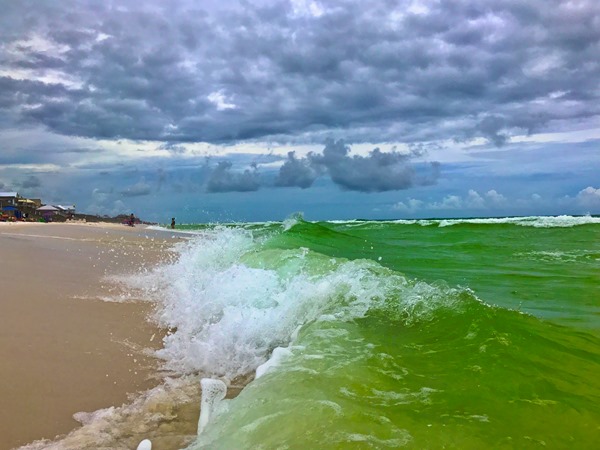 …Which created the perfect beach day. No sun, great waves, and fun for all.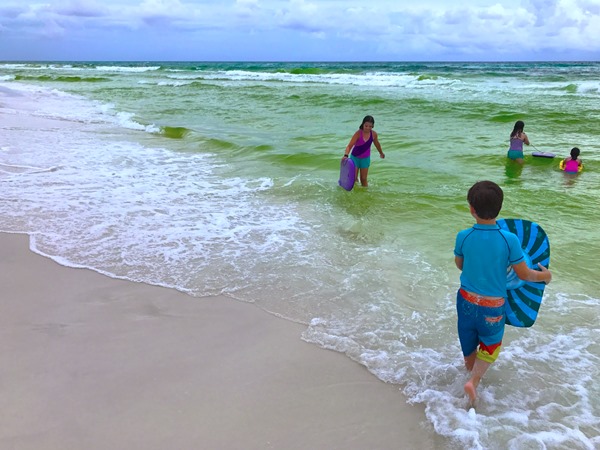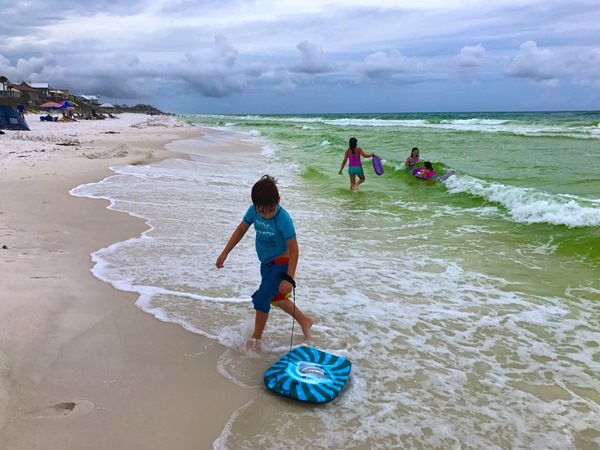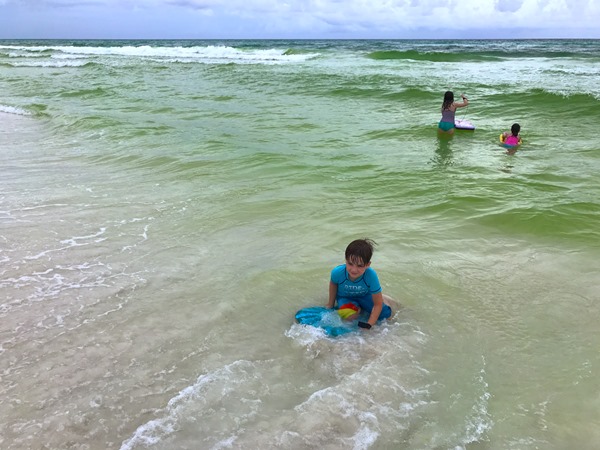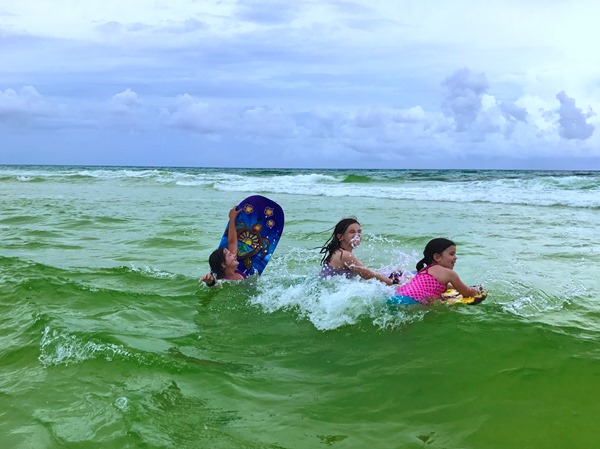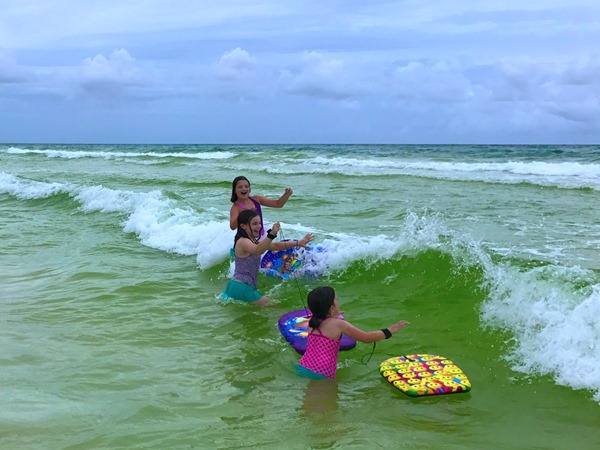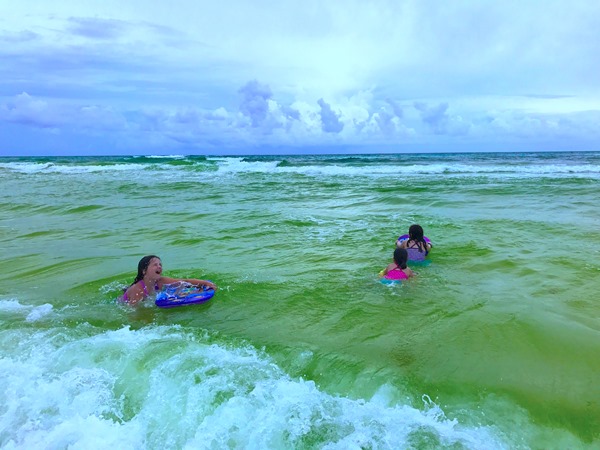 And I'm glad we did enjoy that day to its fullest, because just a few minutes after we left the beach, double red flags were raised, prohibiting anyone from entering the water.
Then came Tropical Storm Cindy.
…But more about her in the next post.