Continued from here…

So the Tropical Storm.
Let's first be clear: the Actual Tropical Storm Cindy made landfall on Thursday in Louisiana. She may have been weak, but the woman could cover some land mass. As such, her torrential rains started Monday night in Florida. That was when I discovered the downside of an extremely tall beach house: the wind whistling through the rooftop. It was so loud and so whistly and so constant and so fantastically annoying that I could still hear it through my super-tropical-blocky foam earplugs, and it was not at all pleasant. I cursed Cindy and her noises.
Day Five: Tuesday.
After a terrible night's sleep, I woke up super early and checked the radar. There appeared to be a break in the rain, and if I didn't get up and ride a bike or run before it was raining for multiple days, my body would not be happy. And since I despise running in the rain, I decided the best choice would be to see if I hated biking in the rain just as much.
The break in the rain didn't *actually* exist. But I can now decisively say that I do not hate biking in the rain. It was nearly…exhilarating.
…Other than the sandy mud that flew all the way up to my hair.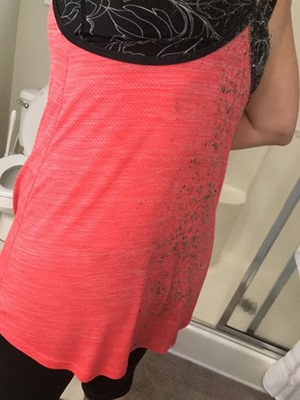 That's my back. It looked like I'd rolled around in a newborn baby diaper.
The day definitely acted as a rain delay to our vacation. But the best benefit to a longer vacation is that when a tropical storm comes through and halts the outdoor fun for a couple days, it's not at all stressful because everyone needed a break from the sun by then, we knew we'd have more sun on the other side, and I'd made the kids a gorgeous schedule to delete all arguments about what they watched and who picked while they binged endlessly.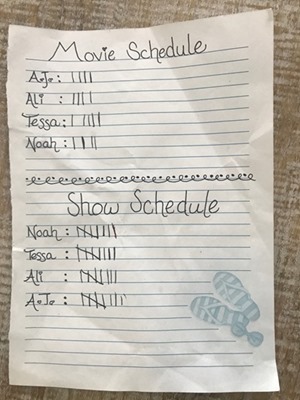 This was the ending tally. It's slightly embarrassing how many tv hours they logged in a week. But also impressive.
Chris was intelligent enough to send an extra Roku, which we hooked up in their bedroom so that us adults could busy ourselves guiltlessly binging The Unbreakable Kimmy Schmidt downstairs, a luxury that never seems to occur in real life.
Day Six: Wednesday.
The Tropical Storm continued its beat-down of us. We played games with the kids and continued our separate Netflix binging for the first half of the day. The rain eventually abated for a minute and the children happily sprinted to the pool, where our rental neighbors were also headed with a giant blow-up Pegasus. Thank goodness they were happy sharers. One cannot ignore a giant Pegasus in the pool.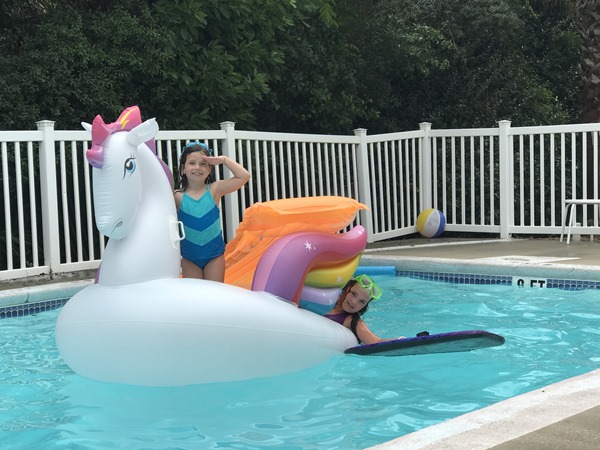 There was quite a debate about whether this was a Unicorn or a Pegasus, but anyone who has ever watched My Little Pony knows that if you don't have a horn but do have wings, you're definitely a Pegasus. (And Ali was quick to tell us that if she'd had a horn and wings, she would have been an Alacorn. These are important life facts.)
Chris returned that afternoon, and us adults went out for a double date. The radar didn't look good for our meal, yet the harried hostess indicated we'd be sitting on the porch.
Chris, ever the planner: "Umm, what if a storm comes in? It looks pretty bad…"
Hostess: "Oh it won't – it's looked like that all week."
Chris, trying to show her his phone: "But my radar…"
Hostess, not even looking up: "It's fine."
Chris: "But what if it does?"
Hostess: "Then we should be able to accommodate you."
Her "should" didn't sound promising.
We had no cell service on the back porch, which was good because it kept us from refreshing our radar all evening. But we didn't need an app to know what was headed straight for us.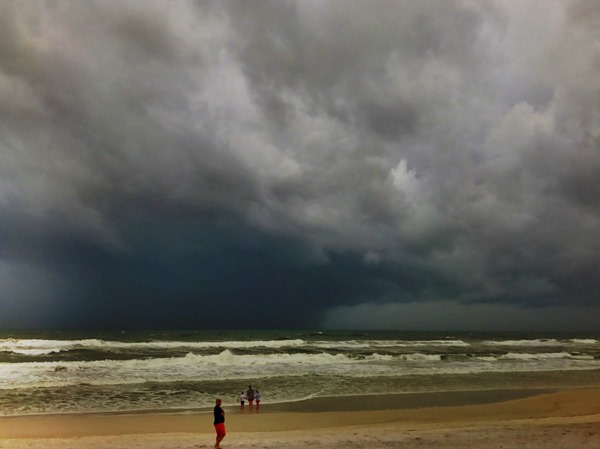 It was fun to watch until it wasn't. At which time we grabbed our plates and sprinted inside, blocking the hallway as our waiter ran our credit cards and we tried to figure out how to box our food with far too few hands.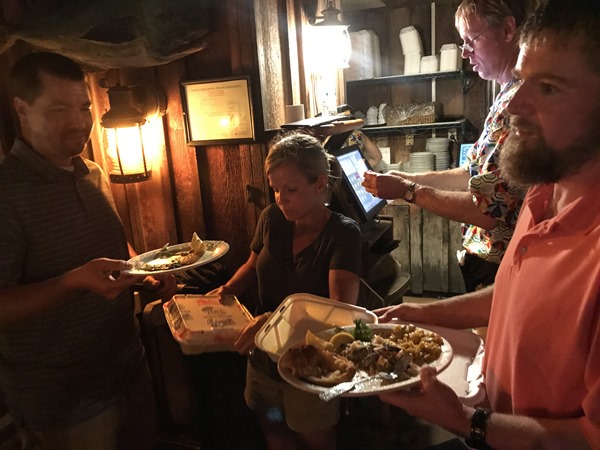 But beach storms are the best. So the soggy fish was a totally reasonable price to pay to watch this come ashore.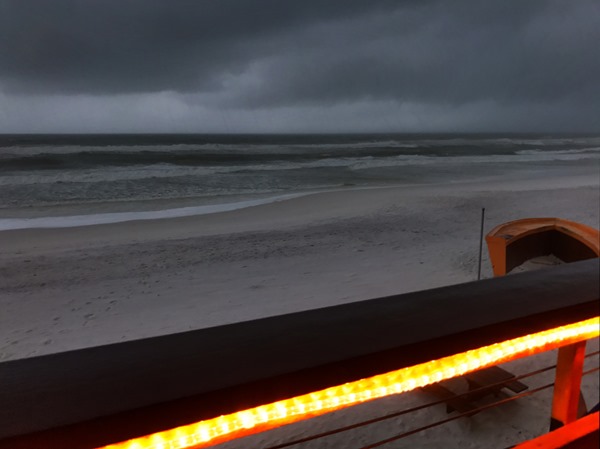 Day Seven: Thursday.
Despite the fact that this was actual landfall day for the Tropical Storm, our weather mostly cleared up. However, there were still double red flags, prohibiting water entry. I assumed that dipping ones toes in was still okay, as I'd seen some kids do directly in front of life guards. So we headed down to the beach, setting up next to a tidal stream to add extra water opportunities for the kids.
But our beach patrolman was having a Paul Blart Mall Cop kind of day and made sure that we all knew that the water was not allowed to touch any part of us – including those runaway waves that came up much farther than expected. If you wanted to walk along the beach, your toes better not be touching water.
And so the kids busied themselves as kids do: Digging Holes deep enough to find their own water sources.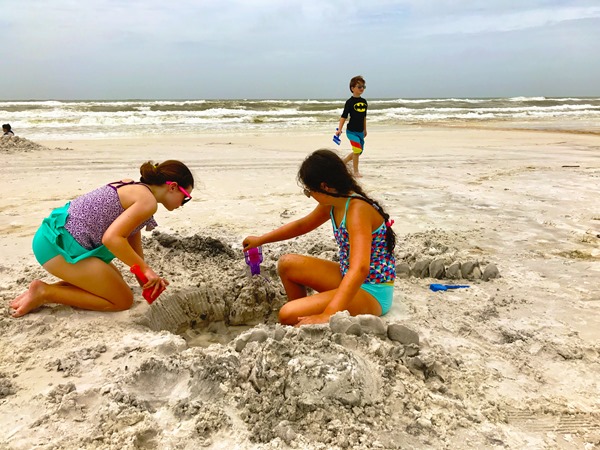 That night, Chris and I took an "alone date", enjoying the sunset from a pier right as a loud and kitschy pirate dinner cruise went by. It was infinitely more romantic in photograph than it would have been to be on that boat.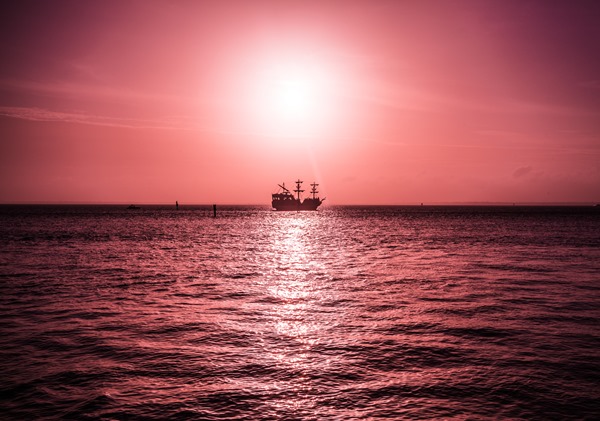 We also found this fantastic roosting spot right before the sun went down, which happened to be near a stand of trees with at least five giant Heron nests and giant Heron babies screaming for food. Mom life is tough – especially for Herons.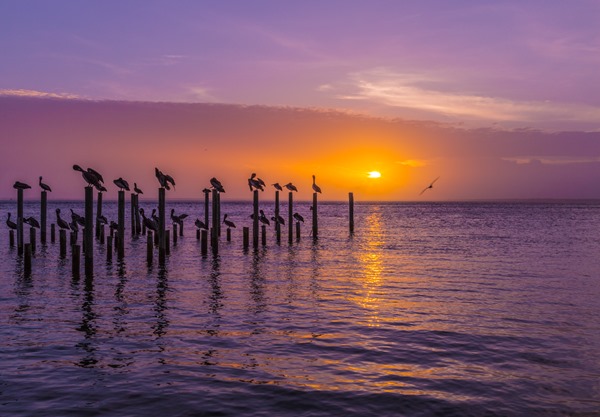 Day Eight: Friday.
As checkout was at 9am the next morning this was our last double-family day of vacation, we attempted to live it up in all the ways, but the children, they were exhausted. They had no energy left for beaching or pooling or really much of anything. Which was good confirmation that a week is absolutely a perfect amount of time to vacation.
I did manage to eke out a few photos – that was all we got.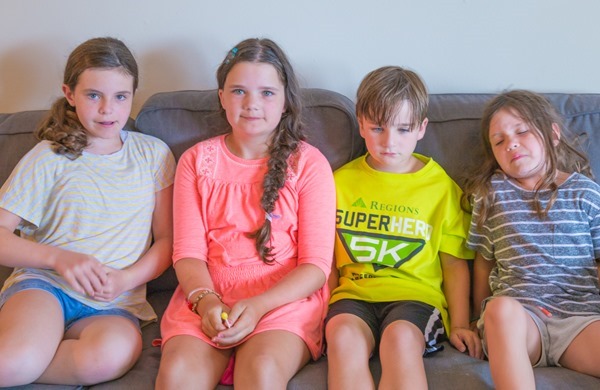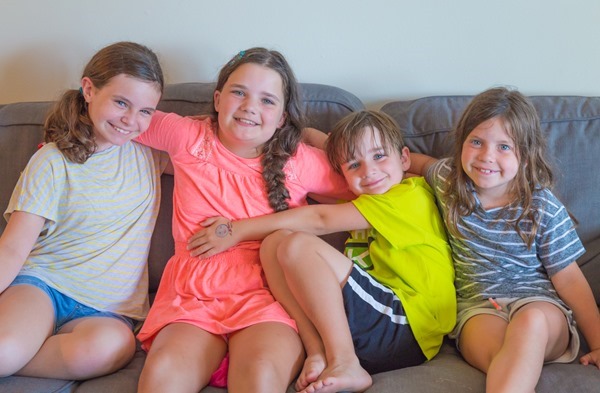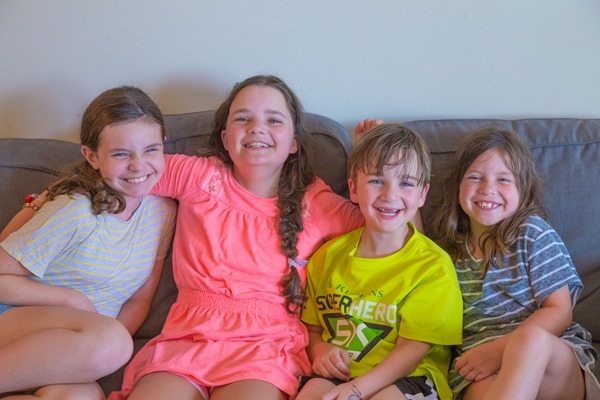 It's been a long time since we took their first group beach picture nine years ago. And it's way more fun now than it was then.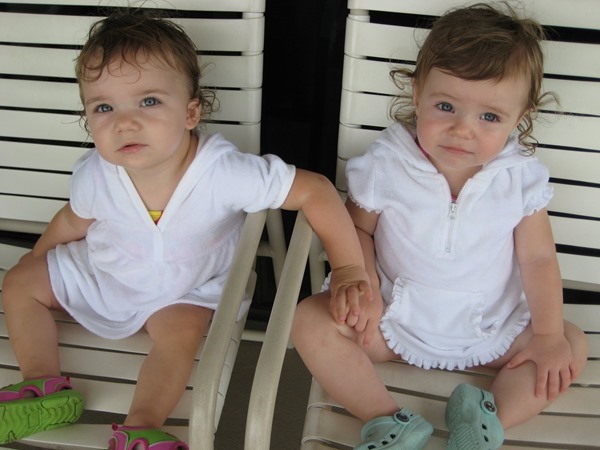 Since our kids had had enough of the beach, Ashley and I went on a walk without them. It was the most fascinating beach walk ever – so many creatures had washed up from the tropical storm, including quite a few of these gorgeous Blue Button Jellyfish,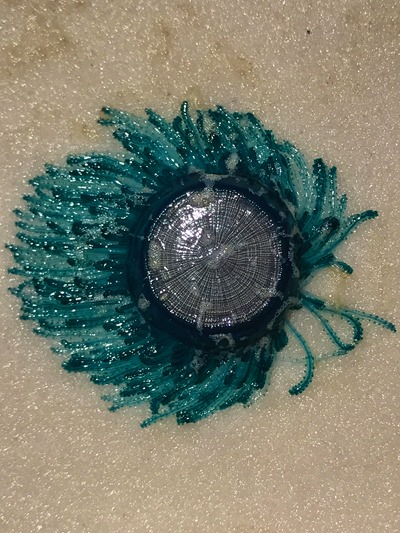 And thousands of the most disturbing sea creature I've ever seen in person, the Sea Cucumber. They moved in slow and oozy ways that made your skin crawl, and one of them actually spit at me. Ashley thought the first one we saw was a shell, washing along in the water, so I reached down to pick it up. So yes, I've touched a Sea Cucumber.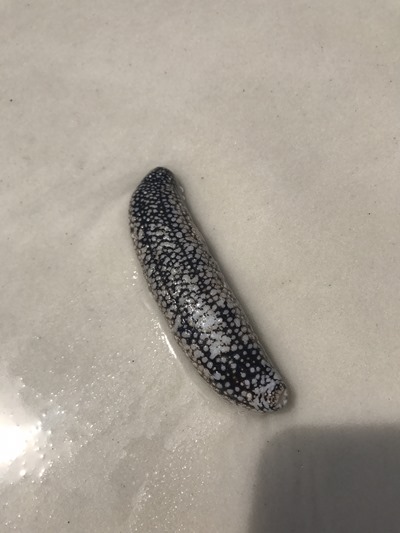 …Yet I still highly recommend post-Tropical-Storm beach walks to everyone.
Day Nine: Saturday.
We did not tell our children that we were adding a day and a half onto our vacation until we'd finished packing up and were ready to load the car. We knew that they were exhausted and that nothing is as much fun without friends, so we were not surprised, nor were we disappointed, when this was their reaction: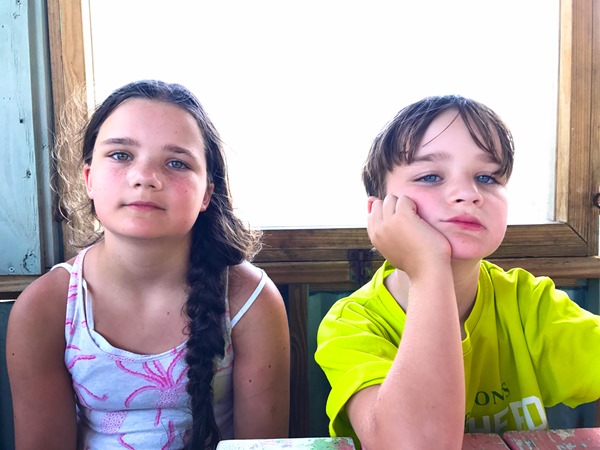 EVEN THOUGH we were staying at a brand new hotel with a lazy river.
So we were oh-so-strategic about our arrival. We took our bags up to our room and plopped the kids in front of cartoons. Chris and I read books quietly on the balcony until each child had come, individually, to tell us that they'd really like to check out the lazy river.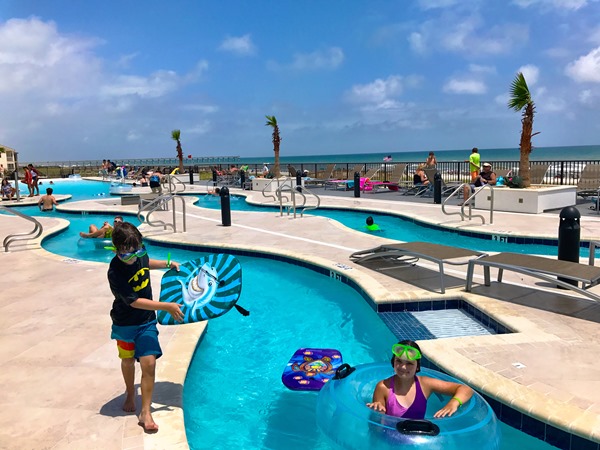 Two hours and hundreds of laps later, they were screaming that it was the best day ever.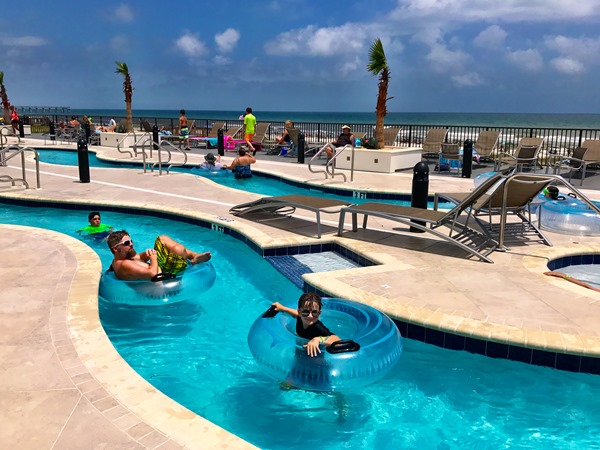 We had moved east by an hour an a half, to Navarre Beach, to a brand new SpringHill Suites hotel. It had been open five days, and was quite gorgeous.
While I sat in the shade and watched my family circle the pool, I had the pleasure of being next to an older couple who had taken it upon themselves to judge every last millimeter of the hotel. Because it was such a delight to eavesdrop, I pulled out my phone and logged their comments in my notes app to share with you.
SpringHill Suites Navarre Beach, a Review by Cranky Old People.
Cranky Old Woman (C.O.W.): "WHY don't they have umbrellas by the pool? It's just insane!!
Cranky Old Man (C.O.M): "I know. There is far too little shade."
C.O.W.: "What IS this thing?? It looks like a bomb!!"
C.O.M.: "Maybe it's an ash tray?"
C.O.W.: "No – you can't smoke out here so that'd be ridiculous."
C.O.M.: "I don't know what it is."
C.O.W., turning to me: "What IS this thing?"
Me: "It's a light."
C.O.W.: "Oh I think you're right but doesn't it look like a B-52 bomb from World War II?"
Me (mumbling to myself): "I wasn't around back then…"
C.O.W., to my child: "Oh MY! Be careful getting out of that pool! It's so slippery out here. Isn't it ridiculous?"
C.O.M.: "Let's go get some food from the restaurant."
C.O.W.: "Okay. Let's do that. How do we get in there? Do we have to go IN the hotel and then OUT again and then IN the restaurant? Surely not. Oh my goodness I think we do. That's just ridiculous."
Poor couple. It's so awful to be subjected to a hell hole like this.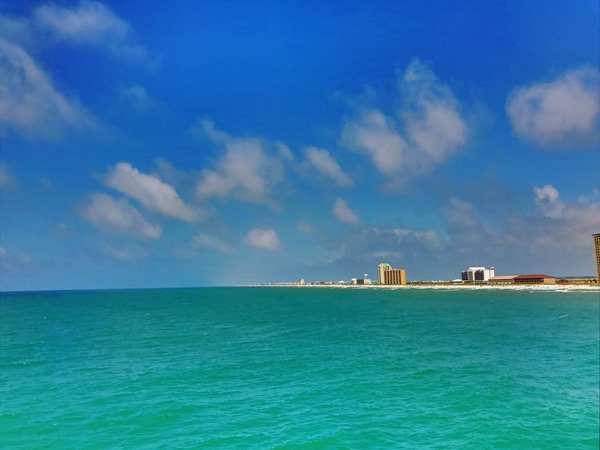 Once they went inside and my secondary entertainment was gone, I headed out to the beach for a walk, and to see if any interesting Tropical Storm treats had washed ashore at this beach.
Shockingly, it was brimming over with giant hunks of sand dollars and gorgeous shells. I ran back and convinced my family to join me on the beach for a treasure hunt (it's not easy to pull kids out of a lazy river), and as suspected, they loved it.
The new hotel had a giant sandbox play area from which we borrowed a bucket and a wagon. Noah focused more on sand dollar pieces,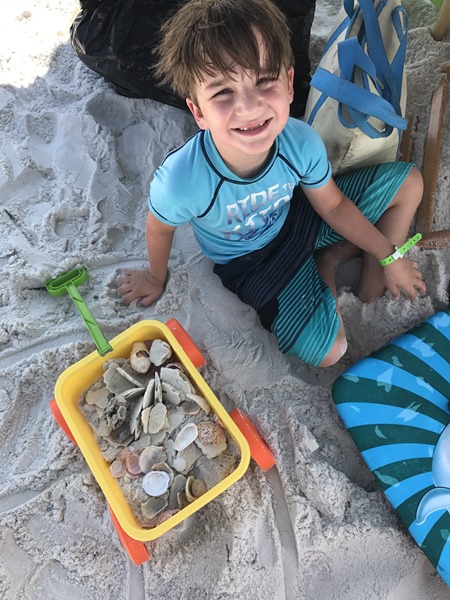 and Ali watched the surf for the most colorful and whole shells.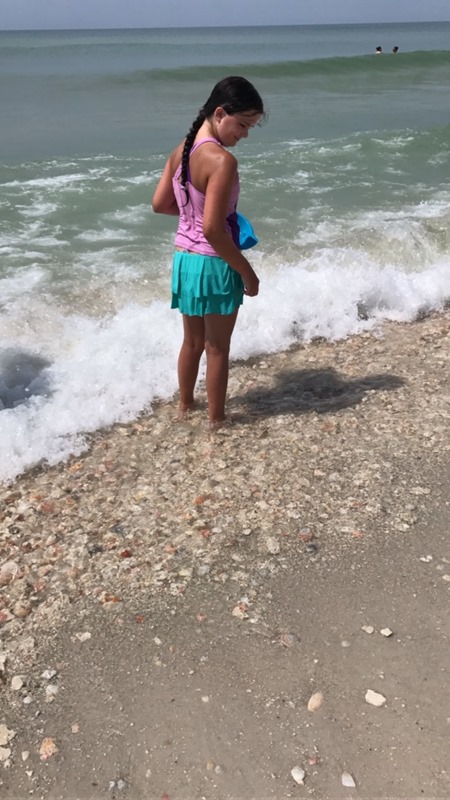 The entire beach wasn't like that – just pockets, and it was exciting to try and catch the prettiest shells. In the end, we had a sizeable collection that totally looked like we'd just ripped off a gift shop.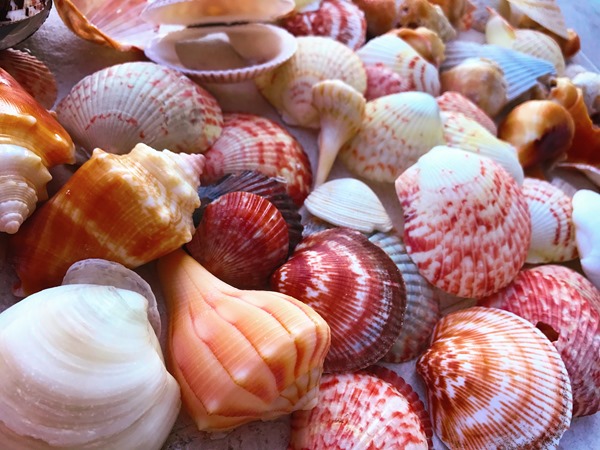 Despite their earlier inability to have ANY MORE FUN, the kids gleefully lazy-rivered late into the night. Never trust children when they say they're tired. They have at least 12 more hours of fun in them.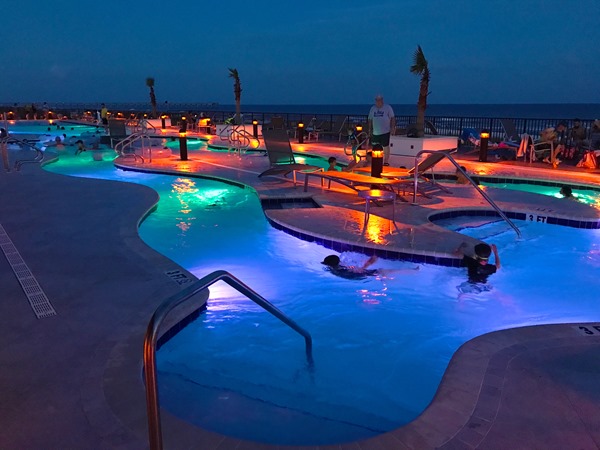 Day Ten: Sunday.
We did the beach and shell collecting and lazy river all over again until it was time for our late checkout, and then we finally cleaned up, packed up, and came home.
And, even though the Tropical Storm never gave me a single spectacular sunset while we were at the beach, she did give me one on the way home, at the perfect timing for me to pull off and photograph it with Clanton's butt peach water tower.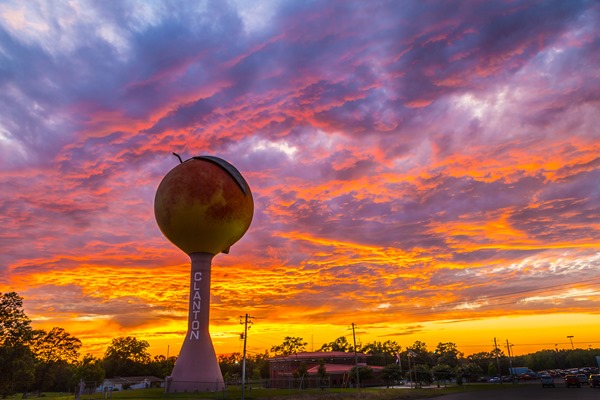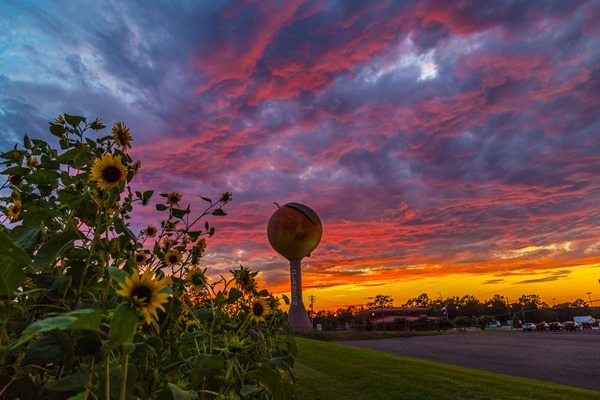 Thanks to that sunset, I was able to finish our vacation in the most Alabama-way-home-from-the-beach Cliché way possible – Ali holding up the peach.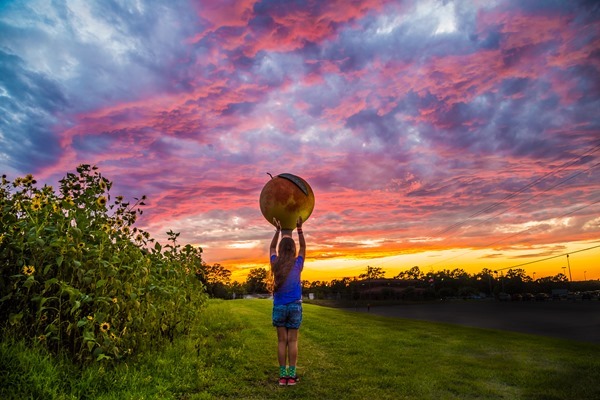 Best Day Ever.