I tend to be a late adopter of new fashion trends. I like to justify that this is with good reason – as trends take hold, they get tweaked and redesigned, and if said trend withstands the test of time, the end result is much more flattering than where it started. Skinny Jeans are a perfect example of this. When they came out, their shape turned everyone into an upside-down triangle drawn by a three-year-old (three-year-olds draw their upside-down-triangles with wiggles and lumps everywhere.) But as their roots in fashion took hold, the fabrics, colors, and cuts became much more of a delight to the typical woman's body.
I haven't gotten here with rompers yet, but I will admit that I'm close. I have finally started seeing rompers that give shape and don't just look like a kindergartener's favorite outfit and/or a 1985 floral bedsheet with a fitted corner at the waist. Rompers used to make everyone look five sizes too big, but now they're starting to nearly show kindness to the female form.
That was, until rompers went to a frat party, got totally high, and had THE BEST IDEA EVER, DUDE.
I hereby introduce, the RompHim.
Just launched as a Kickstarter two days ago, the RompHim is, you guessed it, a romper for the fashion forward man.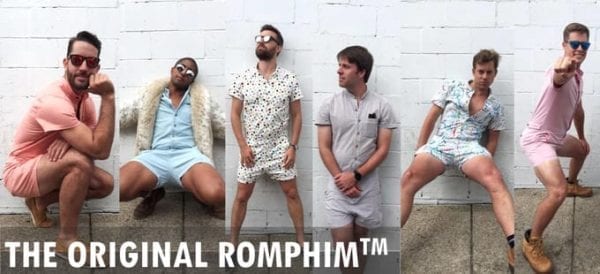 Somebody please tell Models #2 and #5 that 100% cotton rips scary easy.
That's right, ladies: for the tiny price of $95, your husband can look like he just woke up, bleary-eyed, to see Peter Pan at his window.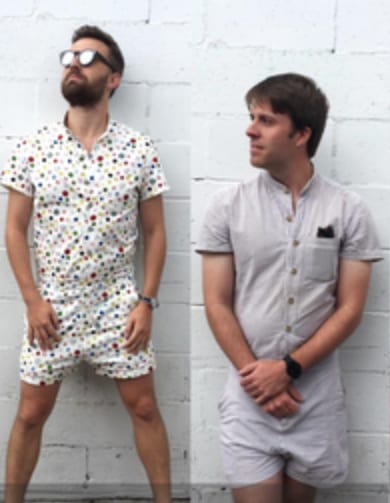 John and Michael Darling! Come down from that windowsill at once!!
Except that it's not for off-broadway reproductions of British classics. It's for hip Millennials drinking craft beer and wearing multiple all-access bracelets (or psych ward ID bracelets – can't read the writing from here.)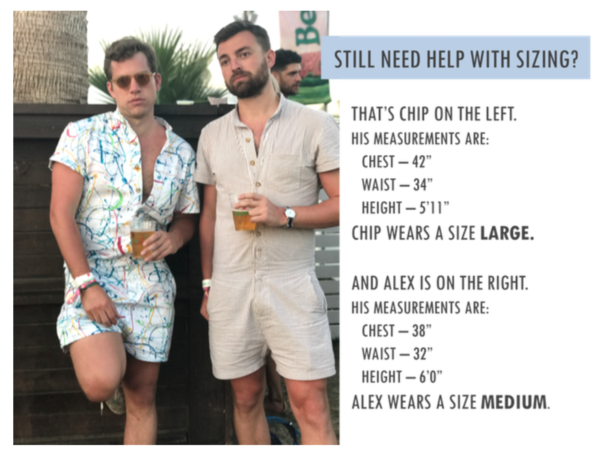 Do you think Chip and Alex gave their real names? If you rearrange the letters it spells HELP BEING BLACKMAILED AND/OR WILL BE BLACKMAILED IN THE FUTURE
So let's discuss the details. What is a RompHim, really? And more importantly, WHY??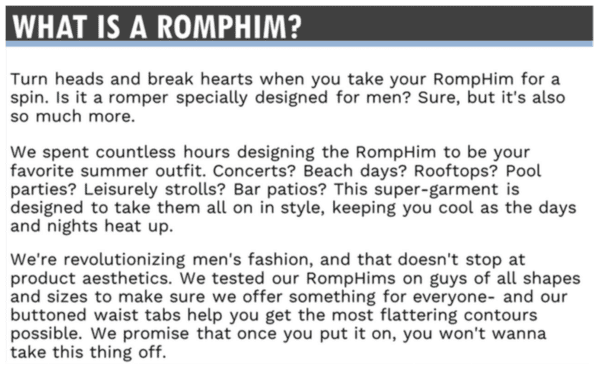 FLATTERING CONTOURS, Y'ALL. As flattering as crochet shorts.
The RompHim is ideal for framing your assets while playing pool, bunching open awkwardly while hanging out at the fence with a neighbor, looking AHH-MAZING in your next street mural selfie, and most definitely for being a nice, thick, barrier from awkwardness the next time you find yourself sitting on the shoulders of another man.

So if these are situations you find yourself in daily, then by all means buy yourself a RompHim. Or three.
But wait!! For just a measly $190, you can have the limited edition, perfectly wrinkled Southern Staple RompHim and show your patriotism while you romp.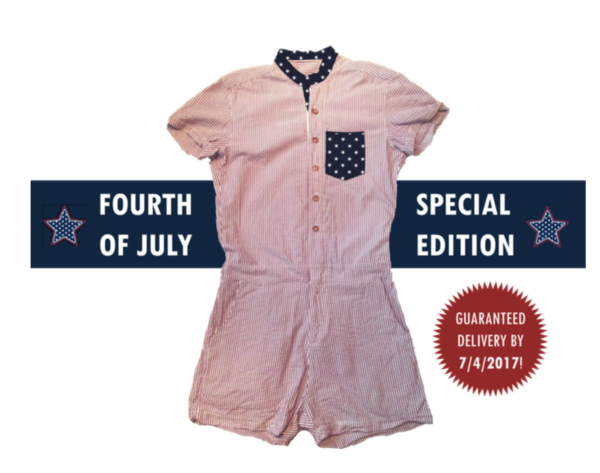 (Secret Edition Confederate Flag RompHim available upon request. Most Likely.)
So, my girls: next time you know your guy is headed to a football game, or a hunting trip, or a multi-day hiking trip, make sure he's properly outfitted in a RompHim. And maybe with that fiiiiiiine fur jacket on the Mister Model #6.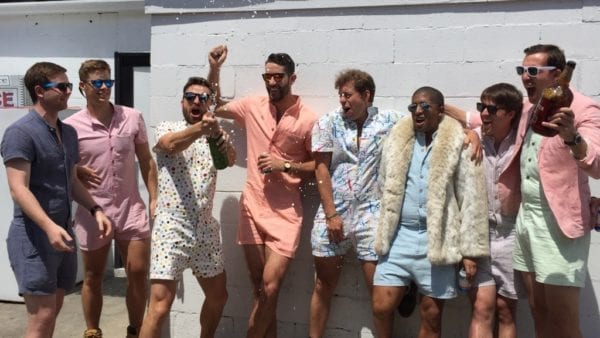 And no worries that the RompHim won't get produced en masse – it tripled its 30 day fundraising goal in less than 2 days.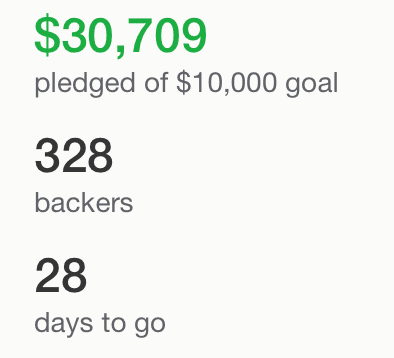 So gird your loins and prepare your hearts: you just might be exposed to an in-real-life RompHim this summer.