I've mentioned before how much I like The Skimm, and there's been a lot going on here lately, so I decided to give you guys a bit of my own homestate Skimm.
Alabama's been talked about a lot lately.
First, our Governor had a, well, a situation that ended up giving us a new Governor in the most fanfare sort of way.
Then the crazy popular S-Town podcast was released.
And finally, The Daily Show had Alabama Week.
So, since I assume that I'm your main news source for all true and on-the-ground reporting of Alabama (amIright?), Let's do some bullet points.
You'll be happy to know that we're not letting our fame get to our heads. If anything, every time another news story goes national about Alabama, we're more inclined to do a *headdesk*.
Because, apparently, just as "good girls don't make history", "normal Alabamians don't make national news."
So let's get started.
Several of you asked for further details about The whole Guv sitch (read here for the rest of the deets.) I have a few for you – things that got edited out of my first overview because that thing was freaking long. I mean it had to be – it's quite the saga. But here you go…
…The Governor had a habit of "running away" anytime he and The Sweetest Little Lady you Ever Did See got into an argument about New Girl. But the thing is, Governors aren't supposed to just "take off." You know, security and whatnot. His detail was constantly trying to be ready to chase after him when he left in a huff. One night, after a scramble to locate him, they had to report to their commanders, "Uh, we lost the governor." It took a while for them to track him down by helicopter – turns out, he'd driven all the way to their beach house to have some "quiet time." Another one of his leave-in-a-huffs, he left from their hometown of Tuscaloosa and forgot his wallet – had no money, ID, or anything. So naturally, he demanded that a state aircraft take off from Montgomery, pick up the wallet in Tuscaloosa, and deliver it to him at the beach.
Another jewel:
…After New Girl said this about The Sweetest First Lady,

…she actually wrote a speech for The Sweetest First Lady to make when she finally decided to leave The Guv. It's THE WORST.
"I am grateful to the kind and good-hearted people of Alabama for allowing me to serve as your First Lady for the last five years. It has been a joy and a privilege to serve you and to work together on issues close to my heart such as Domestic Violence Awareness and support for Alabama's foster children. I want to thank you all for your continued prayers of support for me, for my family and for Robert. The erroneous and unsubstantiated media reports over the last few weeks have been very hurtful to our family and to (the Caldwell and Mason families) and (other families) as well. We ask for your continued prayers in the days and weeks to come. It has been an honor to serve this great state as your First Lady."
Thankfully, The Sweetest Old Lady You Ever Did See taught us all what you do when your husband's mistress/Kellyanne-Conway-Wanna-Be writes you a speech that attempts to exonerate your husband's mistress: she gave some amazing side-eye and said "Girl. Bye."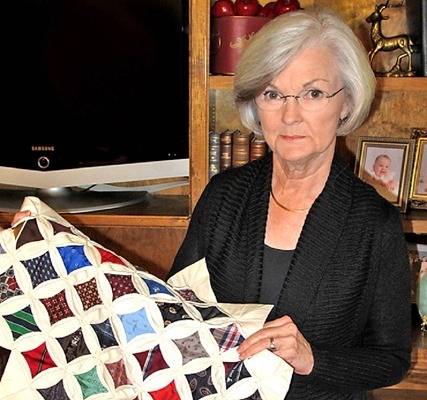 If I were a better photoshopper, I'd turn that quilt into The Mean Girl Speech.
…Before leaving him, The Sweetest First Lady employed some fantastic and devious tactics to attempt to undermine New Girl's hold on her husband. Unbelievably heinous things like…taking pictures with her husband and posting them on social media.

…"Did New Girl's husband know? Why would he have been okay with it going on?" Those were questions I got asked the most. All indications and depositions imply that yes, he knew all along. As for why he was cool with all this… between their two government salaries, Rebekah's later shady salary from the shady ACEGOV that the Guv put together, and their two consulting/ad agencies, New Girl and In-Cahoots Hub made well over a million dollars during the time in which New Girl was in the Governor's employ. So draw your own conclusions.
…The most drama-filled day of the administration was the Governor's second inauguration. By then, the Sweetest First Lady had secretly moved back to their hometown and was not residing at all in the Governor's mansion (but still pre-divorce.) What was going on had not come out in the press yet, but the Sweetest First Lady had no desire for herself or her family to be subjected to the inauguration. The drama and planning that went down that day (as recorded in the First Lady's Chief of Staff's notes) is miniseries-worthy…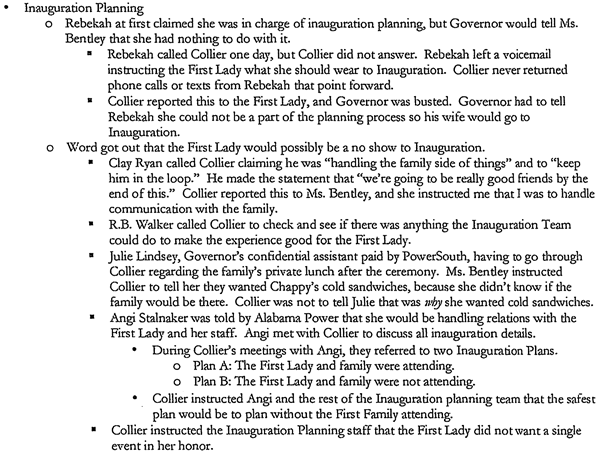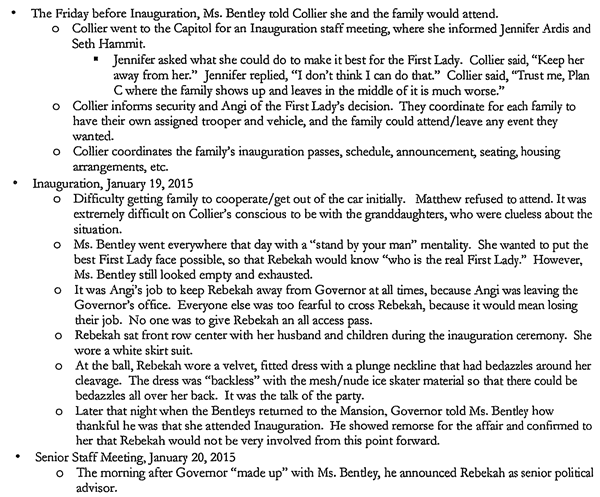 House of Cards ain't got nothin' on Alabama.
Moving on in The News From Alabama…
S-Town. I can't decide how I feel about this podcast. Maybe it's like J.K. Rowling's Harry Potter sequel, The Cursed Child – I had to read it twice, back-to-back, to be able to enjoy it (the second time.) But I don't feel like listening to S-Town again, so I guess I'll have to stay confused about my feelings. Some brief thoughts, for those of you who have listened to it…(minor spoilers ahead for those who haven't.)
…John B.'s house is 54 minutes from my house. I know this because you can type "S-Town Hedge Maze" into Google maps and see that magnificent creation. I have mutual friends on Facebook who are friends with some of the people in the show. These facts are mind-blowing to me, as that world seems three worlds away from my world.
…The first two episodes of this podcast personified why I have such high anxiety about Alabama being in the news. Despite every quadrant of this nation having backwards, close-minded small towns, Alabama (and Mississippi) seem to always get labeled by those places, and are never mentioned for all of our many finer qualities. Also, people become caricatures of themselves and of Alabama. As was shown in the later episodes, all of those people have more depth than what is initially portrayed (for better or worse, in some cases.)
…My overall frustration about the podcast is that I feel like John B. planned the whole thing to be his story. So as to not give it completely away, I believe the "twist" at the end of episode 2 was his plan all along. He wanted to be remembered in a literary fashion, and he was a most fascinating individual, but his methods were ultimately selfish and tragic.
What were your thoughts, if you've listened?
Moving on.
The Daily Show. It wasn't at all what I expected – they covered issues that were surprisingly not at the top of the everyday radar – perhaps the fact that it was educational to me is proof that they didn't exactly catch the overall feel of the state. Such as the Alabama forest conservationist whose actual goal is to protect Bigfoot (or Bigfeet, as he was pretty sure there were more than one.)
…The premise was that because Alabama is the state with the lowest amount of Daily Show viewers, they decided that they needed to get to know Alabama and figure out what they were doing wrong. So for four days, they did stories about Alabama.
…The show was less cringe-worthy and more heart-warming that I expected, which really is wise on their part as they're trying to lure us, not offend us. Tuesday night's episode was about "Alabama's Biggest Problem", prison overcrowding.
(I mean it's a problem. For sure. But we have others. If you haven't noticed.)
…On that same day that aired, the Alabama House of Representatives was voting on whether or not to decriminalize Midwifery (midwifery is so fun to say – midWHIFFery midWHIFFery…). That's right – if you're a midwife, you've been an outlaw in this state. We insist on either hospital childbirth or do-it-yourself at home with ABSOLUTELY NO HELP, got it??
The timing of these two things did not miss mine and Chris' attention…and our mental image of overcrowded prisons immediately changed to one of prisons bursting at the seams with midwives. We could only assume that they smuggle in essential oils and practice deep breathing on the regular. Kombucha is the contraband of choice and they line their cells with photos of the babies that they criminally helped out into the world.
And what did they do to get put in those overcrowded prisons? The bustling underground midwifery operation, obviously. Which leads to questions such as how does one find a Midwifery dealer? And I bet that black market midwifery is so very unregulated – we MUST decriminalize so that we can regulate and tax it properly!
The Daily Show really missed a trick on the whole criminal midwifery angle. I mean, if you thought Orange is the New Black was fun, just wait until Orange is the New Midwife comes out!
Between Alabama House of Cards and Orange is the New Midwife, we don't need no S-Town.