To a homeschooler, there is nothing more thrilling than standardized achievement tests.
…Okay actually this is way too blanket a statement and is vastly over-applied.
To myself and my daughter and perhaps a few other homeschoolers, there is nothing more thrilling than standardized achievement tests.
I adored them every year when I was a kid. I looked forward to them with much excitement. I loved that my Mom took me to the store and let me pick out whatever snack my heart desired – she said I needed as much brain power as possible to help me to do well during my tests.
(10 out of 10 kids do best when they get to pick out their own snacks.)
And oh, the random snack I chose every year.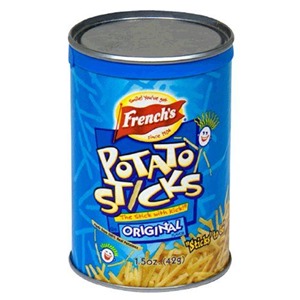 Potato Sticks.
I don't know why I picked these – I actually don't remember eating them at any other time except for achievement tests, but they were my standardized snack of choice.
(Maybe it was peeling that plastic seal off that allowed the metal ring to pop off in such a satisfying way. Maybe it was the film of oil on every surface of the inside of the can. Maybe it was the closest thing I could get to Fries in a Can.)
Anyway. Between my beloved Potato Sticks (do they even still make those?), the delight of filling in rows and rows of bubbles, and having a few days in a classroom with other homeschoolers, testing season was the best.
And it thrills my heart to see my daughter find the same joys as I did.
She asks me at least once a month, "How much longer until achievement tests?"
And, with much excitement and glee, they arrived this week.
I of course let her pick out her own snacks. She went with these attractive looking creatures:
Just as her mother before her, this is not something she normally eats, nor is it something she's asked me to buy at any other time.
Also? They look like literal dog biscuits. So at least we share extremely questionable standardized snacking taste.
Anyway. She's taking tests this week, and I'm proctoring tests (for a different grade), because if I'm not allowed to take standardized tests anymore, proctoring is second best. At least I get the joy of seeing other people scribble in beautiful little bubbles.
Right?
As such, I'll be back next week, fresh off the oh-so-addictive high of helping little minds compare their smarts to all the other little minds out there in the world.
In the meantime, let's discuss:
1. Did you love/like/hate standardized testing?
2. What unusual snack would you pick out today if you had a week of blissful multiple choice bubbling?
I think I'd go with Potato Sticks. For old time's sake.