So I think I missed a couple things in my own Alabama education.
I missed that Helen Keller was an international superstar, and I missed that she lived until the late 1960s – she died only 13 years before I was born.
The first fact I believe I missed precisely because I'm from Alabama. Sure, we studied her – but I didn't fully realize that all of y'all did as well – and probably half the world (there were gifts from dozens of countries on the grounds of her birthplace, the subject of this field trip. Also, Helen Keller's statue is one of very few women in the National Statuary Hall Collection at the Capitol, hanging out with Ronald Reagan, Sam Adams, and George Washington.)
(But, just in case you too weren't aware of how great Helen was, she was the first deaf and blind woman to go to college, wrote multiple books, had an insanely high IQ, and traveled the world promoting women's rights and rights for the blind.)
And as for the second fact – she was born in 1880, y'all. That was like an entirely different existence. How could she have been still alive when my Mom learned about her in school? And do our parents remember when she died like one of those moments where you're all like "I remember where I was when…"?
So many questions that I pondered on our field trip last week.
We drove two hours northwest with our friends Christen, Luke, Aubrey, and Levi to visit Helen Keller's birthplace, Ivy Green, in Tuscumbia, Alabama. Tuscumbia is a small town in Northwest Alabama that is neighbors with Florence, Muscle Shoals, and Sheffield. I don't remember going there before, as Northwest Alabama is vastly unexplored by me, despite its unbelievable beauty.
We traveled with some friends, which is highly recommended – two hour car trips with kids entertained by their friends is significantly better than two hour car trips with bored and lonely children.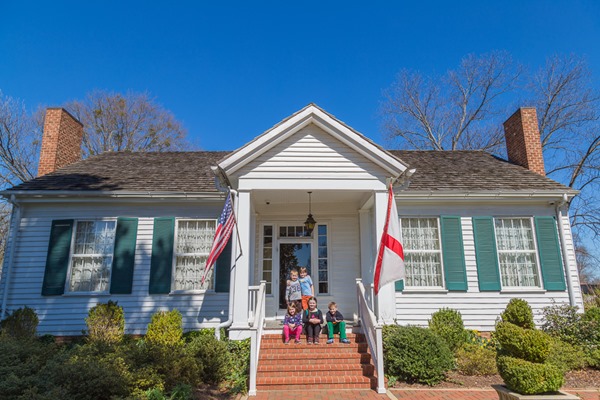 Ivy Green was remarkably tiny looking on the outside, but had lovely grounds (10 acres of the original 640 that her grandparents built upon.) The surrounding neighborhood is full of far grander houses that resemble perfectly outfitted Victorian dollhouses.
The tour of the house is guided, pointing out photos of Helen and her family, along with tidbits from Helen's life.
These were her actual dresses, again blowing my mind that she was still alive when my parents were kids. Or maybe my parents are just older than I realize.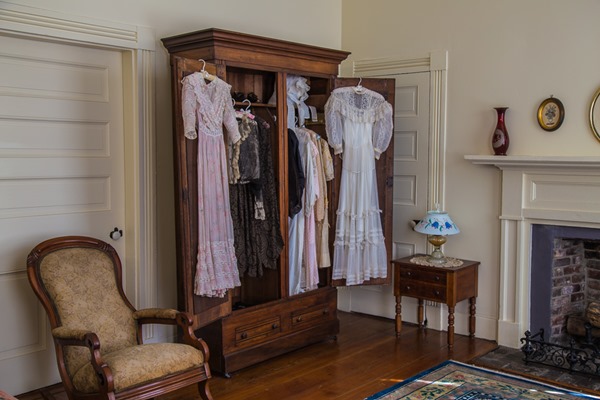 Each room was cordoned off to prevent tiny hands from ruining artifacts – something that greatly decreases the amount of Mommy Anxiety wasted on a field trip.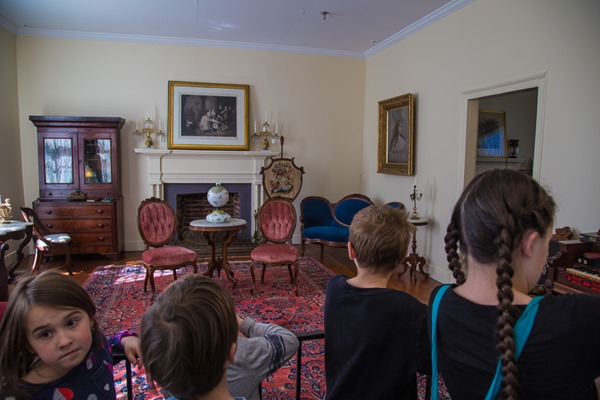 Our tour guide told delightful stories about her family, her upbringing, and the house.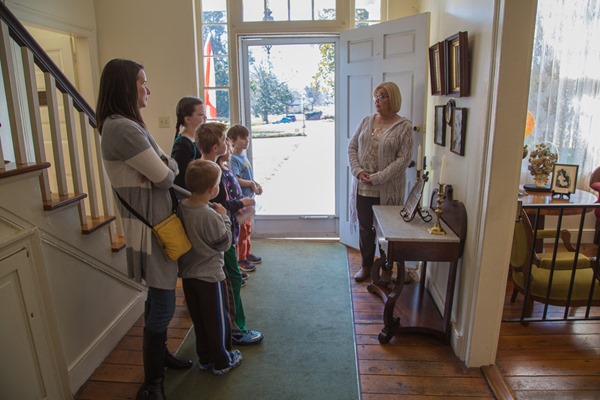 Upstairs held three very low-ceilinged rooms, and this one was the one shared by Helen and Anne Sullivan, her lifelong friend and teacher.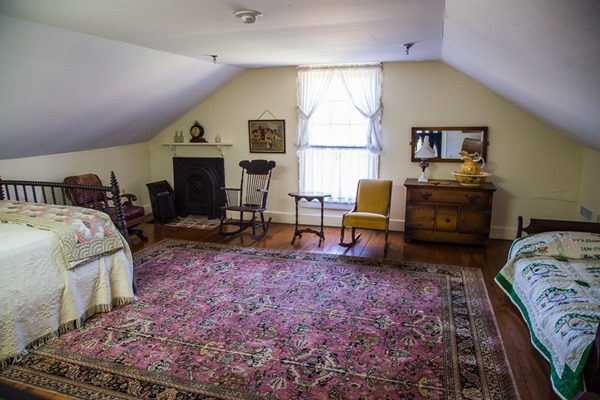 They also had one room open as a museum, including a replica of Helen's statue at the capitol.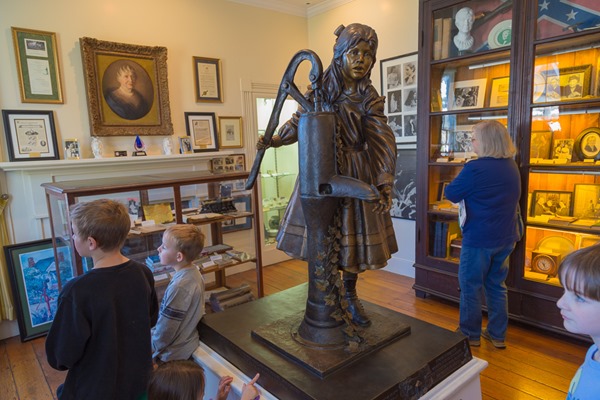 The house was built in 1820, so to prevent fires, the kitchen was actually in a shed out back.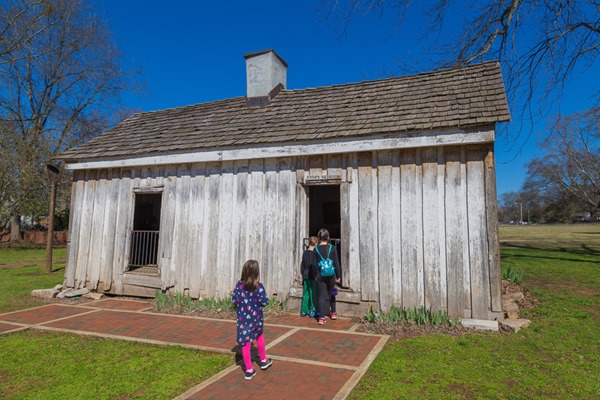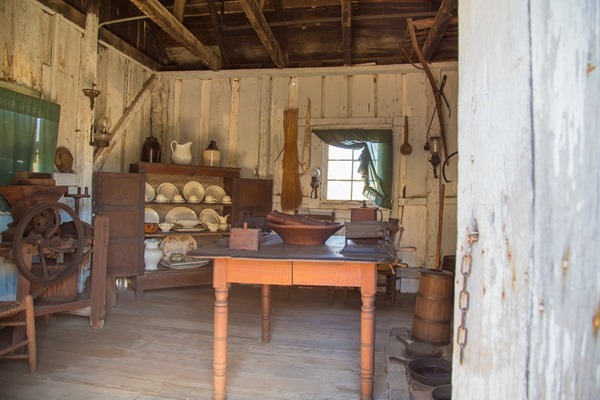 The grounds included all sorts of unique and curious finds that helped the kids run off their two-hour-car-ride bundle of energy.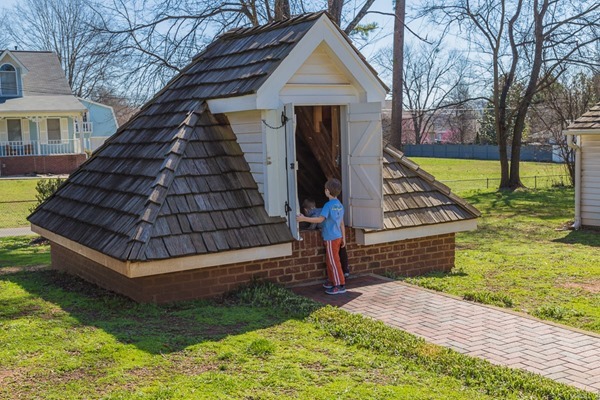 And of course, the grounds tour included the pump at which Helen and Anne were able to first communicate.
The kids learned a little, bonded a lot, and got to see another part of our state.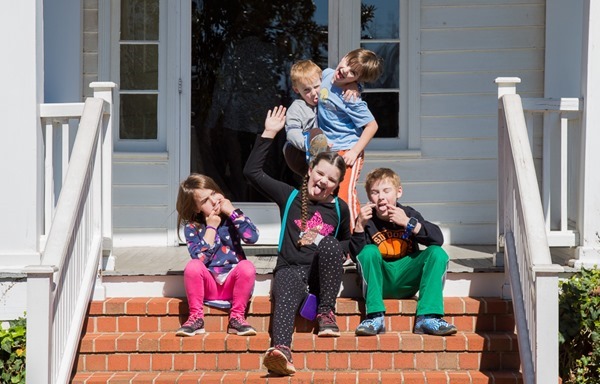 Before we left, we visited Tuscumbia's stunning Spring Park, where we enjoyed a playground and gorgeous waterfall,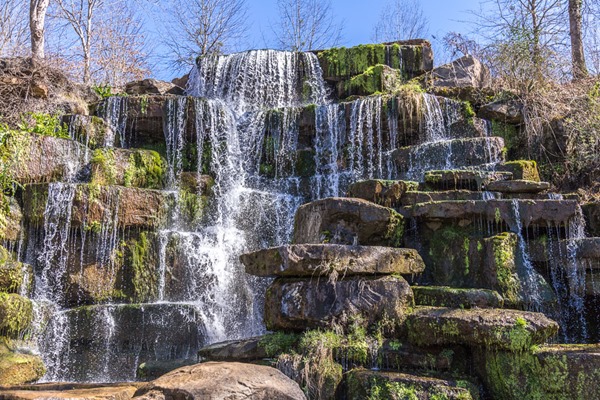 Water wheels and a pond,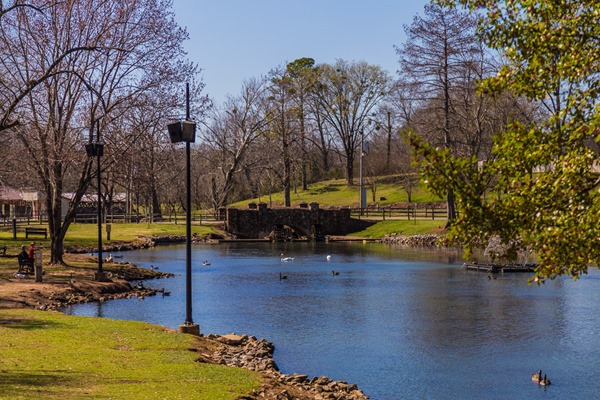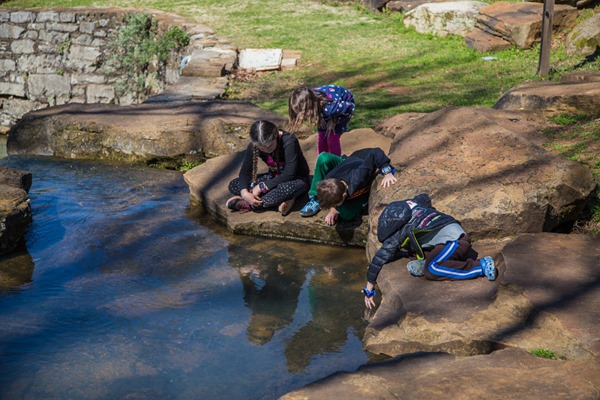 And a very impressive fountain that made the kids scream every time it reached its highest point.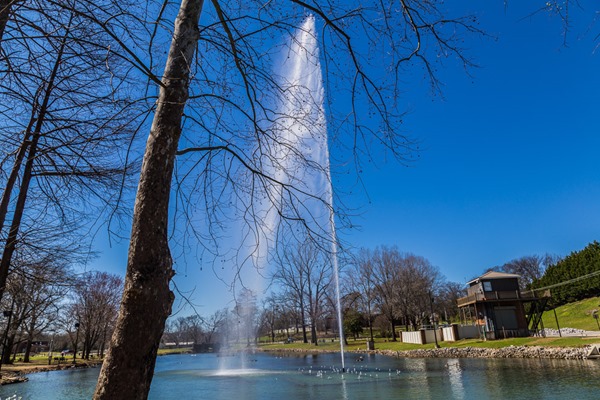 And of course, we moms enjoyed the long miles of Alabama backroad and its ever-present curiosities, including one very special town, which may become a primary entry into my personal dictionary.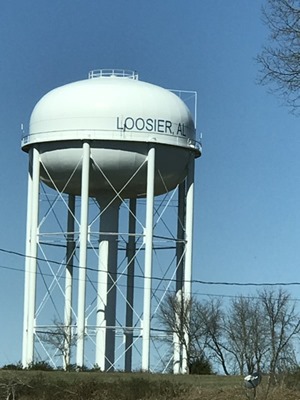 Alabama is awesome, y'all.
Here's Ali's report:
Helen Keller Small