DeSoto Caverns was not on my all-encompassing spreadsheet of Alabama History. In fact, after studying Alabama History and reading one very detailed story about how Hernando De Soto came to Alabama with the sole purpose of stealing from and brutally slaughtering as many Native Americans as possible, I felt a bit queasy from the happy signs for "DeSoto Caverns Family Fun Park!!"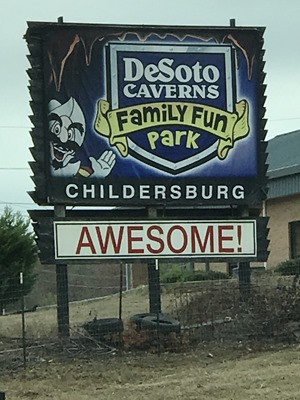 But then, I happened upon a Facebook ad for a half price "Homeschool Day", and I was feeling especially adventurous. Three days later, I found myself enjoying a laser light show underground with two other families that I dragged down with me. So congrats, DeSoto, your Facebook Ad was successful.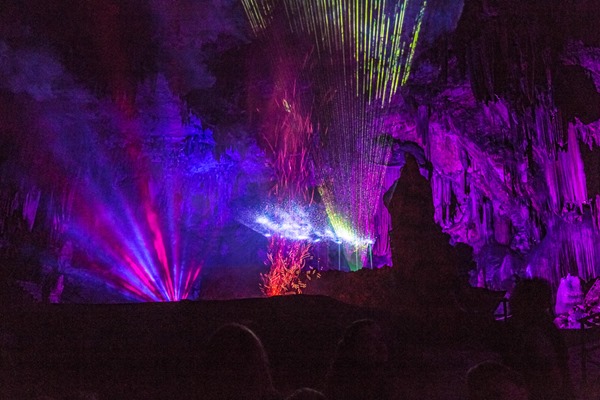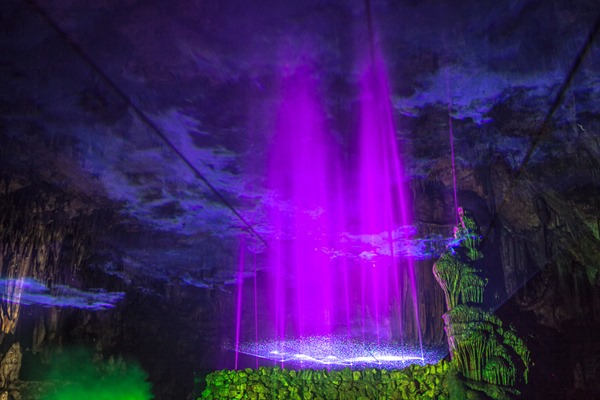 But I quickly learned that DeSoto Caverns, despite its poor choice in names, should have been on my spreadsheet from the beginning. Our hour-long tour of the cave provided some extremely fantastic pieces of history.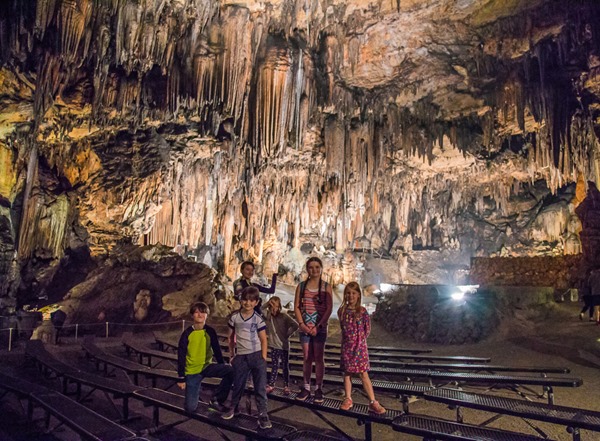 We learned about Mr. Wright, who happened upon the cave in 1723, carved his name and date in this rock, then lay down to take a nap.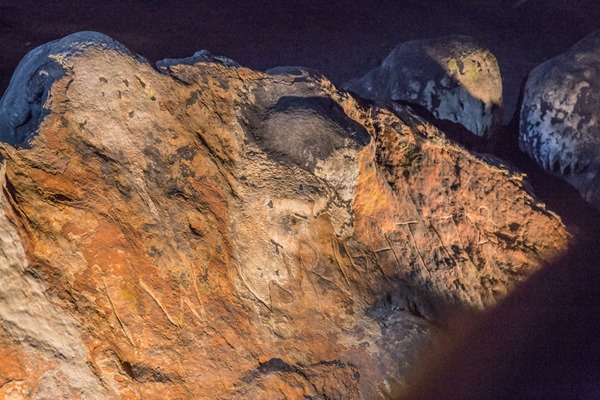 Poor guy. He was in the wrong place at the wrong time. He didn't know that the cave was a sacred Indian burial ground and that they had someone to bury that very day. The Indians happened upon his happy little nap on their way down, and went ahead and killed him and left his bones beside his name. Mr. Wright had carved his own tombstone.
But on the plus side, it's the oldest graffiti to be found in any US cave, so way to carve your way into history. Moist would be proud.
We also got to learn about how Civil War gunpowder was made in the cave, using its secrecy and noise-cancelling abilities to hide the production.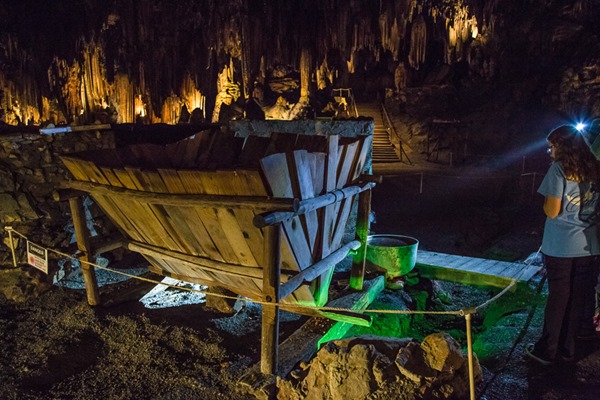 But my favorite piece of history was about The Cavern Tavern.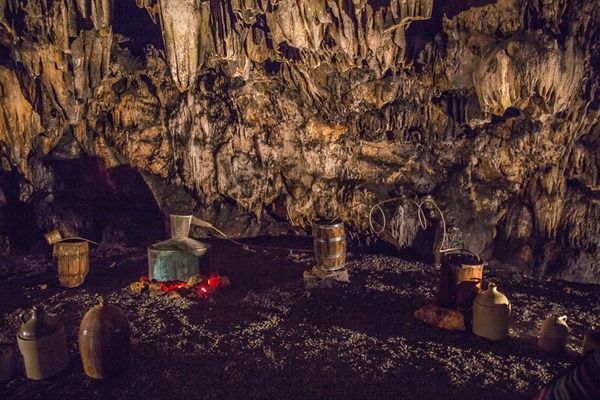 A 1920's prohibition bootlegger had been using the cave to make moonshine. But he got tired of having to drag his large clay vessels up a mudslide to get out of the cave, so instead, he decided to open a secret speakeasy in the cave itself. And, well…I'll let Ali tell the rest of the story.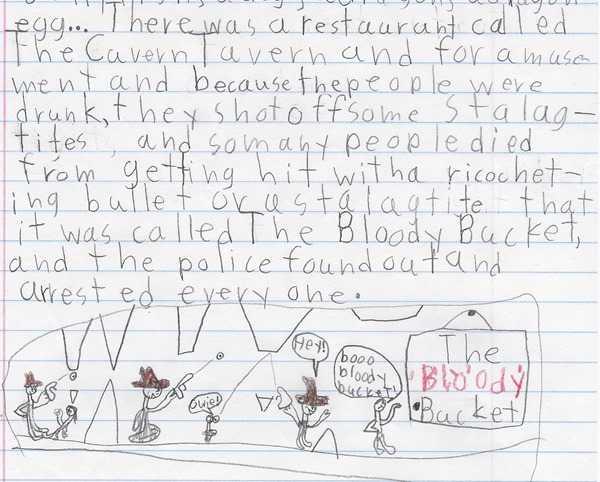 That jewel is by far my favorite report from our entire study of Alabama history. If we've learned nothing else, it's the all-important lesson of "Don't go to an illegal bar in a cave with no way out except to climb up a mudslide. Especially if it's named 'The Bloody Bucket'."
The caves, despite the stalagtites damaged for the long six-week tenure of The Bloody Bucket, were just magnificent.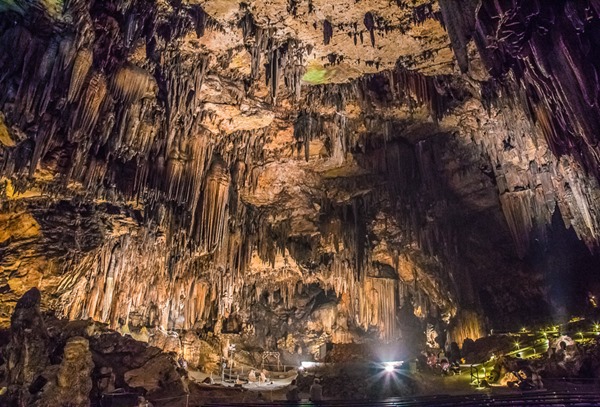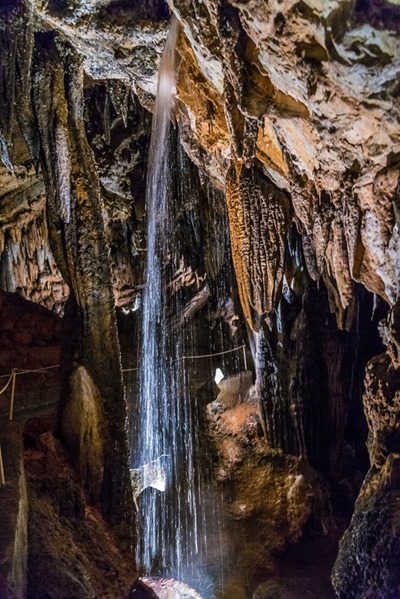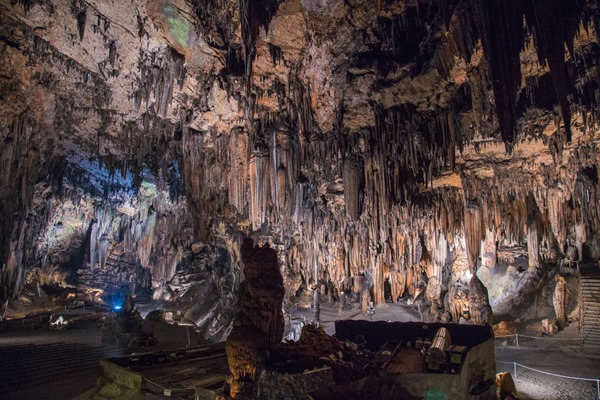 As we toured the cave, they pointed out all of the pieces of cave that looked like something else. This was the unanimous favorite – Yoda.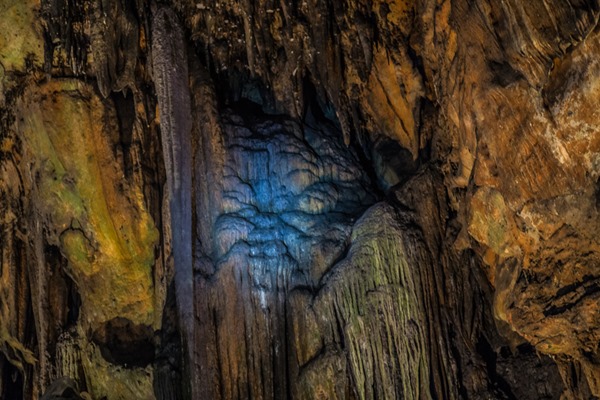 After the cave, we enjoyed the "Family Fun" part of the park. They had at least a dozen attractions to pick from – Mini Golf, a gold panning, gem searching, a maze, and a few fair-like rides.
I was kind of obsessed with finding gems in the giant sandbox,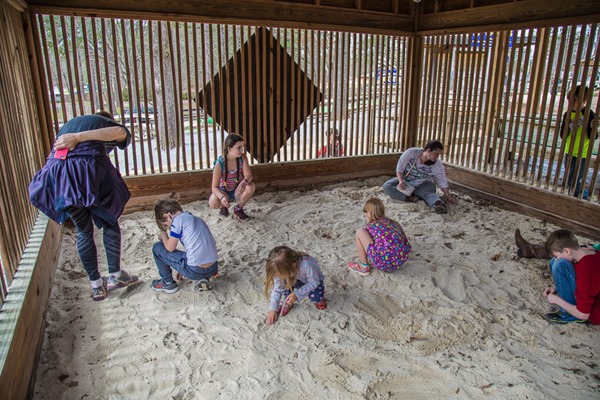 And we all enjoyed the maze. Mainly because Holland, one of the kids with us, taught us the trick to all mazes: never take your left hand off the wall and it'll lead you out.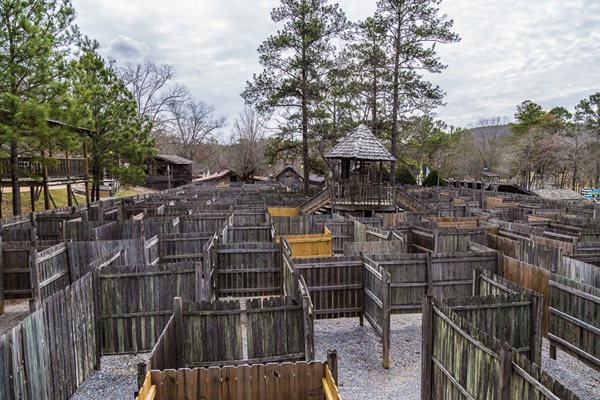 Totally works, guys.
Some of the rides were more kid-powered than usual, which made it highly entertaining for the grown-ups to watch as the kids worked their hardest to peddle the "go-karts" up and down small hills.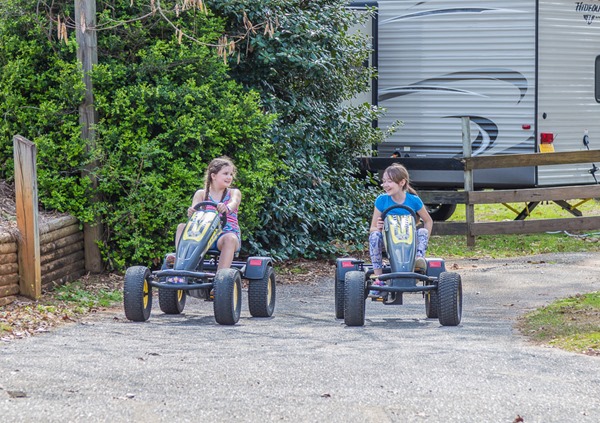 (Red faces are always a good sign of time well spent.)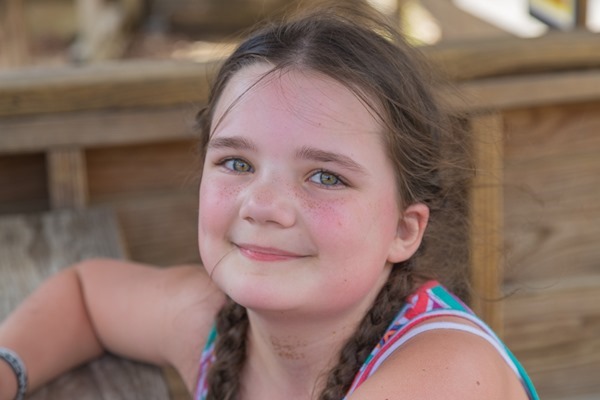 Overall I was extremely pleased with the park – the cave was bigger and more educational than I expected, and the kids had a fantastic time – both in the cave and out.
But I still think they could do for a name change.
Here was Ali's report:
DeSoto Caverns Small