After a few false starts, we finally got back into the groove of history field trips after the holidays. It's harder now, because our dear friend and adventure comrade Carla Jean has moved to Colorado, and nothing is as much fun when you lose your buddy.
We set out to Brierfield Ironworks, a furnace built in 1862, used for a minute to make iron for farm implements until the owners were strong-armed into selling it to the confederate army, then used to forge iron to make cannons, then promptly destroyed by the union army and never truly resurrected, despite a few attempts. I'd heard it was a less impressive Tannehill, but we often like the "little guy" places, so we wanted to check it out for ourselves. It was also the only furnace actually owned by the confederate army, so it definitely fit into our history studies.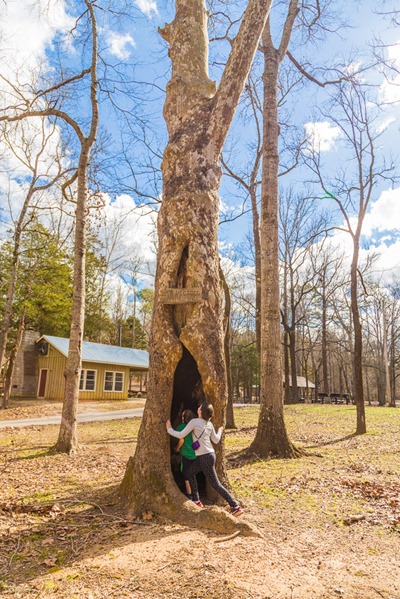 We arrived and found that we seemed to be the only people at the historic state park. There were log cabins and historical buildings scattered about the grounds, sitting peacefully and quietly.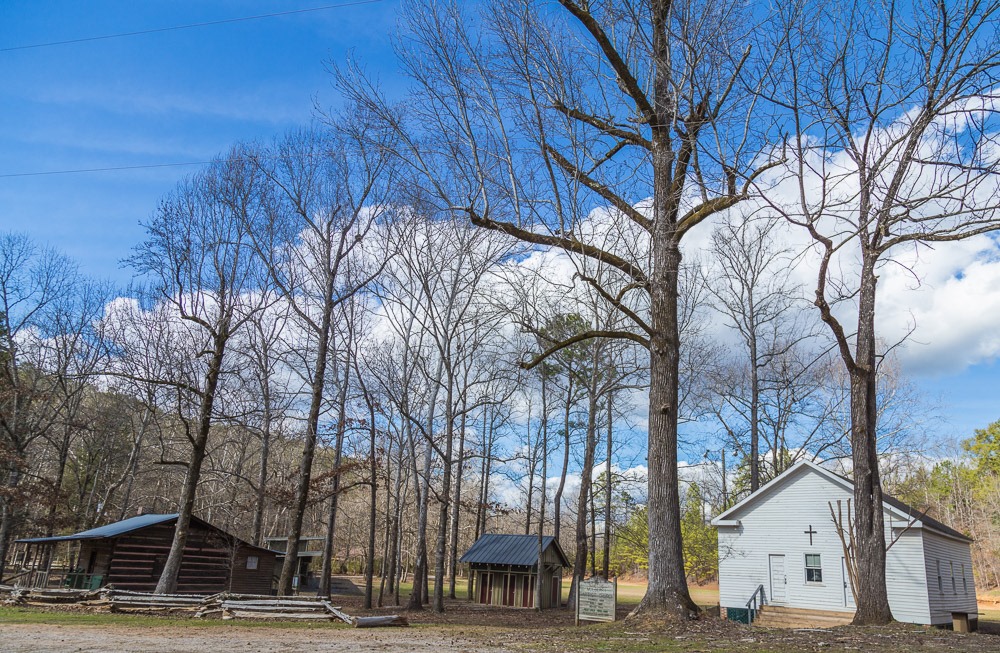 We found the one titled "Information Office", and opened the creaking door to find a kind lady who gave us a trail map and sent us on our way. We first walked over to what was left of the furnace, covered by an oversized carport to protect further decay.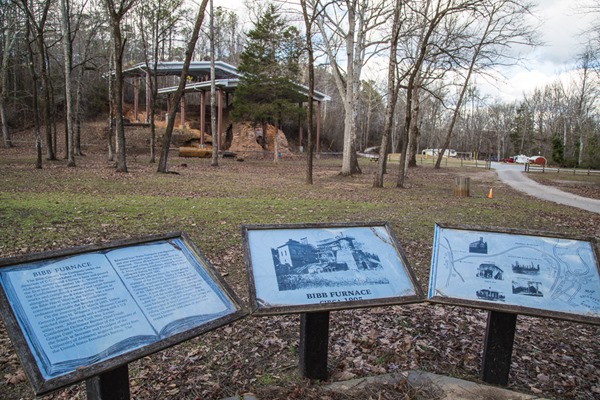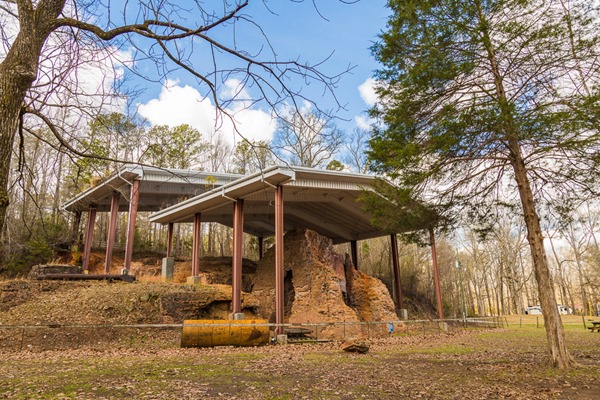 Unlike Tannehill's furnace, which is made of giant stones and is still in beautiful condition, Bibb Furnace was made of bricks, and many of its bricks were pillaged for other projects during World War II. As such, there's not as much left.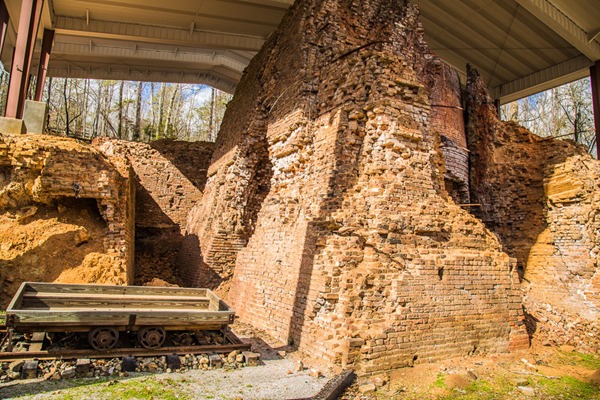 Noah liked the mining cart, though. Mining carts make everything better.
There was a lovely hiking trail above and around the furnace, where we found the old reservoir and several other interesting artifacts.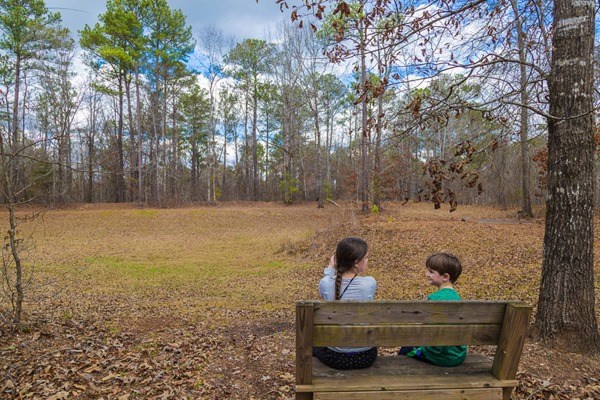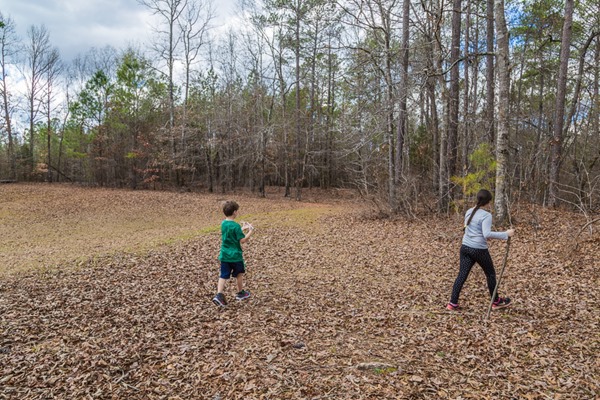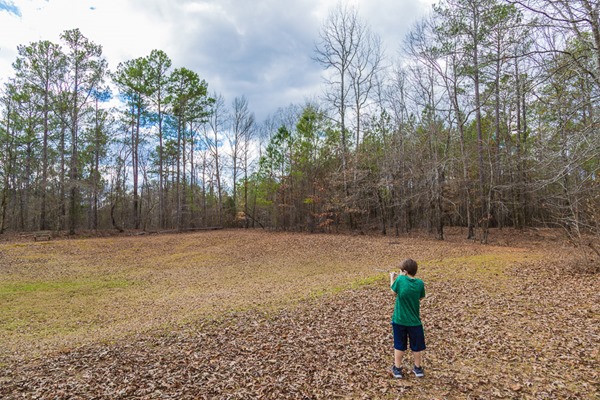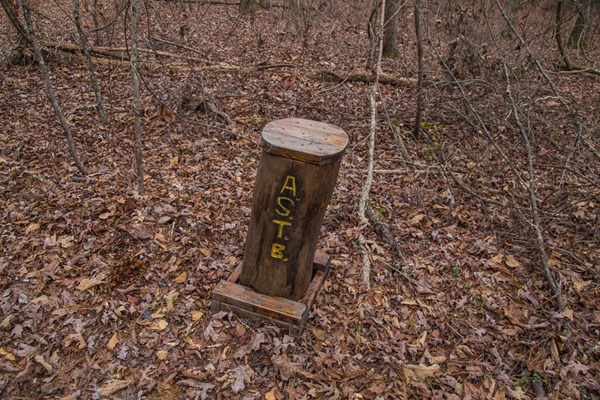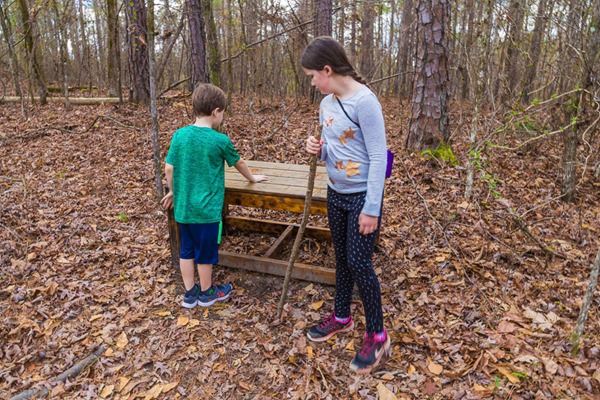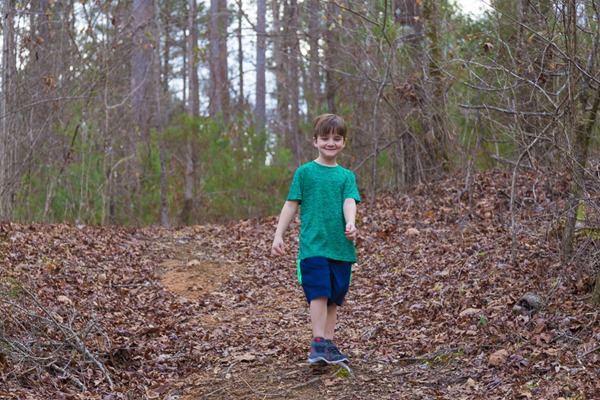 We used the opportunity to spot seedless vascular plants, the chapter we were reading in botany at the time.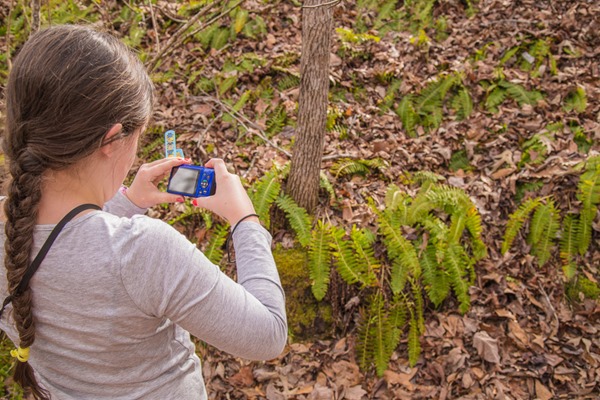 We adored the covered bridges scattered throughout the park, acting as bridges in some places and covered picnic pavilions in others.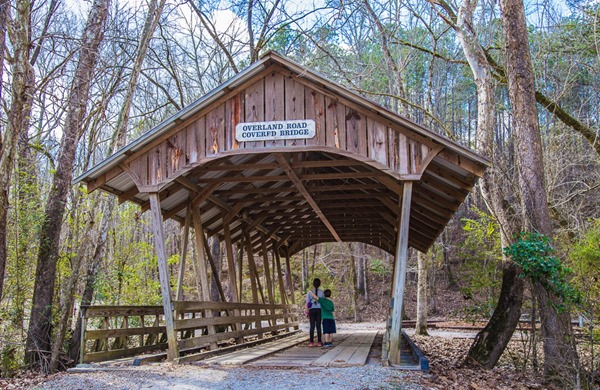 It was an easy 1.5 mile circular hike, which was just about the right amount, since Ali was rather overdressed for the hot February day and Noah can always find something to whine about.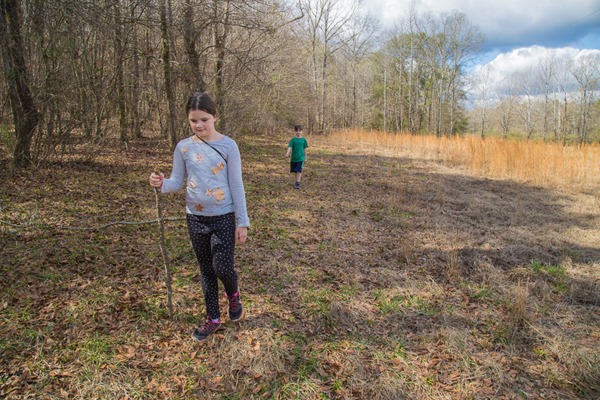 "The sun is so bright, Mommy!! I need away from the sun!!"
The most fascinating feature that Brierfield possesses are the bright and dark green rocks all over the park – we at first assumed that they were some of the very minerals that drew people to create a furnace here (Tannehill was created around the red ore mineral line – could this be green ore?)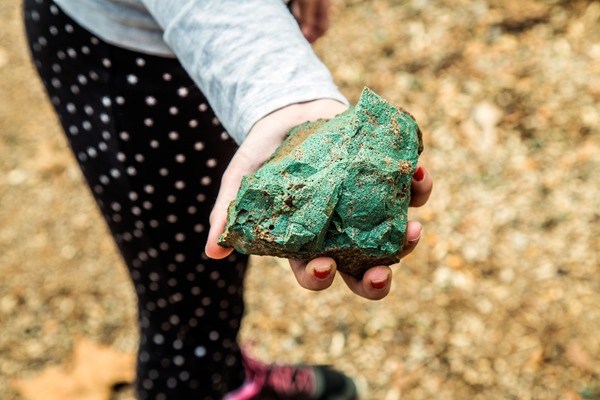 The pieces ranged from tiny to small boulder size, and we compared and contrasted color and features. Ali noticed that they had many holes, so surmised that they were like sandstone – on the softer end of the rock spectrum.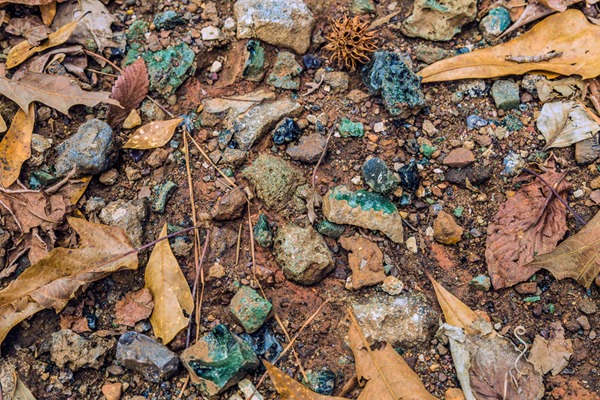 We also talked about how cool it would be to come upon a mineral line like this long ago – and what if it had been gold? We had just read about the Alabama Gold Rush the day before, so we daydreamed about happening upon a whole area of golden nuggets the size and quantity of these curious green rocks.
After we finished our hike, we went back into the welcome center and asked the kind lady about the green rocks. She informed us that they are actually slag, left over from the years of furnace operation. Slag is stony waste matter separated from metals during the smelting or refining of ore. This made the finds more exciting – we had found byproduct from the Civil War era.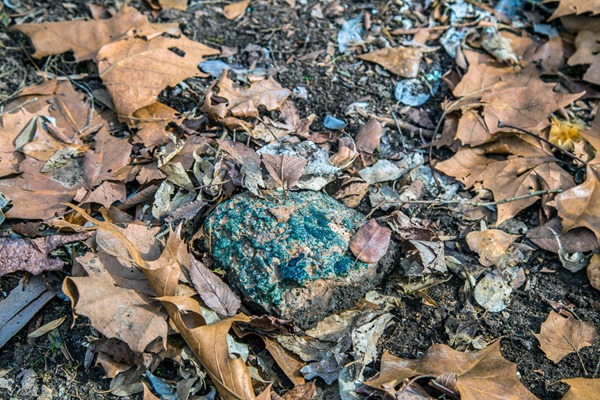 While she explained this to us and I examined the beautiful pieces of slag she had in the gift shop, Noah shopped, itching to spend his allowance.
"Can I buy this, mom? How about this? And this?"
Without ever really looking up, I agreed to his purchases. He slowly counted his dollars while the nice lady giggled – I assumed she was pleased with his independent economic prowess. It wasn't until we got to the car and he proudly showed me his new possessions that I questioned my hands-off parenting strategy.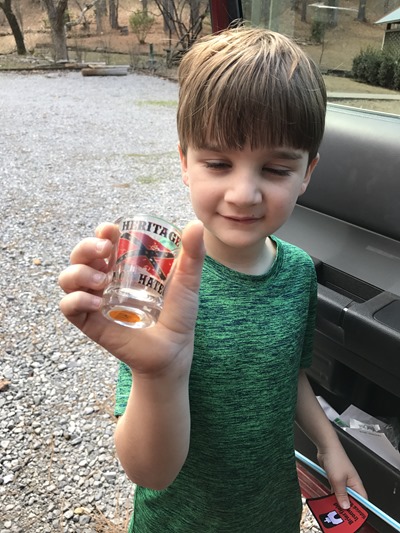 And that, dear readers, is how a family ends up with a confederate flag shot glass that says "Heritage not Hate."
Geez.
I'm the best.
After our hike, we visited the playground, where the kids fawned over the vintage playsets,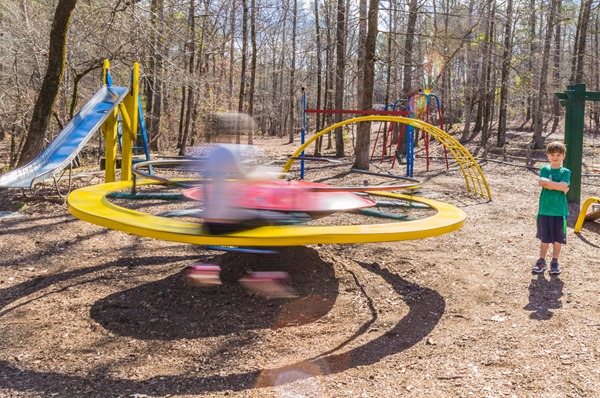 while I enjoyed creating super creeptastic "Dementors Are In The Neighborhood" footage.
On the way home, I slid through KFC to get the kids some food.
As we were pulling around, Noah said, "Hey Mom, can you roll down my window?"
"Sure…"
"Thanks! I want to show them my new little cup that I got at the gift shop!"
"NOOOOOOO!!!"
Geez.
I'm the best.
Here's Ali's report on this trip and another stop we made on the same day – but I will write about that fascinating place next time.
Brierfield Ironworks Orr Park Small