Birmingham was founded on the iron industry, and the iron industry required some heavy transportation to succeed. Therefore, trains are a vital part of our history, too. The Heart of Dixie Railroad Museum is our favorite place to experience that piece of our past.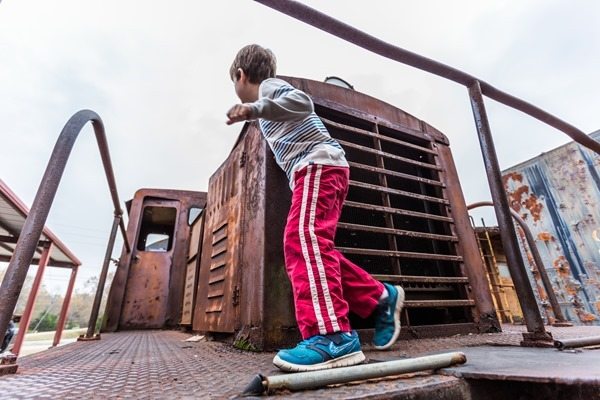 The HODRRM can be found in Calera, about 45 minutes outside of Birmingham (depending on which end of the city you reside.) In the past, we've come for Thomas the Train's visits, and stayed to play on the other exhibits. Way more than a museum, they have five rows of old engines, train cars, flatbeds, and more.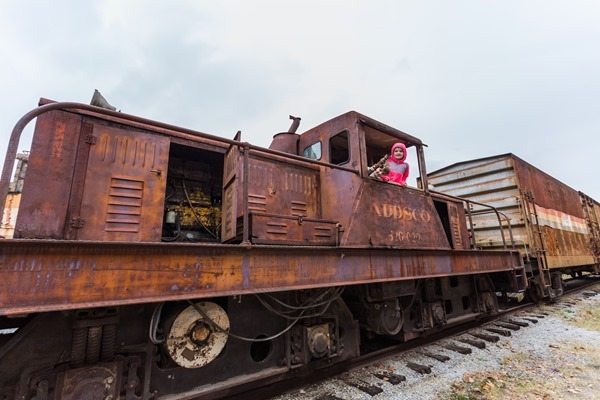 We might or might not be allowed to climb in these, but there weren't signs on most of them…
Each one seems to have its own hidden secrets, to be found by peeking in the doors, climbing up the stairs, or reading its graffiti.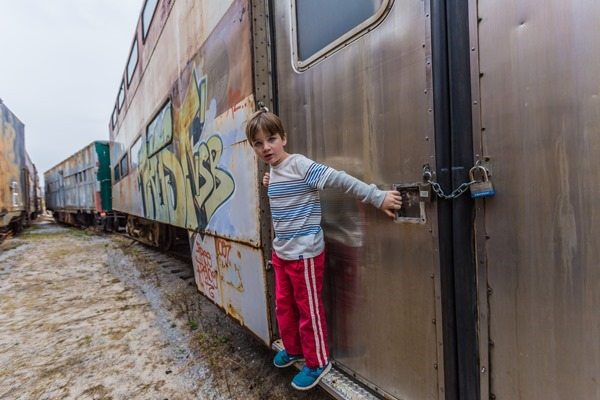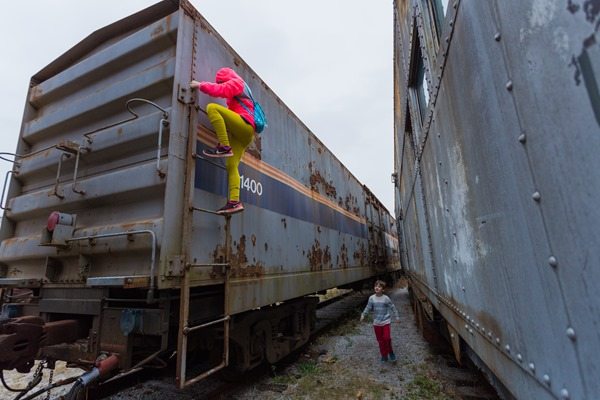 And also, it's kind of a photographer's dream.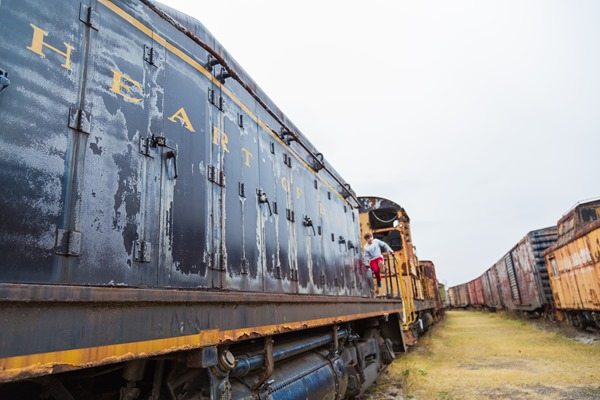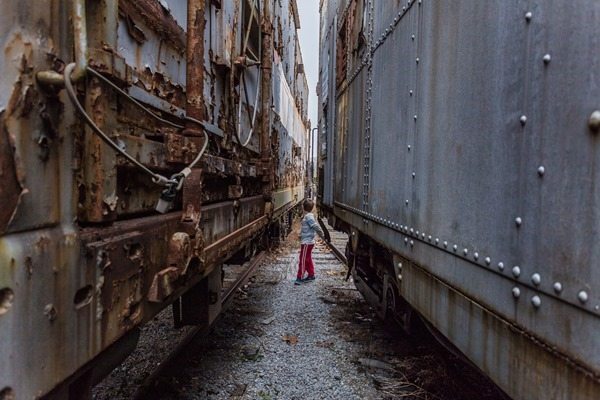 The kids spent about half an hour building something out of scrap pieces they found – carrying items from one end of the flatbed to the other.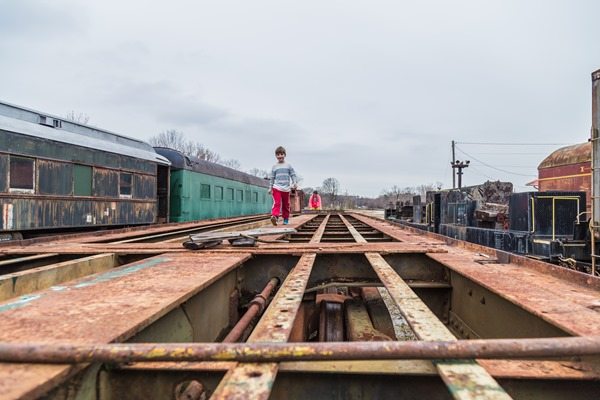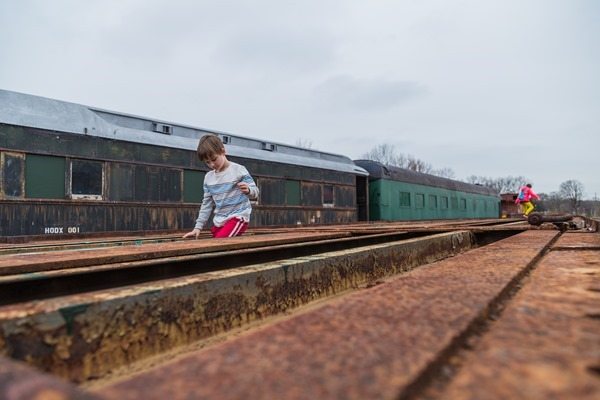 Carla Jean and I just watched and enjoyed the imaginations at work.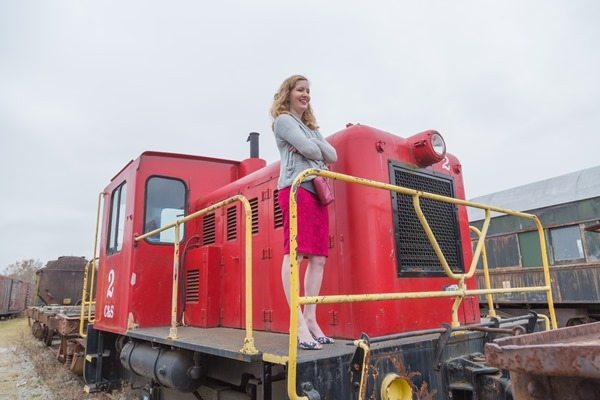 Speaking of Carla Jean, she had meetings after our visit and dressed accordingly, which made chasing the children around a sight to behold. But as any southern lady journalist can do, she carried out her duties with grace and poise.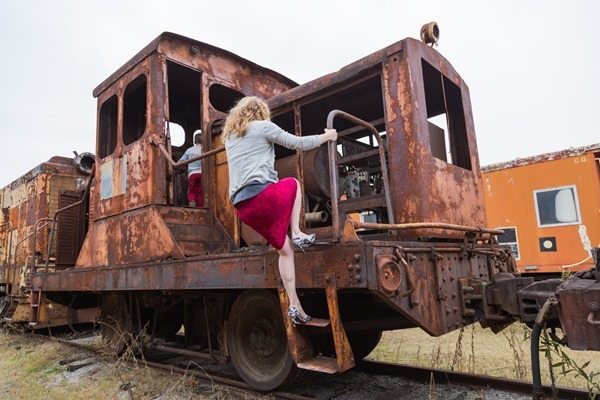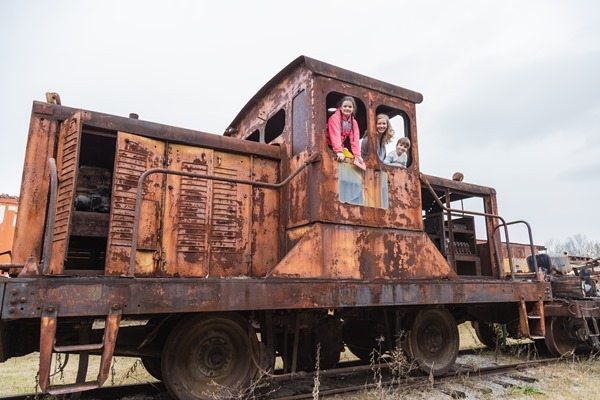 After ample time exploring the old engines, we walked across the street to the museum. They have a wonderful signals display outside, complete with a button you can push to make them all work and signs that explain how they were operated.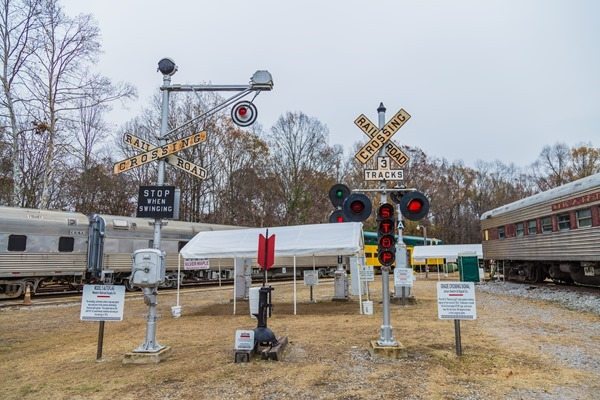 The kids enjoyed playing on the hand train, and wished it weren't chained down so that they could take off on a long journey.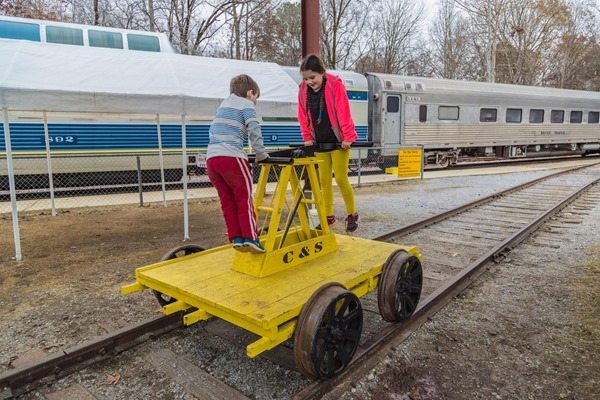 I think they would've made it, too. For at least ten feet.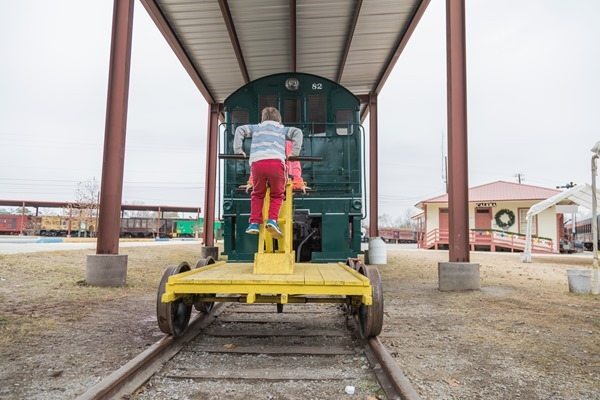 The museum lives inside the depot. It was an actual depot from a small Alabama town that was moved to the museum. They have the lobby set up with original train depot benches, and a ticketing office staged to see how it all worked before computers, printers, and Ticketmaster.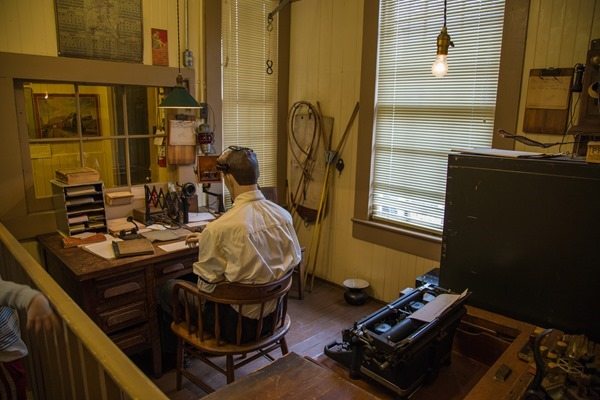 As we learned at our Tannehill visit (and many others), the minerals found in Alabama were the catalyst to development and growth. This map showed the Alabama Mineral train route, along with pictures from many of the sites.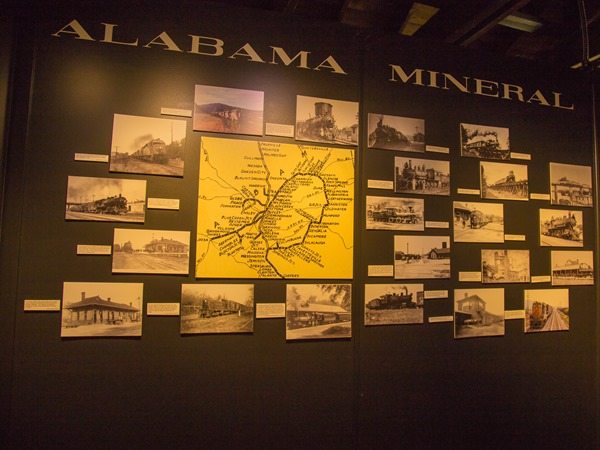 There was a working dispatch table, with real-time audio of current-day train engineers discussing their journeys through Alabama. Above the antique switchboard was a computer monitor that showed the current day track switches.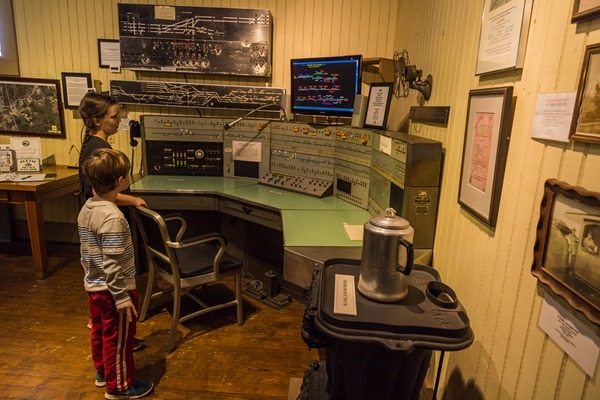 Both were fascinating, but the thought of controlling train tracks with these switches was downright literary.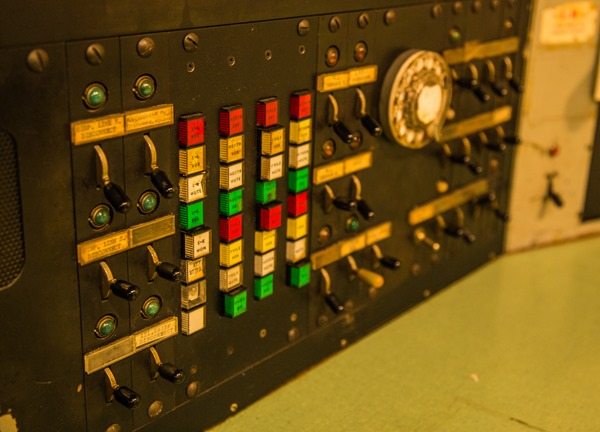 In continuing with experiencing the romance of the train era, they had many artifacts from a Pullman car. Flasks and menus and towels and dishes…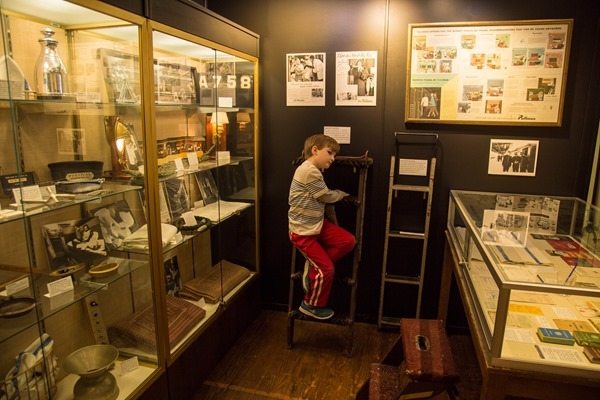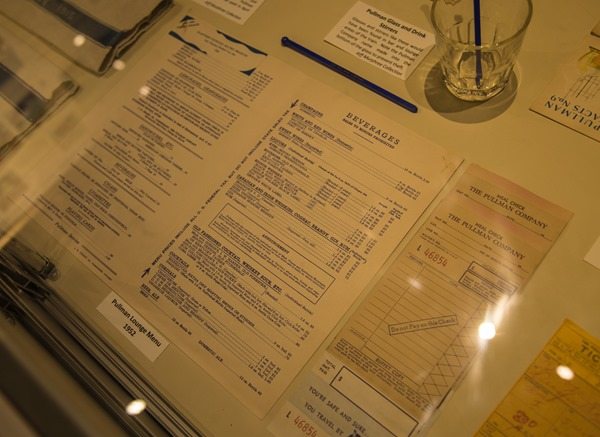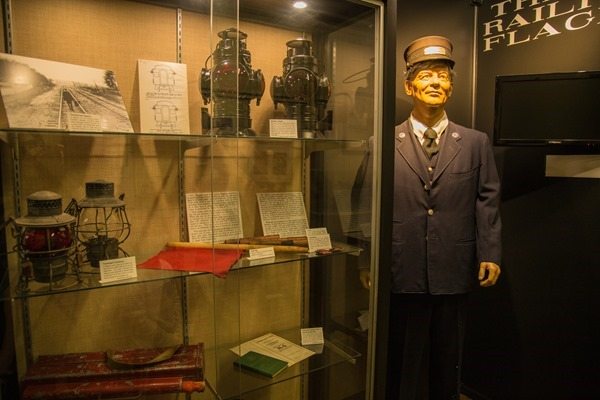 The entire museum made you want to pack up your suitcases, be Anne Shirley, and board a train to meet your new parents on Prince Edward Island.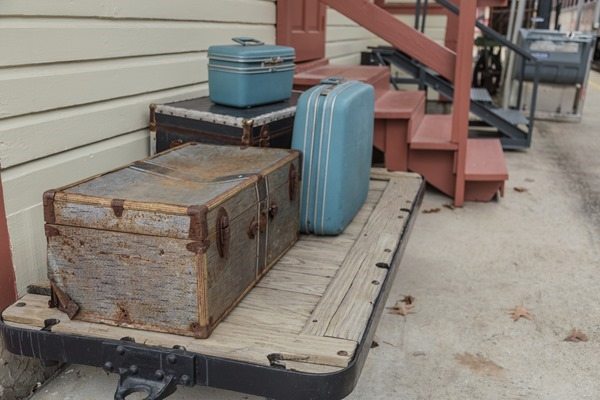 The kids made one more stop at the train yard – this time to ring the bell on Train #38,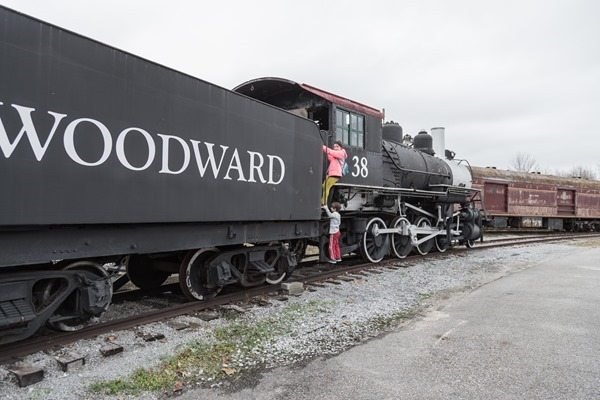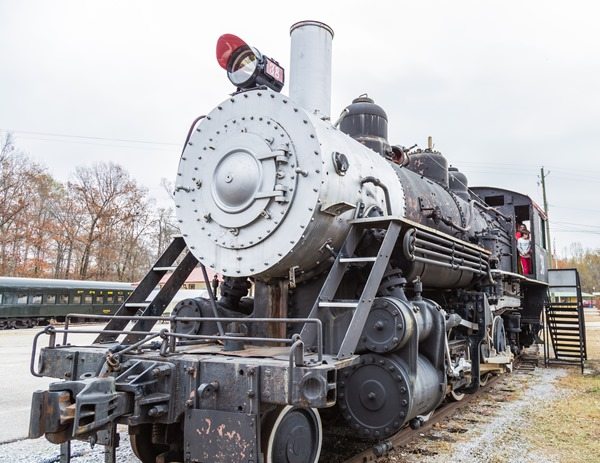 And then begged for one more walk through the old train yard.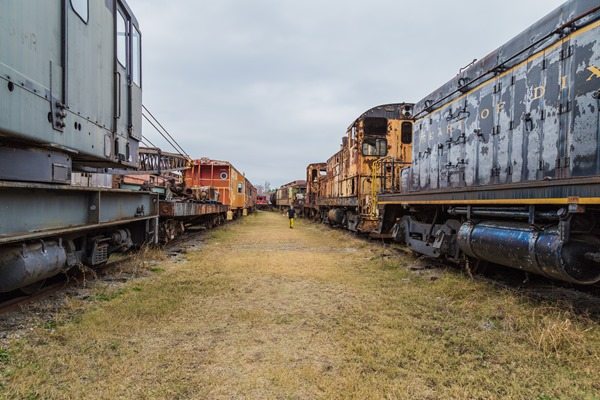 If you're looking to get a yearning for a life lived long ago, this is the place to find it.