I did a lot of research before going to Maine, because every time I thought I'd found the end to the goodness of the state, I'd come upon something else and be like "WHAT?! There's a mile long granite walkway into the ocean that ends at a LIGHTHOUSE?! And I'm just finding this now??" and I'd keep researching, for fear of missing something even more amazing.
My vision of what I wanted to experience in Maine included these main points:
– Fall colors
– Quiet rocky coastlines
– Lighthouses
– High views of bays below
– Moose, Whales, and Puffins
I experienced all but the last point, but I did see a bald eagle instead of moose, whales, or puffins. I wasn't willing to go on a boat tour to see the whales and puffins (and they weren't willing to visit me on shore – rude), but I did find a bunch of moose tracks, but no moose at the end of them.
What I didn't want:
– touristy locales
– crowds
– aforementioned boat rides
To miss hoards of tourists, this was the absolute perfect year to go – since international tourists are almost at zero due to COVID, there are no cruise ships docking, and even domestic tourists are subject to stringent requirements (we had to get negative COVID tests within 72 hours of traveling), it's the least crowded year ever.
Because I would have half the trip to myself and half with Chris, and I wanted to maximize my time and not spend it trying to decide what to do each day, I actually made my first ever travel itinerary.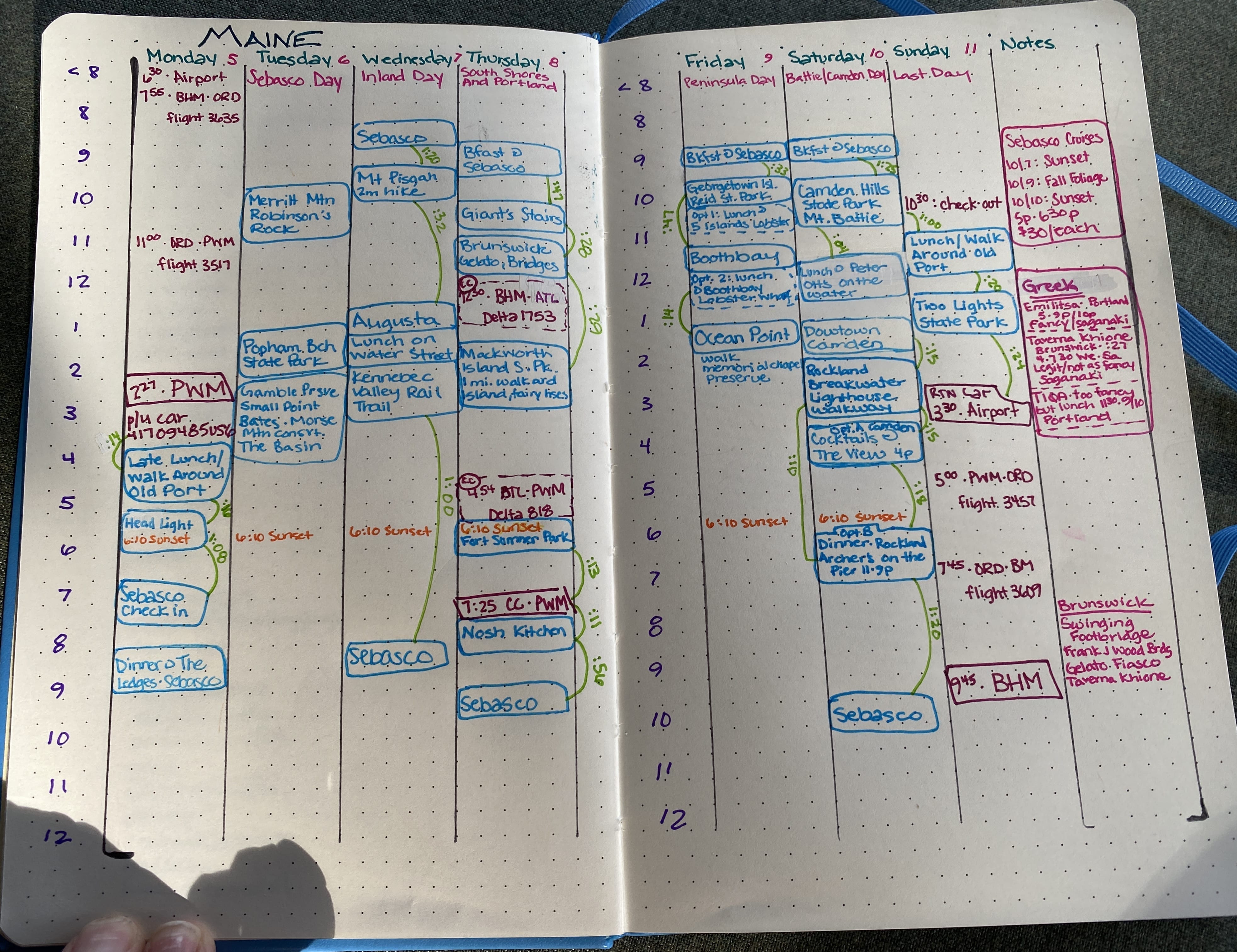 Chris is the travel planner in our family – I usually make it up as I go along or happily go with his plan. I didn't stick to it perfectly, but having the options already laid out with travel times between them and pre-chosen restaurants in each town took the chaos out of last minute changes. I might even make an itinerary again some day.
So. It might be too much for anyone, but a lot of you have told me that you also pine for a trip to Maine, and have asked me for the details of my trip so that you can plan yours. I kept a diary each day while I was gone that I sent to a few of my friends who wanted to know what exactly I would do all alone on the other side of the country, so this is a shortened(!) version of that diary.
Monday.
I didn't sleep well the night before, and we got up at 5am to get me to the airport in time for my flight. So I was sleepy, but excited. Security made me more nervous than normal, but I had no Paris-like incidents.
It was only two flights, and a total travel time of less than six hours. Miraculously I had no one beside me on my first flight. That made it a nice slow entry into the world of COVID air travel. The stewardess assured us that the plane had been thoroughly sanitized before we got on, and handed us all an antibacterial wipe as we boarded. They were quite strict that we could not taxi until everyone was wearing their masks PROPERLY ("Sir put your mask OVER YOUR NOSE") and we had to keep it on the entire flight. I had a feeling that the plane smelled AMAZINGLY clean, but I couldn't know for sure.
On the next flight I had a lady next to me, but we did our best to keep our distance. As we dipped down to land, I thought I saw hills covered in red flowers. Until I realized they were hills covered in red trees. I had finally arrived in fall.
The Portland airport is Birmingham-sized or smaller, but they have a stuffed moose. Which I definitely took a picture of just in case I couldn't find a real moose while I was there. I was determined to try, though.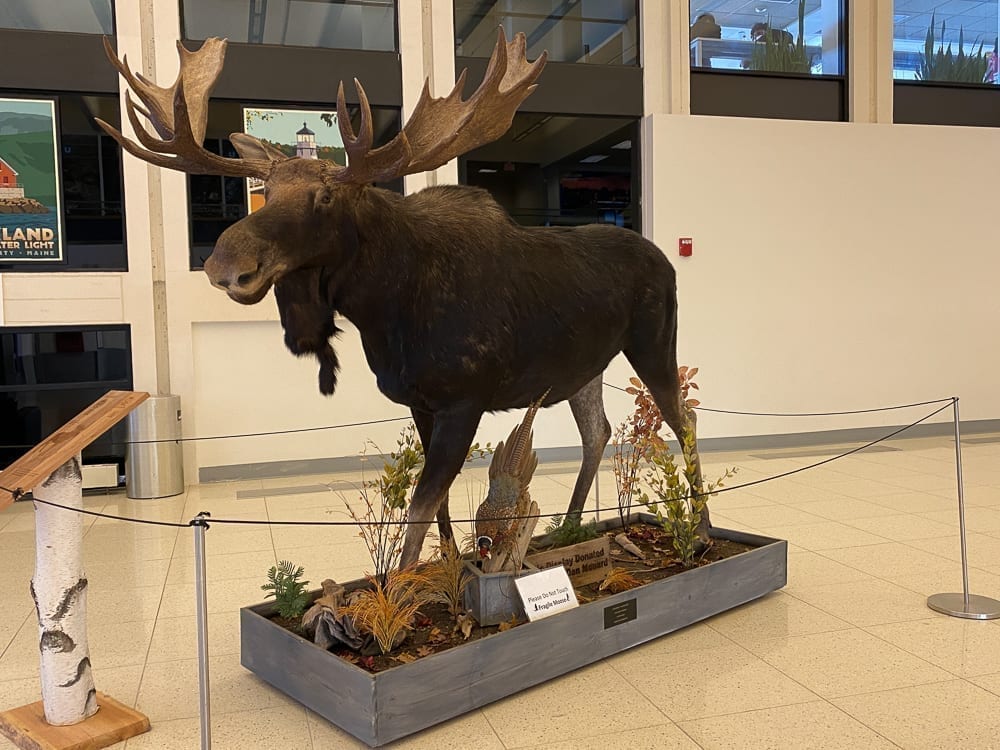 I got my rental car – a tiny nondescript silver Nissan Rogue, and decided to drive down to Old Port (the restaurant / tourist district of Portland) before I decided whether I'd deviate from my plan or not. I did deviate. It was too crowded and touristy and parking-metery and not what I came to Maine to experience. So even though I hadn't eaten since 6am, I forged ahead and left Portland behind.
Half an hour away, right in between Portland and my destination, is the adorable city of Brunswick. It's alongside the Androscoggin River, and there's a pedestrian swinging bridge, a dam, and a lovely Maine Street. I found a restaurant and had lunch outside. The weather was INCREDIBLE – it was both sun-warmed and fall-chilled AT THE SAME TIME.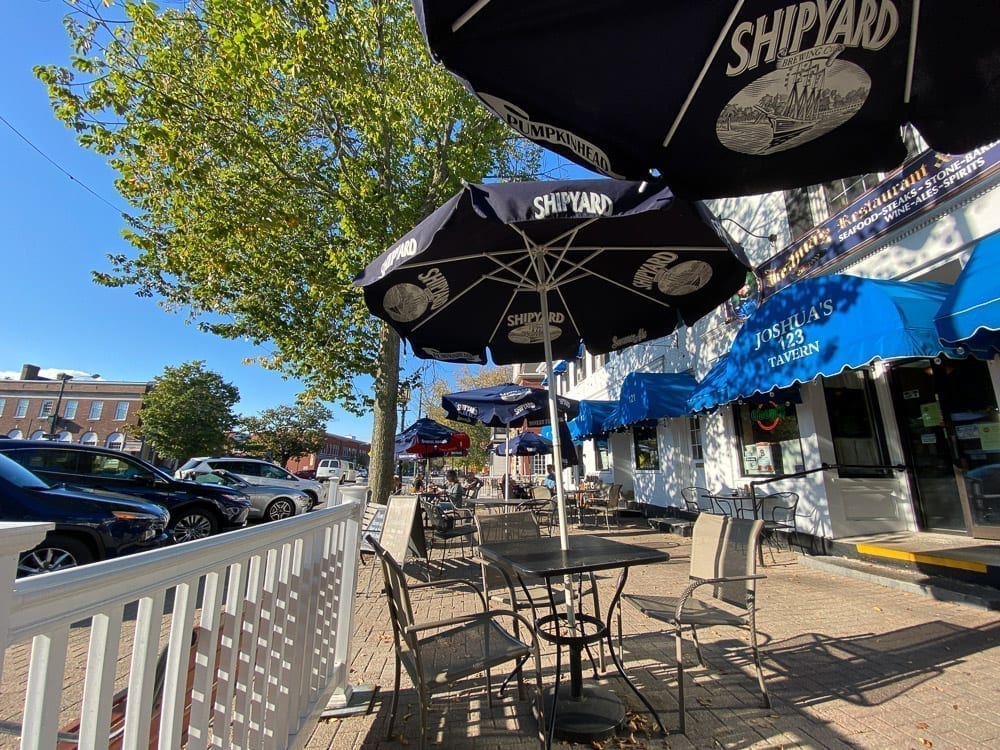 I had my first ever lobster roll – it was good, but not life-changing. Definitely tasted fresher than any other lobster I've ever had, though.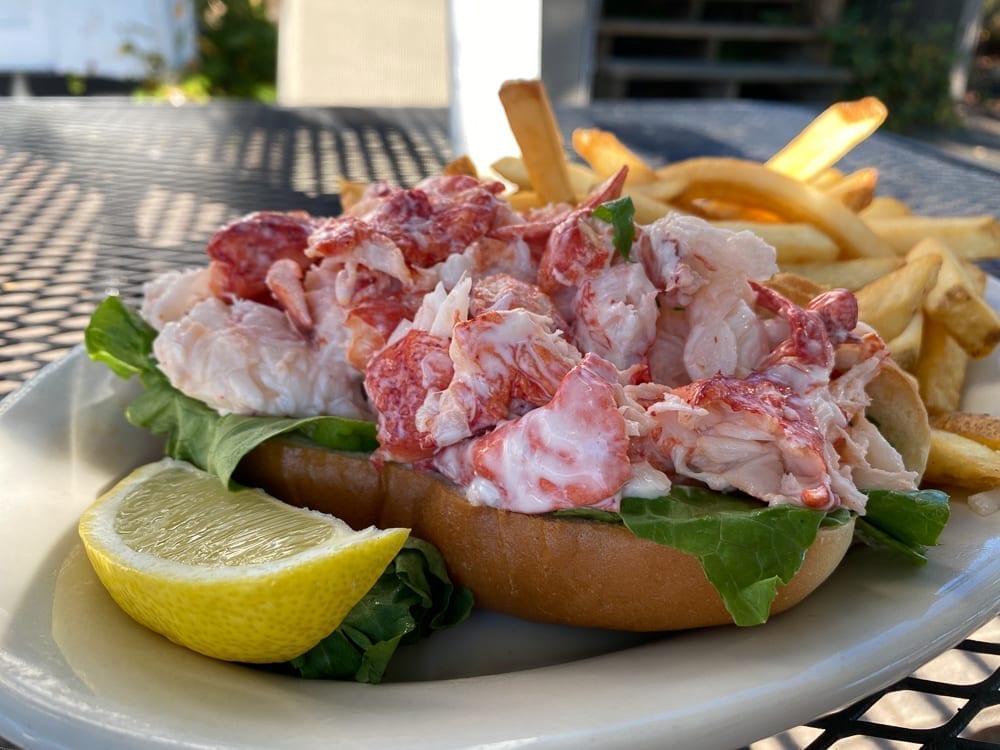 After I ate, I walked back to my car to get my camera. I was distracted by the leaves and wasn't looking as I pulled on my door handle – which is when I realized that there was a very disturbed looking older lady sitting in the silver Nissan Rogue…that was actually two cars down from my silver Nissan Rogue.
THIS is why I can't have a nondescript car.
I frantically waved and said apologies and walked quickly to MY silver Nissan Rogue. I was embarrassed enough that I decided to drive away, rather than grabbing my camera and walking, so I drove half a mile to the swinging bridge and walked back and forth over it, taking pictures of it and the river and the leaves.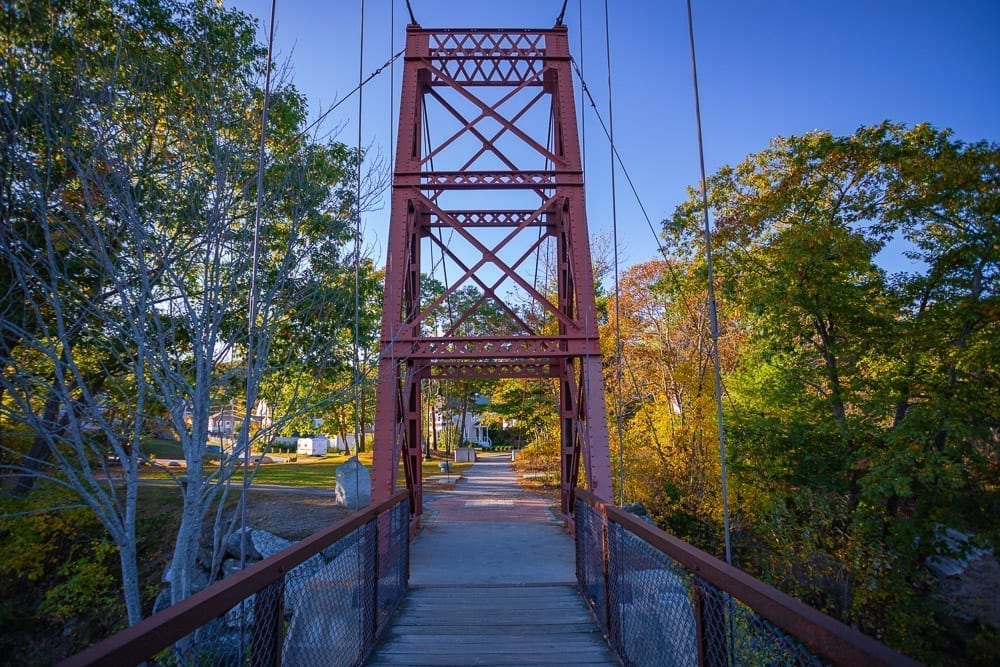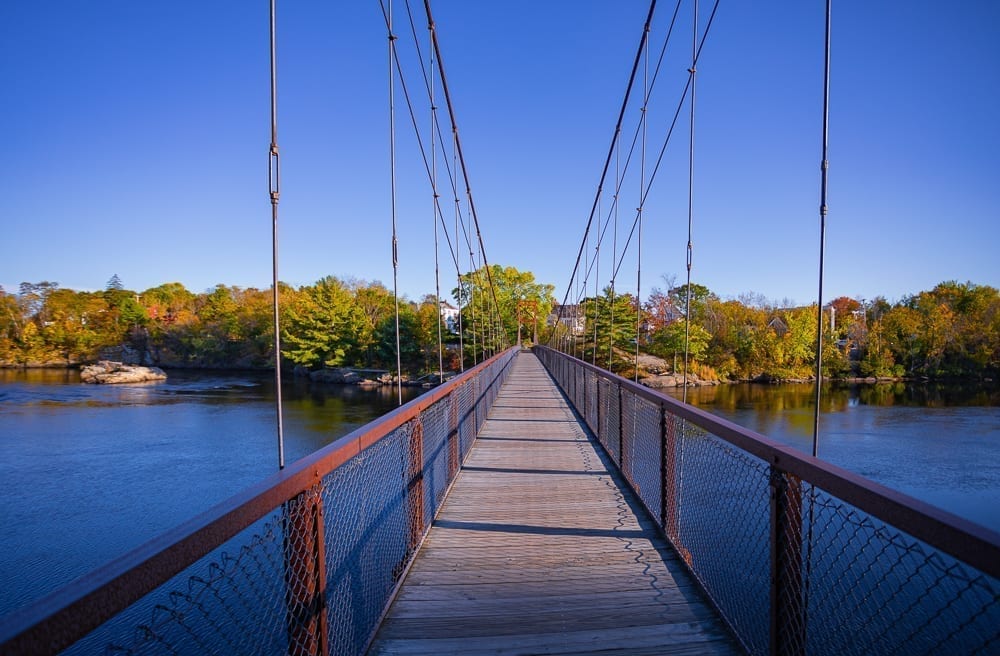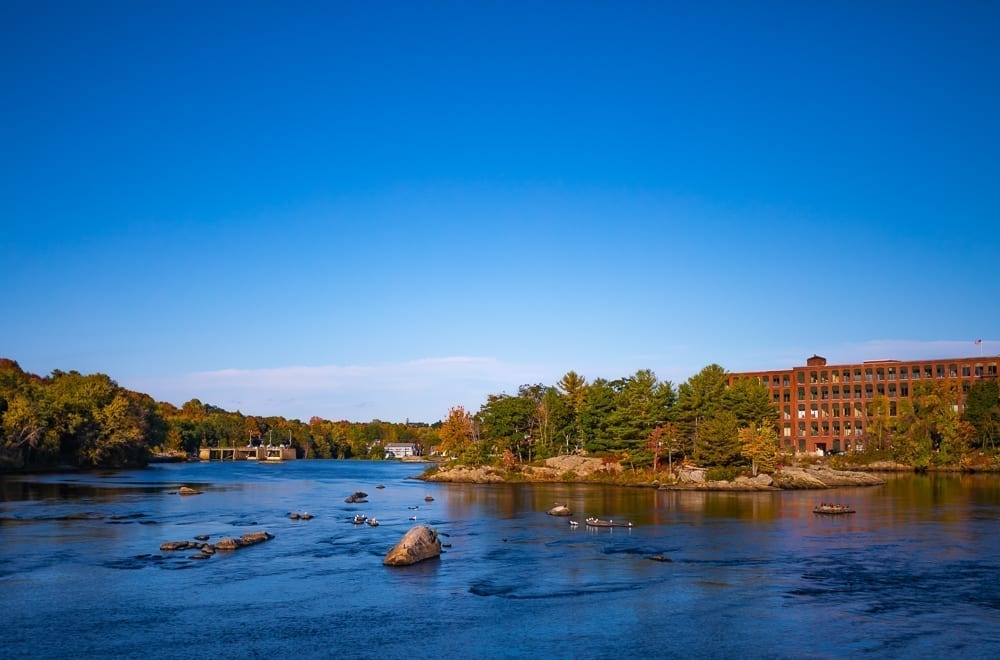 After that I decided to head on to Sebasco, my home base resort, and arrive before sunset. It was nice arriving before dark, and my balcony faced the sunset and the lighthouse – so abandoning the itinerary on day one was perfect.
I went down below my balcony and climbed on the giant rocks at the shoreline up against the windy Maine Sea and I was so happy and felt "arrived" – this was EXACTLY how I'd envisioned coastal Maine. My "The Penderwicks at Point Mouette
" vision had been fulfilled and I couldn't have been happier.
I sat on the rocks and did nothing for quite a while, just staring at the growing dusk.
Tuesday
I woke up at 5am since I went to bed super early because of travel  exhaustion. Sunrise wasn't until 6:48am, so I tried to go back to sleep, but no luck. So I got up and felt wide awake and surprisingly not hungry considering I'd had nothing but a bag of airline pretzels since 4pm the previous day.
(Maine Planning Note: I forgot how my lonely little peninsula was in the middle of nowhere, and the gift shop at the resort closed at 12:30pm and the closest grocery store was 20 minutes away and after I showered the night before I didn't feel like getting ready and going to the on-site restaurant…so I had nothing to eat but a tiny bag of pretzels and nothing to drink but water. Chris would have never let that happen.)
The restaurant wouldn't open till 7:30am, and I realized that since the sunset was a perfect angle from my balcony, I'd need to drive to the other side of the peninsula if I wanted to see the sunrise. So I looked around Google maps to see what I could go to before dawn. There are two public areas on that side: The first is Popham State Park, which is a 2 mile sandy beach that is, based on how big their parking lot is, wildly popular because it's one of the biggest sandy beaches in Maine. It didn't open till 9am, and I didn't come here for sandy beaches, so I wasn't feeling it. The second was Popham fort, a historic site and old fort a mile further down. It also didn't open until 9am, but I felt better about it being unique, and about my ability to break and enter at a fort. 
But it was very dark. And I hadn't been on these roads before. I didn't want to hit a moose and the roads were windy and narrow. Thankfully I figured out how to use Nissan Rogue's headlights not too long after pulling out of the resort, and I emailed Chris telling him where I was headed lest he wake up in a few hours and need to fly to Maine and search for my body.
But the adventure of it all gave me bravery.
I passed the state park first, and sure enough, it had a bar down blocking entrance to its giant parking lot. As hoped, it was easier to trespass at the fort. So I parked my Rogue all by itself in a lonely dark lot and walked down the rocks next to the fort.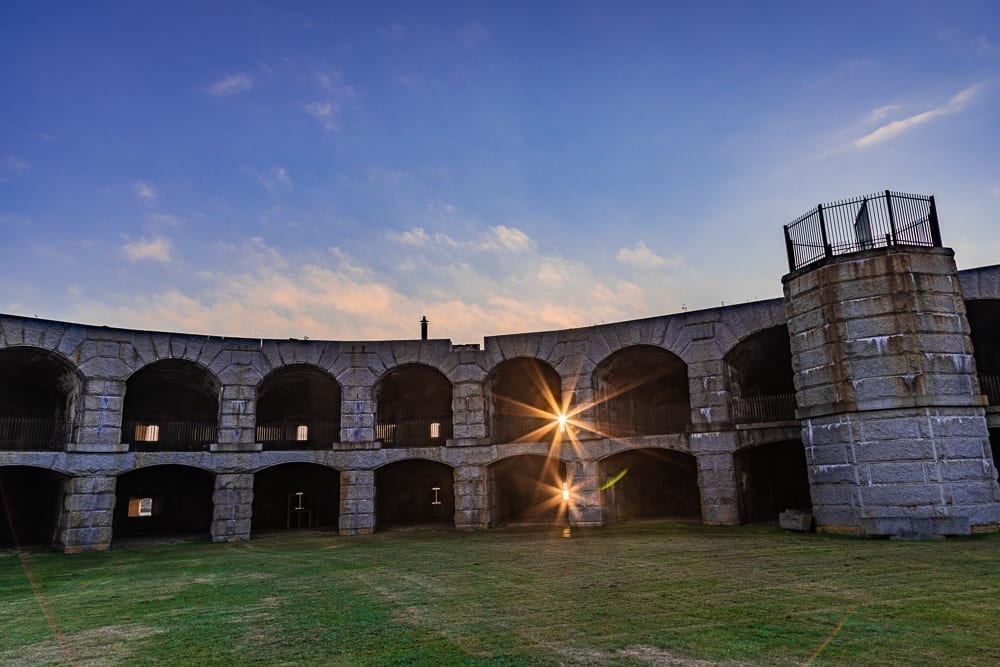 It was lovely. The sky was a foggy pink, and there was a blinking lighthouse in the distance.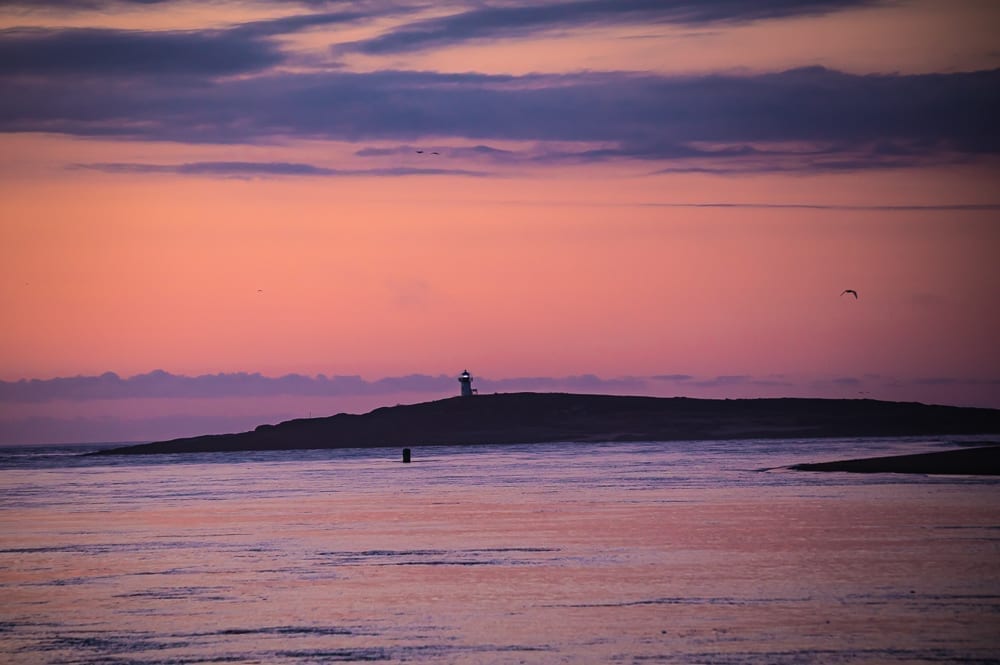 I climbed down the rocks (which I later found out usually houses sea lions, but they weren't up yet), and I ended up walking down the sandy beach after all.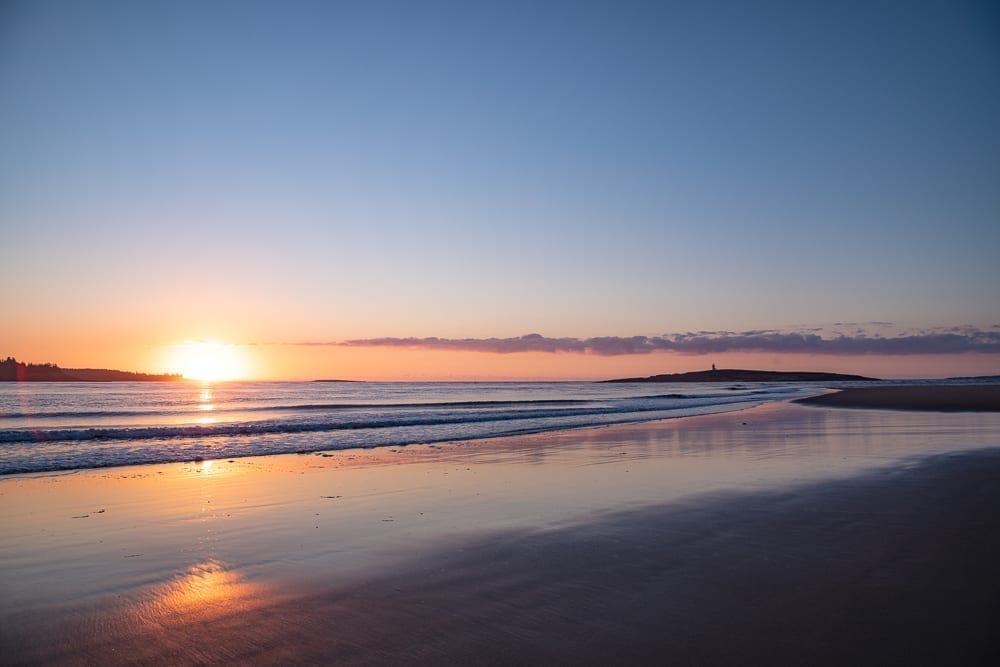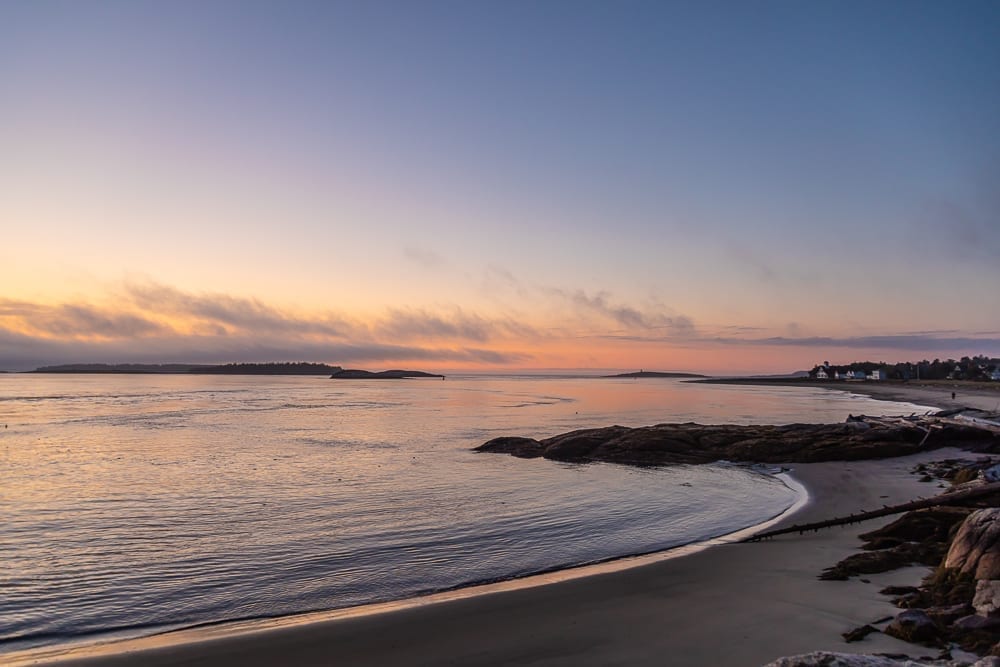 The village behind the beach was adorable and lovely and fally – the church was so white and New Englandy and reflected in the harbor. I ended up loving the village more than the beach.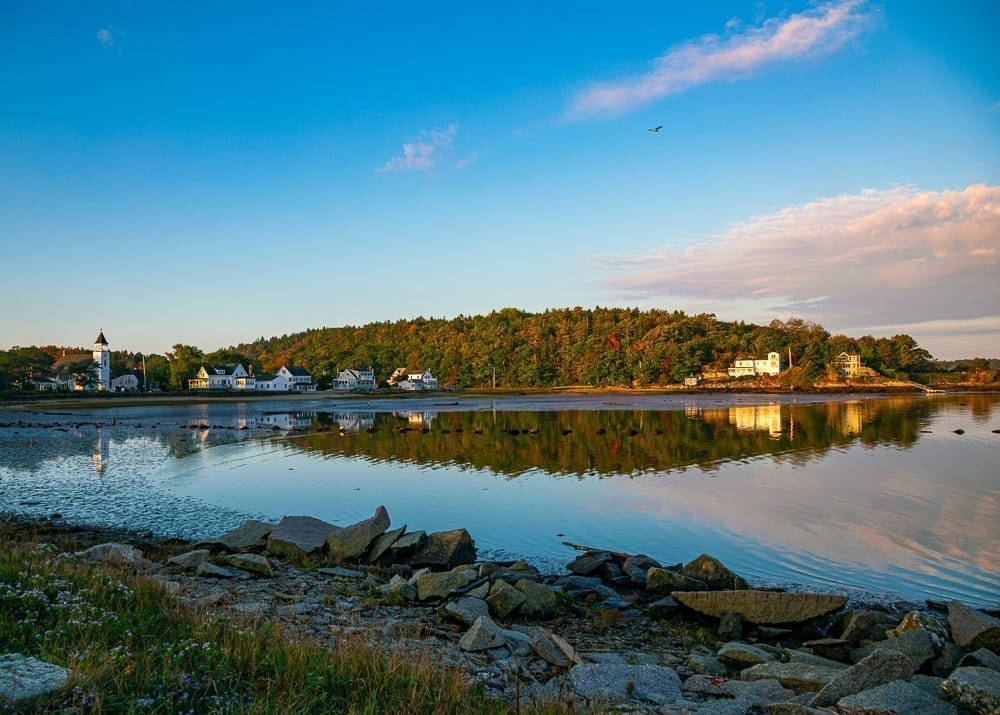 There was a restaurant right there – one of the only other eateries on the entire peninsula, and though it advertised breakfast (and I was very hungry by now), it didn't open until 11:30am – on Thursday. Rude.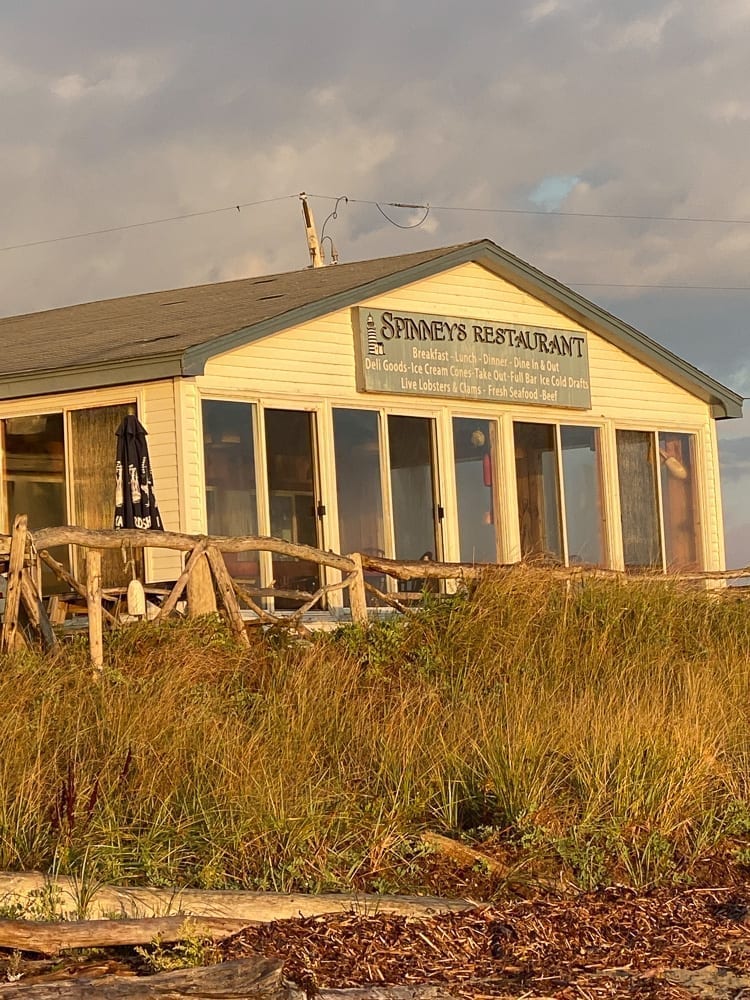 So I drove back to the resort, dumped all my gear, and headed to one of the on-site restaurants. It was on a second floor, and I was the first patron of the day.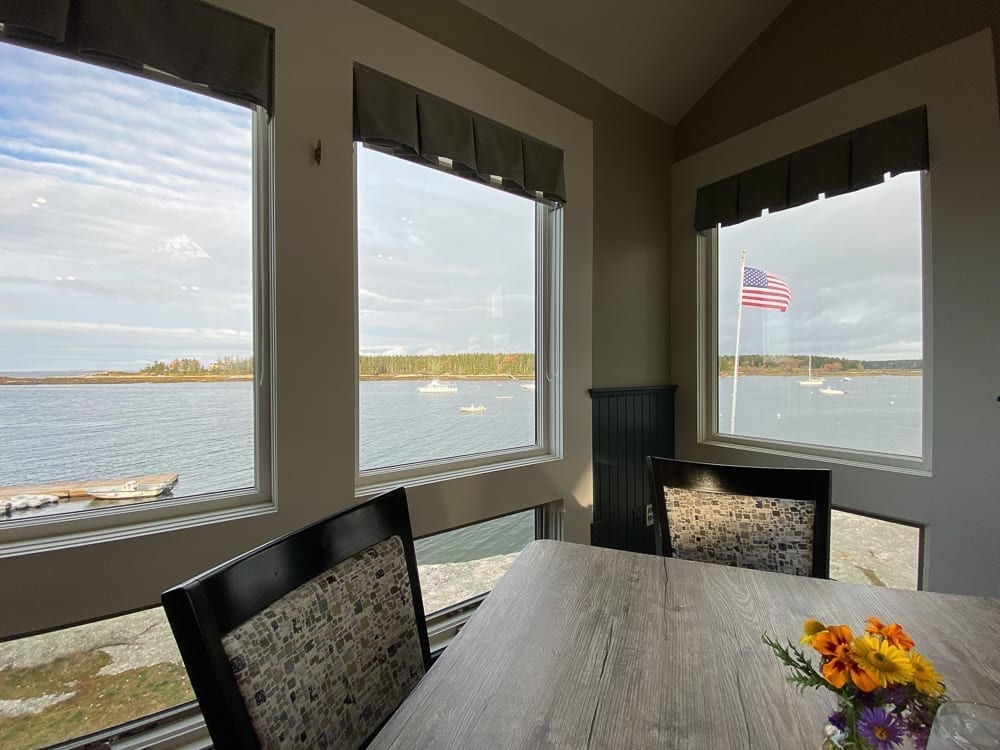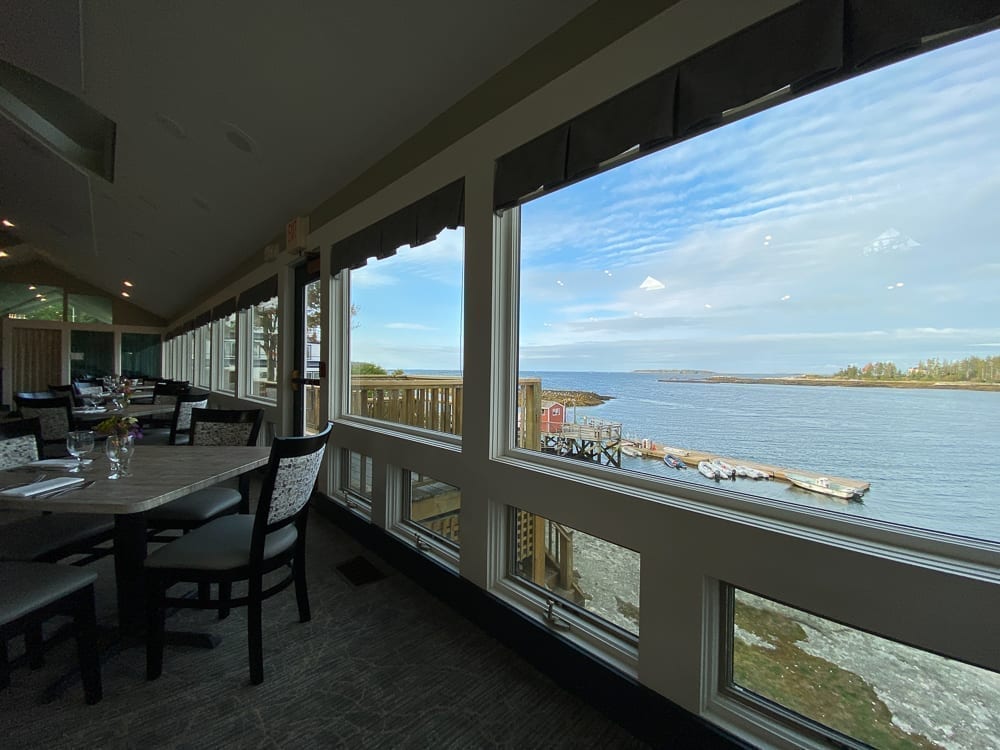 My waitress told me about the aforementioned sea lions, and also pointed out that bald eagles perch amongst the sea birds on the big rock island right in front of my room's balcony. She told me I could canoe and see the eagle's nests later, and that I could see whales from the top of Merritt's mountain, a hiking trail on the resort.
When I walked back to the room, it was windier and colder than it had been that morning, so I decided to go ahead and go to "town" to get the groceries I needed for the room. I drove back to Bath – 20 minutes away. After that, I decided to walk around Bath a bit – it was adorably quaint with extraordinarily old churches and buildings and lovely trees and a riverfront.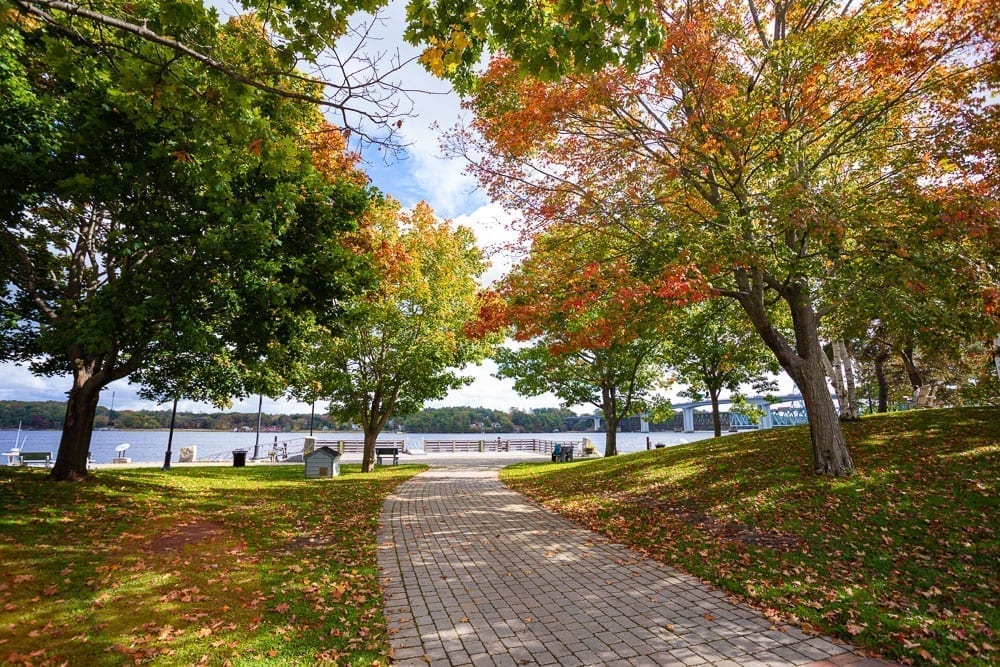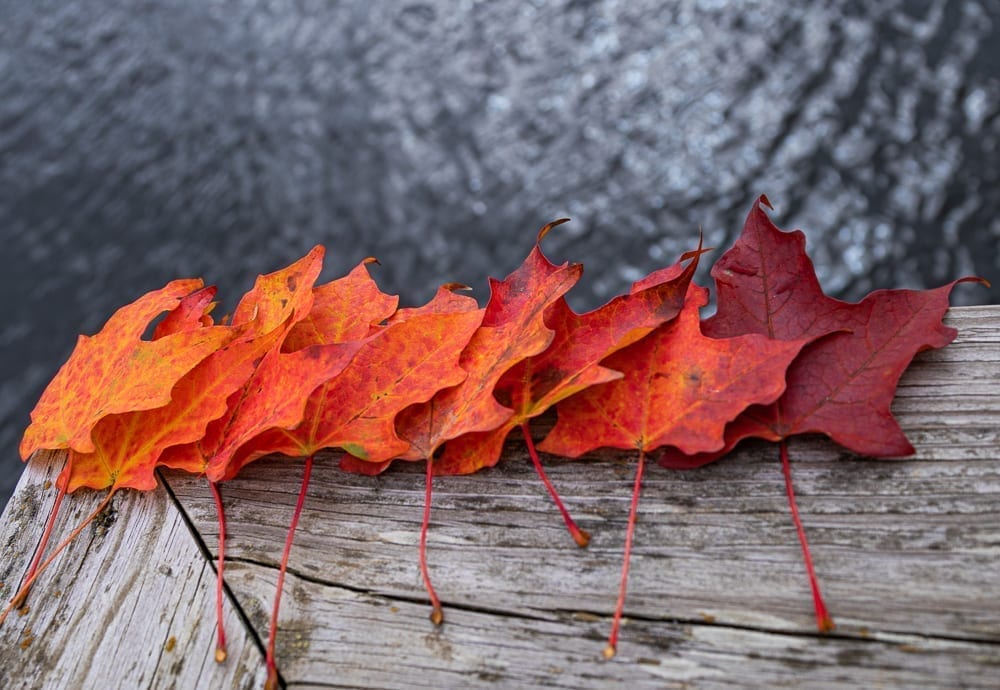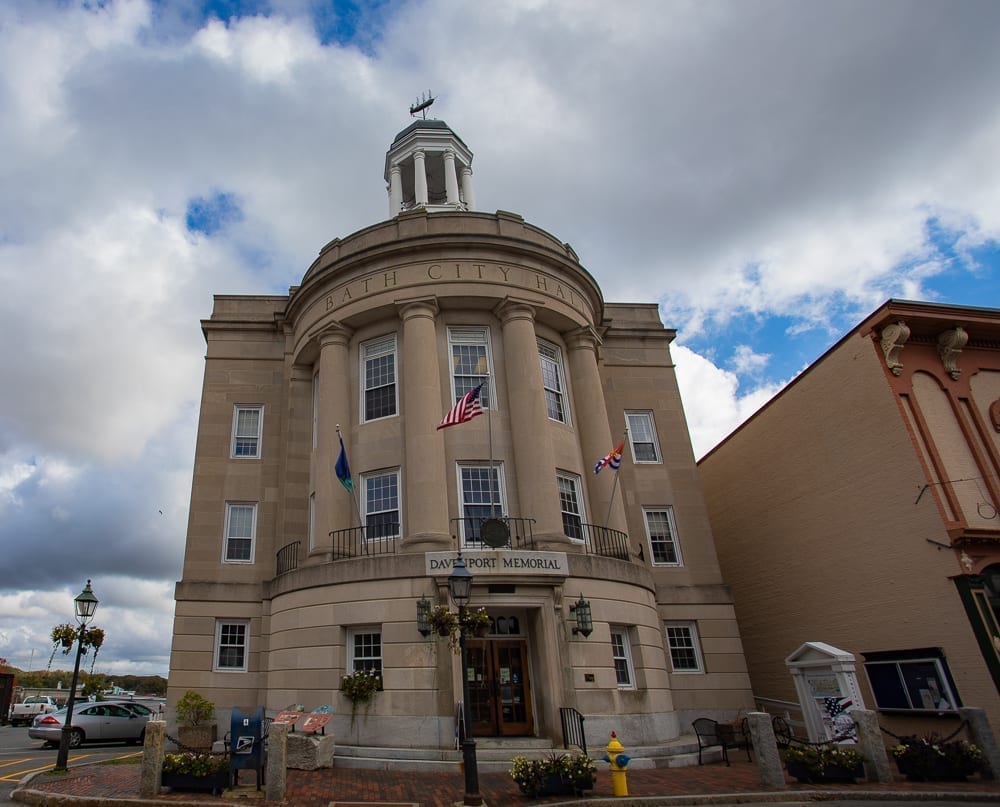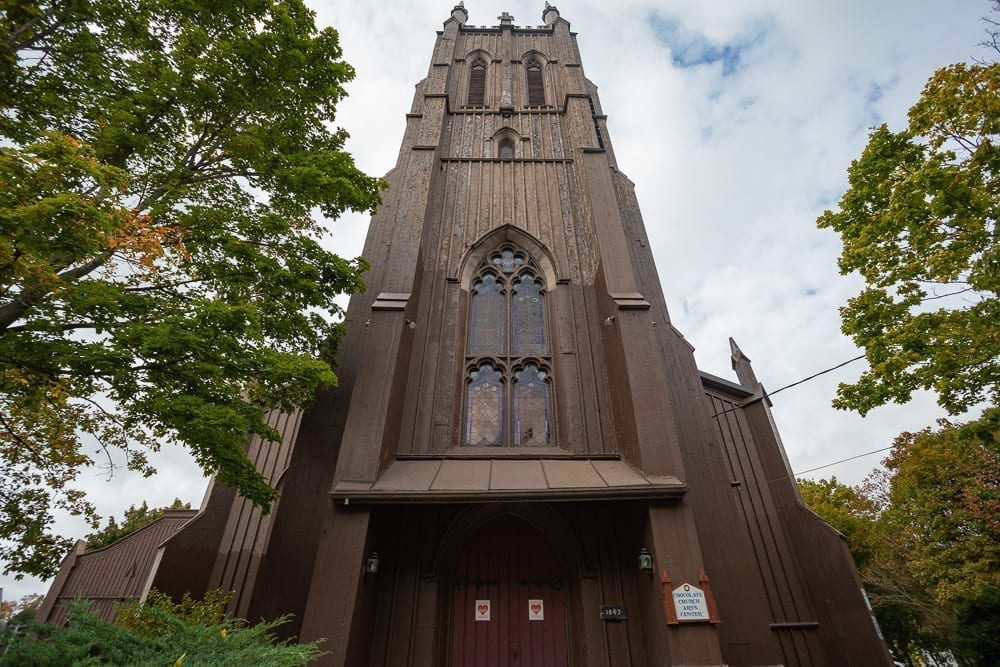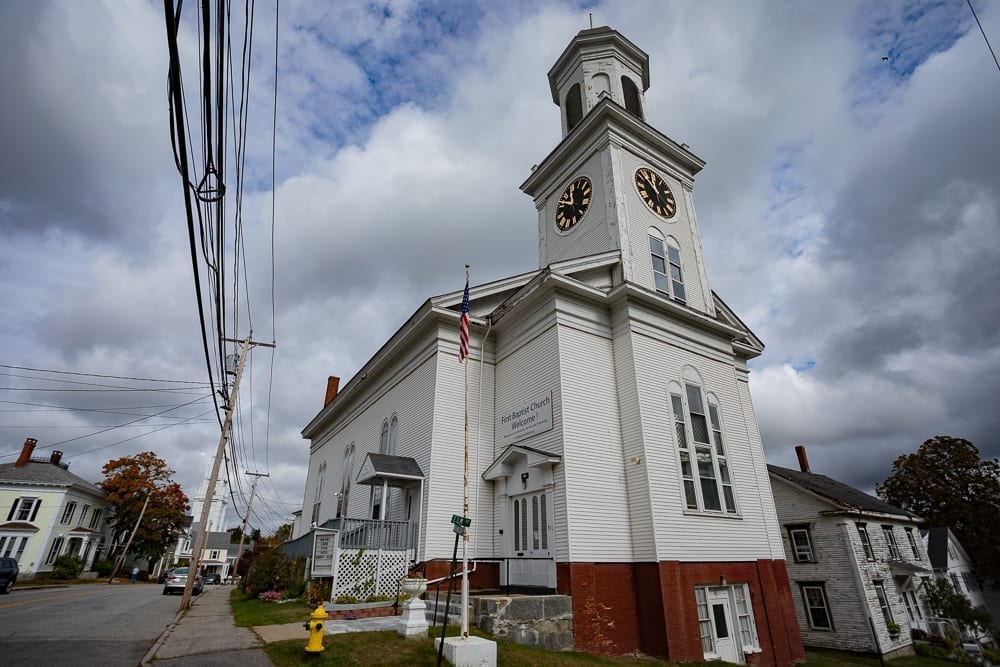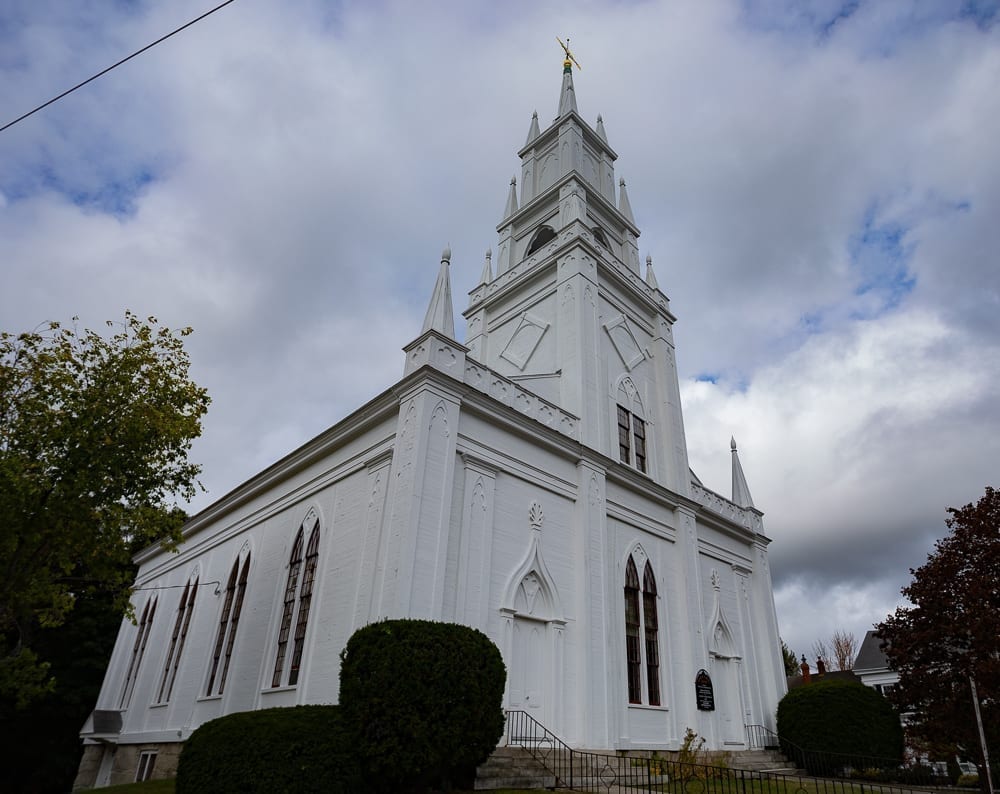 I also found my first perfect tree there, at which I took way too long setting up a solo selfie situation.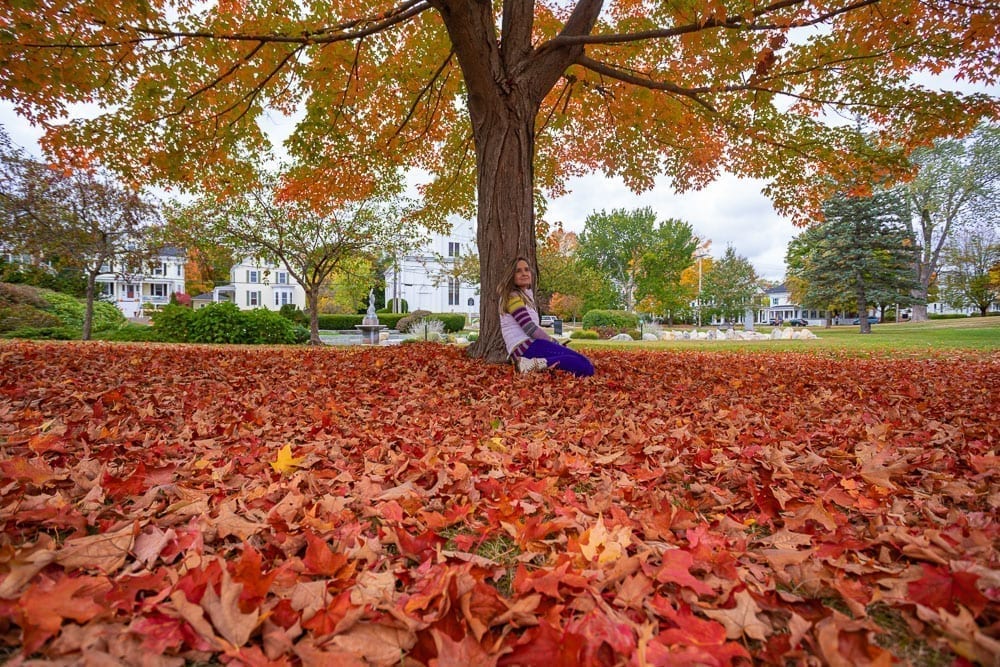 I got back, unpacked my groceries, and decided to check out the resort's hiking trail, by way of walking by the lake and seeing if I saw any eagles or nests (negative. But I did find Frozen-Christoph's ice business.)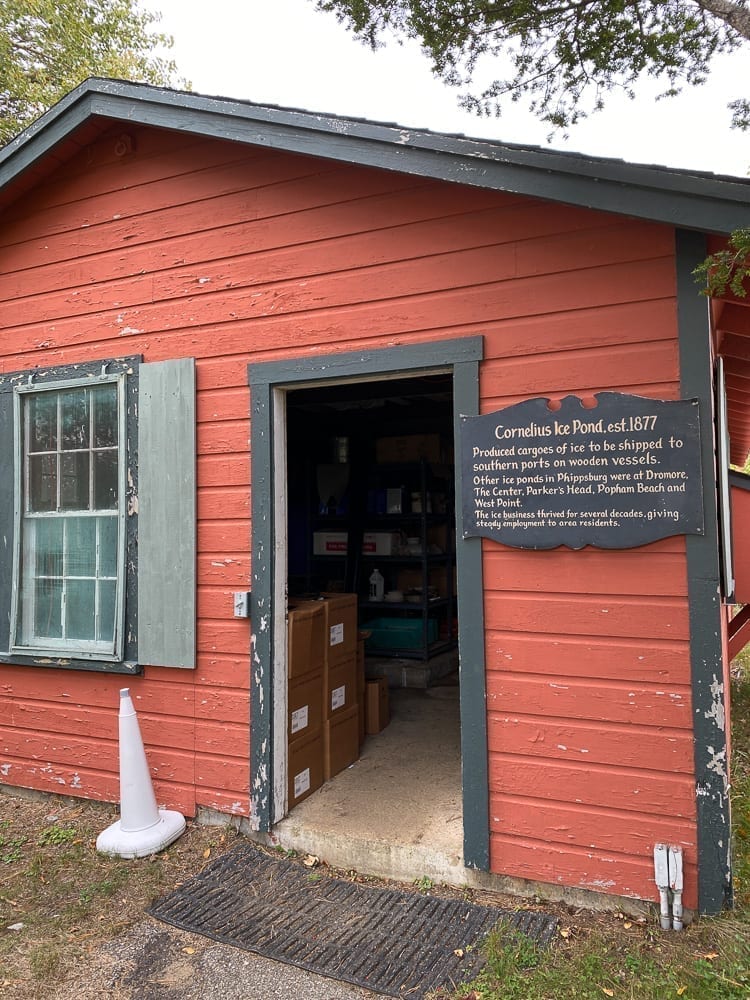 Merritt's Mountain was a magical trail made of the same lovely rocks of the shoreline and covered with some of the most vibrant leaves I'd ever seen. I kept thinking that Maine was ruining Birmingham's fall forever – these were the colors I always thought leaves SHOULD be. I picked up the best leaves on my hike, then to keep them from blowing away when I got to the top (where there were two nice picnic tables and an incredible view of the resort and harbor), I put them in my hat that I wasn't wearing.
I took some pictures, and then right before heading back down, took pictures of the leaves – and noticed weird tiny eggs on them.
And then all of a sudden I remembered all of my mom's warnings throughout my life about deer ticks and lyme disease in Maine. And remembered that I had put those leaves IN MY HAT.
So of course I itched all the way down the mountain, and held my hat out in front of me like it was an extraordinarily dirty diaper.
I stopped in to see the concierge and asked him about deer ticks. He said that he hikes the trails every day, and hasn't seen a tick since July. But that one should always wear long pants when hiking in Maine.
Oops.
But he did say that he could always feel them (I was worried they were too small to feel) and he really thought I was fine.
I put my hat in a ziploc back to de-tick itself just to make sure.
After that little hike, I decided it was time for a shower. I needed to scrub myself to rid myself of suggestive itching. It was late afternoon but not sunset, so I got dressed and went to the other on-site restaurant for my second meal of the day. It also was excellent. My waiter told me that October 18 is the last day of the season, and the entire resort and all amenities shut down – and that they expect snow shortly thereafter.
Incredible. We wouldn't even fully be into fall in Alabama on October 18.
After dinner I hurried back to my room, changed into hiking gear, grabbed my camera, and power-walked (without picking up a single leaf) back up Merritt's Mountain. I passed a couple that was probably hoping to have a more romantic moment at the top of the mountain than they got, seeing as how I was there with a camera.
Oh well – they didn't make exclusive reservations.
The sunset was lovely, then I headed back down the mountain while it got dark.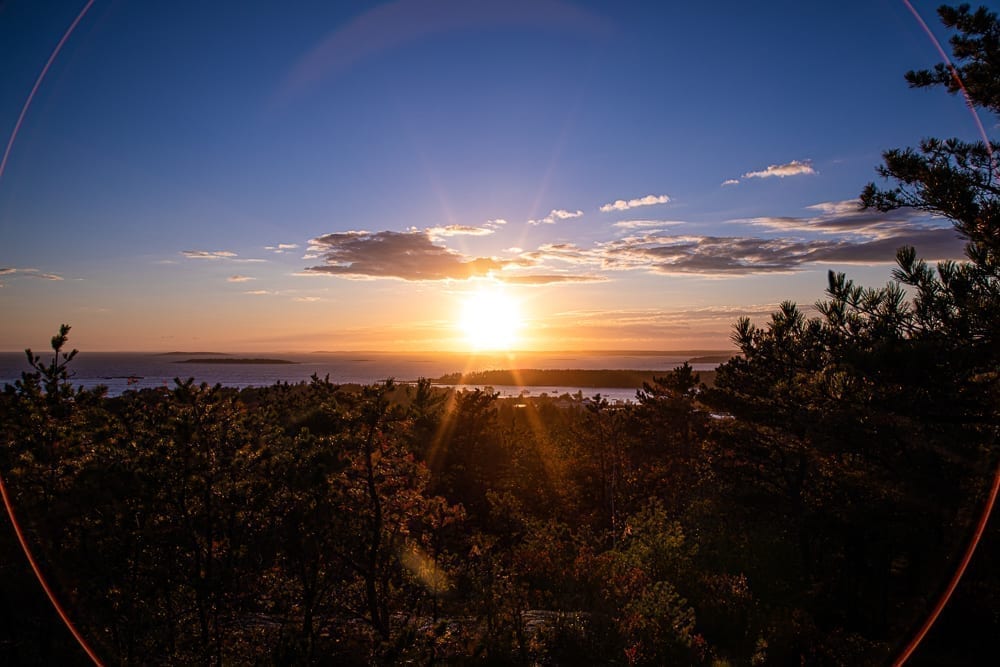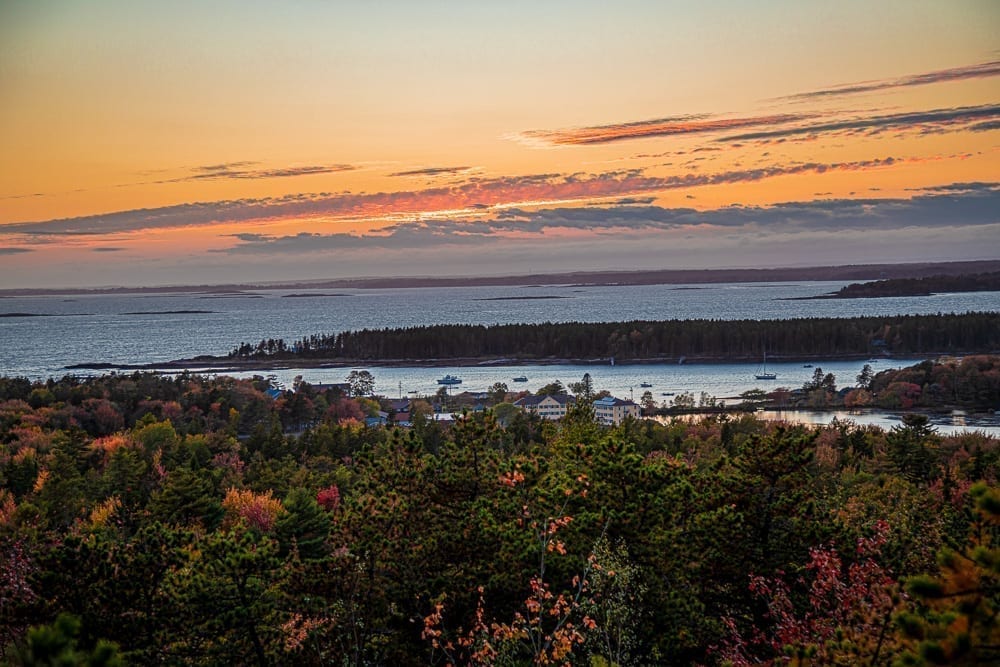 I left my sliding balcony door open and listened to the ocean and thought about how exactly perfect this resort was for me. Lovely, quiet, and with all the amenities (except groceries) – but without the people. There were maybe half a dozen other families there during the week, if that. Perfection for an introvert seeking solitude.
If you made it this far, I appreciate your tenacity and/or desire to go to Maine. My next few days included seeing all the sites nearby in Maine – blog post coming soon.