I've been a bit obsessed with puddles lately. Which is convenient, since we just had a Tropical Storm come all the way up the middle of our state.
(Granted it wasn't a Tropical Storm when it reached me, but it was still pretty dang wet.)
I don't usually get hung up on getting a specific shot, but in my head I've had this "perfect" puddle jump for months that I just needed to capture.
The original idea was to be directly above a child who was jumping down into a puddle while looking at the puddle, and get the top of their head and body going down, but their happy face in the reflection of the water.
(I don't know if that makes any sense but it's BEAUTIFUL in my head.)
However, this particular shot, I have discovered through scientific analysis, is impossible in a Physics sort of way.
It turns out that puddle reflections are super tricky – sometimes they're in color, sometimes they're in black and white, and if you're directly over the puddle shooting down, they're not there at all.
I spent parts of three days trying to get this specific shot, with much help from my kids (especially Ali, as Noah prefers contrariness.) But I haven't been happy with the results.
I even named this entire night of photos "Failed Puddle Jump."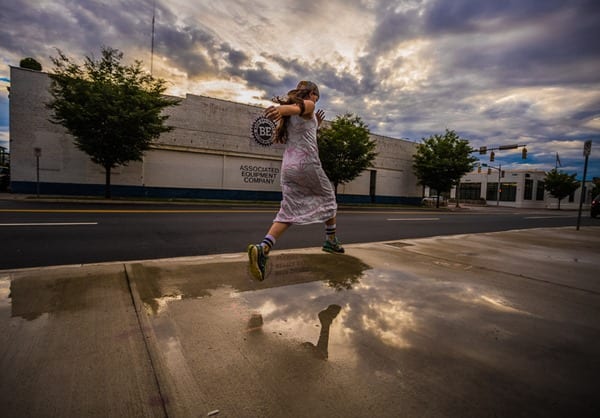 I mean they were cool, but they weren't what I wanted.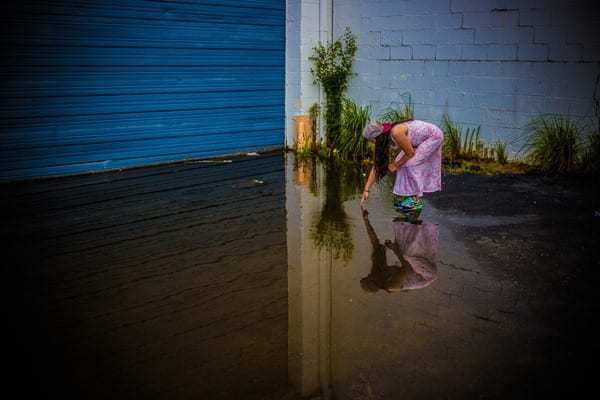 I was puzzled by myself, because I'm really not usually this particular and specific with my photography. But there was just SOMETHING missing. Something I had to capture. And these weren't it.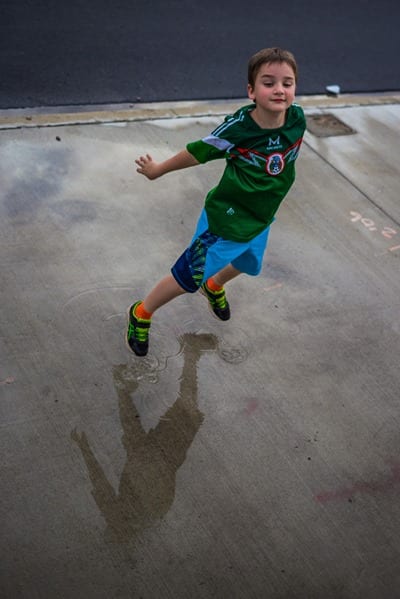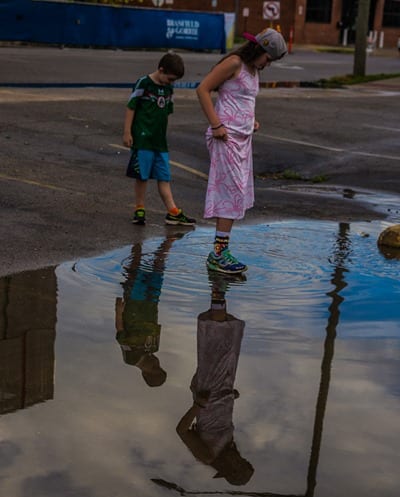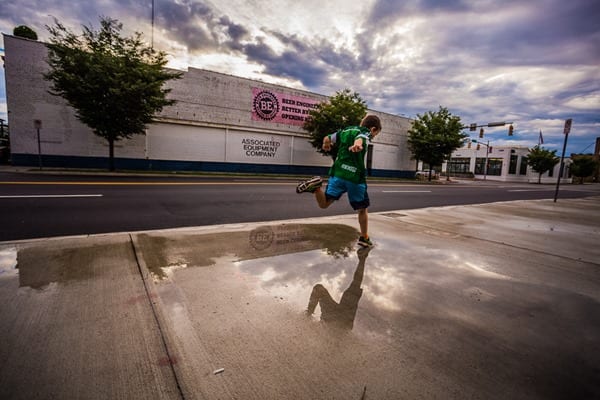 So I tried again Tuesday at The Botanical Gardens. Ali was all in, so we shot several rounds of jumps while Noah whined and loitered in the background.
I was fairly happy with the results – Ali looked completely dreamy in a few – but they still weren't *quite* there.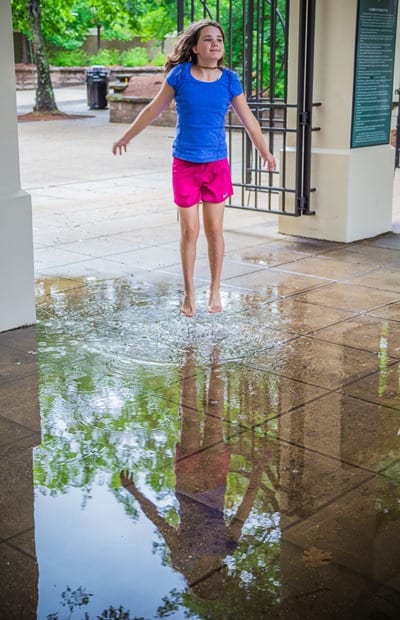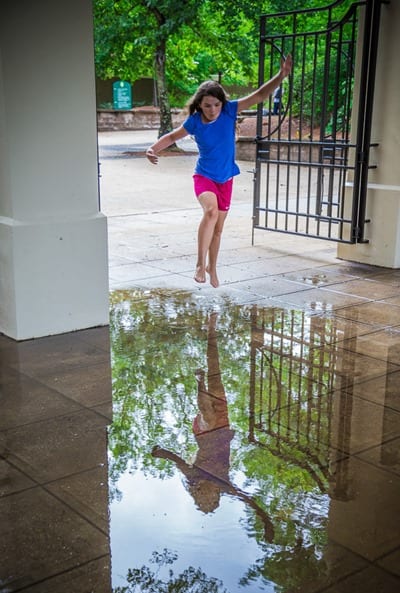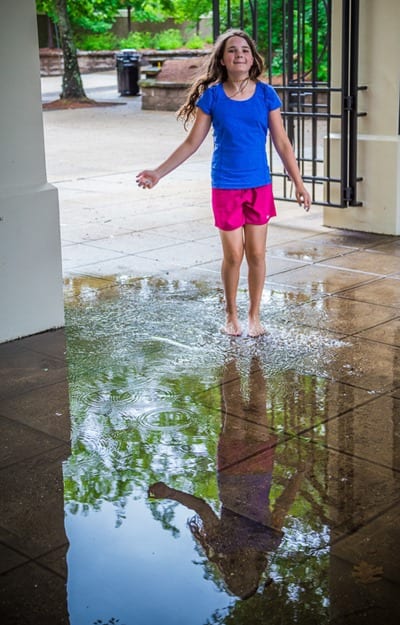 Tuesday night, Chris took us all on a surprise End Of School Year Celebration Night. We ate dinner at a new restaurant, then he took us to Target and gave us each gift certificates to blow on whatever we wanted, then we went up to a downtown parking deck for me to get to shoot the sunset. I was informed that this was the third of four stops, the fourth one being another mystery stop.
While we waited on sunset, I noticed that there was a perfect puddle. And Noah was in an especially amenable mood. So we worked on getting my unattainable shot.
We tried it from one angle.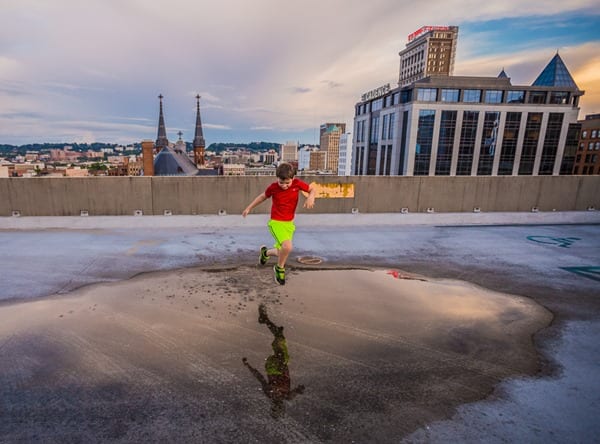 Oh yes. The reflections were in color (aided perhaps by the fact that he was wearing the outfit in which I've nicknamed him "Dayglow.")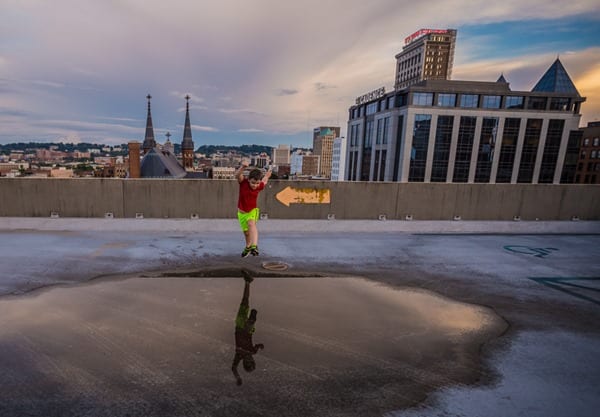 Then another angle, and it was even better.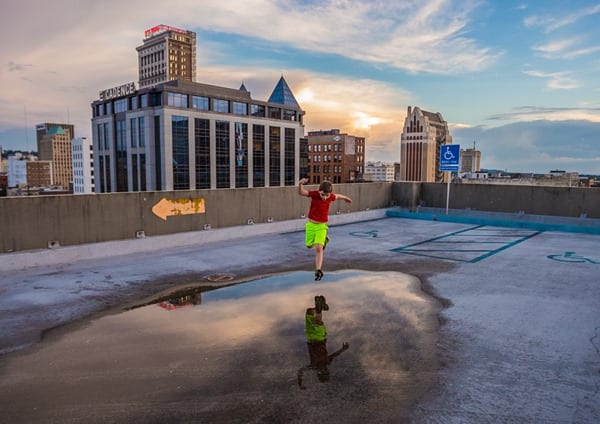 We were SO CLOSE.
After circling the puddle and studying it with all of my analytical geometry skills intensely tuned in, I finally decided on the perfect angle/lens combination to shoot with the fullest city backdrop.
I realigned Noah and humbly requested his ongoing participation…
"Just one more time! And by one more time I mean as many times as it takes to get it right."
Shockingly, he was all in. "Okay, but let me take off my shoes real quick. They're getting super wet."
No problem.
So he backed up.
We rechecked the angles.
I gave him leap coaching ("one leg out – not a hop – a leap"), and we lined up the shot.
He took off.
I snapped.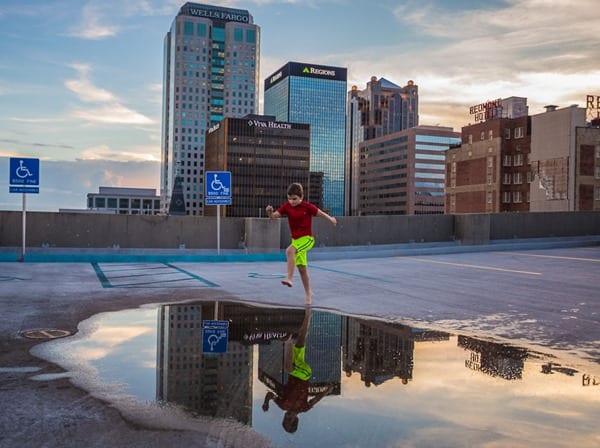 Yes! Yes! It's going to be PERFECT!!
…But then his lack of shoes suddenly and quite violently caught up with him.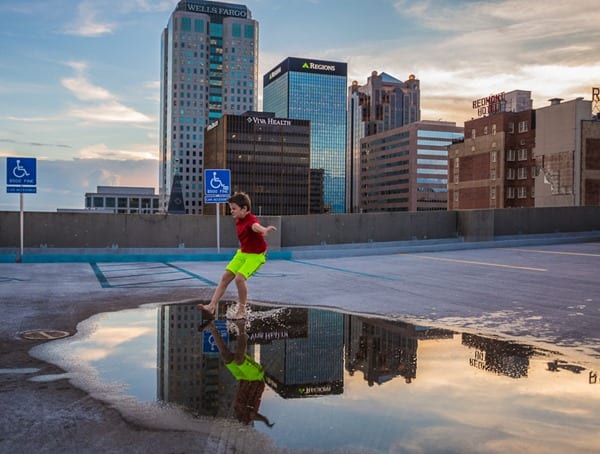 He slid straight through that Public Parking Lot Puddle, coating his butt with the layers of slime from decades of tires and shoes and bubble gum and spit and who knows what other unspeakable bodily and non-bodily fluids.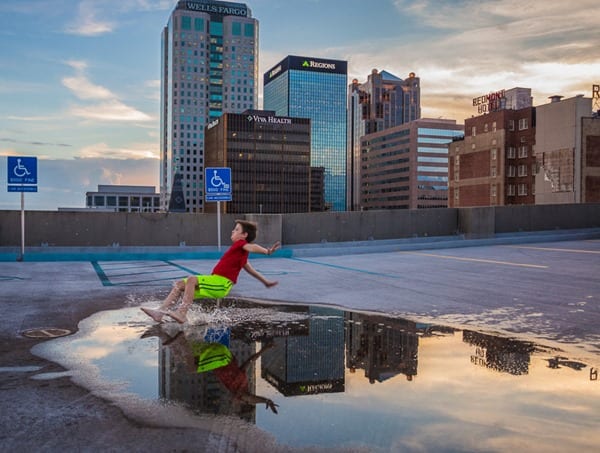 He came out the other side looking like a bog had attacked his backside, and also crying and holding his shoulder.
I feverishly rooted around in the back of the car to find a towel, but only found a blanket – good enough. I wrapped him up and checked on the rotationary abilities of his arm – it still functioned, and he had calmed down.
Then I checked my camera.
And WE GOT THE DANG SHOT.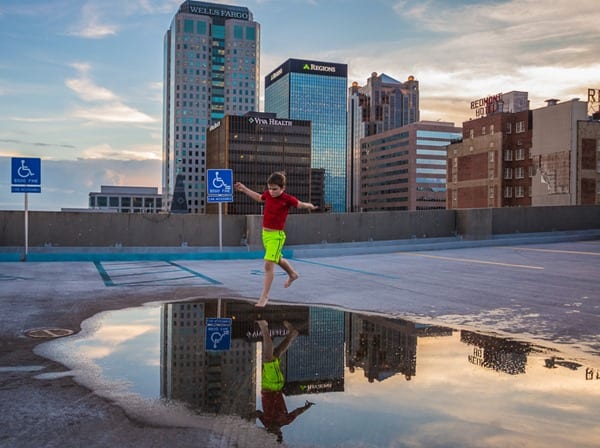 And we all lived happily ever after.
(Except his shorts.)
(And possibly his puddle jumping career.)
(And also there is the issue of my Mommy Guilt.)
(But Mommy Guilt never goes away so you might as well get the shot if you're going to suffer from it anyway.)
The End.
p.s. – My apologies to the Ice Cream Shop that was our fourth stop. I do hope we didn't leave any Parking Lot Bog behind in your cozy booth.