Most of the time, I am highly amused at the odd antics of strangers – especially since I seem to attract so many of the especially bizarre.
However, there is one stranger behavior that irritates me like no other – the "volunteering" to parent my children.
I need my friend's and family's help in parenting – they see things I do not, their eyes are pointed where mine are not, and they are, in general, invaluable.
However. I have never come across a stranger, who upon foisting unrequested parenting onto my children, were the tiniest smidge helpful.
For example.
One day my children and I were walking at Railroad Park. They always enjoy stopping at the exercise equipment to play on it. There's a pedal thing, various bars for push-ups and the like – the usual outdoor exercise stuff.
Ali was at a very low bar and was walking on it like a tightrope. The thing was maybe half a foot off the ground – at most. She was also approximately four feet away from me, where I had my eyes pointed in her direction.
A young guy (not the usual demographic of the Awkwardly Intense Busybody Club) turned to Ali and said, "You need to get off of that – it twists around and you could fall."
SHE WAS MAYBE SIX INCHES OFF THE GROUND.
AND SHE'S TEN YEARS OLD.
AND I WAS RIGHT. THERE.
Indignant rage bubbled inside of me.
But unfortunately, my genteel southern upbringing took over. I simply herded my children out of the area and ignored the man all together.
(Which for the situation, was 120% as polite as I could have been.)
Every time I find myself in one of these situations, I always regret afterwards that I did not explain to the stranger that I shockingly(!!) am able to safely parent my children even when they're not around and they make me want to approve letting my children play in a field of thumbtacks just to spite their unrequited helpfulness.
Okay maybe I have rebellion problems.
Anyway.
That brings us to this week.
On Monday, my friend Amanda and I took my kids to a small park along the Cahaba River to enjoy the newly crisp fall air. It was a perfectly lovely fall day, giving hope to all that perhaps soon our humid 88 degree days would be but a memory – at least for a couple of months.
The leaves have just begun changing here (fall comes late here BUT IT'S COMING!!), but I noticed that approximately .005% of the leaves on the ground were actually in fall colors. In my most exuberant of mental states, I yelled for my children that we would be having a Grand Fall Scavenger Hunt – and to find as many non-green, non-brown leaves as they could.
As soon as they whooped with joy and set off to run around the small park trying to beat each other to the prettiest of leaves, an older lady in the parking lot, who was in the act of getting into her car, yelled angrily (venomously even), "There are snakes ALL OVER this park!!!", then proceeded to glare at me, as if I'd just gleefully instructed my children to find and swallow vengefully furious scorpions.
Which led to the loudest 5 seconds of silence in my life.
Because a) The park is a park and therefore meant to be attended by humans (and wasn't she just here?), b) as stated before, my #1 pet peeve is strangers parenting my children for me (although she seemed to be trying to parent me and not directly my children so she gets half credit), c) The park is 4.7 acres – how many snakes could we possibly find there because d) I do adore snakes – especially snakes I find in the wild, but e) my momma raised me to be polite even to the most impolite people.
I looked at her. She was still standing expectantly behind her car door, glowering at me, The World's Worst Parent.
So I called back in a faltered but oh-so-genuine voice, "Yes ma'am!", which satisfied her enough to allow her to sit down and close her car door.
Immediately I said to my frozen-in-place children, "Find the leaves! And the snakes! If you find one let me know! And don't let it get away until I see it!"
We searched for an hour and only found leaves. My resentment only grew – both still in rebellious annoyance that the lady had attempted to quash my fall joy and because I hadn't found a SINGLE SNAKE.
We gathered our leaves and I presented Ali with the award of Best Leaf Collector. The children helped me line the leaves up in a beautiful fall bouquet.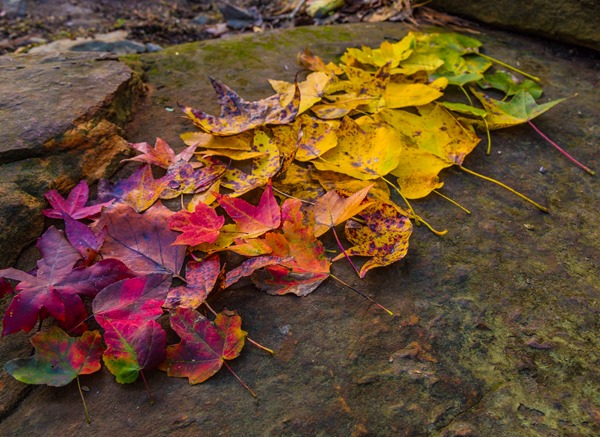 I kept waiting for the poetic justice of a venomous snake slithering through my arranged ombré of leaves as I was photographing them, but sadly it didn't happen. So next time I see The Outraged Snake Lady, I'll be sure to tell her that we looked as hard as we possibly could, but she falsely advertised the features of the park.
Epilogue: Two days later we went out hiking again, found zero snakes again, but did collect the best collection of fall leaves ever collected in the history of hiking dangerously close to life-ending reptiles.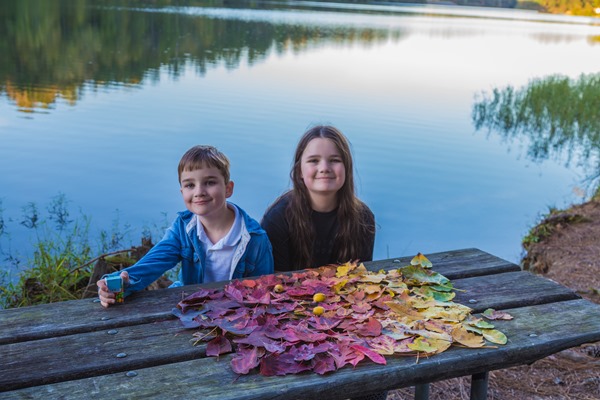 …Also if you illegally download the following photo, it makes a darned good fall phone lock screen photo, of which you can impress your friends by pointing to it with a horrified look on your face and say "There are snakes in that pile!!!" If you can't figure out how to illegally obtain my photographs, email or text me and I'll be glad to send it to you.
So basically, my children and I risked all, braved untold dangers, and conquered fall – all for your iPhone's lock screen.