Trigger Warning: Dear Mom, don't read this post.
(I made the mistake of telling my Mom the some of the details of this adventure on Sunday. She asked me to please never ever tell her if I did this or anything like it again.)
Stephens Gap Callahan Cave Preserve (no relation to any Callahans or Stephens I know) has been on my mental bucket list for a few years, from the moment I first saw a photo of it. It is one of those surreal natural wonders that I a) couldn't believe existed and b) certainly couldn't believe existed only two hours from my front door. But it requires a permit, you must travel with at least one other person, and there was no way I could take my kids, so a full day where I could take on such an adventure requires a bit of planning to pull off. I tried last year while the kids were in camp, but Noah got strep. But this would be my year.
Oh and also – the whole thing is super dangerous. This is the "real" kind of cave – unlike the thoroughly safe DeSoto Caverns I visited earlier this year, this one is not lit or guard-railed to make it safe, does not have staff to show you what to do, and you have to sign all the waivers acknowledging that you may or may not survive. I very specifically did not Google how many people had died there until after the trip (the answer is three – that I found articles on, anyway.)
I recruited three people to join me – a photographer who interned with me last school year, Jake Marvin, his mom Kim, and his sister Anna. Kim came prepared. A backpack full of water and a bottle of liquid Benadryl – basically what every cave expedition needs (I mean, helmets and a flashlight would've been real nice, but Benadryl was just as well.) It was a mile hike to the cave, along which I got a text from my dear husband.
"I'll always remember you."
The cave is set up as such: there's the "pit", which is a 143 foot drop straight down with a waterfall running through it. The pit faces upward in such a direction that it catches light beams in a most magical way. To the left of the pit there's a climb-down entrance. We arrived at the climb-down entrance first, and it was so steep looking that I said, "Okay – here's the pit."
…until we found the actual pit. At which point I realized that other hole had indeed been where we would have to climb down. This is the pit: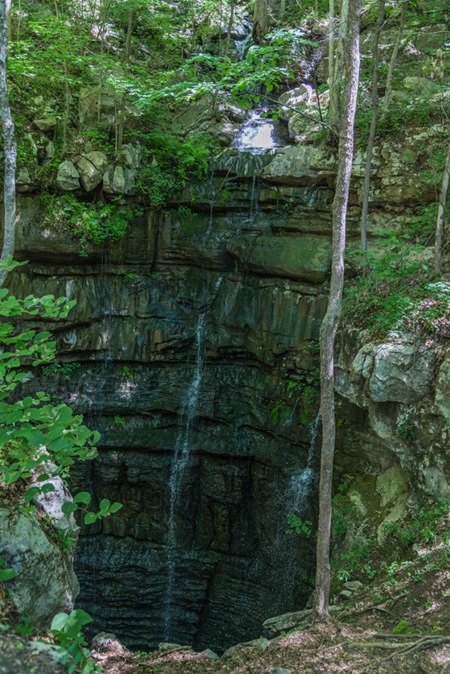 After Jake and Anna completely freaked their mother out by getting way to close to the pit, we headed back to the climb-down entrance.
We began our descent, which wasn't as steep once we got started. It was, however, quite slippery. There were streams and waterfalls in several places along the entryway, making rocks slippery and unstable. Just as I said "look at all these jagged rocks just waiting to break a tailbone!!", I managed to slip and fall onto my tailbone. Thankfully I have enough cushioning back there to break the fall with no damage.
As we got lower into the cave, the dancing sunbeams took our collective breath away. As we rounded the corner where we could truly see the scene, we were all in awe.
This is what we saw.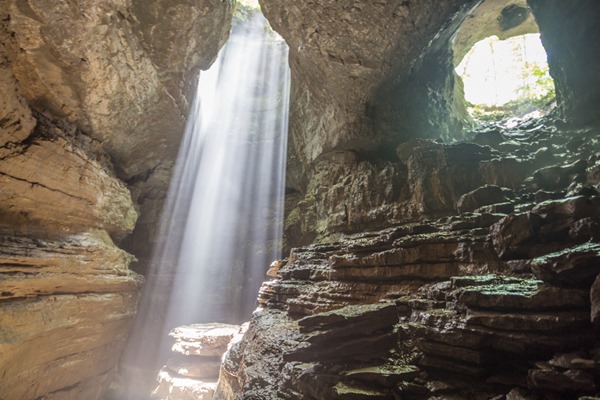 The sunbeams were alive, getting brighter and dimmer and sometimes completely disappearing, leaving the cave instantaneously dark. Sometimes they would fade just enough to allow the waterfall behind them to be seen.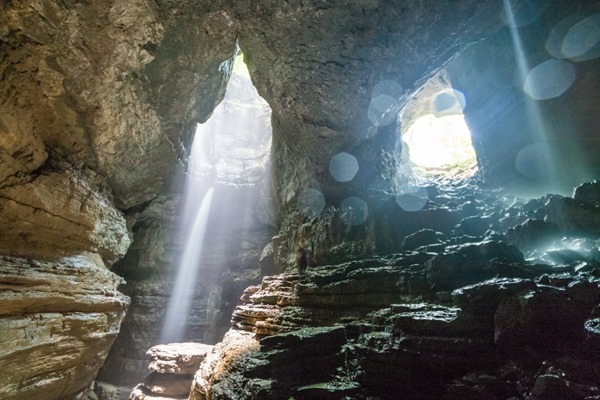 As water and waterfalls were coming from multiple directions (you can see another waterfall in the right of the above picture), it was impossible to keep our camera lenses dry, hence the droplets on many of the shots.
Since Kim was The Mom of our trip, I sent her to investigate the pedestal – the large round rock upon which the light beams were shining. It was perched on the edge of the pit, about 50 feet up from the bottom. Everything was wet and slippery, and we'd pre-agreed that no one would be going onto the pedestal unless we felt it was safe, even though that was the shot we had come for.
Kim and Anna inched their way around the top edge first, looking for a step down. There wasn't a viable choice.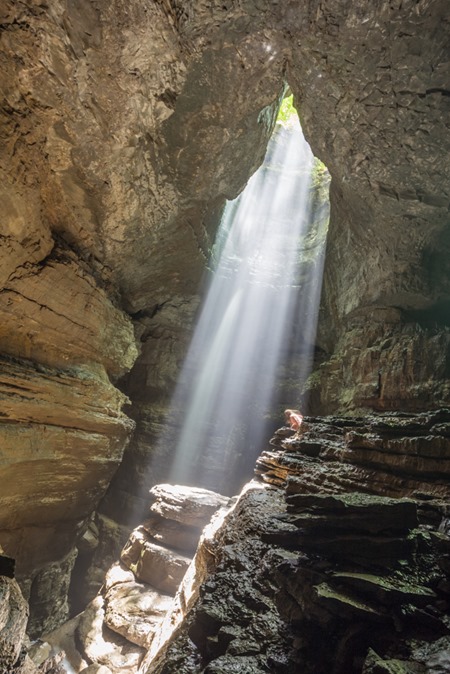 Jake and I were busy setting up our cameras and getting our angles just right when they finally reported (or yelled, as all of the waterfalls made it extremely loud): the only way to the pedestal was from below. Which meant walking through a stream/waterfall, then climbing up the rocks leading to the pedestal.
Anna tried it first. I give Kim full credit for her allowing of this endeavor. But she made it look easy – somehow. And Anna was the first we got in The Shot.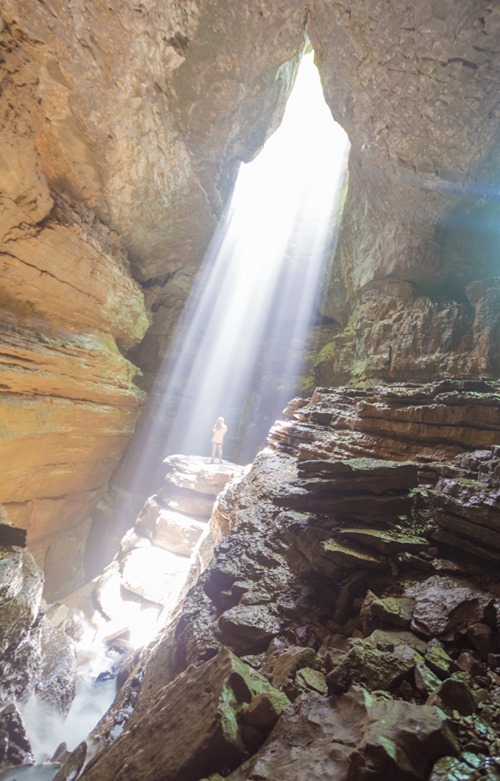 Starting in the bottom left-hand corner of this picture, you can see the rushing water that she had to navigate down. That rushing water goes straight into the pit, so slipping is not advised.  She stayed up there for a few shots, then climbed down and back up to us.
Kim went next – she wore her Wonder Woman shirt for the occasion.
She couldn't hear our photographical instructions over the roar of the waterfall, which led to this gem of a picture.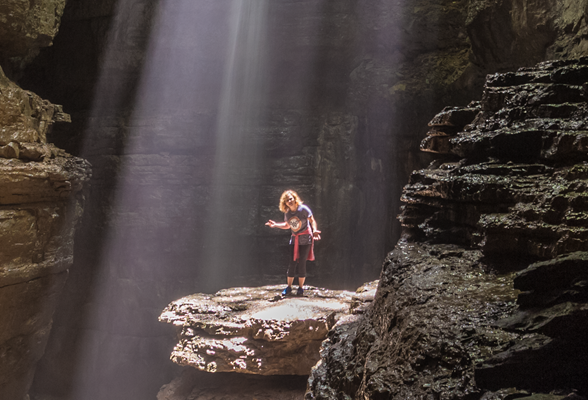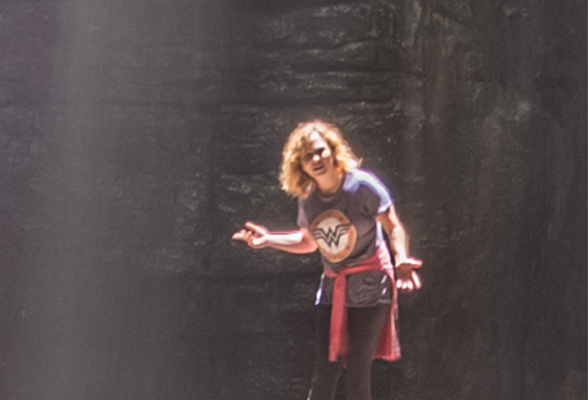 As Kim made her way back up, I got a bad video of her navigating the water:
It was my turn. I would hate myself forever if I didn't try this, no matter how frightening it looked from my angle. I set my camera up on the tripod and left it in Jake's trusty hands. I brought a dress tied to my backpack – I untied it and draped it like a scarf around my neck. And I slowly began my descent through the waterfall. I shimmied from side to side, trying to find the driest rocks and the safest hand-holds possible, but still fully immersing my feet in the rushing water several times. There were thankfully some really polite rocks that offered perfectly contoured handles on the way down. But still, I admit it: I was a bit terrified.
I made it to the bottom of the pedestal and began climbing up. The rocks were of a size that made it fairly easy at first, aside from the fact that they were all covered in mud that was most likely comprised of 24 different types of bat guano. When I got to the final rock of the pedestal, I realized that there was no way up without a full marriage between my legs, hands, and butt and the fairly thick pile of guano mud. So I went for it. I received a full-body mud treatment, but I made it to the top.
I unfurled my dress and threw it over my workout clothes that were now covered in a wet layer of slop. My long dress dusted through the mud. I took out my ponytail and shook my hair loose. I heard cheering from the other side of the ravine – I'm sure it was for my super-glamorous model preparation.
And then I posed. And Jake got The Shot for which I had waited so long.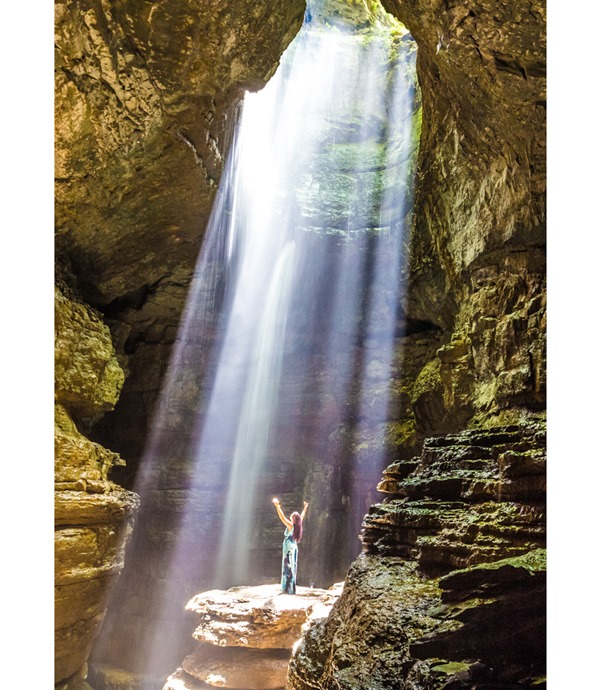 As I looked up to the sky, it was every bit as surreal as one would imagine. The sun twinkling above me, waterfalls dripping and rushing from multiple directions, and rainbows dancing in the beams and mist – all only viewable from my current location. I wanted so badly to have my camera there with me – but the wet and muddy journey combined with the extreme moisture of the air around me prevented that option entirely. However, experiencing the moment – staring into that rainbowey, waterfalley, sunburstey canvas – it was about as close to heaven as one can experience on this earth.
This absolutely should be one of the most notable wonders of our country.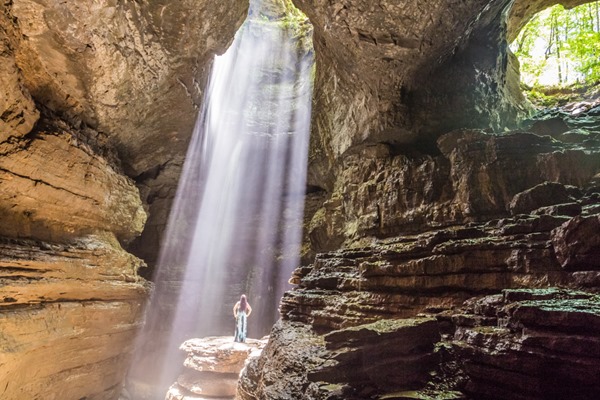 Getting down was actually more terrifying that getting up – the foothold I'd used to get onto the rock was not accessible from a front-facing position, and I was not willing to slide down on my stomach. After sitting there for a few minutes not knowing if I'd ever leave the pedestal, I gave myself a pep talk.
C'mon Rachel. You've been doing planks and push-ups all year. You've even been lifting weights, albeit the lightest ones. You need to put some belief in your arms and lower yourself down. It's the only way.
I planted both my palms solidly through the mud and onto the platform, then slowly lowered my body down to the next rock I could find footing. For a tenth of a second I thought I would surely slip and slide off into the pit, but I didn't. My level of adrenaline was off the charts.
I had done something. Something that felt entirely unsafe, at least in my narrow construct of life.
Jake went last. I felt bad because by the time his turn came, my camera was hopelessly moist (something that was giving me no small amount of anxiety, considering I've already lost one camera to moisture), and all of my pictures of him had a slight smudged quality.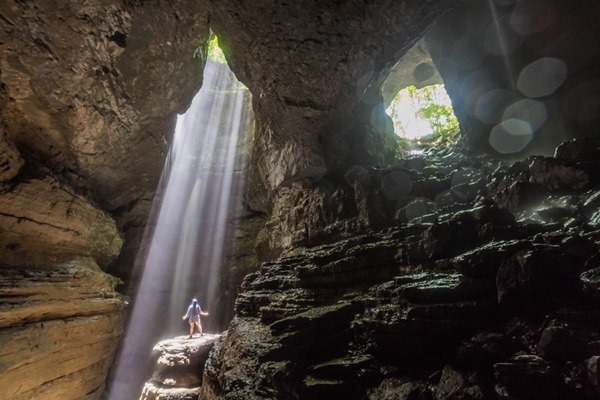 Once even my camera decided to turn him into a ghost…which, honestly, is a pretty awesome mistake.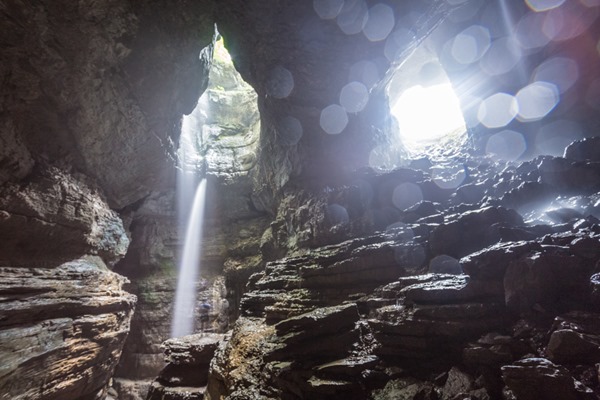 The sunbeams "went out" once when he was up there – you can see what it looks like here with just the waterfall: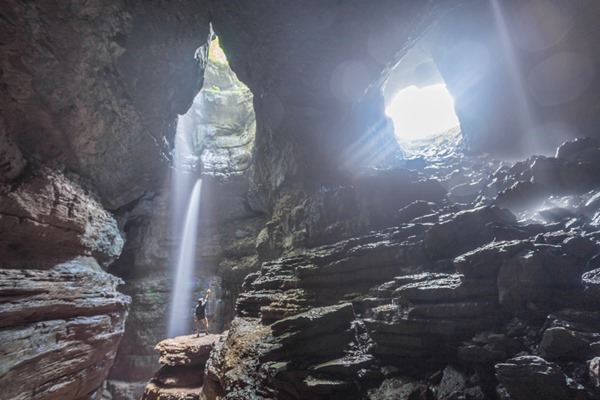 But the beams returned, we got a few more photos, and then he began his descent back down.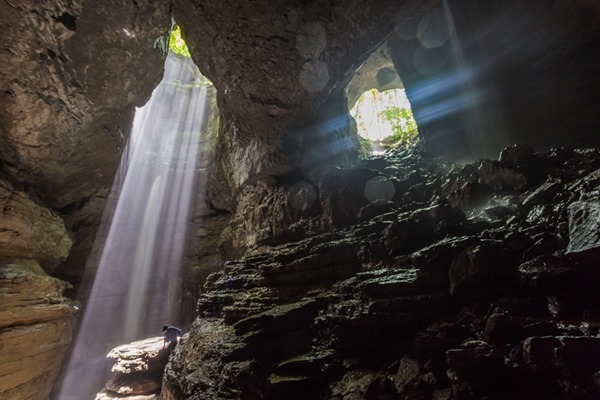 When we finally all climbed our way back out of the cave, I immediately texted Chris and proclaimed our survival. He was overjoyed that he would have more than just a memory of his wife.
As we walked back on the trail, the full extent of my personal moisture began to take hold. I very much realized what it must feel like to be a toddler walking around with a dirty diaper. Had I thought to bring a change of clothes? Of course not. And so, I drove two hours back, waited around an hour, picked up my kids from camp, and headed home – and a full five hours after emerging from the cave, still a good bit damp, I finally was able to begin the process of de-guano-ing myself.
I'm positive that the long-lasting effects on my skin will be amazing. And I can't wait to do it all over again (but don't tell my mom.)