Last year when Ali started back in gymnastics, I asked Noah what he might be interested in doing. We had not gotten him involved in any organized sports yet, and even though I didn't at all want more commitments in my life, Mommy Guilt was getting the best of me.
But he quickly said, "I'd like to eat snacks."
A fine sport if I've ever heard one.
But this year, he was very much wanting to play soccer. And even though two practices a week plus one game a week screamed against my very soul (OH the horrors of commitment!!), I signed him up. He was especially excited to play because he would be on his cousin Andi's team, who happens to be his current favorite cousin.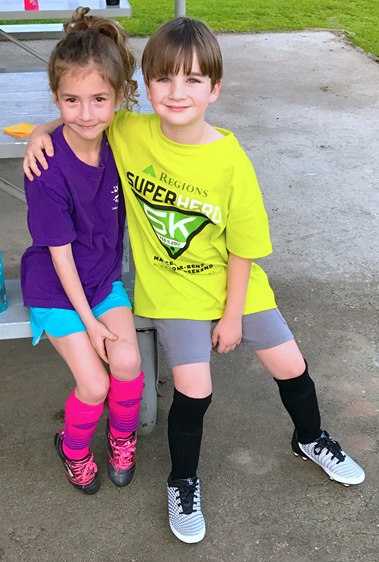 I mean. How cute are they? This was right before their first practice and right after I googled "Where do shin guards go?"
I'm a pro soccer mom. Obvs.
The first practice consisted of Noah giddily running up and down the field, playing with Andi, and turning quite deaf from excitement when, the one time he did kick the ball, the coach kept yelling "Stop!! Stop!!! STOP!!!!", as Noah kicked the ball off the field, past the bleachers, and to the back fence of the complex.
We had a talk about learning how to actually *play* soccer – it takes some seriousness, but that the game would be fun.
The next few practices went slightly better, although he was still at moments distracted by the pure joy of his situation.
The morning after he received his jersey, he came in my bedroom and whispered giddily, "I'm number 24!!!!"
There's really nothing more thrilling than knowing that you're important enough to be a number.
Finally, the first game arrived.
It was a beautiful night, the skies unseasonably hot with anticipation of what would go down beneath them.
Before the game started, Noah made sure to…inspect the nets. While Andi silently judged her cousin's sports prowess. She is a soccer beast, after all.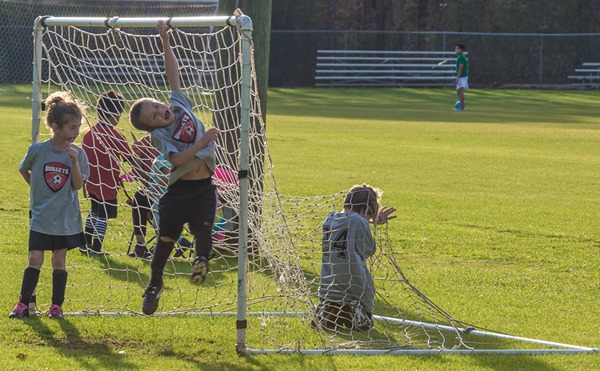 He started the game on the bench, taking his job as Chief Gatorade Guzzler quite seriously.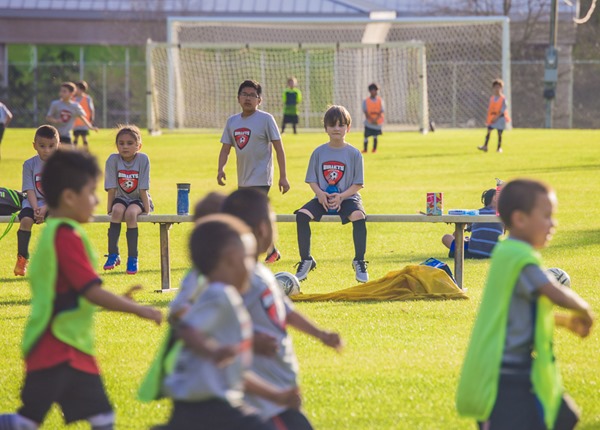 By the time Andi needed a break from her ferocious playing, Noah had nearly finished his bottle. His bladder was going to LOVE it when it was time to play.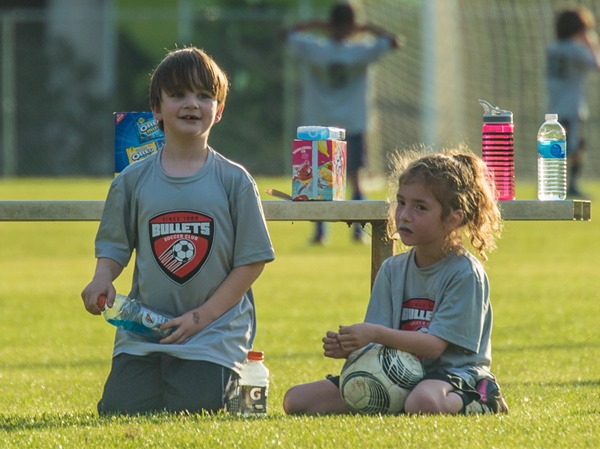 And soon enough, Noah got his chance. It took a bit of coaxing from the sidelines to remind him to follow the ball. And watch the ball. And kick in the right direction. But he got there.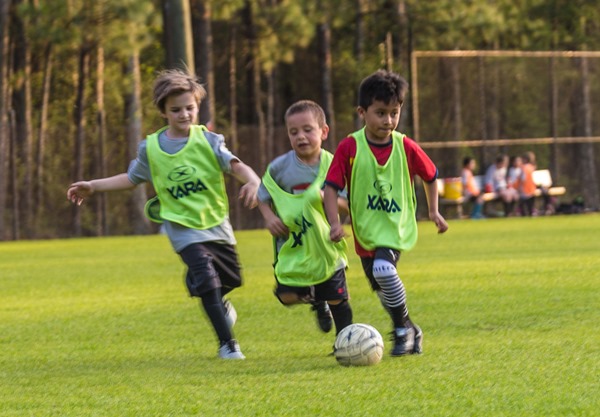 And you may not be allowed to use hands in soccer, but his blue-Gatorade-tinged-tongue got FULLY INVOLVED.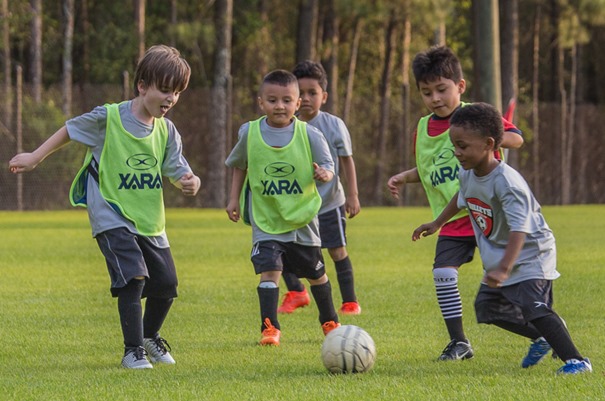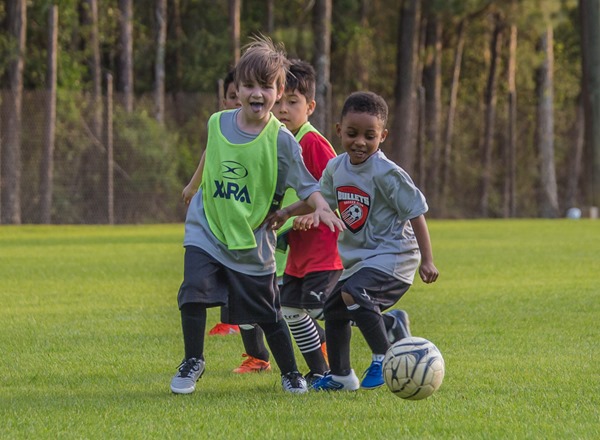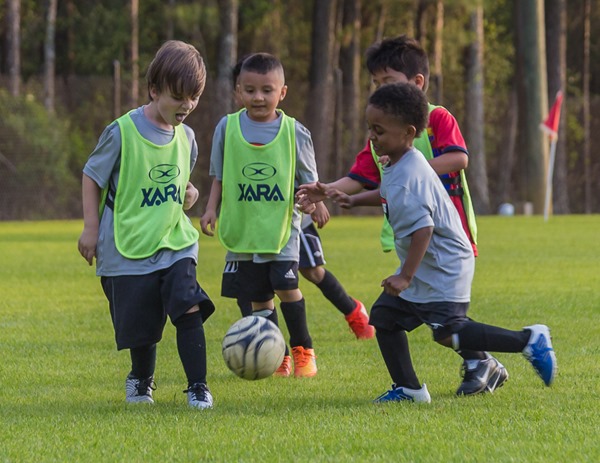 Let's look at that face of determination a little closer.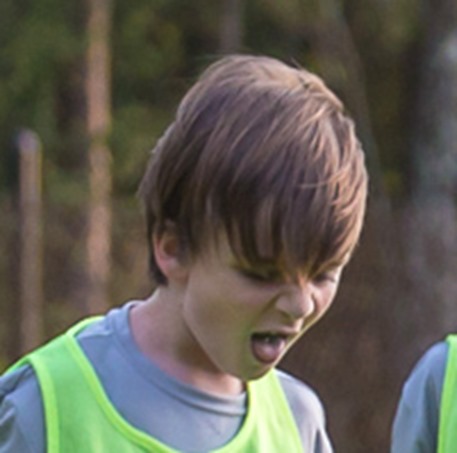 Their team played hard and lost significantly.
But you know who didn't even realize what the score was?
This guy. Because he was in soccer heaven.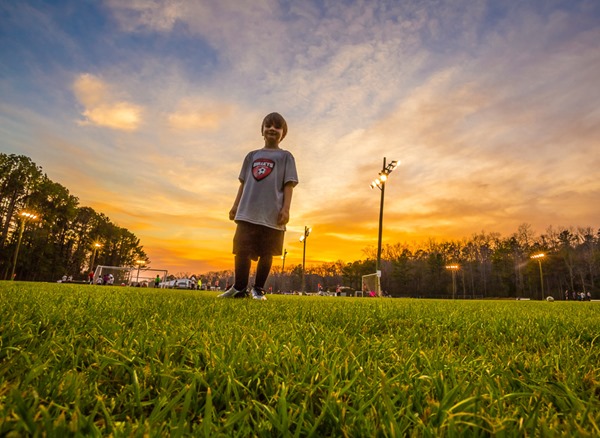 Thankfully, he had his cousin there to keep him grounded. And to inform him that they lost. And to make his happy heart swell with even more soccer pride.