1. Give Pro Tips to Random Runners. They LOVE it.
Chris and I discovered several races ago that, although I like running with him quite a bit on normal days, I like running quite alone for half marathons. Besides the fact that I run more positively when alone (I always feel like I'm trying to keep up when running with others, but push myself to be faster when alone), there's something so fulfilling to my introvert's soul to be surrounded by people, yet be under zero obligation to interact with any of them. Every now and then I'll chat for a second with another runner, but I spend most of my 13.1 miles silent.
We had a half marathon in our city earlier this year. It is a relatively big one, so I was enjoying immensely the droves of people surrounding me, all who expected nothing of me. I was pushing myself a bit – I'd had a PR (personal record – fastest personal running time) the day before at the 5K, and foolishly thought that I could have two back-to-back PR days. But my legs hadn't recovered from their fastest pace ever the day before, and I was working hard. 
I'm a heavy breather while running anyway – I noticed this a while back. It's fine. I don't care. I might sound like I'm dying but I'm successfully getting oxygen into my lungs so I just go with it.
The stranger at mile two who came up over my left shoulder, however, did not feel the same.
He was a guy in his fifties, a guy I wasn't aware existed until, as he was coming up behind me, began speaking rather loudly into my ear – something I never appreciate in any context of life.
"You need to save your breath. This is just the first hill, you know."
What the…did someone order me a personal coach? This is the worst gift delivery ever.
"I'm just a heavy breather. I'm fine." 
I sped up to try and shake this dude who had enough energy for his own race and to mansplain mine. 
It didn't work.
"This course has rolling hills for the next several miles. Lots of ups and downs. You really need to pace your breathing."
SERIOUSLY DUDE THERE'S ENOUGH OXYGEN IN THE WORLD FOR ME TO HEAVY BREATHE AND MAKE IT THROUGH THIS RACE.
And also, I've done this race three times. I know the hills. 
I still hadn't seen this guy's face, but I had a vivid mental image.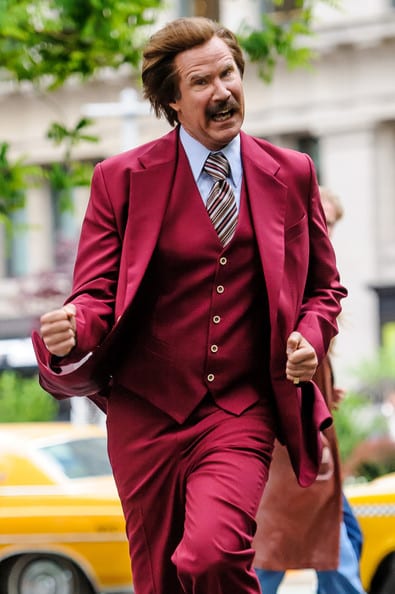 I really thought Mr. Mansplainer would fuel me on with rage and indignation to speed up to a pace where I could absolutely smoke him (he was, after all, behind me and my heavy breathing until just a few seconds ago), but somehow he (or my PR from the prior day) made me slow down quite a bit for those next two miles.
Which only made me feel even more irritated at his unrequested coaching.
At least I had something to think about for a few miles.
2. Assume that You are THE Most Important Participant and Act Accordingly.
I never saw Mansplainer again (then again I would only recognize him from his heavy talking in my ear…someone should tell him to save his energy for the rolling hills,) but his performance of arsishness got significantly outdone towards the end of the course.
This particular marathon is a double loop course. Which means us half marathoners are finishing up as the whole marathoners have to start all over again. Which also means that I always get lapped by the lead whole marathoner a couple miles before I finish my half (meaning that he's approaching the end of his second lap, 26.2 miles, as I'm approaching the end of my first and only lap, 13.1 miles.) Because wow people can run fast.
This year I was super proud of myself. He usually catches me 2-3 miles from my finish. But this year, I made it all the way to less than a mile from the finish line before I heard the sirens approaching. I always get excited about this because much like swimming, you cannot fathom how fast a fast runner is on television. You must experience it. You must feel his thirty-foot long stride in perfect rhythmic pounding shriek past you at a speed you didn't even know was possible by a non-furry mammal to truly appreciate an elite runner. 
I prepared myself for excitement and paid attention to the lanes to make sure I didn't get in the way. They'd already separated the full and half marathoners with cones down the middle of the street – we each got a full car lane to continue our race. I got to the far side of my half marathon side of the street. 
The two motorcycle cops came by, sirening and loudspeakering that the winner was coming through and everyone needed to move over. The police SUV and the news crew SUV were not far behind. 
Except that…there were three full marathoners (who were just finishing their first lap) that took exception to this well-known practice.
They began yelling at the motorcycle cops.
"This is our marathon too!! We're not moving!!"
 Now let me remind you. This dude has just run twice as far as them in the same amount of time, is a feat of humanity and is about to win a freaking race.
But they aren't having it.
The motorcycle cop megaphoned right at them. "Move out of the way! Winner coming through!"
They got screamy. 
"WE HAVE NOWHERE TO GO!! THIS IS OUR MARATHON TOO!! WE! ARE! NOT! MOVING!!"
There was an easily accessible and completely empty sidewalk to their left. And there was my lane, which I was gladly willing to share, to the right. But they had "nowhere" to go.
A race official on a bike reached them. He started screaming at them.
They screamed back.
The news crew and police SUV were nipping their heels. I could feel the lead runner's Olympian footfalls closing in.
But they would. Not. Move.
The lead runner went around the two SUVs and around the immovable runners. The news crew, whose job it is to live-broadcast the winner finishing this race, swerved into my lane. I moved over further to allow him room.
The police SUV just kept going forward. Nipping those runner's heels. And was never able to get by them, that I saw.
If only Mansplainer could have been there at that moment, to run up behind them and talk loudly into their ear. 
"You need to save your energy. This is just the first lap, you know. There are a lot of rolling hills in the next few miles, and if you use up all your energy turning and screaming like that, you're never going to make it."
3. Write Exposé on Other Misbehaving Runners and Mock them Mercilessly.
uh….oops.