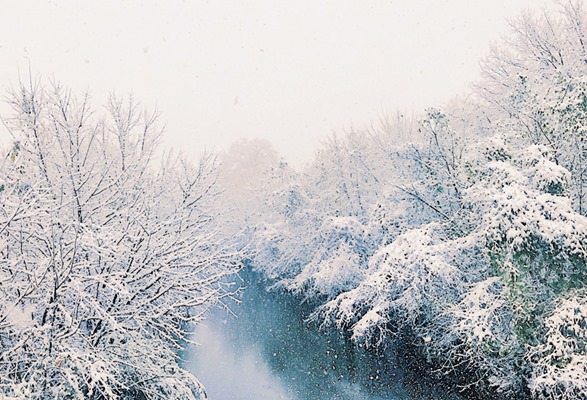 All The Laws of Physics were contradicted this past week.
1. It snowed, in Alabama, in early December. Significantly (for Alabama) – 4-12 inches.
2. Said snow stuck, stayed around an extra day, and some snow is still on my yard as I type.
3. I had my uterus removed yet came home looking four months pregnant.
It was a surreal week in all the ways. Snow had been in the forecast for days beforehand, but for the first time in my adult life, instead of planning and scheming on how to best maximize our snow opportunities if it actually did snow, I literally paid no attention to the possibility. I didn't even deem it worthy to mention to my children. Because it has never, in my lifetime, snowed in early December. Preposterous. Plus, I was having surgery. So how could it snow when I literally could not maximize it? Inconceivable.
So when I packed my children's bags to go to my parent's for a few days, I did not pack them snow-ready apparel. I packed them cold weather apparel, thankfully, but no extra clothes or waterproof anything. It wasn't even something I thought about as I filled their suitcases and mine.
Chris and I showed up at the hospital early Thursday morning, received our pager, and waited for a table to come available – because when you get down to it, having a hysterectomy is no different than going to Ruby Tuesday for a steak and potato.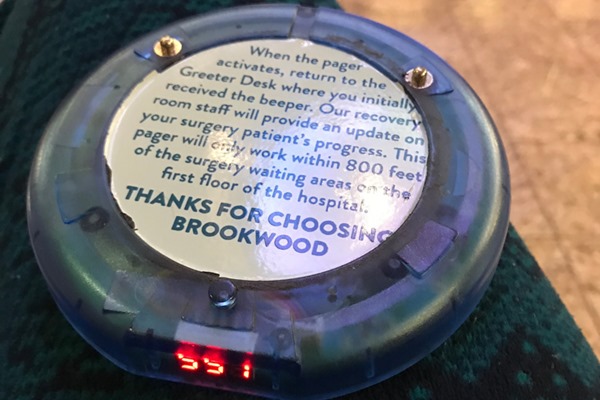 As we waited, we had no choice but to direct our attention to the morning newscasts, which were losing their mind over the fact that it was so definitely going to snow the next day. We rolled our eyes and made fun of their 14 hour "window for snow" – glad they can be so precise.
I don't remember much about Thursday post-surgery, as I slept off and on most of the day. I tried desperately to stay awake and visit with Chris, and insisted on eating and drinking far too quickly after surgery. After realizing that I was so high I could not swallow food, Chris set off on a quest to get me one last Magical Smoothie – a legendary treat only given to new mothers. He had to journey through multiple wards and wings and buildings, negotiate with nurses and plead for a token to take back to his princess, trek back through wards and wings and buildings without allowing his treasure to be stolen by other desperate husbands seeking The Magical Smoothie, and finally, he delivered The Smoothie of Healing to me.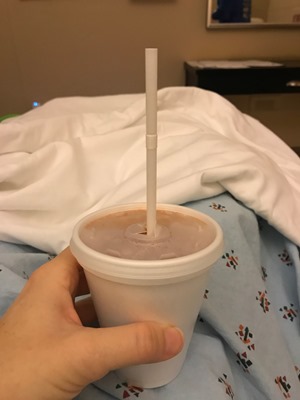 I'm not saying that smoothie is why I'm able to blog this quickly after major surgery, but I'm not saying it's not.
As the smoothie slowly helped rouse me from my Sleep of Death that evening, we watched the continuing frantic news about impending snow. Which would've been super exciting if a) I weren't currently catheterized and therefore had zero chance of enjoying it, and b) every single commercial hadn't been regarding Alabama's upcoming senate vote.
Being forced to repeatedly stare at these two men while in a state of extreme medical inebriation helped me see through the political issues and realize a couple things.
1. Doug Jones has a couple of spots on his face that need to be checked out. He might need to get in with a dermatologist right away. And there's not a dermatologist in the state with more open slots in his appointment book than our dear ex-gov, Dr. Robert Bentley. Can someone arrange a rendezvous for these two gentlemen?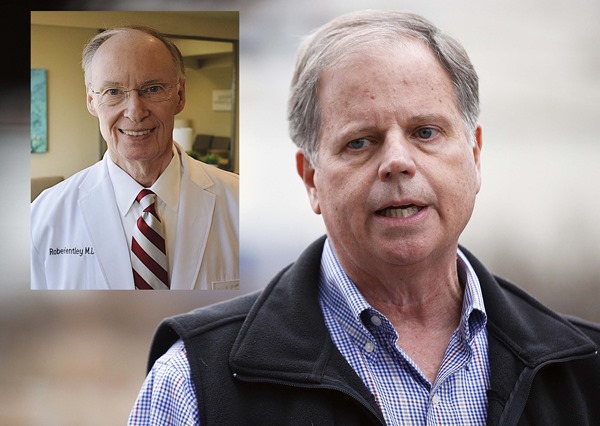 2. I finally realized who Roy Moore's supervillain alter-ego is. Somebody light up the bat signal – we've got a serious problem down here in Alabama.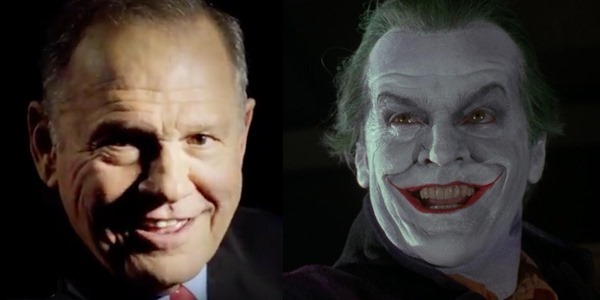 After dreaming about those nightmares for half the night, I woke up at 3am to nurses frantically saying "We've got to move you!"
I groggily said "Are you kicking me out?"
"Don't you smell that?? It smells very strongly of smoke in here!!"
Then Travis the Maintenance Man sauntered into my room and started sniffing around the fridge, the vents, my phone charger, and my IV bag – because I have literally never been in the hospital without having a maintenance man end up sharing my room with me.
At 5am, my nurse was frantic enough that she unhooked me from all the things and made me walk – for the first time – across the hall and three rooms down. Which, albeit annoying at the time, did give me a better view as the sun came up – because it was indeed snowing.
Chris arrived around 6:30 (I insisted he go home to sleep because no one should have to sleep in hospital chairs and endure frantic 3am nurses and visits from Travis the Maintenance Man), and we watched the snow fall together, somewhat stunned and a lot worried about our ability to make it home. Chris figured out how to open my window and gift me with snowballs, which is basically why I married him.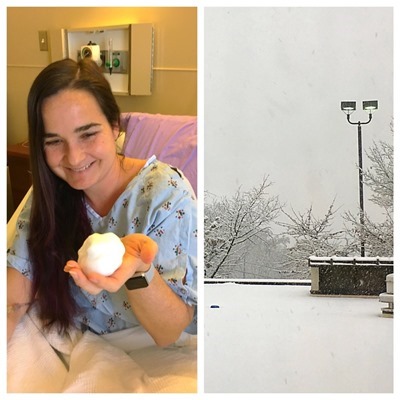 It was around 11am when they said I could leave, and as it turned out, 11am was the exact worst time to use the roads. The snow had accumulated a good deal (and some had turned to ice), but not enough cars had used said roads to make them safe. And, although it was only a (in normal driving conditions) 15 minute drive from the hospital, there were a lot of ups and downs between the hospital and home.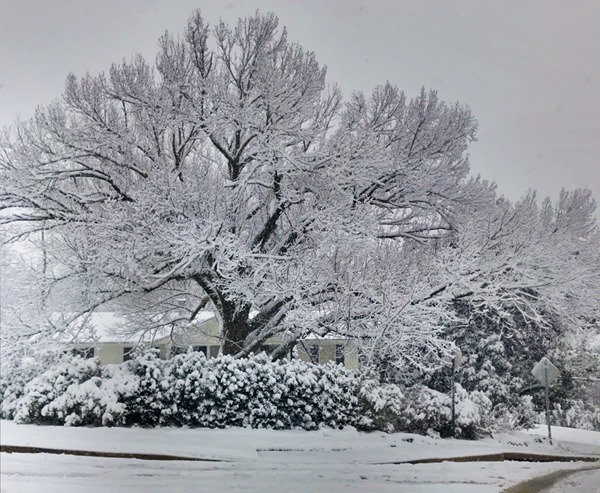 There was sliding and swearing and stops to breathe deeply and check ones heart rate. The last half mile was the scariest, as it is basically a curvy nonstop downhill cross-your-fingers-and-wish-for-a-sleigh ride.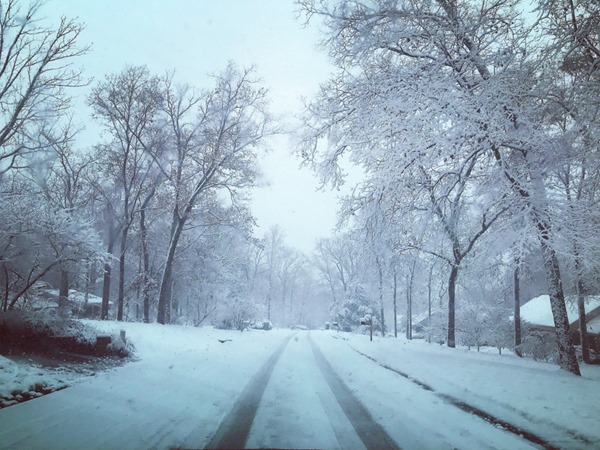 But we miraculously made it without incident.
Meanwhile, the children were having the time of their lives at Gramamma and Pop's.
There were snowball fights,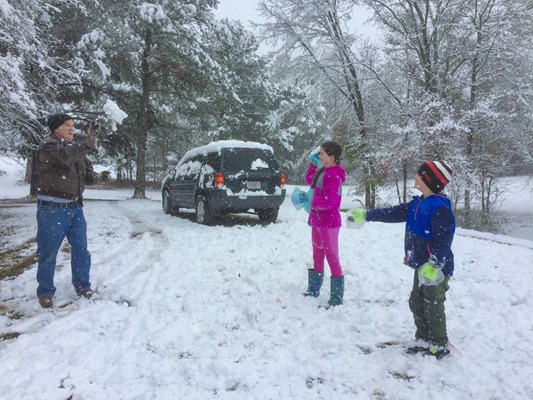 And snowmen,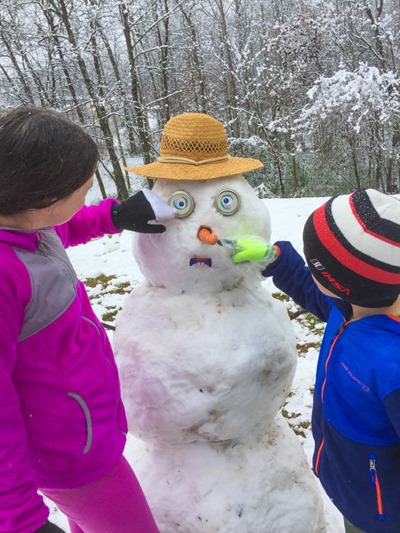 And sledding,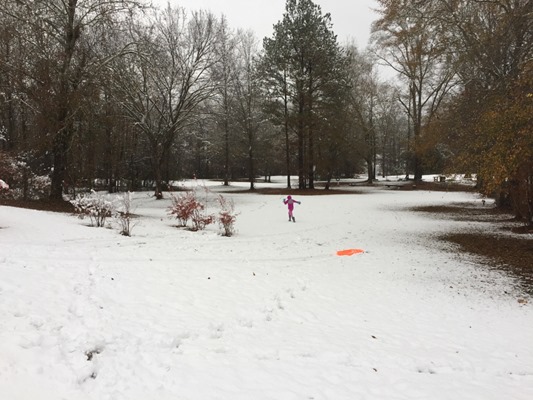 And swinging,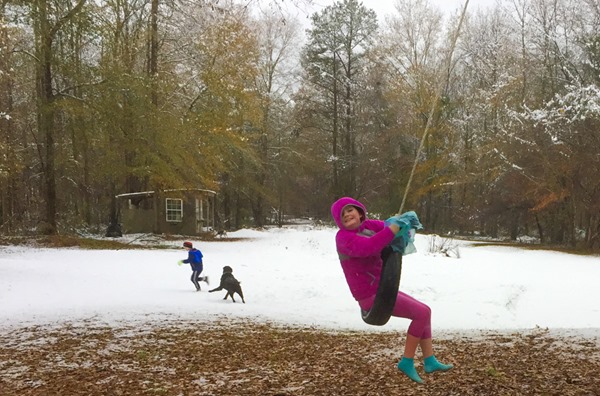 And snow cream and gingerbread-castle-making while their decidedly non-snow-ready clothes were in the dryer.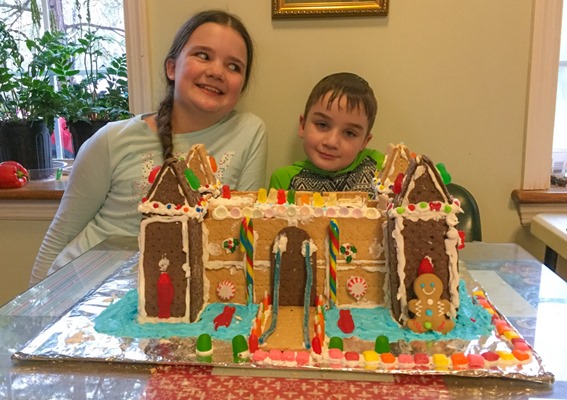 Oh – and there was peanut-feeding my mom's semi-pet squirrel. Because that's a normal thing that all kids do at their grandparent's house.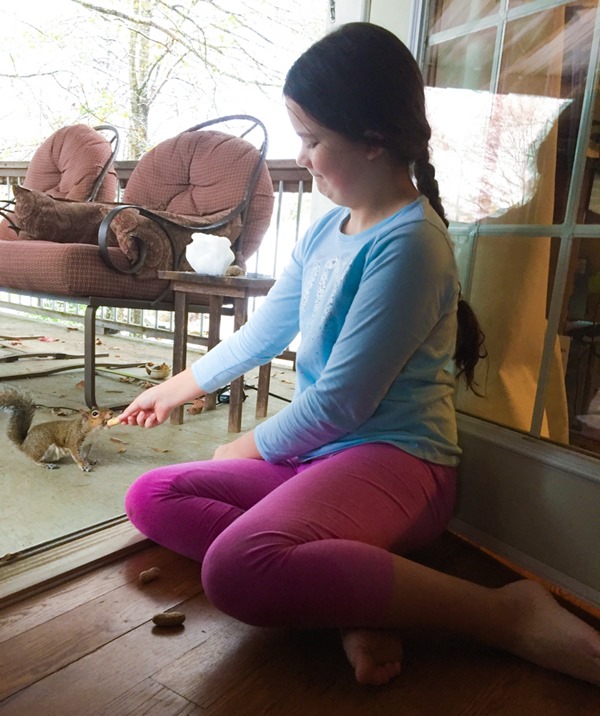 The snow did indeed last for nearly that entire window of 14 hours that the morning prior's news had suggested. It was preposterous in all its beautiful white glory. While I rested on the couch, Chris brought me my own fresh snow for snow cream,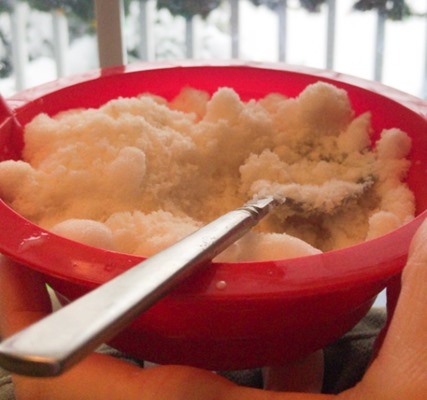 But eventually the temptation was too great, and the roads had ironically become snow-free and therefore safe to walk on, and I insisted Chris take me on a very slow walk around the neighborhood.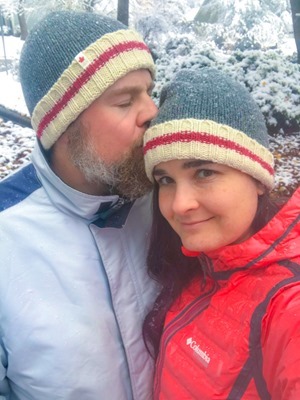 It was as if Satan had sat around and put some serious thought into it. "What could possibly make Rachel take a long walk just 24 hours after having major surgery? I've got it!!!"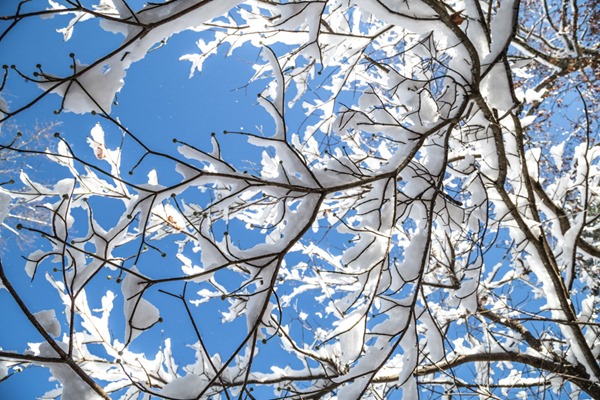 The next day, the snow was still a work of art, and we took another walk, then a drive, then one more walk around The Botanical Gardens. It was, admittedly, too much too soon, and I hurt a good deal after the second outing. But the world beckoned to me louder than my abdomen pain.
The oddness of seeing fall colors and snow at the same time was something we have never experienced before, and will probably never experience again.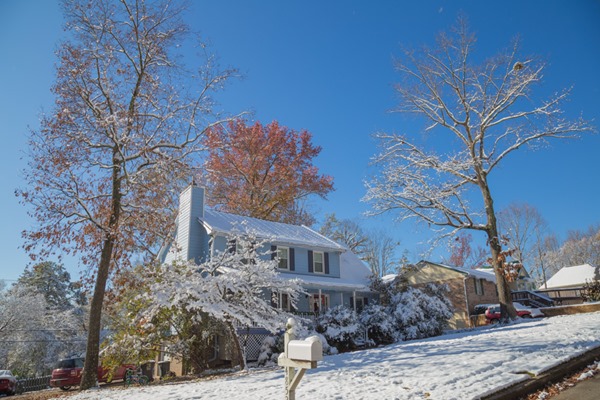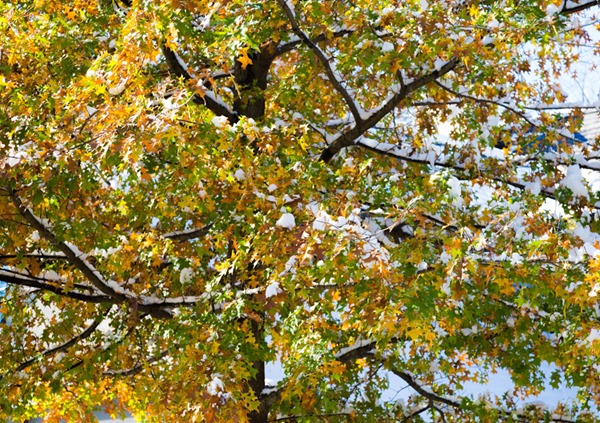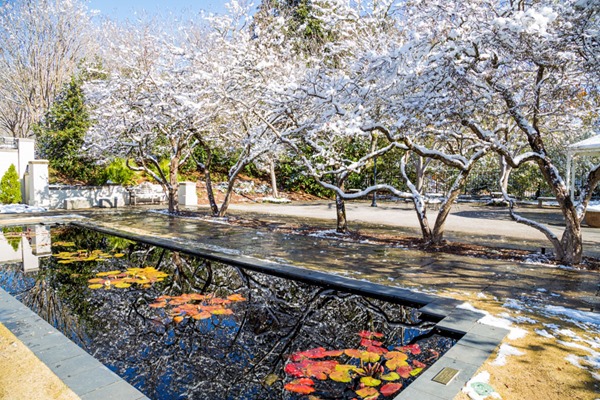 The sun had come out and had begun creating micro-snow showers from the trees.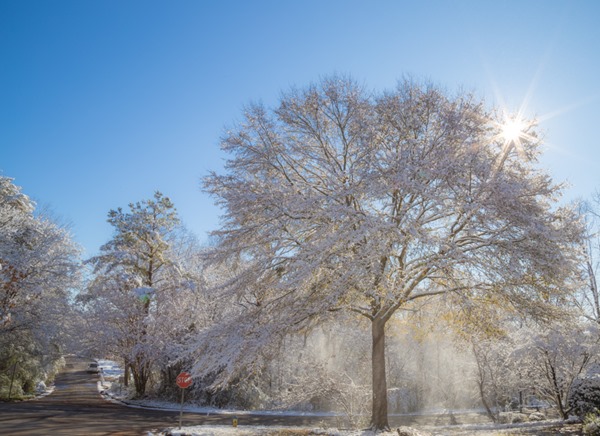 The scenes of overwhelming white were nearly too much to take in.
After these absolutely unavoidably necessary outings, I have followed doctor's orders and stayed in my Lounging Princess Position, and will continue doing so for another week, as I attempt to make amends to my de-uterized abdomen. And – maybe it was the snow, or maybe it was always the magical smoothie, but I feel surprisingly good.